10 Best OKR Software of 2023 Compared & Reviewed- Datalligence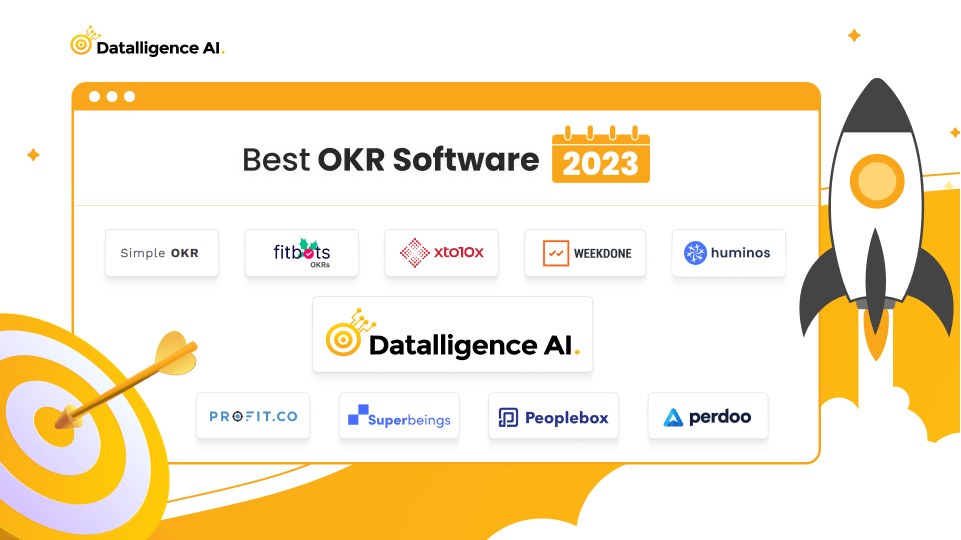 OKRs are used by organizations all over the world to drive strategic decision-making and align goals with company objectives. With the growing importance of aligning your goals with your company and employees, the OKR framework is on the rise.
The best OKR software allows managers and leaders to have a whole view of the organizational structure and lets them track the progress of each department and team. OKRs ensure that all employees are working together and working towards company goals.
As we say, "There may be plenty of fish in the sea but choosing the right one isn't everyone's cup of tea". In this blog, we seek to help growing organizations make an informed choice when it comes to buying the best OKR software out there.
Key Features that make OKR software the BEST:
Ability to collaboratively set OKRs
Ability to set and duplicate OKR through various quarters
Integration with various and existing tools to work effortlessly in a single software. (Jira, HRMS, Slack, etc.)
Empower the company to track its OKRs in real-time.
Offer real-time OKR coaching to leaders and managers.
Ability to ease of use and a user-friendly dashboard for smooth interactions.
Benefits of using OKR software:
Goals being aligned and Transparent:
Using OKR software lets your employees and team align their goals together and work collaboratively to achieve your company's goal. Secondly, using OKR creates a transparency level from top to bottom where everyone can visualize the goals in the same way and keep track of each other's performance.
Boosting Performance:
With features like check-in progress, real-time tracking, and performance reviews managers can measure the outcome of each employee and team member. It acts as a pillar for the reward for employees who perform and enables other employees to improve and move towards the goal to achieve better outcomes.
Track and Measure Progress:
Now that your objectives and OKRs have been established, regular tracking and measuring are imperative. You can stay on course and, if necessary, correct it with the aid of such monitoring. You can confirm that you are moving in the right direction by keeping track of your progress toward each milestone. You have two options: use cutting-edge software, or use Google Sheets, as most businesses do. Regular weekly or biweekly meetings will allow team members to update others and increase transparency.
Moon-Shooting your objectives:
Moonshots objectives encourage your team and employees to think outside the box and come up with innovative ideas and strategies to achieve the goals. They find creative and innovative solutions and achieve remarkable results. That's why when aiming for Moonshots objectives the average score of achievement would be 60-70%.
Now we have reached the most awaited topic in everyone's mind!
10 Best OKR software for 2023
1. Datalligence AI
About – Align, Measure, and Optimize Goals to drive Continuous Business Performance
Datalligence.AI is one of the top OKR tools utilized by effective teams in both small and large businesses. It helps you to focus and streamline team performance and engagement and align to drive business growth into 10X.
Datalligence.AI is empowering and trusted by over 1000+ teams across countries as it offers impressive features and benefits to every team. With this tool, you can focus and prioritize the right goals and strategize priorities, conduct weekly and monthly meetings, and retrospect using our holistic dashboard to track OKR effortlessly.
Key features of using Datalligence.AI:
Goal module
Conversation feedback and recognition (CFR) Module
Reports and dashboards
Insights
Survey and assessment (180,360, Pulse survey)
Task Management
Performance Rating and reviews
Learning management system
Resolving ticket issues within 12 hours of raising
Real-time integrations with various tools (Jira, Slack, HRMS, etc.)
Real-time OKR Tracking:
Employees and their managers can easily track OKRs and their Key results for both qualitative and quantitative objectives and assign priority to objectives that matter.
With the align, function employees can also align their OKRs with team members' OKRs and work together.
With the discussion panel on the right-hand side, employees can discuss with their managers if they have any sort of trouble or challenges in completing the objective.
OKR Alignment:
With our Tree alignment structure, Managers and Leader can view their OKRs at the organizational level of each team and have a clear view and understanding of which departments are on the right track and align accordingly.
Set clear direction for every individual
Increase productivity through focus and priority.
OKR check-ins: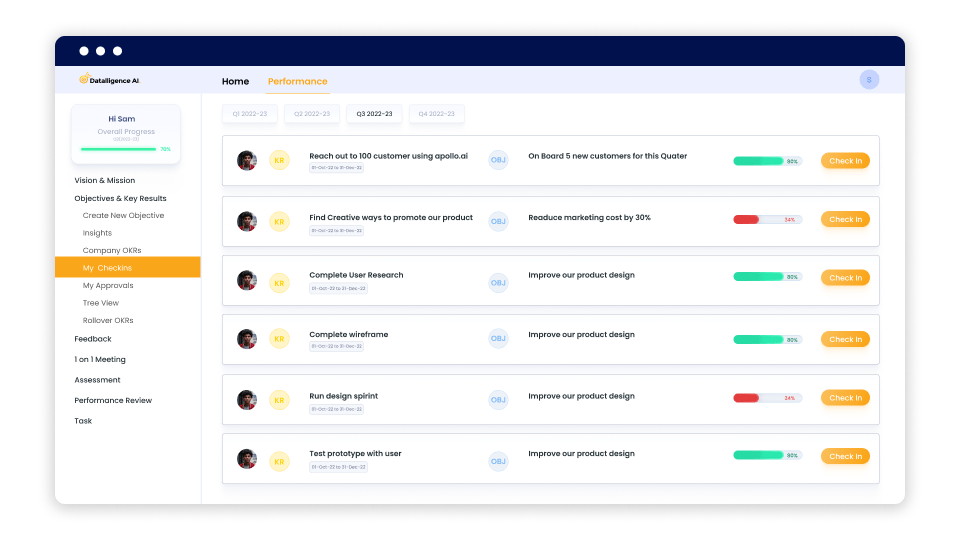 Employees and teams can also check their progress daily to ensure that they are in the right direction for completing their objectives. They can see whether they are ahead or behind. Daily check-ins also help the manager to see whether the employee has been produced daily.
Prioritizing OKR: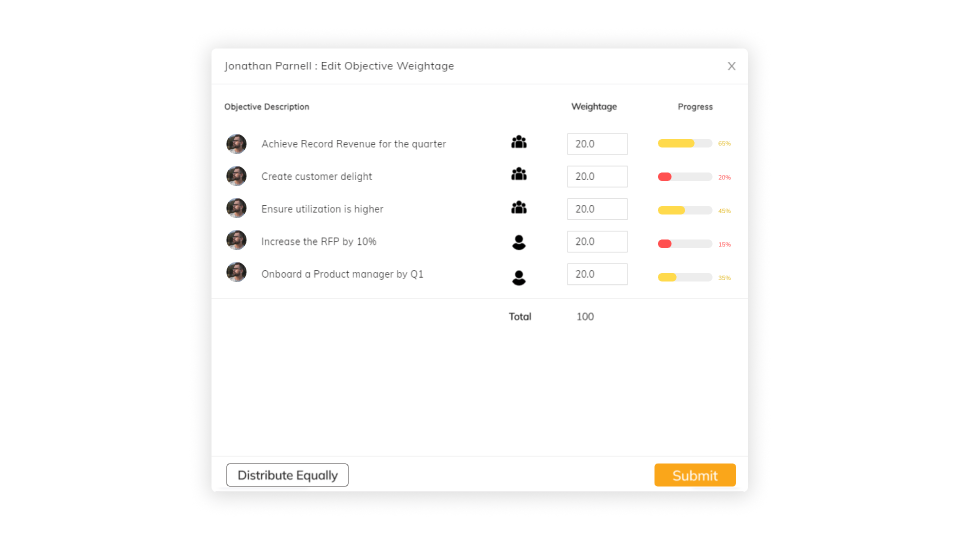 Weightage for the OKRs can also be set by the respective individual to complete the task that is of essential importance and priority.
The importance of weightage is to prioritize the important task at hand.
Insights: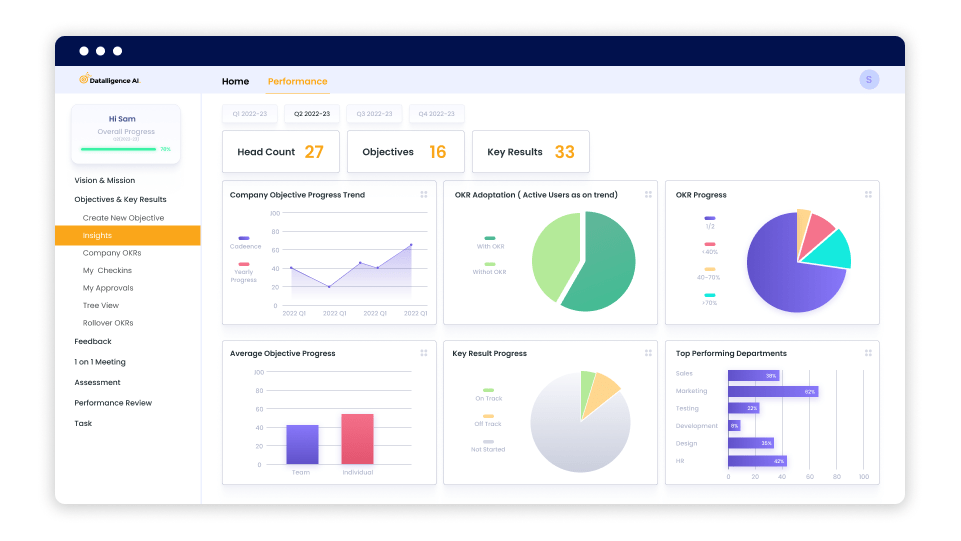 Managers and teams can view insights on the organizational level and their team level and have collective information and insights on current OKRs.
Pricing:
Free – 14-day Free trial
Initiator – $1.9 user per month
Successor – $3.9 user per month
2. Fitbots OKRs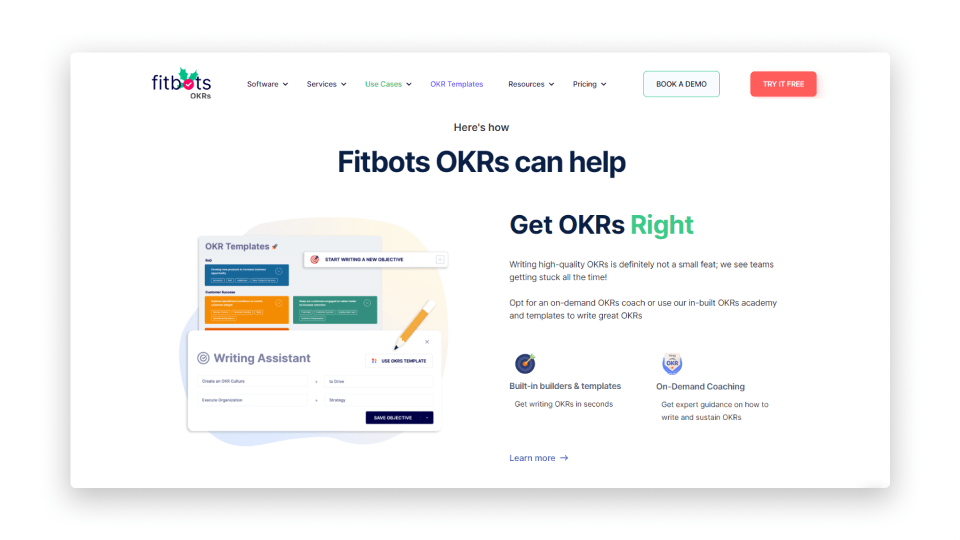 Fitbots is a goal-setting tool that can help you focus and achieve strategic goals with OKRs. They are always measured every quarter. As a result, OKRs can facilitate your teams to connect and align to company priorities. Fitbots helps businesses create a productive environment that values open communication and a healthy work environment.
Features of Fitbot OKRs:
CFR functionality
Recognize and Check-In on Engagement
Ease of use Dashboards
Fitbots Pricing:
Surge – $5 per user billed
Scale – $7 per user billed
3. Simple OKR: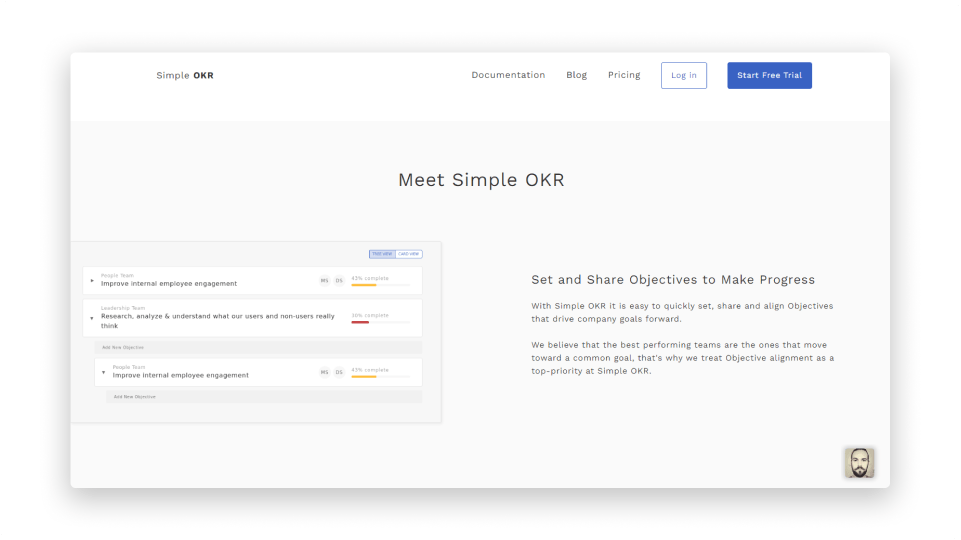 If you're looking for a solution for your business, team, or personal use, Simple OKR is the ideal OKR management tool. Data is displayed on a single, straightforward dashboard, and the user interface is intuitive.
With the tool, everyone has quick access to company priorities, and teams are working toward the same goals while reporting to higher management.
Key Features:
Company, team, and personal OKRs
Negative feedback management
Easy view of company priorities
360 Performance reviews
Pricing:
Simple Pricing Plan – $49.99/month
4. Profit.co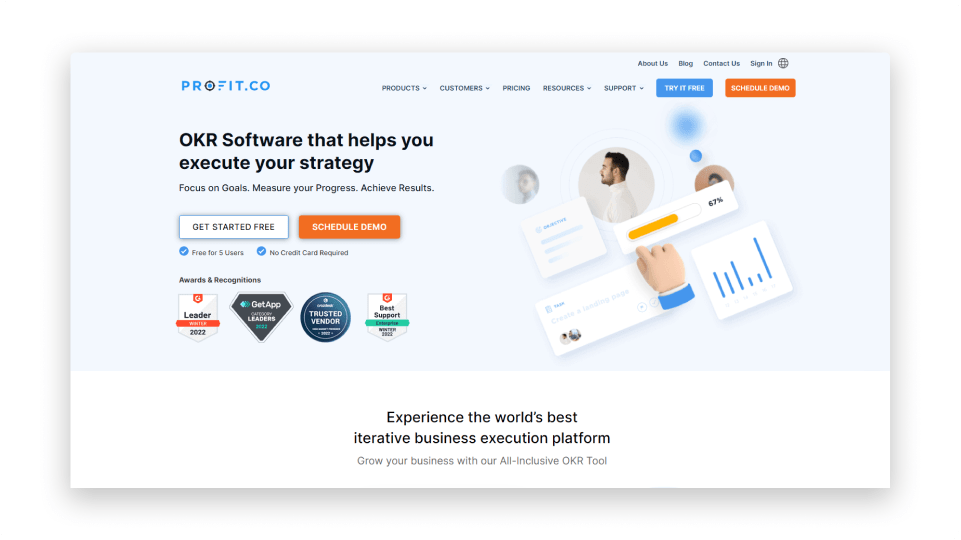 Profit. co helps you prioritize your goals, assess your progress, and accomplish better outcomes. Their software offers businesses a highly customizable way of implementing OKR goal setting for their organization.
Key Features:
Constant performance monitoring
Weekly guided check-ins to monitor progress
Skill evaluations
Customizable templates and dashboards
Pricing:
Launch Plan: Free up to 5 users
Growth Plan: $7 per user per month
5. People Box: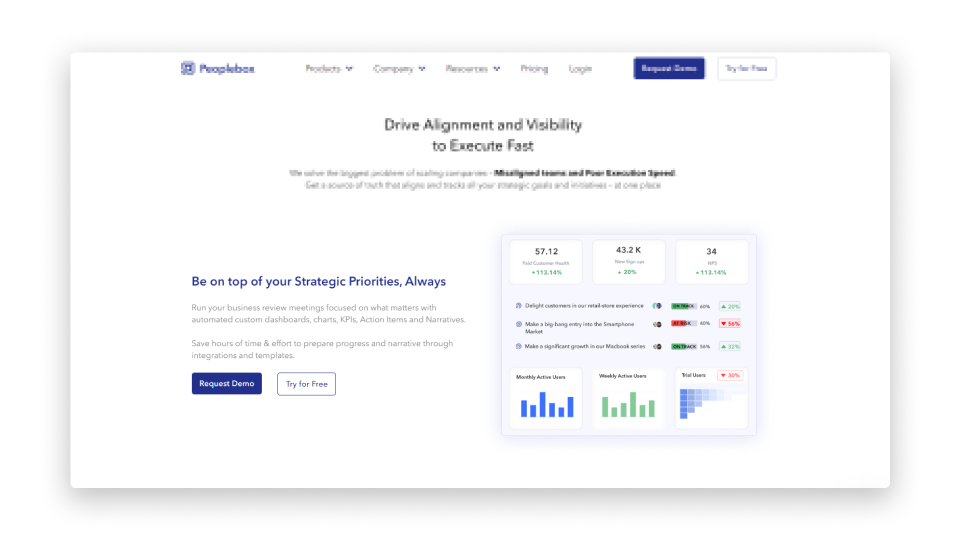 Through native integration with all work tools, Peoplebox offers a single location where all strategic priorities, goals, and initiatives are constantly aligned and updated. Additionally, Peoplebox synchronizes goal data with 1:1s, check-ins, and reviews so that you can continuously manage team performance.
Key Features:
Ability to automate reports and launch recurring employee engagement
Very easy-to-use, single-page application
Expert help in drafting & aligning OKRs
Integration with work tools
Pricing:
Professional user: $7 per user per month
Premium Plan: $15 per user per month
6. Xto10X: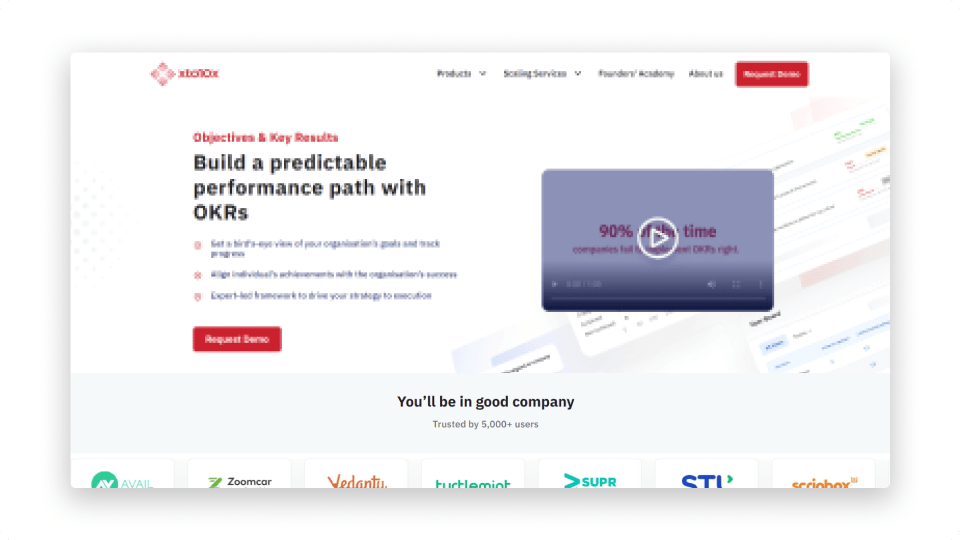 PeopleCues is an employee experience platform that motivates people to deliver ambitious goals and become better versions of themselves. It helps you measure and continuously improve your org health and culture.
Key Features:
Cross-functional collaboration
Team Progress dashboard
OKR check-in reminders
Pricing:
Employee engagement: $2 per user per month
OKR performance and Management: $6 per user per month
All in one: $7 per user per month
7. Perdoo: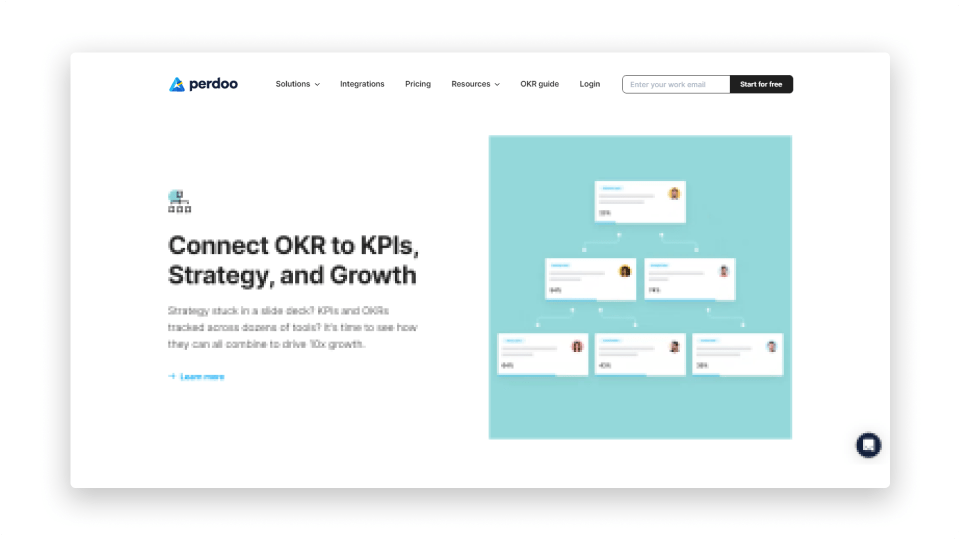 Teams can synchronize their daily activities and long-term strategic goals with the aid of Perdoo. The OKR software from Perdoo is well-liked by mid-sized businesses that work in the pharmaceutical sector. But any company that wants to implement the OKR can make use of its functions and features.
Key features:
Perdoo has integrated with tools like MS Teams, Slack, Jira, and Google Sheets.
Simple and sleek user interface
A roadmap feature where company goals and team objectives can be over multiple periods.
Pricing:
Free: Up to 10 users
Pro: €5.40 per user per month
Premium: €8.00 per user per month
Supreme: €14.00 per user per month
8. Weekdone: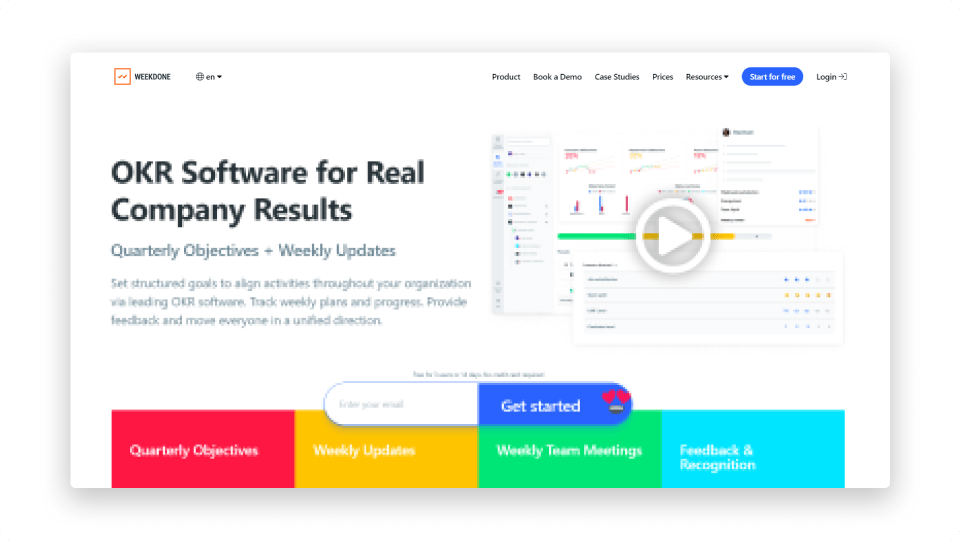 Weekdone is OKR software for setting goals, tracking progress, sketching plans, and implementing a weekly reporting process. Weekdone gives teams the structure they need to set and manage OKRs. The modern user interface and ease of access dashboard make it the best way to start with OKRs quickly.
Key Features:
Integrations with Asana, Jira, Google
The ability to customize measurement units (type/value) for Key Results
There is a Newsfeed tab that allows you to see what other teams and departments are working on.
Pricing:
Free: Up to 3 people
Plan starts from 4 people and goes up to 500+
9. Superbeings: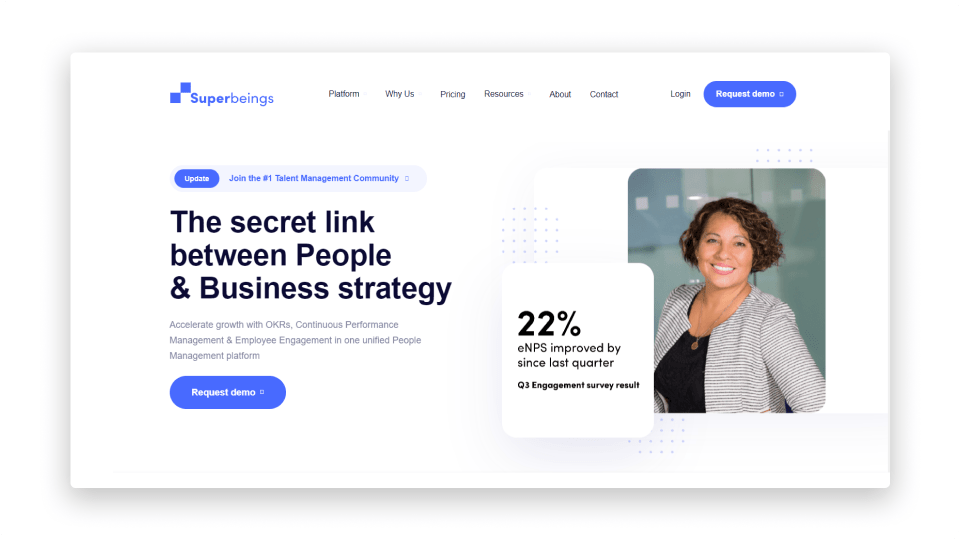 Superbeing is an integrated OKR tool with performance management and employee engagement support that promotes breaking down company objectives into the day-to-day project and driving results.
Key Features:
Integrations with top productivity and communication tools
OKR coaching to managers
Manager approval workflow
OKR weightage
Pricing:
Engage Plan: $2 per employee per month
Perform+Agile: $3 per employee per month
The Full Suite: $4 per employee per month
10. Huminos:
Huminos is a whole OKR software program platform that allows you to align your employees and encourage them to develop impactful goals. With huminos you can measure your quarterly and annual goals continuously and the success of your people's performance.
Key Features:
Integrations with Microsoft teams, Slack, and other HRMS systems
OKRs alignment
Easy implementation & user experience
Usage /Outcome-based pricing
Pricing:
Free forever for small startups
Pay as per your growth starting from 20 users, $1 – $3 per objective.
Summing things up:
As I said before in the blog there might be many fishes in the sea, but choosing (i.e. Datalligence.AI) the right one wouldn't be a problem after this blog. It is safe to assume that Datalligence AI is the best one with great features and insights, real-time interactions, a CFR module, and many more. To learn more about OKR, talk to our experts and try out Datalligence AI for free.
Frequently asked Questions
What is an OKR software?
An OKR software is a tool that helps individuals, teams, and organizations set, track, and manage their Objectives and Key Results (OKRs). These software solutions streamline the goal-setting process and make it easier for teams to align their goals and track progress towards them.
What software does Google use for OKRs?
Google uses a custom-built OKR tool called "gPlans" for setting, tracking, and managing their OKRs. This tool is integrated into Google's internal productivity suite, which includes tools like Google Docs, Sheets, and Slides.
Why use OKR software?
OKR software offers several benefits, such as helping teams set specific, measurable, achievable, relevant, and time-bound goals. It also provides a centralized platform for teams to collaborate on OKRs, track progress toward them, and gain visibility into the performance of their goals. Additionally, OKR software can help organizations align their objectives and key results across teams and departments, making it easier to achieve overall business goals.
What are Microsoft OKRs?
Microsoft uses OKRs to set, track, and manage their goals. They define their OKRs as a "goal-setting methodology that aligns everyone in the organization around common objectives and key results." However, Microsoft has not publicly disclosed the specific OKR software they use to manage their goals.
Our free demo helps you in understanding our product in detail, so you can save time that you spend on onboarding process.