Looking for some ClickUp alternatives?
ClickUp, a popular project management and productivity platform, has gained significant traction over the years. However, as the market evolves, it's crucial to explore alternative solutions that offer similar or enhanced features to popular project management and productivity platforms like ClickUp. While ClickUp has gained significant traction over the years, it's worth noting that it is not the only player in the game. In fact, there are several alternatives that have also gained popularity and earned the trust of businesses worldwide. These alternatives offer robust features and, importantly, provide excellent customer support—a factor where ClickUp has received criticism, as indicated by G2 reviews.
Let's delve into these alternative project management and productivity tools, examining their key features, pricing models, and notable strengths. By considering these options, you can make an informed decision that aligns with your specific needs and ensures you have a reliable platform with excellent customer support.
The 11 Best ClickUp Alternatives
1. Datalligence
Datalligence  is a performance management software company  that provides a comprehensive range of tools and solutions designed to support organizations in effectively managing their goals, objectives, and key results (OKRs).
The primary focus of Datalligence revolves around empowering businesses to implement and monitor goals using the OKR framework. OKRs are a proven goal-setting methodology that enables companies to define and communicate strategic objectives while measuring their progress. Through the Datalligence platform, organizations can effortlessly establish and align OKRs across different departments, teams, and individuals, ensuring coherence and transparency throughout the entire organization.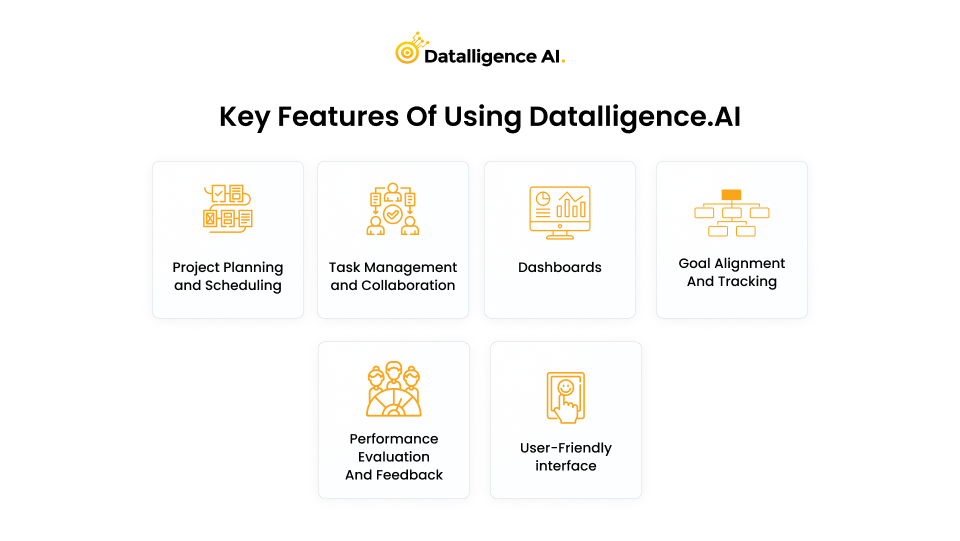 Project Planning and Scheduling:
Create project plans with defined tasks, timelines, and dependencies.

Allocate resources and track progress against milestones.

Link project tasks to the organizational goals

Allows you to create project-based OKRs
Task Management and Collaboration:
Assign tasks to team members and track their progress.

Collaboration features for real-time communication and file sharing.

Commenting and tagging functionality to facilitate discussions.
Dashboards:
Visualize on-track and overdue project tasks

Allocate and manage resources based on project requirements.

Optimize resource utilization and balance workloads.
Goal Alignment and Tracking: