In the ever-evolving landscape of workplaces, the power of efficient tools to drive productivity has never been more crucial. Wave goodbye to those antiquated paper to-do lists, as businesses are now embracing cutting-edge Goal Setting platforms to achieve greater heights. Among these, the Objectives and Key Results (OKR) system have emerged as a true game-changer, revolutionizing how teams monitor their development.
Imagine a world where setting, tracking, and evaluating progress toward your goals is a breeze. Picture your team collaborating seamlessly, propelling each other toward success with unwavering engagement, accountability, and astounding results. This is precisely what the right OKR software can bring to your organization.
With plenty of OKR tools on the market, each boasting unique features and advantages, the choice can be overwhelming. But fear not! Finding the perfect match for your company is an exciting journey of discovery. So buckle up, and get ready to unlock the true potential of your team with the perfect OKR software tailored to your needs. Together, you'll conquer new horizons and redefine what success means for your organization!
In this blog, we will go through the 5 Best OKR Tracking software out there in the market. So let's explore the world of OKR management software!
How to choose the best OKR software
It can be challenging to choose the best OKR tool for a variety of reasons. It's a big category that includes goal-setting and tracking with many different functionalities and approaches. Nevertheless, the best OKR software ought to have the following characteristics:
Ease of Use
The best OKR software should be easy to navigate and use. It allows team members to quickly adopt and integrate it into their workflow without extensive training or technical expertise.
Goal Alignment and Transparency
The software you choose should enable the alignment of OKRs from top-level company goals to departmental or team goals, and down to individual contributors' objectives. It should provide clear visibility into the progress of each goal and ensure transparency throughout the organization.
Integration and Compatibility
Consider the software's compatibility with your existing tools and systems. It should seamlessly integrate with popular project management, collaboration, and communication tools used in your organization. 
Performance Analytics and Insights
The best OKR tracking software should provide comprehensive performance analytics and insights. It should allow you to measure progress, track key results, and analyze trends over time. 
Scalability and Customization
As your organization grows, so will your OKR requirements. Choose software that can scale with your needs and accommodate a growing number of users and objectives. Additionally, it should allow customization to fit your organization's unique needs and workflows.
Top 5 OKR Tracking Software in 2023
1. Datalligence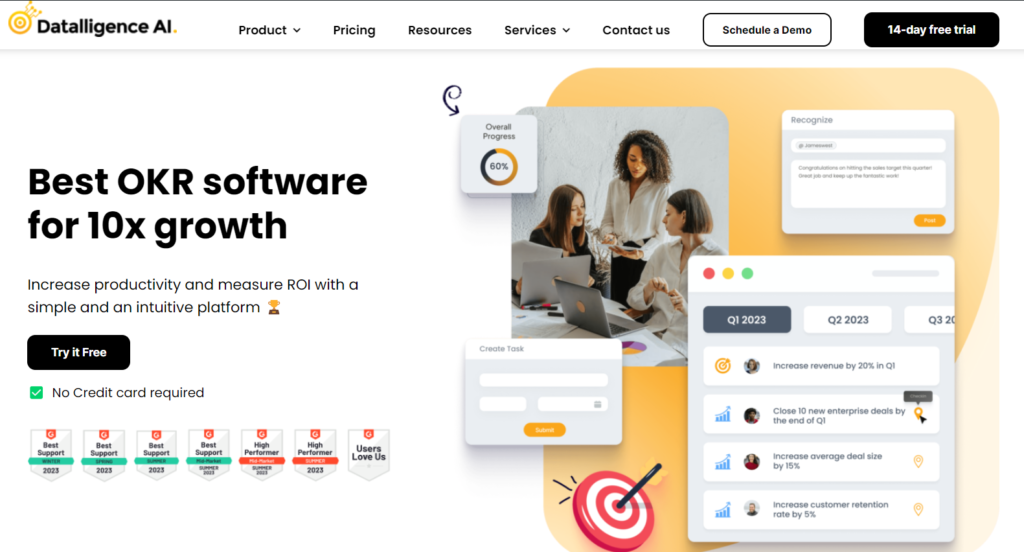 Prominent Features
1. Cascading Company-Wide Goals