How does Datalligence Employee Engagement Software drive results?
Datalligence Employee Engagement software 🎯- Connect and Collaborate seamlessly
Facing challenges in employee engagement? Not empowered with the right tools to measure employee engagement.
Lack of alignment
Lesser recognition
Decreased motivation
No direction
Datalligence Employee engagement software that comes with the CFR(conversation, feedback and recognition) module
Continuous conversations to provide direction and alignment
Combine recognition and Key Result deliverables
Multi-directional feedback to keep motivation high
Creates direction through objective alignment
John Doerr says that "Like OKRs, CFRs champion transparency, accountability, empowerment, and teamwork, at all levels of the organization." They are a complete delivery system to measure what matters.
The only platform which has a separate module for Conversation,Feedback and Recognition (CFR) referred as a sibling to OKRs, and both together make a powerful Duo. CFR optimises OKRs in capturing the conversation around the key learnings and challenges. Tag CFR's to OKRs for frequent reviews and collaborations and plan the upcoming cadence based on the last cadence learnings
Conversations
Conversations drives and inproves the relationship between the manager and employee which is the key for keeping the team motivated and engaged
"As workplace conversations become integral, managers are evolving from taskmasters to teachers, coaches, and mentors." – John Doerr
Initiate conversations around the OKRs to increase rich exchange of ideas and challenges between the manager and the contributor
Enables focus on improvements and developments
OKR Retrospective meetings to capture key learnings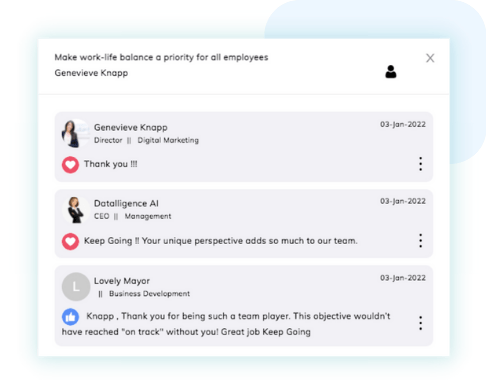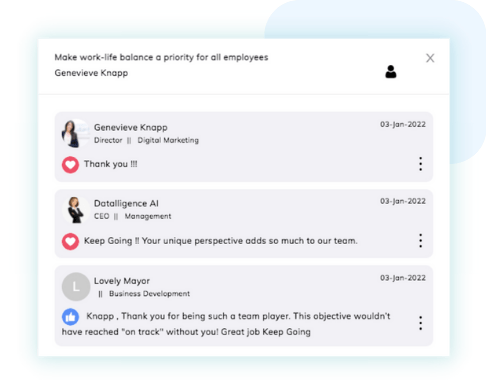 Feedback
Respond to an individual behaviour and sharing feedback is vital to keep any workforce intact. Unbiased feedback ensures the success of OKRs
Initiate Peer-peer feedback
Keep the Feedback Bi-directional and also Networked
Drive both upward and downward feedback
1:1 feedback meetings to review the deliverables
Recognition
Recognitions increase motivation and motivations drives performance.
Express appreciation to those who deserve and make it public to increase the social recognition. When an individual feels valued they are likely to go extra mile and think out of the box.
Recognise team to increase and improve motivation (Public/Private)
Measure managerial effectiveness by the feedback given
FAQ About Employee Engagement 🎯