Implementing the strategy with OKR (Full Guide)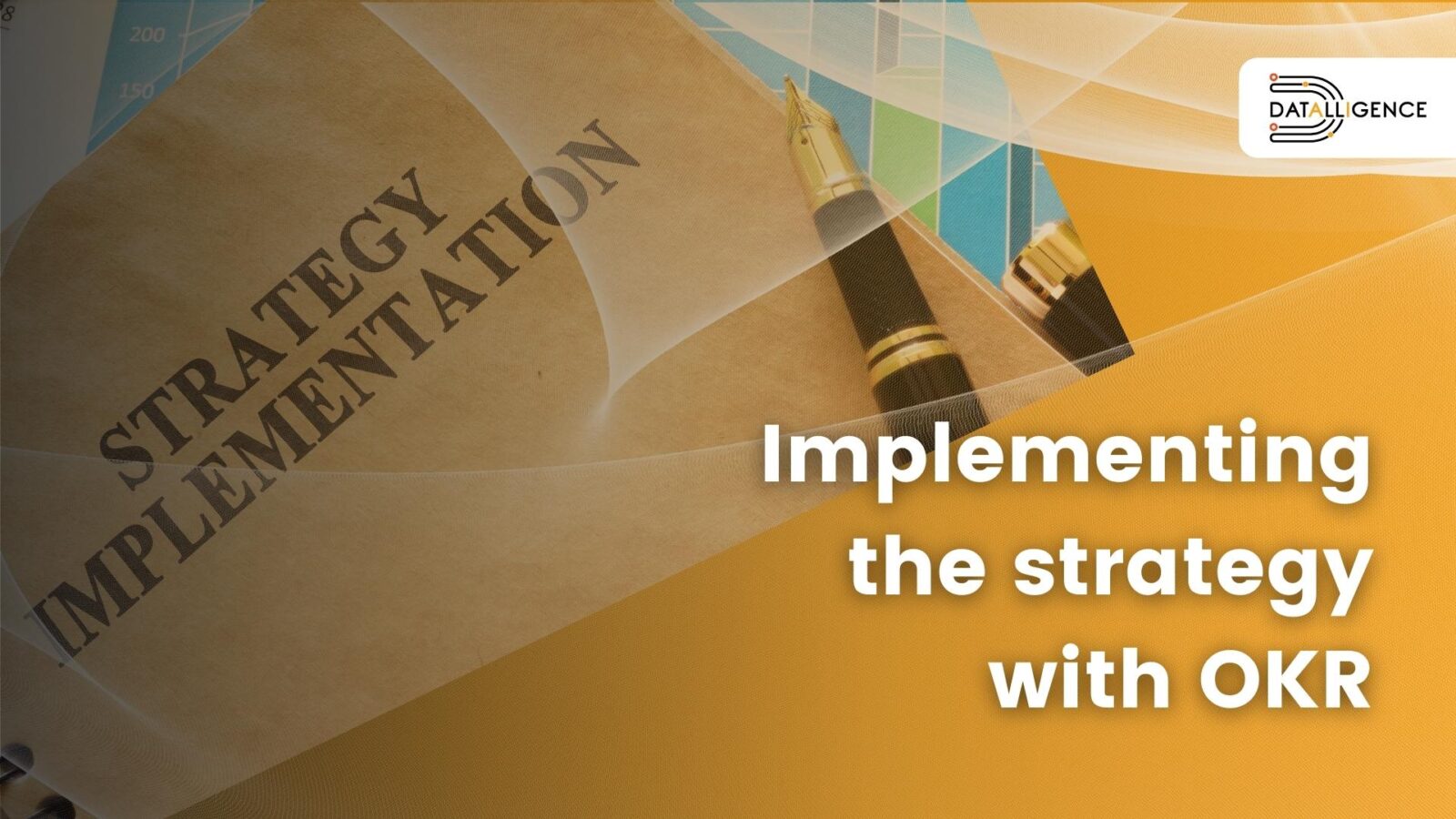 Implementing strategy with OKRs
Objective and Key Results
(OKR) is the best strategy management methodology if you require a change or development. With OKRs you can combine both Moonshot and Roofshot goals while planning. OKR goal-setting, like other frameworks like MBOs and Balanced Scorecards, is a strategic management methodology designed to enable organizations to achieve their desired goals. It also provides a defined metric in its Key Result to measure the
success of the Objective/goals. Now that we set up what is OKR (Objective and Key Results) let us go forward and provide a definite guide for having an effective strategy and strategy execution.
How do OKRs help in strategy?
OKR – Strategy
"Unless you have definite, precise, clearly set goals, you are not going to realize the maximum potential that lies within you."
Strategy or plan is the bread and butter of OKR, which can be used to develop or change an area of concern. One of the better strategies of OKR development is to have a well-defined Objective and three or fewer Key Results to go with it. Each key result should be defined so they would act as the metric to measure the success of the objective.
OKRs
are built of four strong pillars that help in executing strategy.
Prioritization: Since OKRs are limited, between 3 to 5, it increases the priority and we can deliver to objectives that matter to the business
Focus: While we know what is our priority, we can focus on what action plan is to be taken to deliver results.
Alignment: Alignment creates a sense of fulfillment and promotes collaboration when we know how our work impacts the business.
Feedback and Recognitions: OKRs get to a full circle by the bidirectional feedback loop. Ongoing feedback and recognition motivate the team and create engagement.
What are a Moonshot and a Roofshot OKRs?
The other guideline which was traditionally given out on OKR
goal setting
is where to aim at. The OKR framework where 60-70% of goal realization is considered a success is called Moonshot. Which are otherwise called Aspirational objectives. Here the goal is set challenging enough so that even achieving 60% is a success. The goal is set beyond the realm of possibility, making them just a landmark to focus moving towards.
Roof shot also known as committed OKRs, is the answer to the drawbacks of the OKR goal- a setting framework like Moonshot Here the goal is set hard but achievable, that only 100% and not anything has accepted the success of an objective. Successful companies like Google use a combination of two. As Moonshot is the fundamental building block for an OKR development, it cannot be completely replaced without losing out some of its important
benefits and cannot be used solely due to the drawbacks it presents. Therefore, it is shrewd to use Roofshot to build up the muscle and later take up Moonshot when the team is more fervent with the process.
How to plan Strategy Execution?
Having a plan or strategy only solves the first part of the problem. Strategy execution is what makes or breaks a leader. For most leaders, it is easy to grasp why they implement the OKR goal-setting framework, and they even understand how an OKR development strategy can help their organization. It is usually the actual execution itself where they are wrong, struggling to get it straight. Also, leaders forget to acknowledge that their teams have limited
sources of energy and time. If depleted, when they spend too much in planning, not much will be left to
perform
the execution. So, it is no wonder a brilliant set OKR goes wrong in its execution.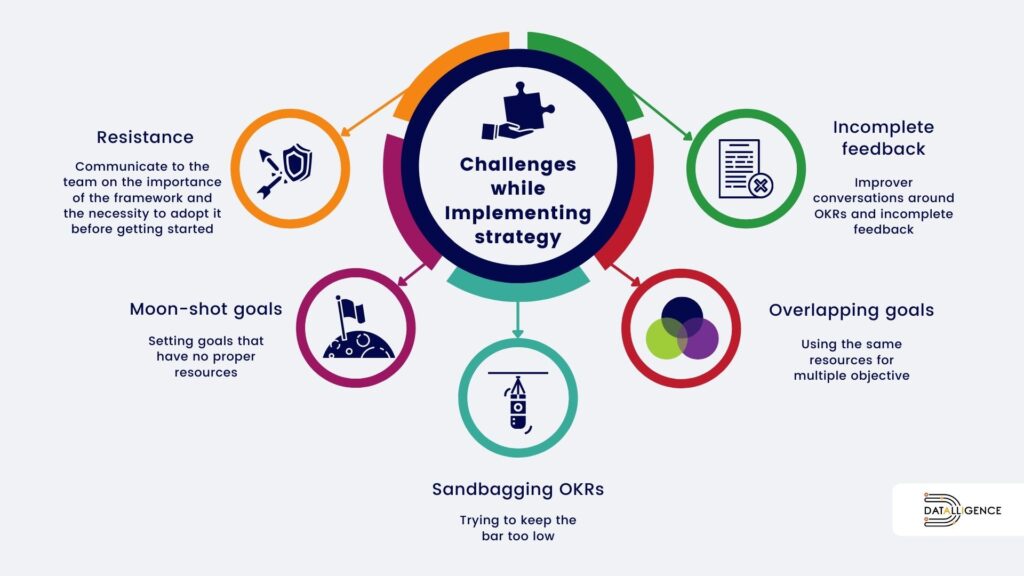 #1. Create Objectives that align with Company goals
Create objectives
of not more than 5 to achieve the company goals. While writing such objectives ensure that the OKRs align and are key contributors to the company goals
#2. Define Key Results
Write Key Results, not more than 5 per objective. Define key results that are quantified to achieve the results. Also, identify the key initiatives that are required to achieve the objective. Once we know the metrics we are going to measure, it becomes a starting point to track and measure progress. Make adjustments as and when required.
​#3. Ongoing Reviews and retrospective
Fortnightly and
weekly reviews
will provide us with a clear understanding of where we are traveling. OKR Retrospective meetings enable us to analyze the lessons learned and apply them to the upcoming quarter
#4. Put an end to the unstructured meetings
Most of your valuable time can be made to waste by unnecessarily long meetings trying to track the state of the objective. To solve this, first, have a streamlined objective and key results. Then employ an OKR tracking software that presents the goals at the forefront and gives instant transparency to the entire company. This will reduce the meetings and so only have standup meetings. Furthermore, permit anyone who does not benefit from the meetings
to skip them.
Challenges in OKR execution
 The first thing we will come across is resistance. Getting started itself will be a challenge. Communicate to the team on the importance of the framework and the necessity to adopt it before getting started
 Setting Moonshot goals that have no proper resources
 Creating Sandbagging OKRs to keep the bar low.
 Overlapping goals with the same resources
 Not initiating conversations around OKRs and incomplete feedback.
Conclusion
OKR is an ideal framework to connect and bridge the gap between the strategy and execution and that can bring you closer to your goals. Before adopting the strategy ensure to have an OKR champion. Communicating the OKRs and continuously updating the progress is essential. With its effective strategy, planning and its execution goals can be achieved regardless of their complexities.
OKR tracking software
can be more useful than Excel- Excel-based OKR as they are the easier option to track OKR during execution. Try Datalligence OKR for
trial today
and get a flake of the entire potential of your company acknowledged.
Our free demo helps you in understanding our product in detail, so you can save time that you spend on onboarding process.