OKR Examples for Non-Profitable Organization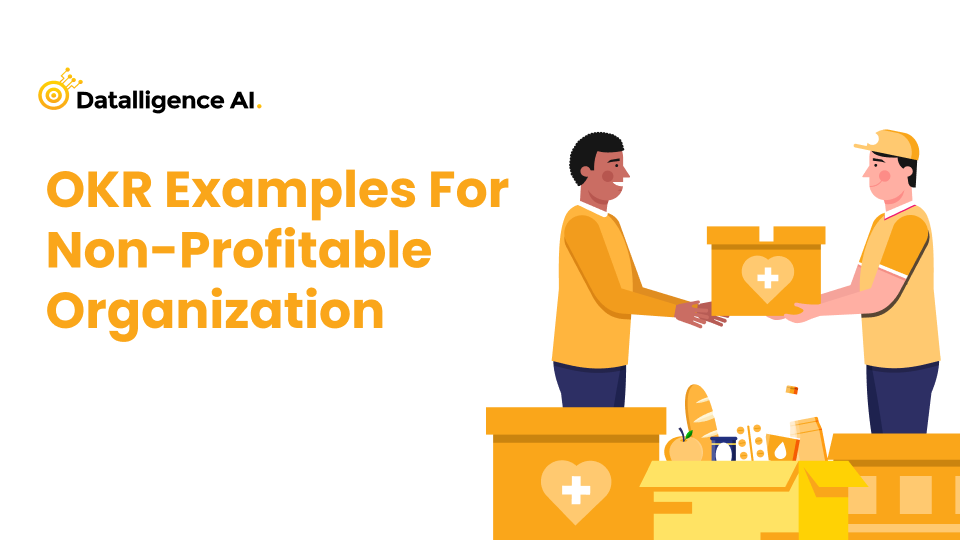 How Does OKR Software Help non-profitable organizations?
Do you know that there are more than 10 million non-profits and non-governmental organizations worldwide? They all thrive to make the world a better place to live in.
Why OKRs (Objectives and Key Results) could be different from non-profitable organizations? Well, they set audacious goals, and achieving them is important as it also has a social impact. With the pandemic engulfing our last two years, these teams had difficulty reaching out to various geographies to achieve their goals.
A goal is critical and without a concrete goal in place, the mission and directions will cease to exist. It is vital that there is a structured goal-setting framework that will navigate the team to the right platform.
The synopsis of this is that well-structured goals with OKR software to track their progress will be the right answer to our questions. Despite their reach across the globe OKR software unites them and keeps them aligned with the goal.
OKR software for a non-profitable organization
While we ask why we should advocate OKR software to the Non-profit, it is important to understand how they work. They do not operate on profits as the name implies. They are a philanthropic organization where that has objectives defined for itself. For example, one such objective is to make an impact on children's education or to eliminate hunger. Having such audacious goals must be laid out with brevity and clarity else it becomes a herculean task.
Objectives help you define the "what," for example, Creating an impact on the children's education.
The Key Results are the "How" that helps the organization achieve the "What." The Key Results for the objective could be
Raise funds xMN by
Identify the villages that need education by
Creating OKRs becomes swift in a platform and tracking is important for such a goal to make corrective actions. OKR software aligns helps teams to align with the organizational objective and constantly highlights the gaps if any.
10 Top non-profitable organization OKR Examples
While Writing OKRs it must be compelling and have actionable Key Results. Should be measurable and create accountability.
Let us also see a few OKR examples that will help organizations to create the right OKRs that fit their teams
Let us assume that the company "Support the World" wants to create objectives that are aligned with its vision.
Their goal is to make them a leader in the digital platform that enables the globe to give donations
Having said that they have set a few objectives for themselves to achieve the goal.
🏆 Objective: Making Support the World platform is the most used and go-to platform
KR 1: Launch the platform by
KR 2: x number of users to be onboarded by Q1
KR 3: x % of users for the NA region
🏆 Objective: Create a self-sustaining organization
KR 1: Cover x% of operation cost through the donations
KR 2: collect xMn donations by
🏆 Objective: Create a team that supports the journey
KR 1: Hire CTO by
KR 2: Increase the field team to x number by
🏆 Objective: To create awareness for equality for the disabled
KR 1: Launch the campaign to increase awareness
KR 2: x number of Roadshows by
🏆 Objective: Create a culture and increase people's delight
KR 1: Implement x number of programs on wellness by
KR 2: Set up a kiosk for employees to connect by
KR 3: increase the engagement score to x
🏆 Objective: Connect with corporates to increase donations by Q2
KR 1: Visit x number of companies for the partnership on CSR
KR 2: Signup x number of CSR partners
🏆 Objective: Connect with corporates to increase donations by Q2
KR 1: Visit x number of companies for the partnership on CSR
KR 2: Signup x number of CSR partners
🏆 Objective: Increase engagement of the platform
KR 1: Increase the site impressions by x%
KR 2: Achieve the x% click-through rates
🏆 Objective: seamless Funders communication
KR 1: Send 2 communications to the funders every month
KR 2: Increase the funder's retention to x%
🏆 Objective: Create an impact on the organization in the Policy area
KR 1: Conduct x number of meetings per quarter
KR 2: Publish x number of policies by
Implement OKR for non-profitable organizations
While implementing OKRs for a non-profit it is essential to understand the goals that the organizations have set for themselves. As the focus is on delivering numbers and creating a social impact. setting clear targets that are ambitious is especially important. Recognizing the key metrics that matter to business will help in crafting OKRs.
Talk to our experts more about OKR Software.
Talk to our experts to more about OKRs. Our domain experts can work with organizations to create solutions that are specific to organizations. OKRs are industry agnostic, and it is remarkably interesting when it is applied to Non-profit organizations. The outcome is quantified and hence the results are more tangible in nature. Write to Datalligence for implementing OKRs today.
Our free demo helps you in understanding our product in detail, so you can save time that you spend on onboarding process.