10 Best SaaS OKR Examples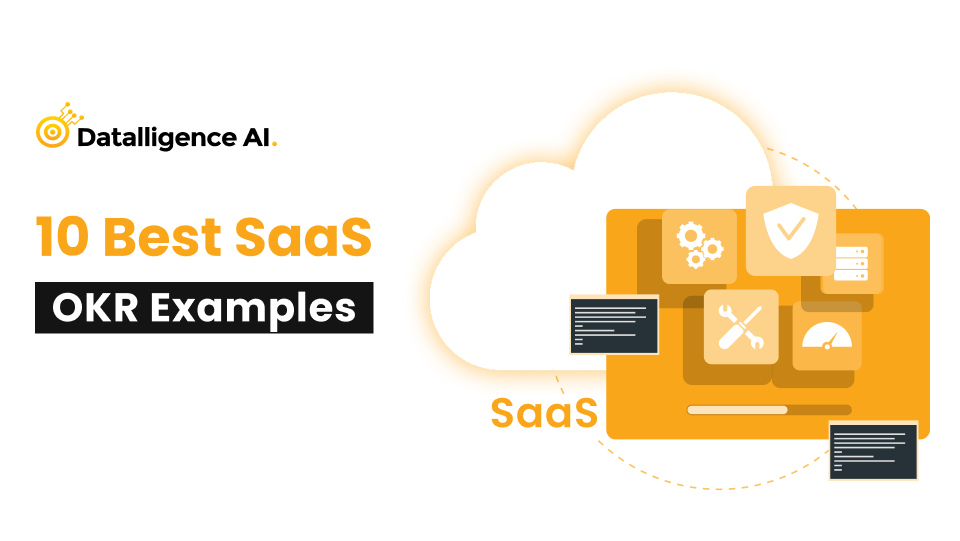 INTRODUCTION
OKR stands for (Objective and Key Result) their purpose is to help companies, teams, and individuals set goals and strategies in manageable chunks. These goals can be used for anything from performance to productivity, and they're all about setting objectives and getting measurable results.
OKRs are usually set across a defined period of time to track progress, maintain progression, and introduce contingency plans when needed.
OKR is a goal management framework used by leading Silicon Valley companies as well as growing start-ups to align and implement strategies for growth. It streamlines the focus of employees towards a unified goal while increasing transparency and discipline.
The main purpose of any OKR is to ensure that the team leader and the entire team are working towards the same purpose. To make it more professional, teams use different tools that help in the quick implementation of OKRs in the company.
What is OKR?
How do you get started with OKRS? Used by the likes of Google, LinkedIn, Intel, Amazon, Oracle, and Twitter, OKRs are a common management strategy in the modern working world. This introduction to OKR with Infographics helps you join the ranks of companies that have nearly perfected the art of the new world of management,
With alignment and visibility, OKRs help you to unite teams and entire organizations together so basically, OKRs helps you set company, department, team, and personal goals. You connect each goal with 3-5 measurable results. As you achieve those results, the percentage of the entire Objective increases, so you can see the progress towards your aspirational goals.
OKR helps to track employees' progress towards tasks and the organization's progress towards its broad objectives. Thus, OKRs hold every team and employee accountable for company growth. Most SAAS companies work with efficient employees with different skill sets and measuring employee engagement and performance OKRs is a big help.
Why are OKRs important for SAAS?
OKRs are a great way for SAAS companies to motivate and align teams to work towards a common objective, and on individual-level, they're a great way to demonstrate the value you bring to the table
The SAAS OKR framework allows you to set critical goals for your business. The OKRs can be either qualitative (e.g., customer expectations) or quantitative (e.g., percentage of profits).
You can use OKRs to create a robust system of decision-making where every employee knows how to get things done and track their progress towards certain tasks. This helps to provide real value to both the customers and the organization.
OKRs also help to set transparency within teams and give clear direction to everyone thus preventing priorities from overlapping.
5 individual goals steps to implement OKR in SAAS companies
1. Introduce them to your team:
Before we roll out any new kind of framework, communication is the key. We should always communicate about the framework and how to do that and whether it is feasible or not. Explain the concept of OKRs to your team, and what you hope to achieve by implementing them. Outline the timelines you plan to use to measure their success (monthly, quarterly), and most importantly discuss the procedures around deliverables, progress checks, and what to do if any problems arise.
2. Define OKRs:
Define your specific objectives by asking yourself three simple questions.
* Where am I now?
* Where do I want to go?
* How do I get there?
Your answers will form the outline of the OKRs for every team member within your given timeframe.
Your objective might be to reach out to 30 potential new clients over the next months and seal the deal with 10 over the next quarter.
Once the rest of your team is aware of your objectives, They can break them down into bite-sized tasks or relevant metrics to help the company achieve that goal, whether that's by adding features to entice a certain type of client or resolving customer issues for better feedback.
3. Regular check INS:
Discussing OKRs at the start and the end of each cycle just isn't enough.
Regular check-ins to see how objectives are progressing and whether individuals are on track to meet their targets are vital to everyone achieving their goals.
Schedule weekly or bi-weekly one-on-ones with team leads to see if you can provide guidance or assistance to help them reach their target. Keeping on track ensures you have enough time to achieve what you set out to without having to scramble for a time as the quarter comes to an end.
4. Measure your OKRS:
You can measure OKRs by implementing a scoring system. The terms scoring OKRs or grading OKRs refers to the practice of setting criteria for evaluating success — critical to the OKR process. When scoring or grading an OKR, you declare the level of completion for each key result.
You can use several methods to grade OKRs. Regardless of the method you choose, you'll need to determine at the outset what scale to use, what each increment represents, and how to define progress. For example, if your key result is to win 20 new memberships, will winning 10 memberships score an 0.5, or will 14 memberships score an 0.7? In addition, each key result needs its own scoring criteria. The whole team must clearly understand the scale for each key result they will work on.
5. Establish feedback loops:
It will take time for you and your team to get used to the process of OKRs, you might not have all of the right metrics in place at the very start, but once you've completed a few cycles you'll get a better feel for realistic timelines and how long certain processes actually take.
It's so common to underestimate the time it takes others to complete certain tasks or overestimate how much users are going to love a certain feature, but that's the beauty of OKRs, even if they're not quite met, there's a goldmine of valuable information about your organization to be mined from the results, On the flip side, you might find that a certain set of measures aligns perfectly with your business goals, and you can really hone in those metrics and add them to your grading system accordingly.
10 best SAAS OKR examples: – Here are some examples of OKRs SAAS
Objective 1: Increase Recurring Revenue, Grow our Product Range
KR 1: Increase Monthly Recurring Revenue
KR 2: Increase the Number of New Sales Each Week to X
KR 3: Increase Retention Rate to X%
KR 4: Reduce Churn to X%
Objective 2: Successfully Launch the New Product
KR 1:Get over 10000 new signups
KR 2:Increase free trial to subscriber Conversion Rate to X%
KR 3:Get mentioned in X Newsletters
KR 4:Achieve trial to the paid ratio of over X %
KR 5:Achieve sign-up to the trial ratio of over X%
Objective 3: stabilize product by Q3
KR 1: Increase code unit test cover from X% to X%
KR 2: Reduce bugs reported after initial release from X to X average.
KR 3: Increase unit test coverage by X%
Objective 4: Distribute content effectively
KR 1: Publish a guest post on X blog
KR 2:Improve backlinks by X%
KR 3: Acquire X more followers on social
Objective 5: Improve the quality of product releases
KR 1: Reduce the % of bugs found during the development process by X%
KR 2: Improve the unit testing coverage from X% to Y%
KR 3: Increase the sprint capacity from X to V SP
Objective 6: Research analyze and understand what our users and non-users really think
KR 1: Sales team to conduct X phone interviews with key accounts
KR 2: Support team to conduct X phone interviews with churned accounts
KR 3: Product management to interview X external team leaders (non-users)
Objective 7: Activate user-testing of our product
KR 1: Conduct X face to face user testing and interviews sessions
KR 2:Receive X no. of video interviews from users
Objective 8: Implement a new 360-degree product planning process
KR 1: Documents a clear role division between sales, marketing, design, and development
KR 2: Decide on and documents the process of input methods to and from sales, marketing, design, and development back into product management
KR 3: Integrate user testing into all activities in the product planning and design phases
KR 4: Integrate user testing into the pre-launch testing phase
Objective 9: Improve the speed of feature releases
KR 1: Increase the length of the QA testing phase before entering the user testing phase in 2 weeks
KR 2: Reduce the number of reported bugs by X a week prior to the feature release
KR 3: Decrease the number of reported issues during the development process by X
Objective 10: Make our company go viral
KR 1: Generate 100,000 views on our YouTube channel
KR 2: Get 10,000 new followers on Instagram
KR 3: Increase organic search traffic to our website by X
Closing Thoughts:
OKR software is basically a growth strategy and who would not love to see the growth of their SaaS products?
The OKR framework is like a habitual transformation for any organization, no matter how many employees work in your company-OKR can be created with two people, if your vision is strong your goals-setting approach should be stronger.
OKR for SaaS is now more important than ever, technology innovation is increasing at a high pace and if you are still figuring out how to do it, you are already 100 steps behind. OKR in SaaS helps the entire team to grow in the desired direction, if your team task and key results are aligned with your top management goal– there is no way back your team will keep on achieving milestones.
Our free demo helps you in understanding our product in detail, so you can save time that you spend on onboarding process.