10 Best Goal Setting Software 🎯 – Free & Paid Tools (Updated for 2022)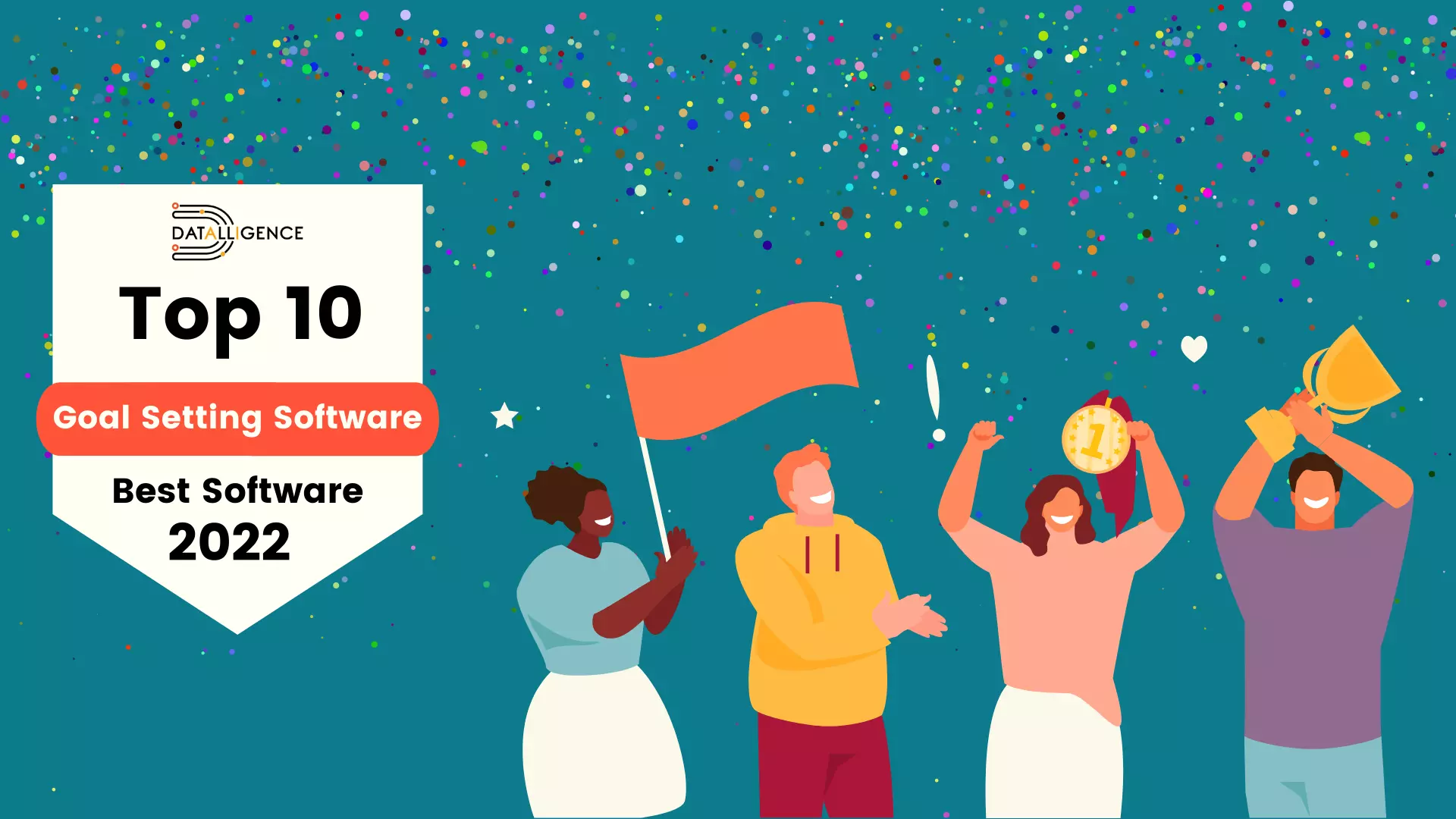 Do you know a study found that the 14% who have goals are 10 times more successful than those without goals?
Goal setting and tracking are important parameters when we evaluate people and business performance. there have been various methodologies that have been followed for the last few decades that helped to determine employee performance, nevertheless, it is very important to have a goal. Past few years there has been a great shift in the way workforce behavior changed and how they shifted to remote or hybrid models. It becomes very difficult to align them with a common goal and evaluate them. This article will give you more ideas about digitizing the goal-setting process and how to evaluate employee performance in an automated way.
Here are a few guidelines to decide on the best goal setting platforms available and how to operate effectively with them
What is Goal setting software 🎯?
Studies revealed that 90% Of people perform better with relevant and challenging goals.
Everyone thrives in setting goals be it personal or professional goals, but very few offers succeed in achieving them.
It is also highly frustrating if one is not achieving those goals because it's a constant reminder of our lack of focus or engagement it has an impact both personally and also professionally.
Few goal-setting practices that are around for the last few decades are
MBO
KPIs
SMART Goals
OKRs
let's quickly break down to understand what are these goals setting methods are
Management by objectives(MBO) is called us objective-driven methodology that helps us to track department and organizational objectives
SMART goals are specific measurable attainable realistic and time-bound goals
KPIs are key performance indicators that help us to measure the different key indicators of a business
OKRs are objectives and key results, goal setting methodology that helps to measure team and individual performance along with the business progress
for example, a typical OKR looks like this
Objective 1: Improve hiring effectiveness by Q2
• Key result 1: Improve the quality of hire from XX to YY%
• Key result 2: Decrease first-year churn rate from YY% to XX%
• Key result 3: Increase the Offer acceptance rate by XX
10 Best Goal Setting Software 🎯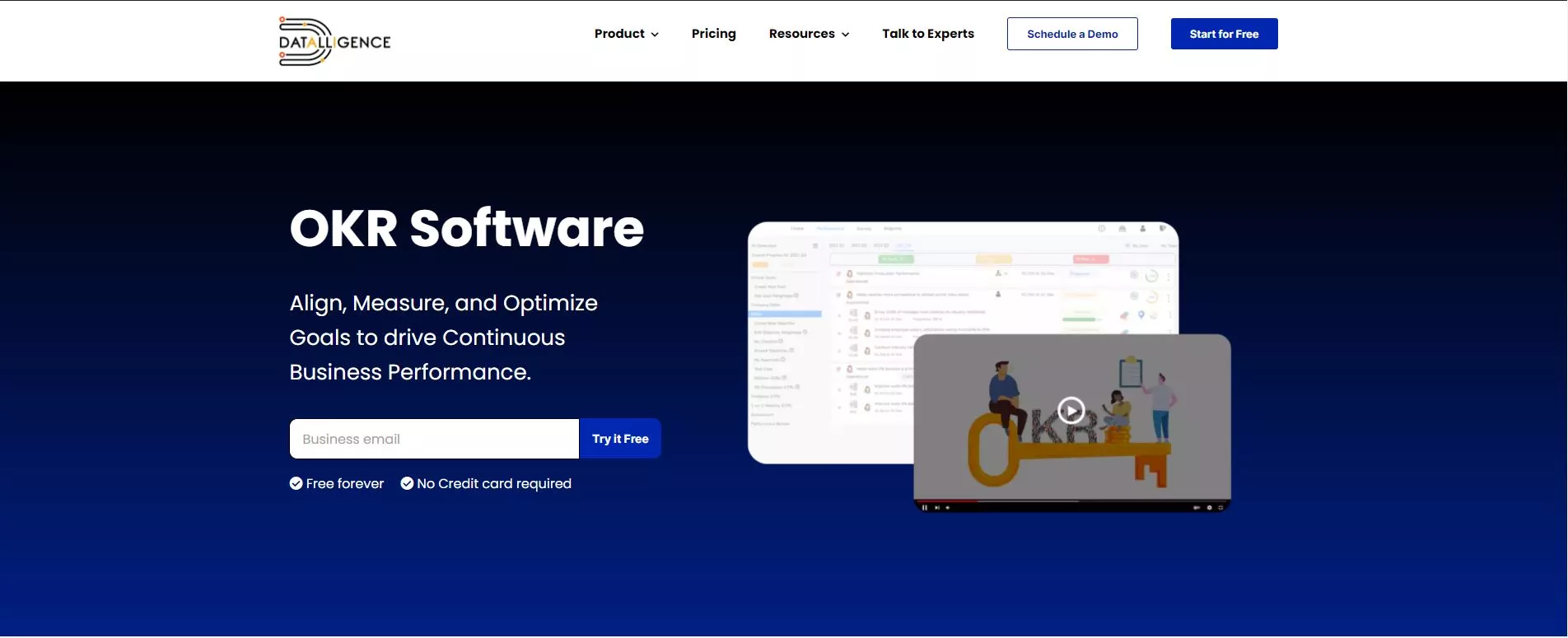 Datalligence performance management tools help organizations measure 180 or 360 performance reviews objectively. Datalligence is built by having employee engagement and increasing productivity in mind. They also integrate with OKRs to identify organization and people performance
Break the myth around performance management and breeze away with the new age goal of Tracking Software. Datalligence. A platform that is robust and tailored for the new generational workforce. Datalligence is built for the organizational level performance as well as team and individual performance
Datalligence, the platform automatically aligns with the organizational performance and tracks goal progress continuously, and breaks away the annual process thus making it a very simple yet powerful tool
Before we start setting the goal let's make the goal
• Time-bound
• Measurable
• Assign the owner
The rich features make it the most loved Performance management software
Check-in:
Let the world know what you are up to and make some noise by check-in and updating your progress
Insights:
Get insights on goal progress and average progress. Get an overview of Department level and individual-level performance.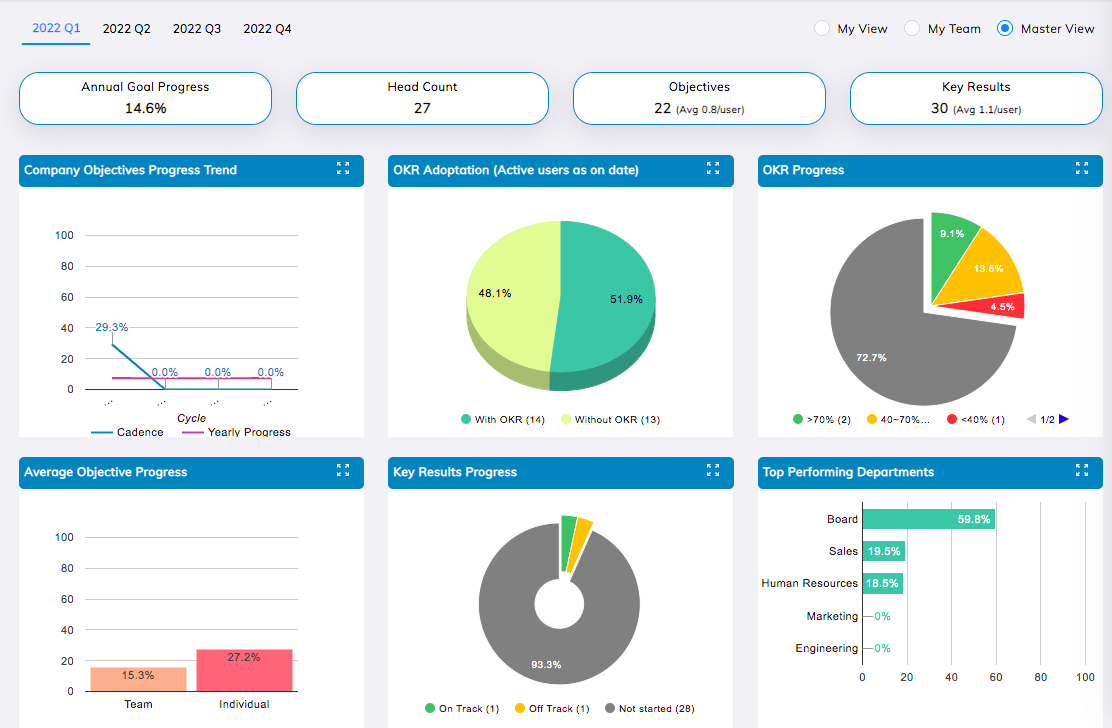 Objective Alignment:
create simple alignment with the company objective to see the big picture
Survey And assessments:
Design surveys and assessments(Pulse,180, and 360) that help you run tailored questionnaires and analyze ratings.
1:1 Meeting :
Initiate meetings and OKR retrospectives in the platform
Custom Notifications:
Decide how you want to handle your notifications
Contextual Help:
Quicker onboarding with the minimal product support
Feedback & Discussion :
Multi-Directional feedback both public or private feedback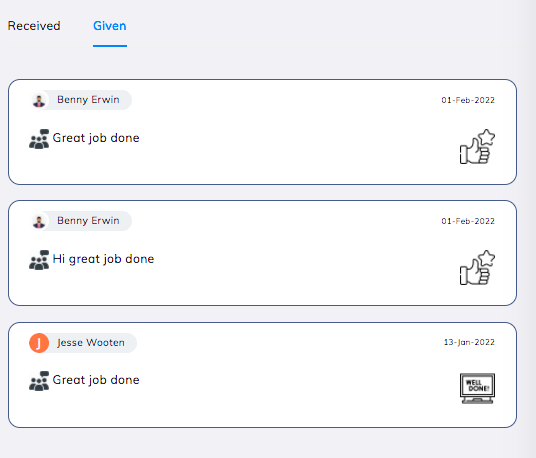 Key features of goal setting and advantage
Goal setting
Objective and Key Results (OKRs)
Track progress
Team Management
Alignment view
Hierarchy view
Customizable Competency Mapping
Surveys and Assessments
Performance Reviews
1:1 meetings
Employee Recognition

Employee Feedback
Pros
Ease of Use
The tool requires very minimal training
Facilitates 1:1 meetings
Enables discussions and feedback
Rich Insights
Continuous performance management
Contextual help is good
Customer support SLA is very less
Cons
Adding more reports will help
More OKR examples will be more recommended
The Goal Setting software has Three pricing plans.
Free for Lifetime:
Up to 5 users
Objectives and Key Results (OKR)
KR Checkin and approvals
And More
Initiator:
$2.5/user/mo
Everything in Free
Annual Goals
Create Task
Assign Tasks
Custom Reports
And More
Successor:
$5.8/user/mo
Everything in Initiator
Assessment (Pulse/180/360)
Performance Management
Insights and Dashboards
Survey (Pulse/180/360)
Learning Management System
And More
2. Keka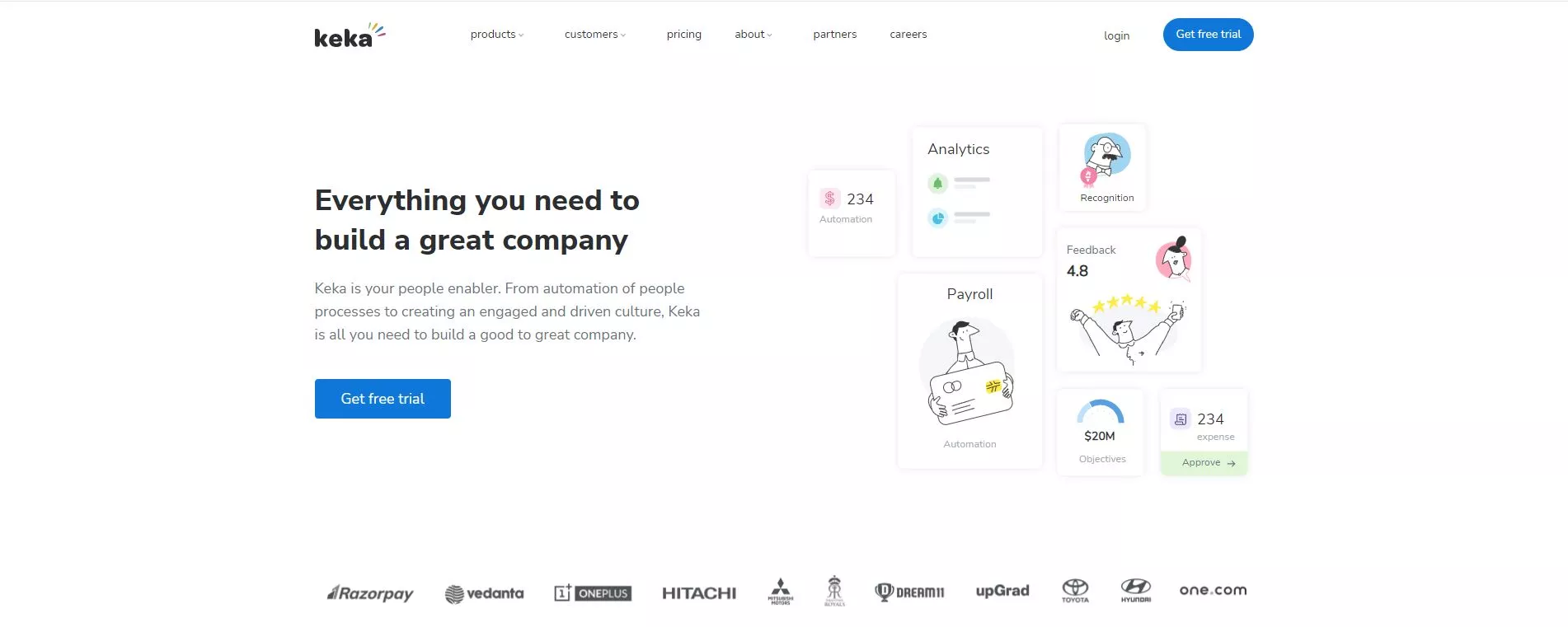 Keka is the PMS that helps in continuous performance reviews on a real-time basis. Keka goal setting software enables managers and employees to monitor, analyze, track, and evaluate performance.
REMOTE EMPLOYEE ENGAGEMENT
Employee Pulse Surveys
One-One Meeting
Continuous Feedback
Public Praise
360 REVIEWS
Nominations
Skills and Competencies
Job Functions and KRA
Banding & Calibrations
Traditional Goals
Modern OKRs
Cascaded Goals
Pros
Keka is easy and is very reliable
It has ticketing management for the employees
Keka is Affordable Software for HR activities
Helpful appraisal process
Cons
Difficult payroll navigation
Not user friendly
The UI of the software is not good.
Keka Pricing:
The Goal Setting software has Three pricing plans.
Foundation
For companies that are just getting started with automation
₹6,999/month
(up to  employees)
Strength
Scaling with advanced automation & employee engagement
₹9,999/month
(up to  employees)
Growth
Align employees in your growth journey and get their best
₹13,999/month
(up to  employees)
3. Goalscape

Goalscape is a platform that enables an overview of Goals, Priorities, and Progress. Having an integrated OKR and performance might not be available. Allows you to manage the hierarchy and assign goals and milestones to them
Key Features
always keep the overview
Track progress visually
See priorities clearly
Embed images and videos
Share online with others
Assign persons and tags
Search, filter, and highlight
Export matching Goal List
Build unlimited goal scapes
Pros
Simple Tool
Quicker onboarding
Help videos really help
Cons:
Unorthodox user interface
Goalscape Pricing:
The Goal Tracking software has Three pricing plans.
FREE
Full Unlimited functionality
Free for 2 weeks
No credit card required
UNLIMITED
Monthly Plan $ 9.90/mo
Always keep the overview
Track progress visually
See priorities clearly
Embed images and videos
Share online with others
And more
ENTERPRISE
All Unlimited benefits, plus:
Dedicated server
Corporate branding
Custom subdomain
Enterprise level security
And more
4. Synergita

A continuous performance management system also enables is traditional appraisal reviews and continuous feedback practices. facilitate employee engagement, employee development, and performance appraisal process.
Pros
• Good software for recognizing and improving the performance
• continuous feedback is good
• simple to use and easily accessible
Cons
• Product enhancement is limited
• Reports are not sufficient
• Slow support team response
Synergita Pricing:
The Goal Management Software has Two pricing plans.
Synergita Perform
₹ 50 per employee/month
billed annually
Advanced Talent Information
SMART Goals & Track Achievements
Metrics Import for Goals
Performance Reviews / Appraisals
Normalization
Custom Workflows & Feedback Templates
And more
₹ 80 per employee/month
billed annually
Synergita Perform
360 Degree Feedback
Promotion Cycle
Career Aspirations
And more
5. Trakstar
Trakstar works along with the team to measure progress and goals. It aligns with the individuals' goals and company objectives. Track star works well with the employees and the manager.
The progress is tracked by measurements and has a timeline linked to the goal. The tool also allows email notifications
Top Features:
– Manager and employee goals
– Track progress with measurements
Pros
Ease of use
Customer Service is good
Cons
Very Slow system
No Export reports
Rated bad on UI
Popups are annoying
Trakstar Pricing:
The Goal Management Software has One pricing plan.
Pricing: Starting from $4370.00/year
Free Trial: Available
6. 15Five

15Five enables employees to measure performance create a growth culture. It has a multifaceted approach to performance reviews. This goal management software combines with OKRs and promotes employee engagement
Top Features:
• Goal setting with OKRs
• OKR chart view
• Naming customization
• Jira & Salesforce Integration
• Data insights
Pros
Supports micromanaging
Ease of use with minimal training
Facilitates discussions and 1:1
Cons
Not Intuitive
Process is repetitive
career or personal development goals aren't there
15Five Pricing:
The Goal setting Software has Four pricing plans.
Engage:
$4/per user per month.
(billed annually)
Core engagement survey
Topic-based assessments
Custom topic-based assessments
Filterable heatmap & analytics
Historical benchmarks
And more
Perform
$8/per user per month.
(billed annually)
Everything in Engage, plus…
Performance Reviews
360º feedback
Competencies
Calibration
Talent Matrix
And more
$8/per user per month.
(billed annually)
Only includes the features listed below…
Goal setting with OKRs
OKR chart view
Naming customization
Jira & Salesforce Integration
Data insights
And more
$14/per user per month.
(billed annually)
Everything in Engage, Perform, and Focus, plus…
DPAs and security questionnaires
7. Goals On Track
Goals On Track is a goal setting and management tool built on breaking down every hurdle into SMART goals and a focused action plan.
It provides daily tracking of targets and tasks. Allows you to create milestones and sub-milestones. This platform creates a behavioral change in tracking and being goal-oriented.
Key Features
Goal Dashboard
Create S.M.A.R.T. Goals
Progress Tracking
Goal Templates
Task Management
His goal-tracking tool and habit tracker offers two paid plans:
Goals On Track Pricing:
The Goal setting Software has one pricing plan.
Starting From:
$68.00 /year Per employee
Pricing Model: Flat Rate
Has free trial
8. Lattice

Lattice enables project management to 360-degree, easy setup with minimal guidance. Easy interface for both managers and employees. Lattice provides updates, peer feedback, and goals. The customizable solution can be tailored to suit the requirements of the organization.
360°, manager, and peer performance reviews
Custom question templates
Performance reporting and analytics
Customizable goal weighting
Goal and OKR analytics
Goals and OKR visualizations
Pros
Communication tracking with remote teams
1:1 can be recorded
Cons
Very hard to use for small teams
Not Flexible
Limited features
Lattice Pricing:
The Goal Management Software has one pricing plan.
Free trial not available
$8 person/month
OKRs and goal tracking and management
Customizable goal weighting
Organizational ownership with group goals
Goal and OKR analytics
And more.
9. Profit. co

Profit supports in measuring employee performance and also enables employee engagement. Its suite of products enables OKR based performance that helps organizations to measure organization goals and team goals and fosters growth culture.
Key Features
Manager + 360° assessments
Customizable Question Builder
Flexible Competency Mapping
Potential assessment
Performance heatmap
Employee performance 360-degree trend chart
Customizable 9 Box matrices
Employee Performance Goals
Pros
Easy to track OKRs, KPIs, and tasks in one go
Great support
Simple UI
Custom KPIs
Cons
Not intuitive
Too many customizable features.
overwhelming and difficult to focus
Profit. co Pricing:
The Goal Setting Software has Three pricing plans.
FREE (Up to 5 users)
Just getting started with your OKR Journey
Part of a team that is still getting used to OKRs
GROWTH
$7/month per user billed annually
Convinced that OKRs are at the core of your management methodology
Ready to roll out to multiple teams
ENTERPRISE
Custom Pricing Contact Us
100% committed to the OKR centric management methodology
Ready to roll out for the entire business
10. Weekdone
Weekdone is a goal tracking software that supports OKR performance. Though it may not support employee performance management, it gives an overall picture of the organization, team, and individual performance.
Weekdone key features
OKRs and weekly planning
Conversations, Feedback, and Recognition (CFR)
Clear dashboards and progress breakdowns by user
True OKR alignment (top-down or bottom-up)
Company TV Dashboards and Custom Reports
Pros
Notes are good
Weekly plans are useful
Facilitates discussions
Cons
Features are not rich
Doesn't support continuous performance methods
Difficult to manage notifications
Weekdone Pricing:
The Goal Tracking Software has one pricing plan.
Free trial available
$ 3,360 annually for a 40 user package.
Frequently Asked Questions
Our free demo helps you in understanding our product in detail, so you can save time that you spend on onboarding process.
Related Posts