10 Best OKR Tools in 2022
What is OKR?
Objective and Key Results are shortly known as OKRs.
Long story short, Peter Drucker designed MBO or Management by Objectives. Later In 1968, Andrew Grove co-founded Intel and was a great fan of MBO. He brought MBO into the OKR framework that is well known today by business leaders. Companies like Google, Facebook, Uber, etc follow OKR Framework for their strategy execution.
a) Objective helps us to define our destination
b) Key Results help us to get to our destination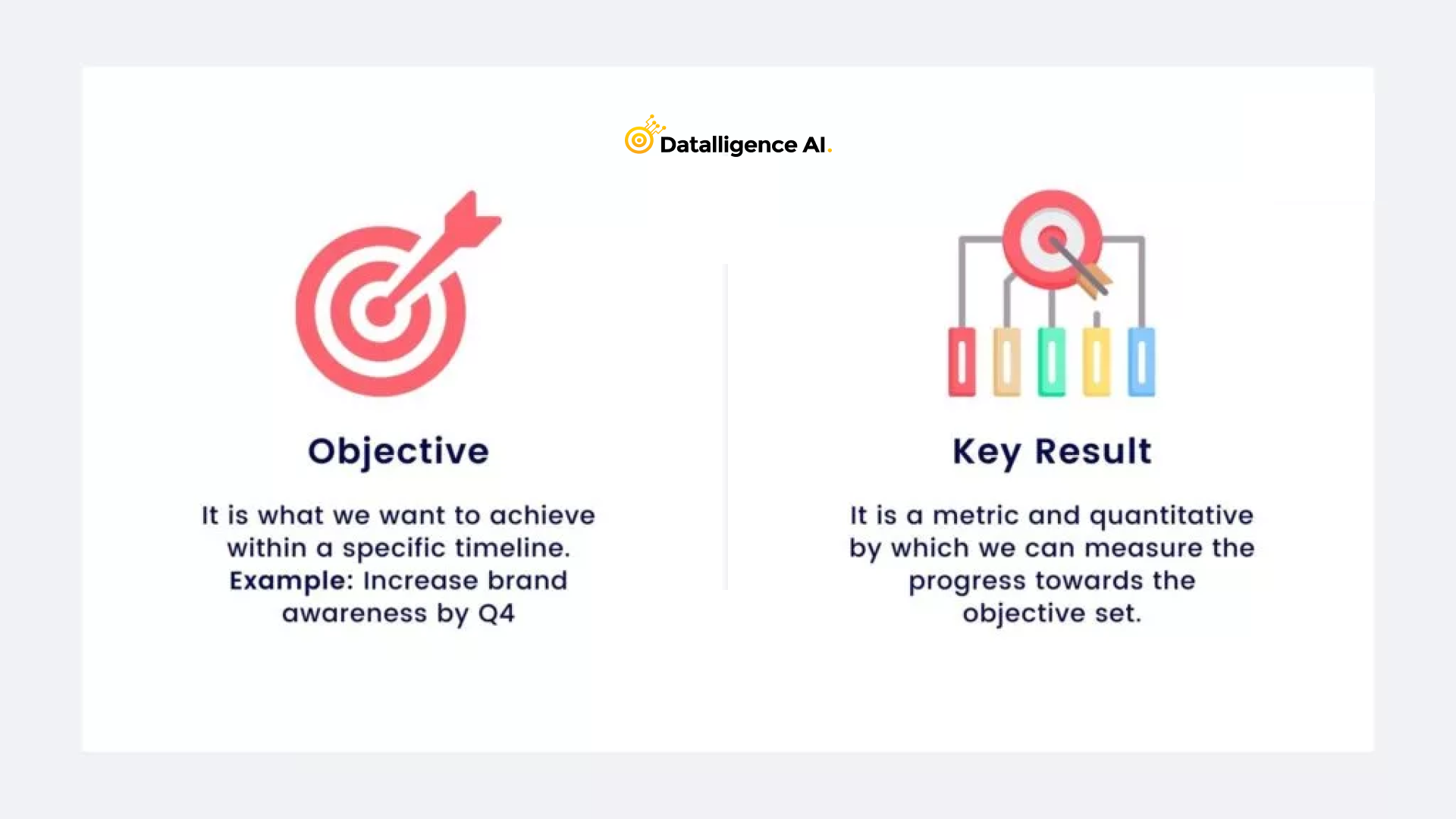 What is the OKR tool?
John Doerr popularised OKR and he introduced it to Google. OKRs help organizations to drive strategy and minimize the gap between the strategy and the execution. OKR tools help organizations to align, track and measure business performance. OKR tools help you create Departmental and Individual objectives to align with the overall company objective. OKR tools promote communication and it tracks the progress of the objective and gives clear insight on how and where the organization objective is traveling. Help organizations in analyzing the gaps and record the best practices
The 10 Best OKR Tools in 2022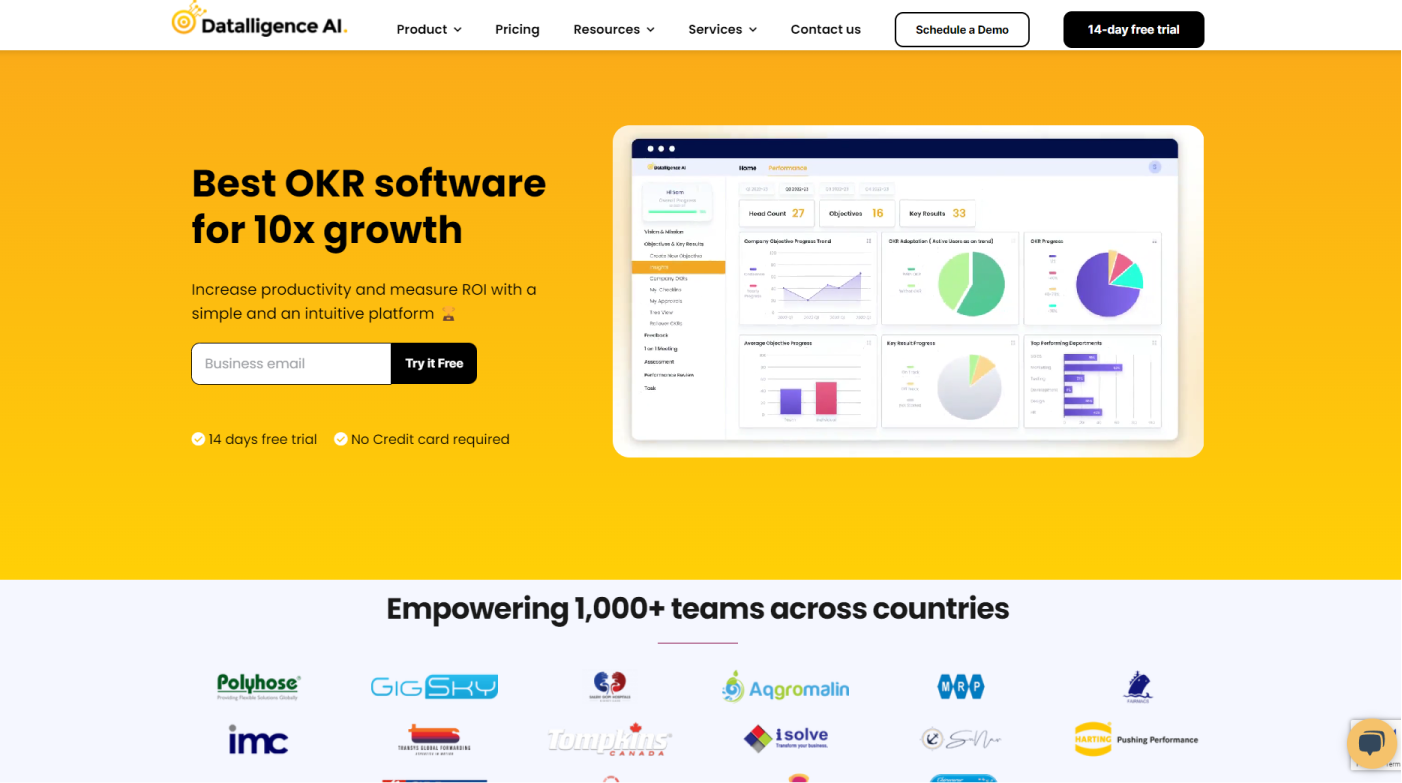 About – Align, Measure, and Optimize Goals to drive Continuous Business Performance
Datalligence OKRs tool work towards Increasing and measuring the outcome of your business by Connecting and engaging the workforce seamlessly. Its user-friendly interface helps you adapt OKRs quickly. We can track objectives, Individual performance, and team performance. Its integrated Conversation, feedback, and recognition(CFR) Module enables conversations around Key results and enables feedback(Public/Private). Datalligence OKR coaches are available constantly for quick and easy onboarding and adaptation
Key Features :
Goal module
Conversation, feedback and recognition(CFR) Module
Reports and dashboards
Insights
Survey and assessment
Task Management
Performance Rating and reviews
Learning management system
Datalligence is the most searched and highly preferred OKR Tool. It is not just another OKR Tool, it is a platform that brings change.
A. OKR Tracking
Track OKR progresses continuously for both qualitative and quantitative objectives. Assign priority to objectives to measure what matters to business
Track and measure progress regularly
Data-driven decision making
Create accountability and transparency.
B. Connect and engage
Datalligence OKR Platform drives engagement. It constantly allows users to have real-time feedback on the OKR performance.
Super cool features which allow you to onboard right away.
Initiate conversations specific to Key results can be initiated to ensure feedback and gaps are analyzed.
Increased motivation.
Accelerate performance.
Increase productivity and engagement.
Decreased employee turnover.
C. OKR Alignment
OKR alignment gives a clear view of how the objectives are performing and what measures we can take to ensure that there is no gap or work towards minimizing the gap.

The organization alignment tree displays the objective alignment and progress.
Align and connect teams to organizational goals
Set clear direction to every individual
Increase productivity through focus and priority.
D. Tree View
While the OKR alignment gives us organization-level performance, the Tree view provides people-wise performance. Managers can analyze the team performance and can work towards aligning to the organizational goal.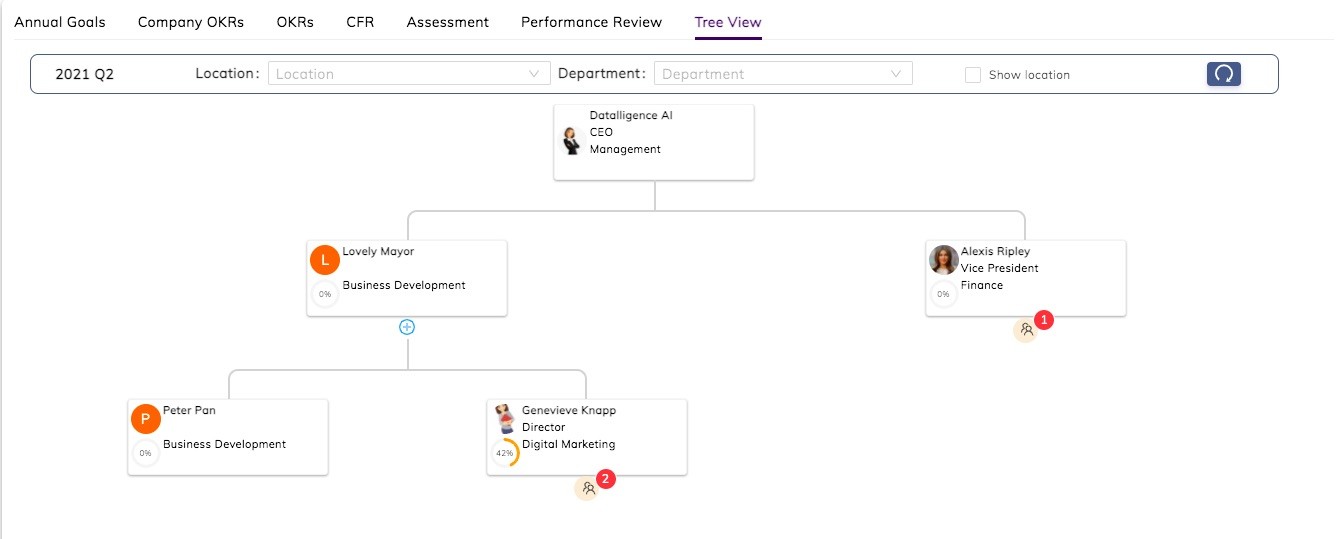 Identifying improvements required
Team efficiency
Goal performance evaluation
Motivate and Rebalance your teams
Freemium – 5 users lifetime free
Initiator – $3/month, per user
Successor – $7/month, per user
2: Betterworks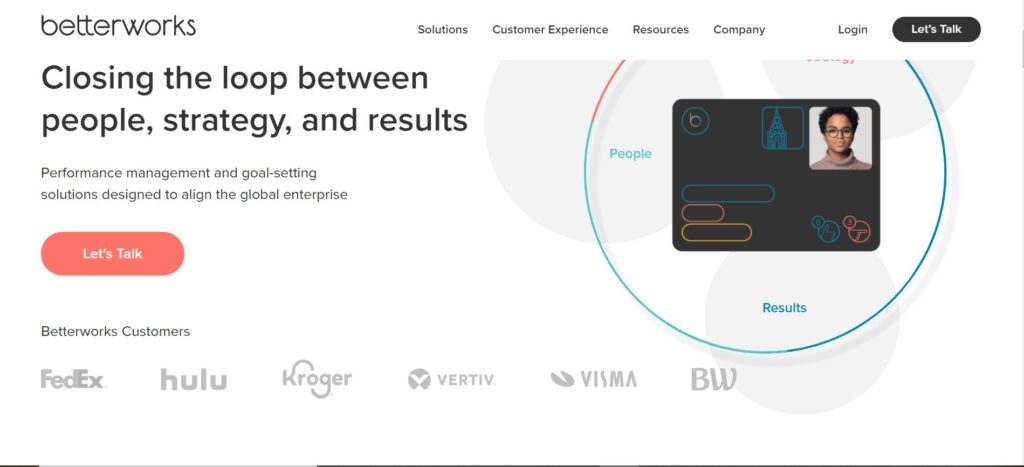 About – Performance management and goal-setting solutions designed to align the global enterprise
Betterworks focuses on enterprise solutions, aligns the entire organization with transparency, and creates engagement. It enables performance
OKRs & Goals
Performance Management
Insights & Analytics
Pricing:
Engage – 3 users lifetime free
The Premium plan costs $10.00/user, per month
3: Koan
About – Achieve your goals through simple, positive habits
Koan combines the power of reflection with a data-driven OKR Tool so that your team stays motivated, happy, and moving in the same direction
Goal management
Progress tracking
Strategic planning
Employee recognition
Pricing:
Free – Lifetime free
Pro plan costs $7.50/user, per month
4: Profit. co
About – OKR Tool that helps you execute your strategy
Profit lets you bridge your strategy-execution gap and provides Agile alignment, Faster adaptation, and execution
Key Features:
Dashboards
On-going performance tracking
Assessments
Performance Mangement
Progress tracking
Employee Recognition
KPI monitoring
Task management
Pricing:
Launch – 5 users lifetime free
Growth – $7/month, per user
5: Perdoo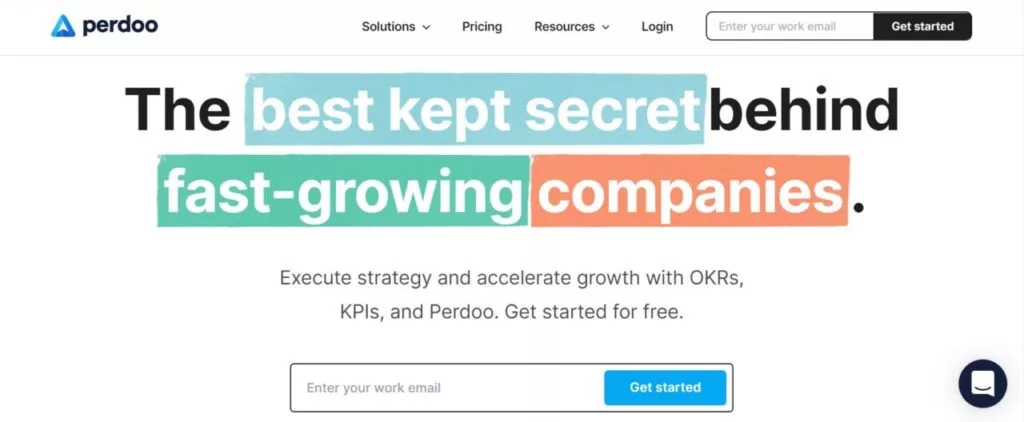 About – Execute strategy and accelerate growth with OKRs, KPIs, and Perdoo
Perdoo help measure the strategy and measures people involved in the strategy. Perdoo has OKR coaches to help adaptation
Key Features:
Alignment map
Success surveys
Engagement reports
OKR setting and tracking
OKR visualizations
Goal alignment
Performance Reports
Pricing:
Starter – 10 users lifetime free
The Premium plan costs $7.60/user, per month
6: Weekdone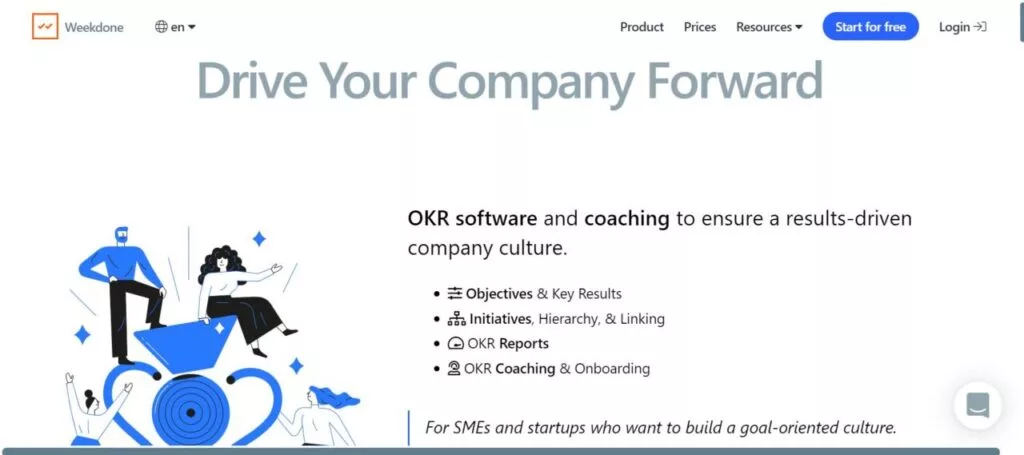 About – OKR Platform and coaching to ensure a results-driven company culture.
Weekdone measures weekly, monthly, and quarterly plans aligned with the objective. Their core focus is on Startups and SMBs.
Objectives & Key Results
 Initiatives, Hierarchy, & Linking
 OKR Reports
 OKR Coaching & Onboarding
Pricing:
Starter – 3 users lifetime free
The Premium plan costs $8.40/user, per month
7: Simple OKR
Simple OKR drives business performance by aligning teams through measurable objectives. It is a goal management software for small to medium-sized businesses.
Key Features:
Progress tracking
Goal management
Set and share objectives with team members
Easy view of company priorities
8: Workboard
About – OKRs that Clarify, Inspire, and Motivate
Workboard is an enterprise OKR Tool, It tracks from Vision to individual OKRs. OKR coaching services and certification program is available
Features
Goals
Alignment
Cascade plan
KPIs
Pricing:
Teams – At $20 per user, per month
Enterprise – At $50 per user, per month
9. Unlock: OKR
About – Best OKR PLatform for Startups, Mid-size & Enterprise companies
Unlock: OKR  Build a culture where teams and organizations achieve ambitious goals with Unlock: OKR Tools
Features:
Strategic Goals and OKRs
Alignment and Transparency
Dashboards & Insights
OKR Rhythms
Pricing:
$6/month per employee

100

 people in your account, you'll pay $

7200

 each year.
10. Workboard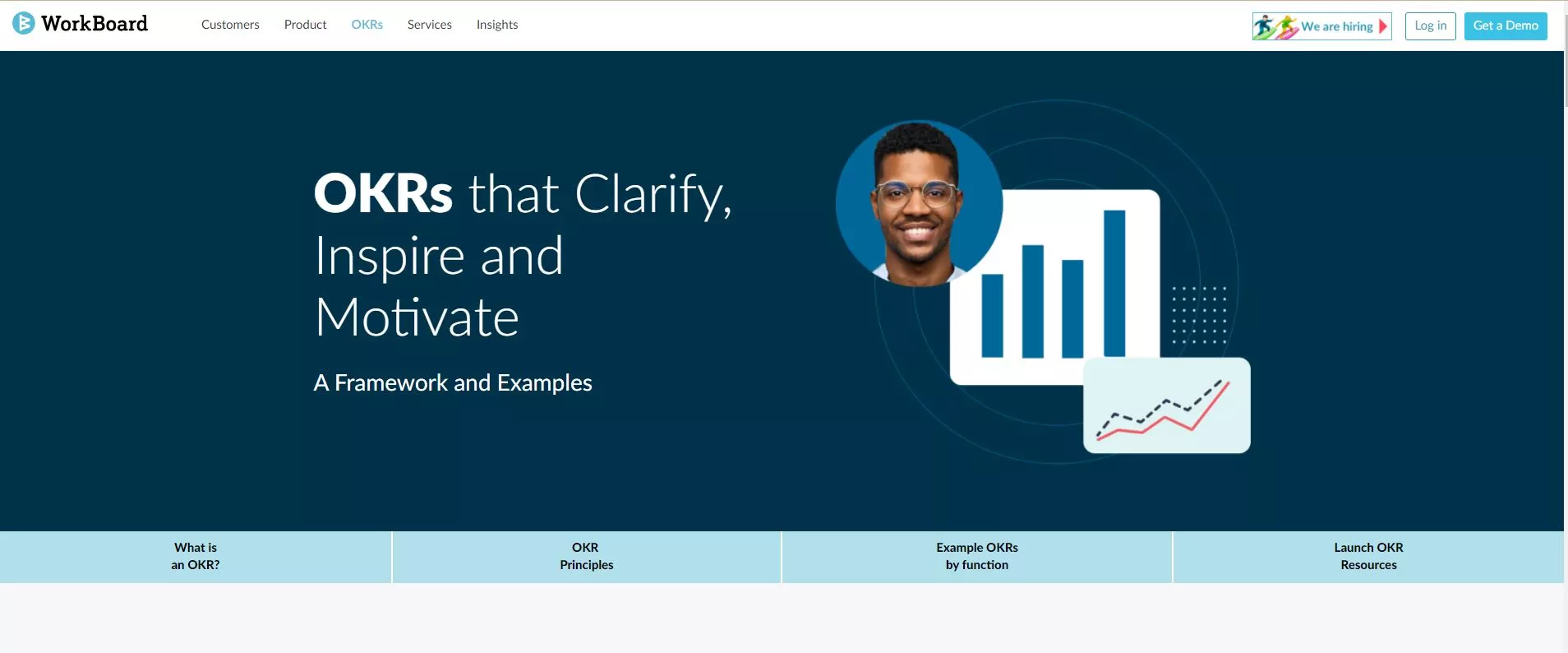 About – OKRs that Clarify, Inspire, and Motivate
Workboard, objectives Key Results, and OKR Tools keep teams connected, aligned, and moving toward results.
Features:
ASPIRE & INSPIRE
Teams localize OKRs
OKRs, alignment
Quarterly key results
Conclusion
Talk to our experts to more about the OKR Platform. Pick the Best OKR Tool that is best suited to your organization. Goal setting is an important aspect of a business and we can help you by sharing more content on OKR. Write to us or subscribe to us for more OKR content.
Set the goal before you start, success follows, All the best!!
Frequently Asked Questions
Our free demo helps you in understanding our product in detail, so you can save time that you spend on onboarding process.