From a CMO's role, the key mandate is Digital marketing. Digital transformation across the globe has created a huge requirement of generating leads digitally. In the era of social media where is multiple choice available for a consumer, reaching out and converting can be a daunting task. Since there is a wide choice for a customer today, customer experience and retention become a priority. Both organic and paid marketing is very important for increasing the brand image.
Marketing gets its outcome by connecting and networking with people. Today most such connections happen online. Digital marketing thrives for this very reason and the ever-changing techniques and algorithms keep the digital marketer on their toes always.
Here we have shared a few Digital marketing OKRs to plan your OKR journey and increase and measure your digital presence.
OKR software for the Digital Marketing team
Every moment spent online by the users means one sale and getting their attention is a hard task. OKR software helps teams team to focus and prioritize the target audience and ensure they are aligned with the customer's behaviors. It helps the Digital marketing team to track the metrics that matter to business continuity.
OKRs set for these teams are very competitive and highly dynamic. Marketing goals have to be totally aligned with the organizational goal. This is important to have the alignment as Digital marketing contributes a lot towards the revenue and brand-related goals.OKRs have become increasingly popular in the digital marketing industry, as they provide a clear roadmap for teams to follow and ensure that efforts are aligned with the overall business goals.
The team of content writers, Social media team, SEO specialist, and Graphic team make a great contribution to the overall business and it is important to have the right OKRs for these teams to achieve the goal.
Curious about the best OKR software for 2023, Read more in Best OKR Software 2023
Let us understand a few OKRs for these teams to help us get started with OKRs
Digital Marketing OKRs Examples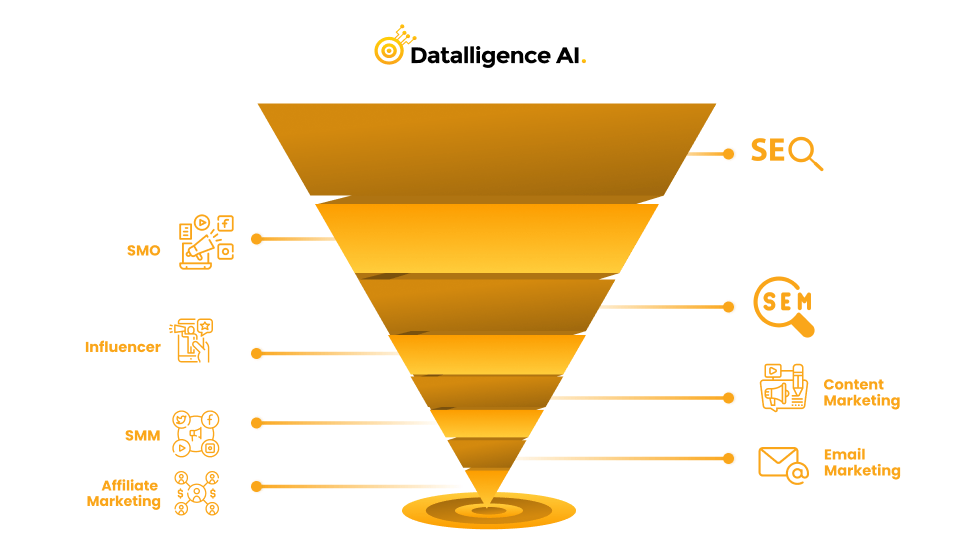 1. Objective: Increase website traffic by 20% in Q1
KR 1: Increase organic search traffic by 10%
KR 2: Increase referral traffic by 5%
KR 3: Increase social media traffic by 5%
2. Objective: Improve customer acquisition cost (CAC) by 25% in Q2
KR 1: Increase conversion rate on landing pages by 10%
KR 2: Reduce cost per click (CPC) by 15%
KR 3: Increase customer lifetime value (CLV) by 20%
3. Objective: Launch a new email marketing campaign in Q3
KR 1: Achieve an open rate of 25%
KR 2: Achieve a click-through rate (CTR) of 10%
KR 3: Achieve a conversion rate of 5