Goal setting is necessary for personal and professional success. Studies have shown that setting and committing to a goal improves employee performance considerably. Objectives and key results (OKRs) is a goal-setting framework that empowers organizations to set ambitious business goals.
Goal Setting Exercise
OKRs are public, meaning everyone in the organization can see what others are working on. This goal-setting framework differs from other goal-setting techniques in terms of being ambitious. OKRs help teams set big bets and work towards achieving them. There are several goal-setting tips you can follow to set effective OKRs. Setting OKRs can help teams and individuals step out of their comfort zones, prioritize their work, and learn from success and failure.
Here are some tips for successful goal setting: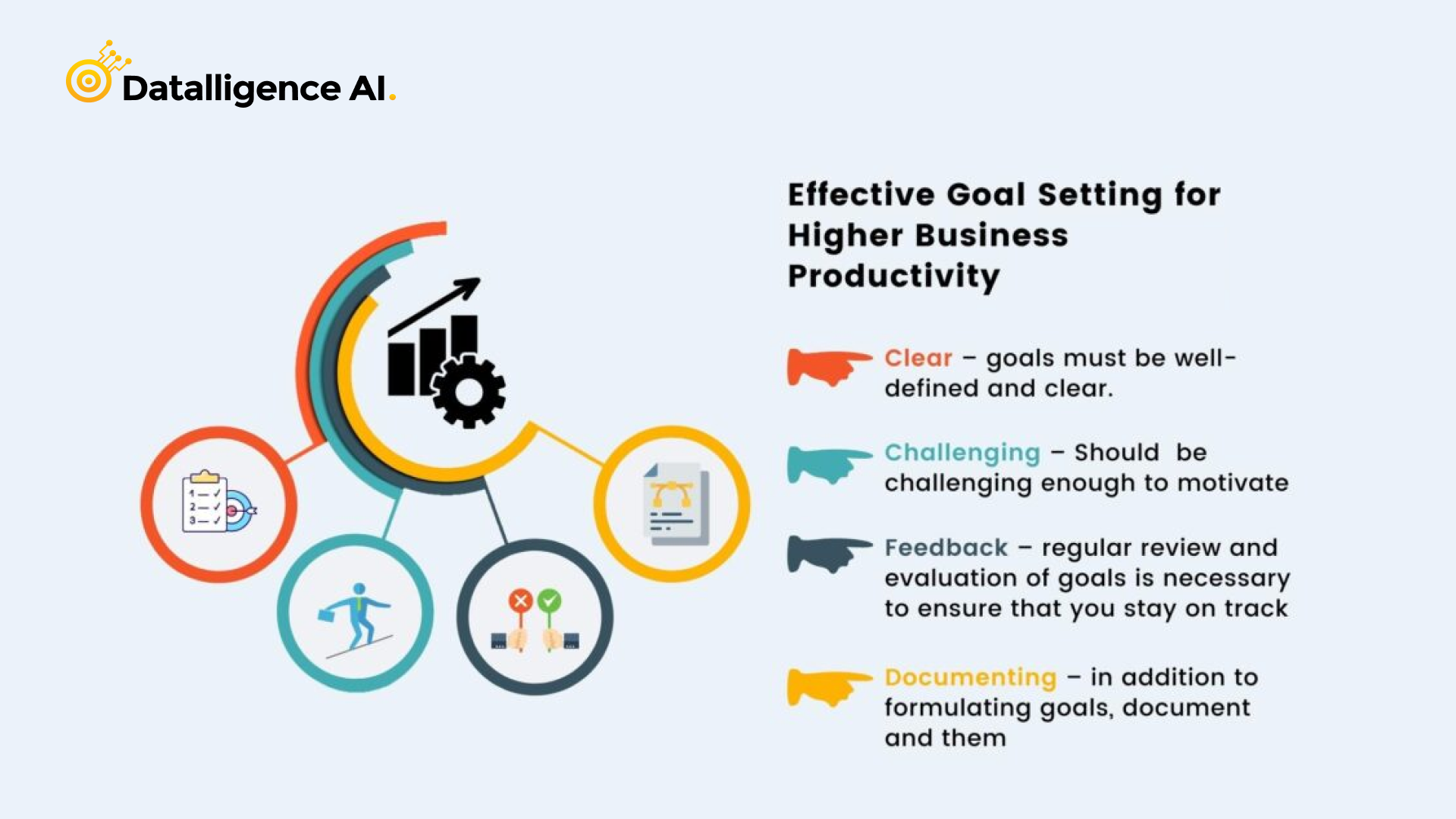 Clear – business goals must be well-defined and clear.
Challenging – goals need to be challenging enough to motivate employees
Commitment – 100% commitment towards achieving goals is necessary
Feedback – regular review and evaluation of goals is necessary to ensure that you stay on track
Documenting – in addition to formulating goals, documenting them is also necessary
Goal setting tips in the workplace must be SMART – specific, measurable, attainable, realistic, and timely. Making specific goals sets up the business for success. Having measurable goals helps you stay on track and stick to deadlines. Attainable and realistic goals bring a sense of achievement for the business. Goals always need to have clear timelines.
Determining Business Goals
Business goals are aligned with the company's vision. Setting ambitious business goals requires brainstorming the business's short-term and long-term objectives. While determining business goals, the management must consider the "why", "what", and "how" of OKRs. Successful OKRs are often a mix of top-down and bottom-up suggestions. Here are some goal setting tips and tricks:
Taking a few at a time: working on 3-5 objectives at a time helps channelize their efforts. Taking too many objectives at a time may lead to over-extended teams and dilution of effort.
Avoiding ambiguous expression: avoiding expressions that push for new achievements is needed while setting objectives.
Using expressions that convey clear endpoints: expressions that state clear endpoints must be used to define objectives.
Using tangible and objective terms: defining objectives using tangible and objective terms helps achieve higher performance and goal attainment.
Business Goals and Productivity
A strong goal-setting process is effective in guiding employees through the process of understanding and achieving them. Setting business objectives empowers the team to achieve greater productivity in an effective and timely manner.
Workplace productivity improves dramatically by aligning individual goals with organizational goals. Creating a goal strategy is important for framing and setting goals for employees. A transparent goal-setting strategy helps employees see how and where they fit into the organization. Leaders must communicate goals clearly to their employees so that organizational priorities are put into the right context.
Here are 3 tips on setting and achieving goals:
1. Create Accountability
The main objective of goal setting is to help employees connect with organizational goals. Including employees from the beginning of the goal-setting process increases their chances of achieving them. Encouraging employees to set challenging goals to help improve their performance and motivates them for future development.
2. Align Goals
Align individual goals to organizational goals and ensure employee goals are linked to business priorities. Employees will be more productive when they realize that their goals fit into the big picture.
3. Agile and flexible
Goals should not be rigid and stagnant, rather they should be dynamic and evolving. Goals are usually set at the beginning of the year and are forgotten till the review period. For OKRs to be effective, periodic review is required.
Conclusion
There are several ways to set business goals and achieve them. OKR software from Datalligence helps businesses set OKRs easily and effectively. OKR software helps businesses plan and execute their strategy. Take up the free trial to explore more.