9-5 work at the office is not something relevant to the current business environment. During and after the pandemic, companies have no other choice but to resort to a Hybrid workplace. Leaders everywhere adapted their management styles to support remote and hybrid teams.
In a survey conducted by Gartner, 90% of HR leaders anticipate the continuation of remote work for at least part of the time. Most employees prefer a hybrid workplace because it offers flexibility and improves work-life balance.
As a result, a Hybrid workplace has become the "future of work" for leaders and HRs. Leaders must develop and nurture the necessary skills to manage the hybrid workplace efficiently and effectively.
In this blog, we shall dive deep into the discussion of
What is Hybrid Leadership?
A hybrid leader is a person who possesses the skills that combine remote management skills and face-to-face management skills to bring out the best in employees. During the pandemic managers and leaders have found out that employees' productivity has increased 2X fold when working remotely.
Now, when everything is back to normal, the majority of companies still opt for a hybrid workplace. The hybrid workplace aims to improve work-life balance and it ensures desired work flexibility and the advantages of a shared physical workspace.
This shows how important remote work options will be for businesses looking to stay competitive, improve mental health, and attract employees in 2022. With an increased number of employees working remotely, employers and leaders have had to adapt and rethink all aspects of the employee experience.
Hybrid workplaces have evolved leadership into 4new types: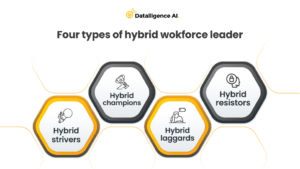 1. Hybrid Champions:
The best types of leaders are Hybrid Champions who have patience, abilities, etc. to provide each employee with the skills, tools, and support necessary to succeed. Hybrid champions have an open mindset and are focused on providing the best for their employees. They also have the necessary skill set to promote growth. They focus on having regular communication with their employee to have a clear understanding of the outcome.
2. Hybrid Strivers:
Hybrid strivers are leaders who believe in the productivity of a hybrid workforce and have the right mindset for growth. But hybrid strivers lack the right skill set to make it shine and to lead a hybrid workforce. They hesitate to lead a hybrid workforce.
3. Hybrid Resistors:
Hybrid resistors are leaders who resist or deny having a hybrid workforce. Hybrid resistors have the right skill set and also have the right knowledge to lead a hybrid workforce but don't believe that employees can be productive in a hybrid workforce. Like Hybrid champions and Strivers, Resistors have a closed mindset meaning they only believe in working from the office for productivity.
4. Hybrid Laggards:
Hybrid Laggards are leaders who don't have the required skill set and knowledge to lead a Hybrid workforce. They have a fixed mindset and don't believe in the opportunities that a hybrid workforce brings.
What are the skills required for an effective Hybrid Leader?
Traditional team leadership abilities are no longer sufficient for effective leadership in the emerging hybrid environment. Organizations will require leaders who can effectively function in two different modes. They will work primarily in virtual mode throughout that period. As a result, a hybrid leader must possess the following skill sets.
1. Developing a clear and visual goal:
Most of the hybrid teams get confused and disengaged without having the proper knowledge and information on what their primary goal for the quarter needs to be. Every employee must clearly understand on what their roles and responsibilities to prevent disengagement. An effective leader must ensure that all his teams and employees are aware of their job to ensure smooth productivity.
To avoid this discussion, most companies choose OKR for goal alignment and a goal-setting framework. We at Datalligence focus on eliminating disengagement among employees and provide a clear and transparent goal-setting framework where all the employees are aware of their objectives.
(To know more, Talk to us to get insights to eliminate this)
2. Effective and Proactive communication:
Hybrid leaders must have regular communication with all their team members. Leaders must have a one-on-one or group session to ensure all the team members are on the same playing field. Having regular sessions can also eliminate the roadblocks that employees face. This increases working relationships and also provides a comfortable workspace.
3. Creating an Environment of Trust:
One of the hardest skills that any leader can acquire during a Hybrid workforce is TRUST. Teams and employees trusting their leaders comes a long way. This trust at the workplace com