OKR has become one of the attractive fast-growing industries with a Compound annual growth rate (CAGR) of 13.68%. The increasing demand for OKR solutions is transforming medium-sized industries into large-sized industries and is traveling its way into small-sized industries in rising economics. 
In this blog, we shall dive into the stats of OKRs and their presence around the globe. But let's have a small introduction to OKR.
What is OKR
OKR is a powerful goal-setting framework and performance management software that help business enhance their whole operations process in areas like employee engagement, project management, and setting realistic company goals. OKR software is used for driving strategic decision-making and aligning goals with company objectives.
The important purpose of implementing OKR is to make sure that all employees are aware of the organization's goals and align their OKRs with companies and achieve them. When a workplace implements OKRs, employees are encouraged to set extremely high goals and are required to track their progress toward achieving the key results. A key aspect of the software is that it allows all employees to see the goals of everyone else in the organization.
Benefits of OKRs:
Transparency

Easy to Align

Clarity of Goals

Boosting Performance

Accountability
To learn more about OKRs and how to implement it, click here.
Let us have a glance at how well the market has been increasing in utilizing OKR
Global OKR Software Market – Region Wise
In our recent research, we have found the rising demand using OKR in the region mentioned.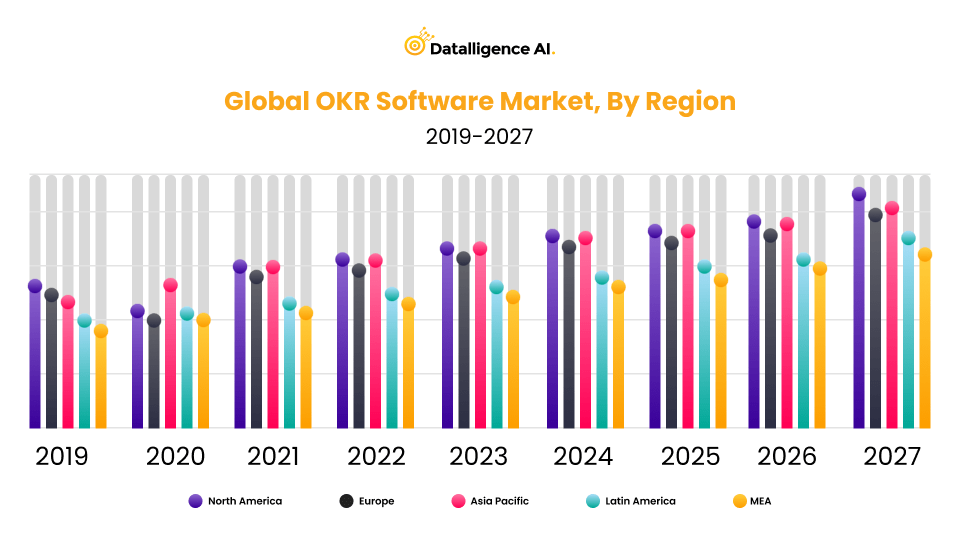 Why companies have started using OKR Framework
Be it the Pandemic or the slowdown, one thing organizations are focused is on employee productivity and accountability.