Best Business Goals Examples 2022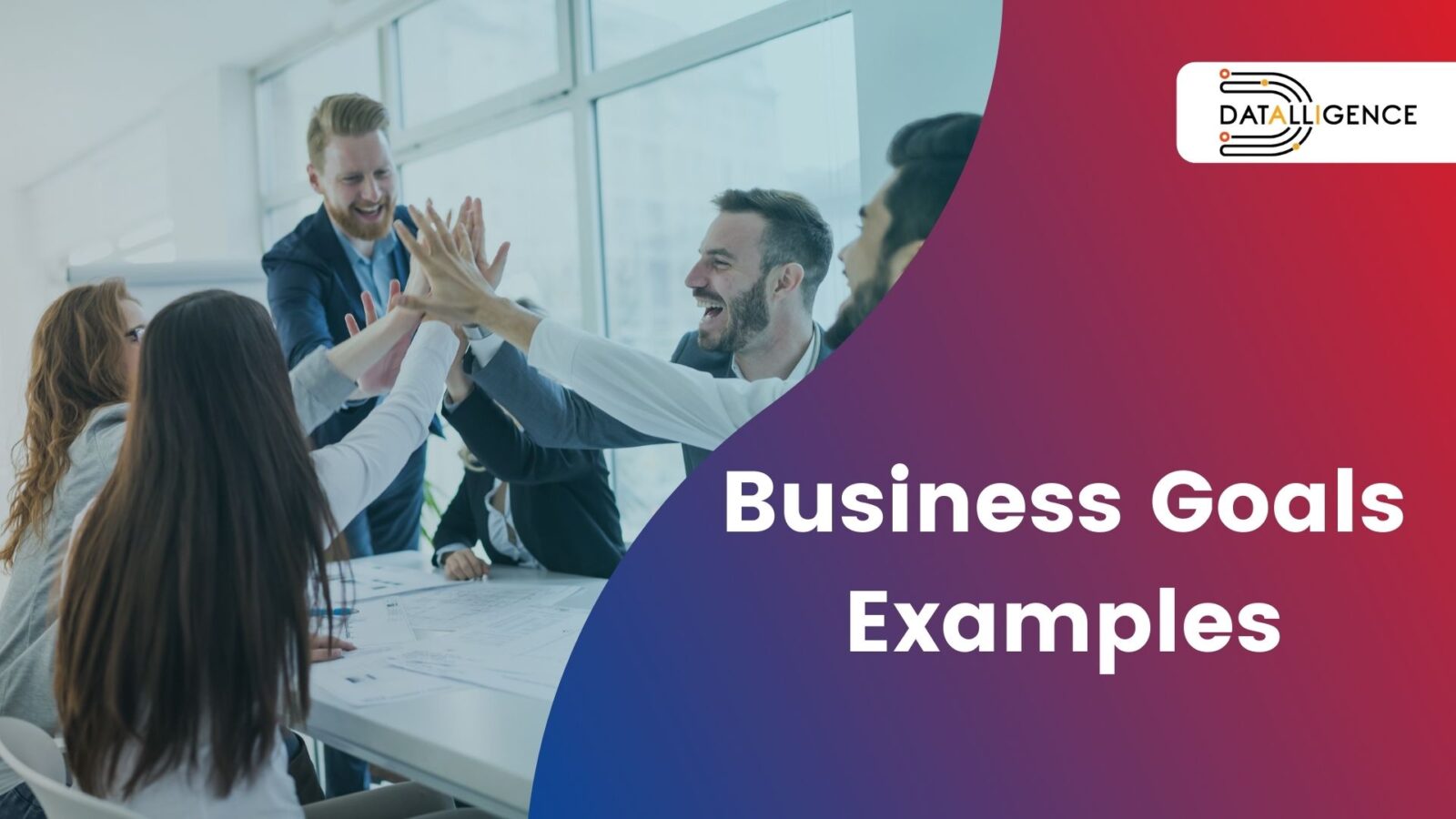 Business goals are an indispensable step towards the growth of any company. They help in various ways from improving customer service to maximizing profits. Ultimately, they help set the primary motive for the company.
In the corporate world, you might have encountered different long-term and short-term goal-setting strategies or frameworks like Objectives and Key Results (OKR), Balance Score Card(BSC), SMART goals, etc.
What exactly do these mean and what is their significance? Let us find out the answers to all the questions racing through your head.
What is a Business Goal?
Business goals are the primary and important outcome of an organization, towards which the actions and efforts are taken. These goals can be time-oriented, performance-oriented goals, or qualitative and quantitative goals. It is usually advised to set these goals multiple times during the year for desired results.
Let us investigate a few business goals examples so we get a clearer picture.
Increasing market shares – Expansion into new markets and gaining more profits, is a goal for every single business out there regardless of whether it is a short-term or a long-term goal.
Growing clientele – One of the major steps towards the growth of the organization is slowly and steadily building a larger customer base.
Branding- Setting and developing a brand image for your business helps earn credibility.
Enhancing Customer service – Once every business finds its potential customer base, it becomes a mandatory goal to improve its services for those goals to its clients.
Why Do We Need Business Goals?
Creates a focus – When an employee knows their goals, it becomes easier for them to work in a much more organized and systematic way.
Team cohesiveness – When each team member's goals are sorted, they tend to work together with higher motivation and as a result, achieve their goals at a much faster rate.
Helps the employees move in the right direction and accomplish company goals.
It is the easiest way to measure success.
Business Goals and Objectives
To utilize these to our full capacity, we need to first understand the difference between business goals and objectives. Now we already know that goals are "milestones" for a company that they work towards whereas Objectives can be defined as the steps taken to reach these goals.
To put it simply, your Business Goal(s) is your destination and the Objectives, the journey. So, essentially, corporate goals should include roadmaps of where you want to go and how you will be going there.
Here are a few Business Goals and Objectives examples:
Say you have a particular goal; the objectives will answer the 'how to reach this goal. To state a few Business Goal examples,
#1. GOAL- Expansion of business into new markets
OBJECTIVES –
Mode of entry
Market growth rates
Potential barriers etc.
#2. GOAL- Enhance employee experience
OBJECTIVES –
Performance reviews
Onboarding programs
Surveys and feedback etc.
#3. GOAL- Employee skill development
OBJECTIVES –
Cross-functional workshops
Team building programs
Group projects etc.
Organizational Goals
Organizational goals are nothing, but vital targets set by a company to reach a particular goal in terms of profit and success. They need to be concrete as well as realistic. These goals are usually mentioned in the business plan of a company. They are like your business goals but are more specific and hierarchal.
Organizational Goals
Organizational goals are nothing, but vital targets set by a company to reach a particular goal in terms of profit and success. They need to be concrete as well as realistic. These goals are usually mentioned in the business plan of a company. They are like your business goals but are more specific and hierarchal.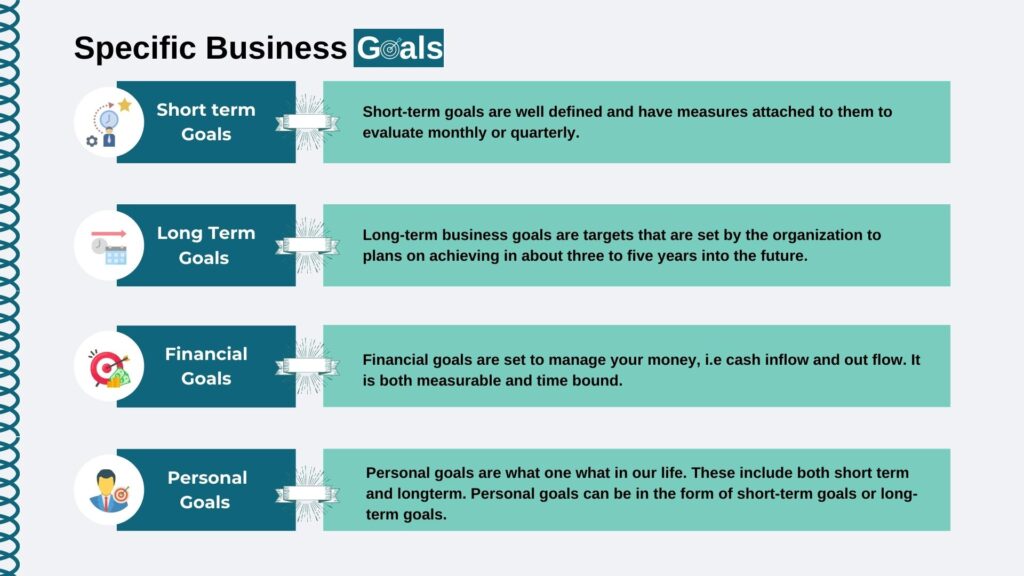 Types of Organizational Goals
1. Long-term goals
A long-term goal helps us to see the larger picture of an organization. It can be the overall direction of the team, project, and company, These goals can be three years, five years, or much longer too.
Example:
Making Datalligence a market leader in OKR software
2. Short-term Goals
Short-term goals are goals that are broken down to ensure the organization achieves the long-term goal. They're well defined and have measures attached to them to evaluate monthly or quarterly.
Improve the NPS score by 2%
Introduce 2 business software.
Increase brand visibility
Operative goals- They are specific tactics taken towards achieving the overall purpose. One can refer to them as the end-product they expect to produce.
Productivity goals- They are targets set by either individual employees or the organization to boost the value of the work as well as the means of completing it.
Profitability goals- These goals are set with a profit target set in mind at each level. For example, these can be annual goals, quarterly or long-term goals.
We shall study a few organizational goal examples for further clarity:
For instance, the organization wishes to increase the profit margin for the next season. This is a classic case of a Profitability Goal. Hence, by increasing sales and reducing operational costs, an organization can increase overall turnover. Expanding the business into new markets can also help attain said goals.
The company wishes to refine the performance of its employees. They can do so by evaluating the employees through Performance management systems, conducting training programs and by maintaining a healthy feedback system, and so on.
When the goal is to increase lead generation, effective branding is required. One of the ways by which this can be attained is by improving social media engagement. Increasing traffic on your company blogs, actively delivering content on social media platforms are a few methods to achieve the same.
Goal management frameworks like OKR, SMART goals, etc. help you reach these organizational goals efficiently. These are a few simple tools that help you untangle the job by breaking down complex work into more achievable tasks and help set landmarks.
OKR – OKRs or Objectives and Key result(s) focus on setting and tracking goals, creating objectives, team alignment, and tracking the overall progress of an organization.
SMART Goals – SMART stands for Specific, Measurable, Achievable, Realistic, and Timely. Hence, this framework works exactly this way to help you achieve your goals.
Importance of Organizational Goals:
Each employee needs help prioritizing their work. Moreover, they need an indication that they are moving in the right direction and these goals help them stay focused and on track.
When we dive deeper into Organizational goals, we know that it is an umbrella term for compromising Short-term and Long-term business goals. A further dive into these terms and what they represent will give you an extensive understanding.
Short-term Business Goals
In a nutshell, Short-term goals are goals that you want to accomplish soon or at the earliest. This consists of any goal that is achievable within the span of 12 months.
Why are Short-term goals necessary?
Contrary to popular belief, short-term goals are extremely crucial for a company for a multitude of reasons.
Focused path- with short-term goals, employees are more aware of the forthcoming events and can maintain a single path to completing their goals without getting distracted.
Gets rid of procrastination- With shorter, more achievable, and organized tasks in hand, it becomes hard and impractical to get diverted or bored.
Act as pillars to success- They motivate you and give you a clear vision of how much you have achieved and give you the map to the way forward.
Act as pre-requisites for long-term goals- The most important reason why short-term goals are mandatory is that it makes your long-term goals more straightforward, clearer, and effortless to achieve.
Short-term Goals Examples:
Leadership skill development
Learning market competitors
Incorporating social media marketing
Increasing budget for the next month
Hiring a new employee
How do set these short-term goals for a business?
Short-term goals are supposed to be flexible so one can alter them if it simply does not work out in their favor. In addition to that, make sure they follow the 3 C's: Clear, Constructive, and Concentrated. Once you have set your long-term goals, they can make smaller and shorter landmarks that essentially should represent your short-term goals.
Long-term Business Goals:
Now that we have shed light upon what short-term goals mean and their necessity, let us move on to what Long-term goals mean.
Long-term business goals are targets set that the organization plans on achieving about three to five years into the future. These goals are extremely crucial for any entrepreneur as it provides a sense of clarity by helping you take the necessary steps and give a kickstart to the business.
Frequently Asked Questions
"Having a long-term goal provides a catalyst for motivation at every waking moment."
-Peter J. Daniels
So, how do we set fruitful Long-term business goals and what do they look like?
For starters, let us not forget those goals are completely subjective and best results are always seen when these goals are created with one's capacities and resources in mind. However, factors like these should never be a barrier to massive dreams but instead, allow you to have realistic and achievable dreams.
With that being said, we shall now plunge into some Long-term business goal examples.
Long-term business goals are often based on profit, growth, and service.
International brand recognition.
Increasing the total income of the organization. For example- being recognized as a million-dollar company.
Enhancing product features.
Develop new products.
Open more office spaces in different locations.
Ways to set Long-term Business Goals:
Prioritize- Making multiple goals is virtuous but it is equally important to know which ones require greater focus than the rest.
Establish time frames- Write down all the goals you wish to achieve within the next 5 years, next 10 years, 15 years, and so on. This will provide a sense of clarity as well as motivation.
Short-term goals- For each Long-term goal, make sure you have enough short-term goals that will eventually help you achieve your long-term goal. These short-term goals are the maps that help you reach the destination.
Rewards- Maintain tabs on your goals and make sure to reward yourself upon the completion of each goal. This encourages you to move forward and conquer the world!
Business Goals and Objective Examples
1. Examples of Financial Goals
Grow shareholders value
Increase revenue
Increase profitability
Diversify revenue stream
Grow earnings per share
2. Examples of Personal Goals
Build mental health.
Increase productivity
Practice Yoga weekly thrice
Develop one habit every day
Become organized
Conclusion
With all the necessary information and aid laid out for Business Goal setting, it is extremely crucial to identify what kind of goal setting formats work for your type of business because what works for one industry may not work for another. Hence, picking out and drafting objectives that suit your goals and aspirations is a pivotal step towards the right direction.
Each goal you influence each other. So, ensure that your corporate goals and strategies are flexible. Whether you are a small business or already an ace in your field, persistently critiquing your work, increasing your work standards, and making your goal-list bigger and bigger is the way to go.
Constantly ask yourself these questions: "Where do I wish to be 5 years down the line?" "What should I do differently to achieve this?" etc.
Accessing yourself helps you draft significant Business goals, objectives as well as Action Plans. In addition to that, it also motivates one. Do not forget to constantly take risks and challenge yourself with tasks that get your heart racing! To quote Bill Gates, the founder of the trillion-dollar company, Microsoft, "To win big, you sometimes have to take big risks".
However, setting your goals is just the first step. Active implementation of these goals is the more important role that needs to be carried out here. On that account, once you have strongly established your goals and objectives, select a goal-setting tool like OKRs that will stimulate the growth of your organization as it will help track progress, make more informed decisions, increase productivity, achieve transparency, and significantly more. Although, merits and profits are important, learning along the way is as important as the former. Cultivating qualities that help you become a successful businessperson should also be a key goal. These qualities might include leadership traits, building positive customer relationships, ability to forecast, determination, and courage.
As they say, there are no shortcuts to success and that the road to success is always under construction. Working smart by implementing these goal-setting examples to your business will substantially help accelerate and smoothen your journey towards success. Make sure to use these goal-setting strategies to expand your business in 2021 and the forthcoming years.
Datalligence helps organizations in setting Goals and Objectives through our platform and measures progress constantly. The Objectives are aligned to the company objectives which makes organizations more focused and aligned. Our CFR (conversation, feedback, and recognition) module, which is a sibling to the OKR module, keeps the conversations around the OKR. Key initiatives can be shared and recognized. To know more,
Our free demo helps you in understanding our product in detail, so you can save time that you spend on onboarding process.