Choosing OKR Levels for your company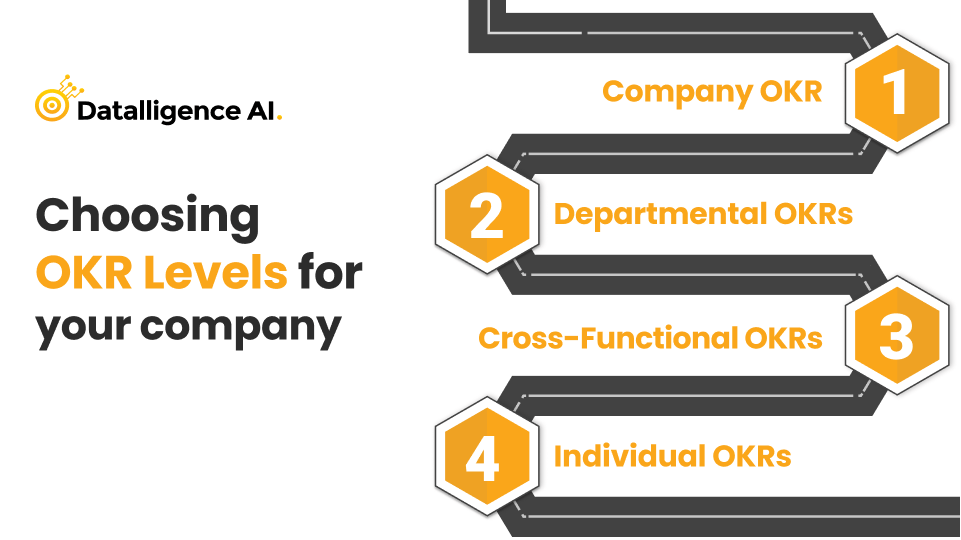 OKRs are powerful and smart metric goal-setting frameworks that can be deployed and implemented in numerous ways in your organization. A common misconception is that OKRs should be implemented only at an individual level to boost productivity. They rarely produce any business value if they are set on individual levels. OKRs are all about collaboration and teamwork to achieve the company's goals and objectives. It overall increases the quality of work.
Choosing precisely what level to set your OKRs is one of the most crucial decisions to make when starting your OKR program. Every OKR level works well for various kinds of OKRs.
Let's examine the OKR hierarchy and levels in more detail so that you can pick the appropriate levels for your OKR adoption.
What are the different levels in OKRs?
One of the most important decisions, when a new company implements OKRs in their company, is strategically deciding at what level you choose to set your OKRs. The different levels in OKR are:
Company OKR
Departmental level OKRs
Cross-Functional OKRs
Individual OKRs
Figuring out the right strategy for the different levels of OKRs can help you align and focus on your top priority goals even better. By implementing OKRs at different levels employees and teams are more aware of their objectives and goals to achieve for that quarter. These four distinct groups make up the OKR levels.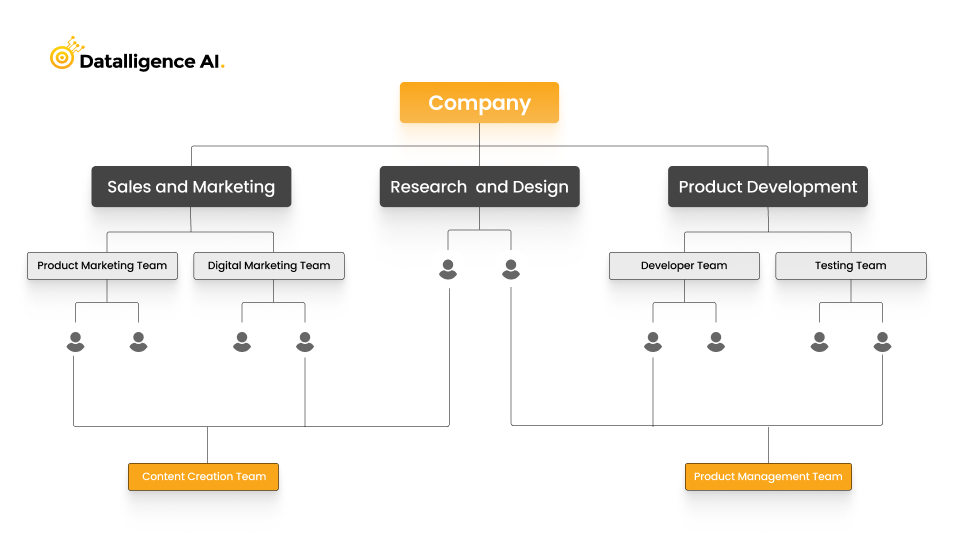 As the picture represents, each department has a team and individuals responsible for completing the OKRs following a Tree-like structure.
The 4 OKR Levels in an OKR Hierarchy
1. Company Level OKR:
The company-level OKRs are typically the most important OKR as it determines the direction of the company.  At this level, your OKRs should be heavily informed by your long-term strategy for the organization. The leaders and higher authority have the right to set the OKR for the company level. In company-level OKRs, for a long-term strategy, three to four OKRs will be implemented, and following that each will have 4-5 key results for achieving the company's vision and mission. Setting the Company level OKRs quarterly will help create focus.
For Example: Increase Revenue by 25%
This is the company-level OKR. Fast-forward How will you know you've accomplished this goal in a quarter or even a year? We'll outline key findings that translate this qualitative objective into quantitative terms. For example: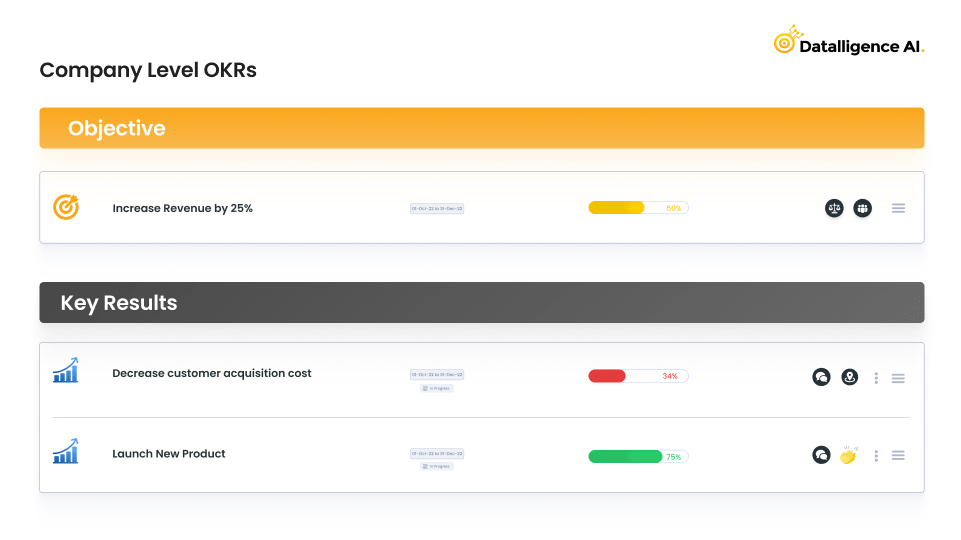 Having 3-4 key results for a company level objectives involves various departments collaborating and working together to achieve. Executives at the company level of the OKR hierarchy will be able to see that the goals they set based on the corporate strategy are communicated clearly to lower OKR levels.
2. Departmental Level OKRs:
Still using the first picture for example lets us discuss the department level of OKR and how it is implemented across various departments.
From the above picture, we can clearly understand that all the departments must align together for achieving the company OKR.
Marketing has the resources to generate new innovative ideas to penetrate the market that the company can enter. After the penetration, the sales team will be responsible for acquiring customers in the new markets and moving forward in sales to process to stimulate company growth. The marketing team will be responsible for the advertising and social media campaigns to generate leads and the sales team will be responsible for converting those leads into customers.
The research team and development team will be responsible for an upcoming and new product in the market. Their main focus will be to research the competitors and develop a product that would match their competition and penetrate the market. To support these growth objectives, manufacturing, and other services teams might also need to add new manufacturing lines or facilities, increase existing capacity, or both. Departmental OKRs will be influenced by this company-level OKR.
We have seen the departmental-level OKRs. But as we saw company-level OKRs, to achieve those Key results, each department must act according to them and create its key result to achieve the company-level key result.
In company-level OKRs let us take, for example, expanding the number of countries in which we operate from 10 to 15
Now lets us create a departmental-level key result for this OKR.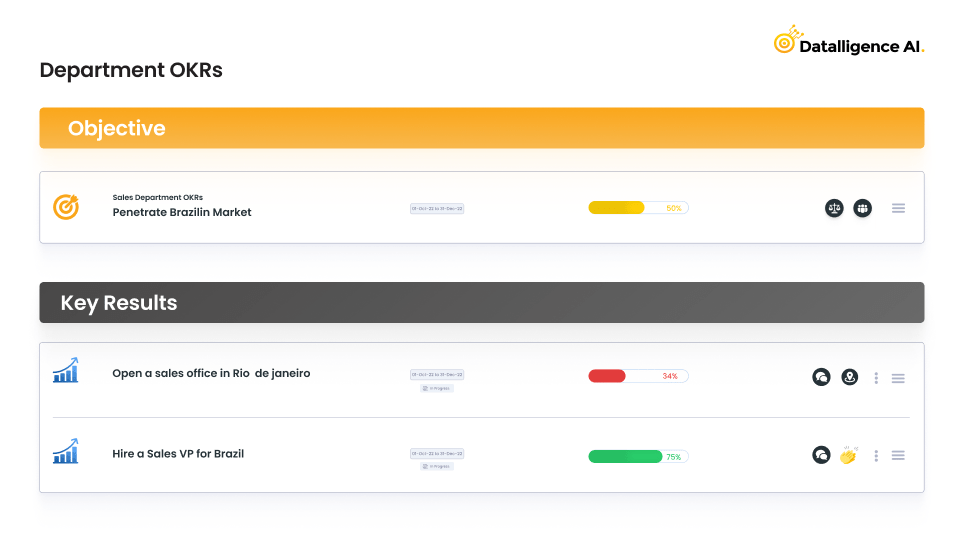 As the above picture mentions, these will be the departmental-level key result to achieve the company-level OKRs. The objective of the sales team is to Penetrate the Brazilian market.
For that, The first key result would be to open an office in Rio de Janeiro by march. So by the month of January, all the work for this Key result would have been started by the management team to get this underway. The second would be to hire a VP of sales for Brazil. It can and might be done earlier also for the VP to understand a new market.
After opening an office and hiring a VP of sales. The next key result would be to generate 20 leads for the Brazilian market. Even though this key result may not be achieved in the first quarter since it is a new market, for the upcoming quarters it will be easier to achieve.
The company's sectors will be able to achieve their desired results with the help of horizontal alignment between departments.
3. Cross-Functional Level OKR:
When individuals from various departments come together to align to complete a key result is Cross-Functional Level OKR. many key results cannot be owned and executed by one department. Instead, you'll need individuals from various departments to help fulfill a specific key result.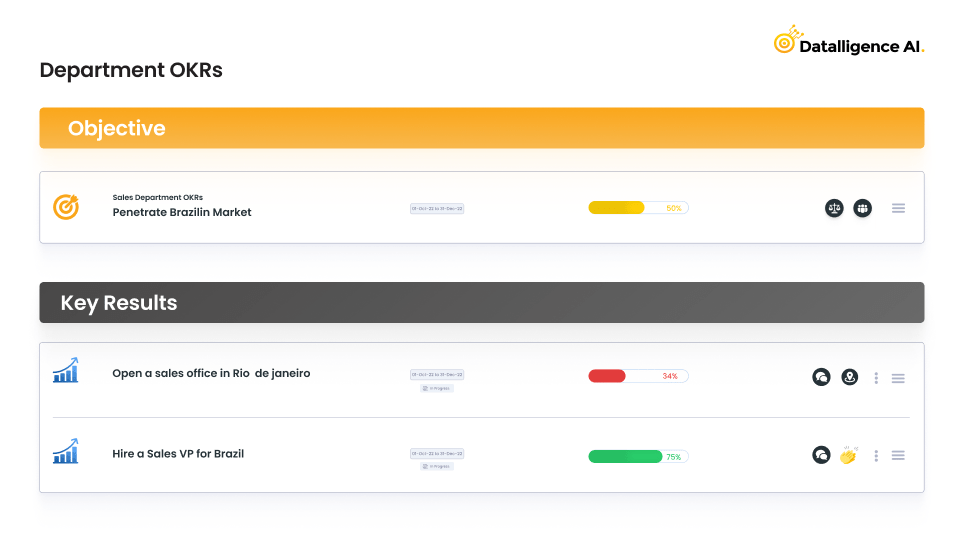 For example, as shown above,
Opening a sales office in Rio de Janeiro would be the responsibility of the Management department, but the sales team would lead this initiative to ensure that the office is successful.
The next key result is hiring a VP of sales. While the sales department would be responsible to determine what he requires, ultimately it would be the job of HR and CHRO to interview and onboard the candidate.
Leaders should think about forming a cross-functional team to own and carry out the OKR for initiatives that call for the complete focus of workers from various departments.
4. Individual Level OKRs:
Finally, companies can set individual-level OKRs. Employees can have their own set of OKRs where they will be solely responsible to achieve that.
For Example:
At the individual level sales team can have an objective to generate 20 new leads for the specific quarter.
For HR it might be to onboard a new talent.
The "ideal" way to introduce OKRs depends entirely on your organization, as it does with everything else in the OKR framework. It's crucial to take into account the maturity of your OKR program as well as the experience your company has had with OKRs. These will be important considerations when choosing the levels at which you want to set OKRs and how you will go about doing so in your organization.
Conclusion:
Hope we could provide a basic understanding of the different levels in OKR. To set the company-level OKRs, the Leader would be responsible for that and the key result that comes with that each department head would be responsible for achieving that. This can all be accomplished only when everything is transparent to all levels of employees. You are not required to select one level or strategy and stick with it. The awesome thing about the OKR framework is that it offers you a flexible way to implement your strategy from quarter to quarter as your business develops and your needs alter.
To have easy and transparent OKR software, leave us a message and we will get back to you.
Our free demo helps you in understanding our product in detail, so you can save time that you spend on onboarding process.