Increase collaboration in your organization with Datalligence AI OKR software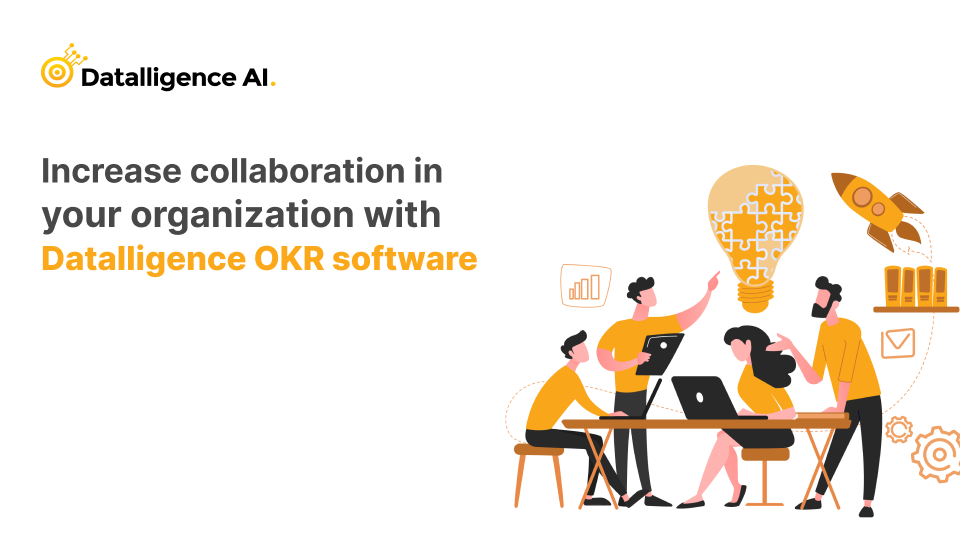 Objectives and Key Results (OKRs) it is a goal-setting framework that helps the organization create alignment toward the organizational goal. Frameworks like OKRs measure the strategy execution and help us to understand the gap between the strategy and execution. 
What is okr ?
Objectives and Key results measure the destination (What) and the metrics or initiatives (How) to reach there.  
I know we now got tired of hearing the statement post-pandemic or the new normal let me promise that we are not going to discuss anything of that sort in this article. Nevertheless, the pandemic has given a paradigm shift in the way we work and the workplace is defined. The workplace has become dynamic at the same time hybrid, office as well as remote. 
Managing a remote workforce is not something that we have been trained to do all these years. Since the way we operate has changed the way we work has also evolved along with that. The traditional method of discussions and meetings is no longer valid in today's context 
Meetings have gone online as well as offline. Meeting the team online and making them understand the corporate goal and vision has become a major challenge to all managers. Managers are not expecting this or even trained on the best practices. 
Leaders are constantly innovating to ensure the team is aligned and collaborative to achieve a common goal. Achieving a common goal is one challenge and keeping the team focused is another. 
The role of OKRs in collaboration
OKRs have been around for more than 2 decades and have proven their efficiency and have helped organizations grow by 10x. since okay RSA transparent framework team can understand what their core purpose is all about. 
OKRs create clear communication and the team has visibility towards where they are traveling. Even if there are surprises and miscommunications since the framework is agile we can continuously course correct it. 
OKRs enable teams to set their objective autonomously which helps align with the organizational objective. Since the objectives are set by the individuals or the team themselves there is increased ownership and the ownership naturally enables collaboration. 
The higher the collaboration is more the success towards the goal achievement. The team supports each other to ensure that they deliver each other targets. They align toward a common goal and work together in achieving them. 
OKRs promote frequent check-in meetings that give room for open discussion and conversation about the objective set. The open culture enables trust within the team and trust in turn increases collaboration. 
Increase collaboration with Datalligence OKR software
Datalligence OKR software allows the team to initiate conversation continuously by continuous chat while updating the progress. Team members constantly discuss and converse on what they are trying to achieve the sense of together increasing the collaboration multifold 
 Allows teams who are working remotely to have a constant discussion on what matters to the business. As OKRs are aspirational and they need constant review to understand where we are currently progressing. Retrospect's will help you to understand the challenges we faced during the last quarter and carry the learnings to the upcoming quarter. Having all this in one place there is the visibility of how my team or an organization is performing and this fosters higher collaboration 
Datalligence OKR software facilitates 1:1 meeting and OKR retrospect on the platform. clear actionable insights help us to have a better conversation during our meetings and plan corrective actions 
At Datalligence AI, we enable Cross-functional alignments than working in silos. cross-functional alignments have given higher results and have outperformed working in silos most organizations have seen their progress scoring high when the team is collaboratively working together. 
We can align both vertically and horizontally across the organization when the alignment is fluid and directional it helps the organization to be more focused and increase the accountability of face team member 
Great platform to bring in focus and alignment of the larger company goals to individual employee objectives. Employees have clarity on how their work adds value to the big picture. Engagement between managers and their teams has gone up which has positively influenced the overall productivity. – Aarthi Gunnan Rajkumar, Associate Director – Global HR (Human Resources) 
Datalligence OKR software gives clear indications of cross-functional dependencies. While working in silos we tend to focus on what is the organizational objective we focus more on how an individual is performing this can be counterproductive. Datalligence AI software increases cross-functional alignment and brings a purpose to what one is working on. As OKRs are autonomous, there is a sense of ownership and accountability towards what one delivers. 
Datalligence AI has been an effective OKR tool for us. It helps us bring focus and alignment to every team's and every employee's goals. The tool is simple & intuitive to use as well. Sivasubramaniam Sivakumar CTO at Aqgromalin 
Datalligence AI OKR software creates self-consciousness while aligning cross-functionally. This consciousness helps them to make progressive and great decisions independently. Teams have much clarity in defining the input as well as the outcome of the OKRs. The transparency and visibility is addressed on the platform along with one on one conversations and discussion to understand what matters to the business 
Conclusion
:
Many companies have started adopting OKRs and aligning cross-functionally in the line of business product and process. Be it any team in the organization like the product, project, revenue, or development team they have adopted to OKRs aggressively. Teams who have adopted OKRs have been able to deliver higher results and scale easily. Also, the powerful alignment increases focus and accountability. 
Datalligence OKR software help organization achieve their purpose by making it simple and effective. Talk to our coaches today who has implemented OKRs in various teams across the globe, they can help you in coaching and onboarding OKRs seamlessly. 
Our free demo helps you in understanding our product in detail, so you can save time that you spend on onboarding process.