10 Best OKR Examples for IT Department
Have you noticed how the technology industry yet again turned upside down with the recent lockdown situation? This is because the predictions of the technology industry have become the most unaccountable even with the most educated pundits. Whether it is a new technological innovation or a trend that renders the previously followed system less effective, the industry is in a continuous cycle of change.
Business owners and leaders are thus destined to find themselves in uncharted waters with almost zero tools for exploration. Because of this unpredictability, most businesses have abandoned large strategic initiatives just to stay afloat. But if anything, that history teaches us, it is that you cannot stay at the bunker perpetually. The Information Technology (IT) industry is no stranger to this unpredictability. You can say it is more susceptible to the unpredictability of technological trends and innovation than others. This is where OKR comes in. With the best OKR software, IT companies can not only enable the movement onwards and upwards but can provide a safety net (to an extent) through OKRS Management practices.
How Does Datalligence OKR Software Help the IT Department?
IT department constantly is on fire as data theft has increased, and cyber security is a key deliverable for an IT department. The ability to protect the data and preventing from phishing attacks and malware attacks are like standing on the war front. We have recently seen that Whatsapp, Instagram, Facebook, and Twitter have been down for a few hours. All organizations face these challenges as they are very crucial. Proper resource utilization or lack of resources to address these challenges is also another fact. Having the right kind of Hardware infrastructure is very essential. Despite multiple challenges, the department has a common objective. OKRs help the IT department team members to work on interdependent OKRs and team OKRs that help organizations to achieve their objective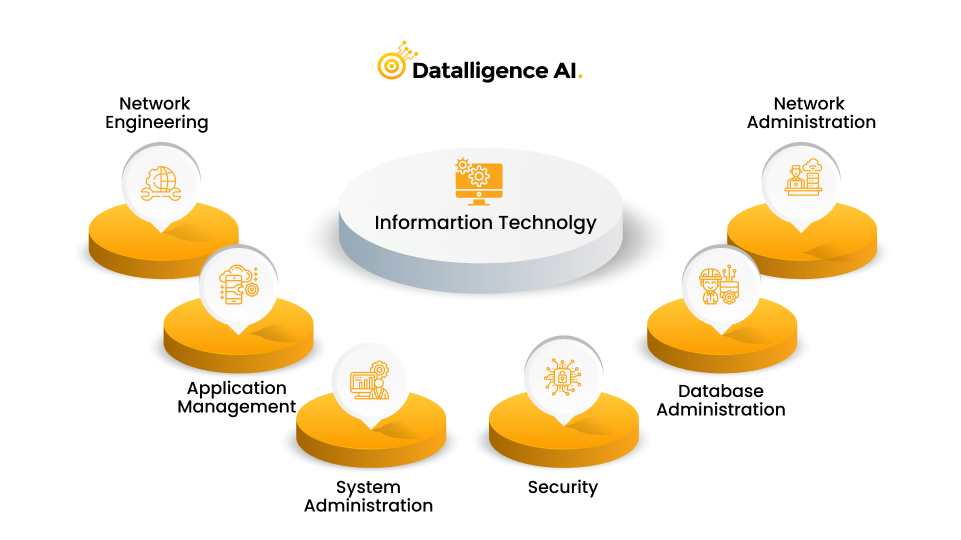 OKR software for the IT Department
OKR made its debut in the early 1970s in today's IT giants and then-nascent companies like Intel and Google. Today more IT companies (than ever) use OKR from Apple to Spotify. The Datalligence OKR software is comprehensive software that can contribute to an IT company to make changes or instill development to any particular area of the company that requires it. With the following 10 best examples of OKRs for IT, your company can make a significant stride in the unpredictable IT industry.
Top OKR Examples for Information Technology
#1. Data processing enhancement
Putting in place a continuous customer data backup will enable the prevention of data loss and enforce customer confidence.
Example:
Objective – Enhance data recovery processing by Q3
KR1 – Expand the number of data centers in district 13 by 20%
KR2 – Expand the number of disaster recovery sites from 4 to 8
#2. Security Awareness
Most times, security threats manifest themselves due to a lack of resources and due to insufficient security patches. These should be removed to ensure there is no lagging in security.
Example:
Objective – Increase awareness and competencies of Cyber security by Q2
KR1 – Increase the training session for cyber security by two times than the existing practice
KR2 – Reduce unauthorized attempts to bypass the security from 12 to 8
#3. Security Response System Optimization
If your company is devoid of a good security response system, there will be more downtime. This you don't want.
Example:
Objective – Optimize the security response system by Q2
KR1 – Shoot up the frequency of reporting by the critical response system by 40%
KR2 – Reduce the security-related downtime from 4 hours to an hour.
#4. Network infrastructure management
It is an important aspect of IT infrastructure. So it only makes sense to improve it.
Example:
Objective – Effective management of network infrastructure by Q4
KR1 – Reduce the AHT for infrastructure services from 8 hours to 6 hours
KR2 – Decrease the WAN bottleneck from 7 to 3
#5. Hardware assets
Management of hardware assets from the router to the cables is necessary.
Example:
Objective – Upgrade hardware asset maintenance and installation
KR1 – Expand the professionals involved in the hardware installation from 13 to 16
KR2 – Dispose of all the outdated hardware within the next quarter
#6. Reliability of Infrastructure
User confidence must be gained, and the right way is infrastructure reliability.
Example:
Objective – Upgrade the reliability of the infrastructure that is employed by Q2
KR1 – Decrease the average downtime related to infrastructure from 17 horses to 7 hours
KR2 – Decrease the MTTR to 2 hours while increasing the MTBF
#7. Infrastructure Quality
Software infrastructure complements hardware infrastructure in creating an overall good infrastructure.
Example:
Objective – Upgrade the infrastructure quality by Q2
KR1 – Increase the server maintenance for 2- 6 per quarter
KR2 – Increase the cloud backup frequency from 3 to 4 times a week
#8. Application Management Efficiency
It is the ultimate challenge in application development. So it needs attention.
Example:
Objective – Upgrade application management efficiency by Q3
KR1 – Increase the new feature release number from 3 to 5 per month
KR2 – Increase code quality by code optimization from 2 to 3 per quarter
#9. Application Defects After Delivery
IT companies frequently struggle with their application only after the delivery.
Example:
Objective – Decrease post defects in application delivery by Q2
KR1 – Decrease the defect found in production from 3 to 0
KR2 – Upgrade the test coverage of the units from 85% to 95%
#10. IT admin expense
Reducing and keeping the expenditure on track is quintessential to creating room for development.
Example:
Objective – Decrease the IT admin department expense by Q4
KR1 – Reduce the maintenance cost of the asset by 30%
KR2 – Reduce the training expenses by 20%
Implement OKR Software solutions for your IT Industry.
While implementing OKRs for the IT Department understand the process and key dependencies as IT department OKRs are very agile and change based on business requirements. Setting clear department goals and individual goals is very important as there are various metrics available to measure. Recognizing the key Results that matter to business will help in crafting OKRs
To wrap it up
Talk to our experts to more about OKRs. Our OKR coaches will work along with the organization to create specific OKRs that align with and deliver organizational objectives. OKRs are industry agnostic and it is clearly focused and create transparency in departments like IT where they work along with other teams to deliver their objectives. This enables interdepartmental OKRs and allows you to network with other teams. Write to Datalligence for implementing OKRs today.
FAQ About OKR for IT Department
Our free demo helps you in understanding our product in detail, so you can save time that you spend on onboarding process.