10 Best OKR Examples for Startups
Starting a new business can be a daunting task, with a never-ending list of tasks to tackle and goals to set. One way to stay on track and ensure that your business is growing in the right direction is by using OKR (Objectives and Key Results) framework.
Goal setting is very vital for any business. Industry leaders like Twitter, LinkedIn, Spotify, etc. embrace Objective and Key Results (OKR) driven strategies. OKR has a key role to play in their journey. But, it is still a frequently asked question if this can be adopted by start-ups as well. How could a brand that has not yet launched a product in the market find use with OKR? At what stage in a company's journey should OKR be embraced? Let's get this answered here.
What is the Objective and Key Results(OKR) framework
OKR is a goal-setting framework that helps organizations focus on what matters most and track progress toward achieving those goals. It involves setting clear, measurable objectives that are aligned with the overall vision of the company, and then identifying key results that will help measure the success of those objectives.
Objective – Objectives are the goals or the destination
Key Results – Key results help us reach our goal or destination with a measurable target and timeline.
Curious about the best OKR software for 2023, Read more in Best OKR Software 2023
How Does OKR Software Help the Start-up Industry
Start-ups have high aspirations and their goals are mostly audacious. They possess great energy and innovative ideas. The vital component that converts the ideas into execution is the focus and the accountability of the team that works towards the goal.
Since OKRs have a proven track record of driving business performance it helps organizations to move forward. Don't get convoluted by setting up too many objectives. All you have to do is set an objective and then keep the key result to a maximum of two. A small company with a minimum number of employees can have a timeline of like, say, four weeks for their miniature objective.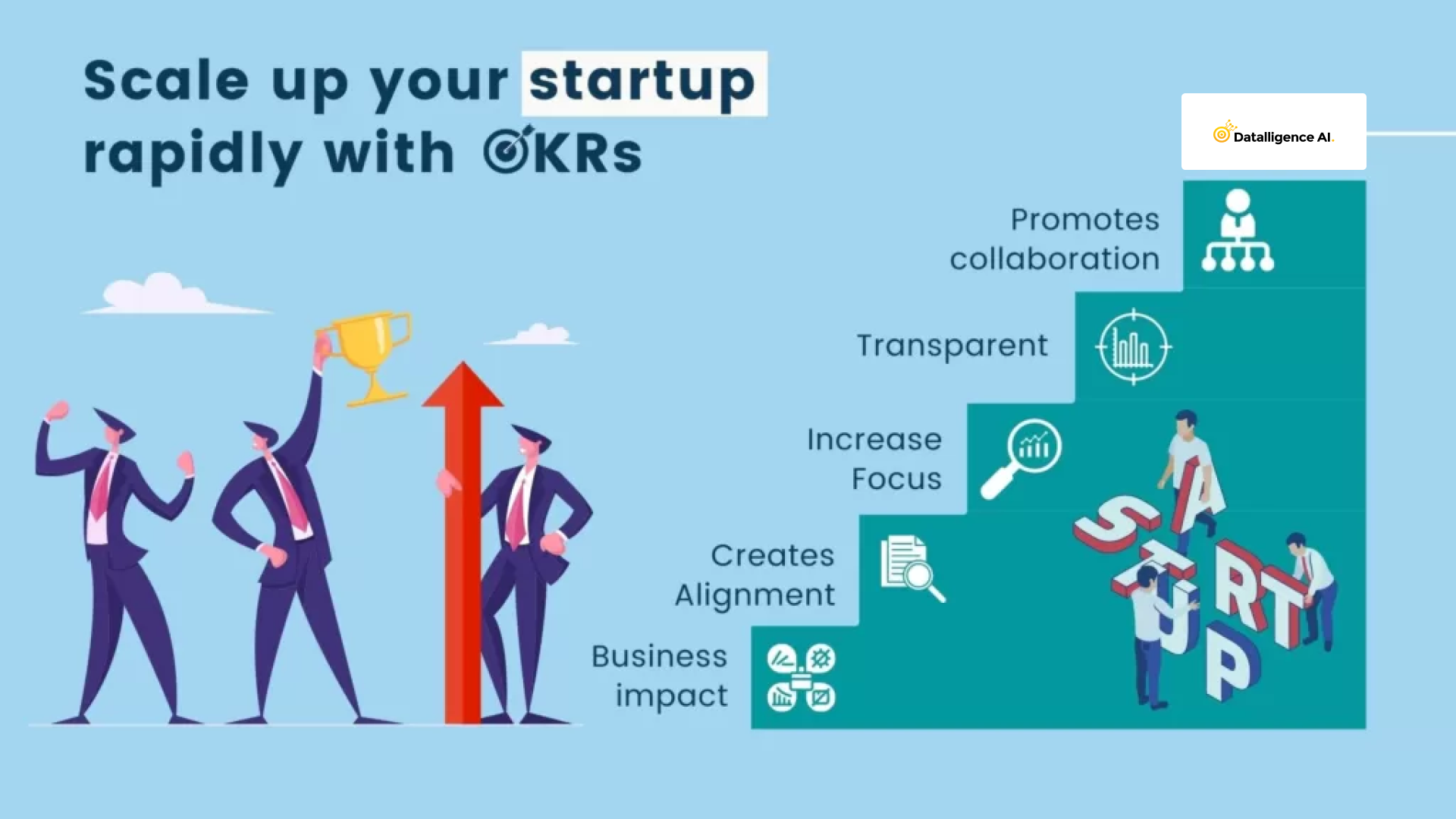 OKR for Startups and Small Businesses
1. Business Impact
OKRs influence all aspects of business and connects every single stakeholder who is responsible to create an impact on business. The impact needs to be measurable and the progress should be monitored continuously.
2. Creates Alignment
Start-ups tend to digress from their vision mostly as it is overwhelming for them and staying aligned to the vision becomes a challenge. OKRs help in alignment with the vision and give a constant update on how it is progressing and what are the key contributors for success. The alignment helps us to stay on top of our priorities.
3. Increase Focus
As human beings, we have little control over how often our mind wanders and it becomes a great challenge to stay focused on the objectives set for the organization. OKRs create focus, as all the tasks we perform are not converted into OKRs. Specific Key results are added to the objective that matters to the business. Keeping 3 to 5 OKRs each quarter increased focus.
4. Transparent
OKRs by their core value are very transparent. The organization's objectives are set and published for the rest of the team to act upon. Departmental and individual objectives follow to create transparency. As the OKRs are transparent it motivates the team to travel forward.
5. Promotes collaboration
Since OKRs are networked it becomes easy to measure interdepartmental dependencies. It allows different teams to work together for a common goal.
Top 10 Examples for start-ups
Objective 1: Increase brand awareness and customer acquisition
KR1: Increase website traffic by 30%
KR2: Increase social media followers by 25%
KR3: Increase customer acquisition by 20%
Objective 2: Improve product quality and customer satisfaction
KR1: Reduce customer complaints by 50%
KR2: Increase product ratings by 75%
KR3: Launch new product features that address customer needs and feedback
Objective 3: Increase revenue and profitability
KR1: Increase sales by 30%
KR2: Increase average order value by 25%
KR3: Reduce operating costs by 20%
Objective 4: Expand market reach and partnerships
KR1: Enter new markets and secure partnerships in 3 new countries
KR2: Increase sales in existing markets by 20%
KR3: Secure partnerships with 5 strategic industry partners
Objective 5: Cultivate a positive company culture and employee engagement
KR1: Increase employee retention rate by 25%
KR2: Increase employee satisfaction survey scores by 30%
KR3: Implement 3 new employee engagement initiatives
Objective 6: Enhance customer experience and loyalty
KR1: Increase customer retention rate by 30%
KR2: Increase customer satisfaction survey scores by 25%
KR3: Implement 3 new customer loyalty programs
Objective 7: Optimize website and digital marketing efforts
KR1: Increase website conversion rate by 25%
KR2: Increase email open and click-through rates by 30%
KR3: Increase social media engagement by 20%
Objective 8: Implement efficient and effective processes and systems
KR1: Streamline and automate 2 key business processes
KR2: Implement new project management software and training for all employees
KR3: Develop and implement a new CRM system
Objective 9: Increase sustainability and environmental impact
KR1: Reduce carbon emissions by 30%
KR2: Implement 3 new sustainable business practices
KR3: Secure a sustainability certification
Objective 10: Enhance community involvement and impact
KR1: Increase charitable donations by 20%
KR2: Implement 3 new community involvement initiatives
KR3: Increase employee volunteer hours by 50%
OKR can be used in the area of business advancement or change is required. OKRs should be driven by the leadership team hence creating and communicating the objectives to the entire team and there is a safety nest cast to the team as it is driven top-down. Whenever a startup sets an objective, its aim should be on benefiting or creating value for customers and/or employees. Set OKR such that it serves customers or the team, with value over results. OKRs are stretch goals and it is important to keep track of the goal as it will be a key contributor to the future.
Implement OKR Software solutions for your Startups or Small Business
While implementing OKRs in the Startups it is essential to understand the process and key metrics as the Startups team is aligned directly toward the organizational performance. Setting clear department goals and individual goals is very important as there are various metrics available. Recognizing the key metrics that matter to business will help in crafting OKRs.
Conclusion
OKR methodology gives value to the customer and to the team, both of which a new startup needs. If you are a startup, it is recommended to have your OKR on a dedicated OKR software rather than an excel sheet, which makes the whole process simple and easy to use. Setting up OKR can be a challenging process but observing it regularly and updating is the most important for the success of the objective.  Start your OKR journey for "free" with Datalligence AI  or Talk to our experts and coaches to have an insightful journey on OKR.
Frequently Asked Questions💡
How frequently should startups review and update their OKRs?
Startups typically review and update their OKRs on a quarterly basis. This allows for regular evaluation of progress, adaptation to market dynamics, and alignment with evolving business priorities and growth strategies.
How can startups benefit from using OKRs?
Startups can benefit from using OKRs in several ways. OKRs provide a clear direction and focus for the team, aligning efforts towards key objectives. They encourage transparency, collaboration, and accountability. OKRs also help startups measure progress, adapt to changes, and foster a culture of learning and improvement.
What are OKRs and why are they important for startups?
OKRs stand for "Objectives and Key Results." They are a goal-setting framework that helps startups define objectives and track key results that indicate progress towards those objectives. OKRs are important for startups because they provide a clear direction, align team efforts, prioritize initiatives, and foster a culture of accountability and results-driven execution.
Our free demo helps you in understanding our product in detail, so you can save time that you spend on onboarding process.