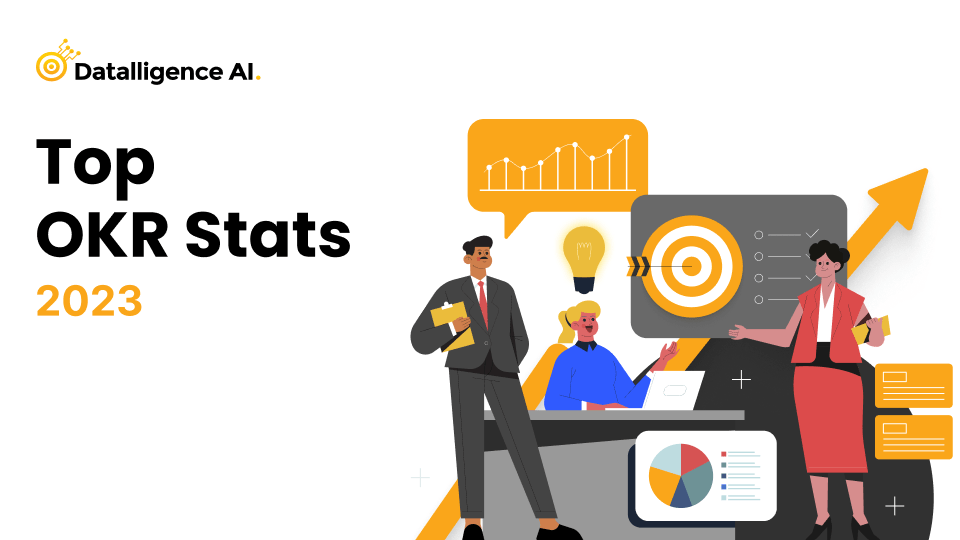 OKR has become one of the attractive fast-growing industries with a Compound annual growth rate (CAGR) of 13.68%. The increasing demand for OKR solutions is transforming medium-sized industries into large-sized industries and is traveling its way into small-sized industries in rising economics. 
In this blog, we shall dive into the stats of OKRs and their presence around the globe. But let's have a small introduction to OKR.
What is OKR
OKR is a powerful goal-setting framework and performance management software that help business enhance their whole operations process in areas like employee engagement, project management, and setting realistic company goals. OKR software is used for driving strategic decision-making and aligning goals with company objectives.
The important purpose of implementing OKR is to make sure that all employees are aware of the organization's goals and align their OKRs with companies and achieve them. When a workplace implements OKRs, employees are encouraged to set extremely high goals and are required to track their progress toward achieving the key results. A key aspect of the software is that it allows all employees to see the goals of everyone else in the organization.
Benefits of OKRs:
Transparency

Easy to Align

Clarity of Goals

Boosting Performance

Accountability
To learn more about OKRs and how to implement it, click here.
Let us have a glance at how well the market has been increasing in utilizing OKR
Global OKR Software Market – Region Wise
In our recent research, we have found the rising demand using OKR in the region mentioned.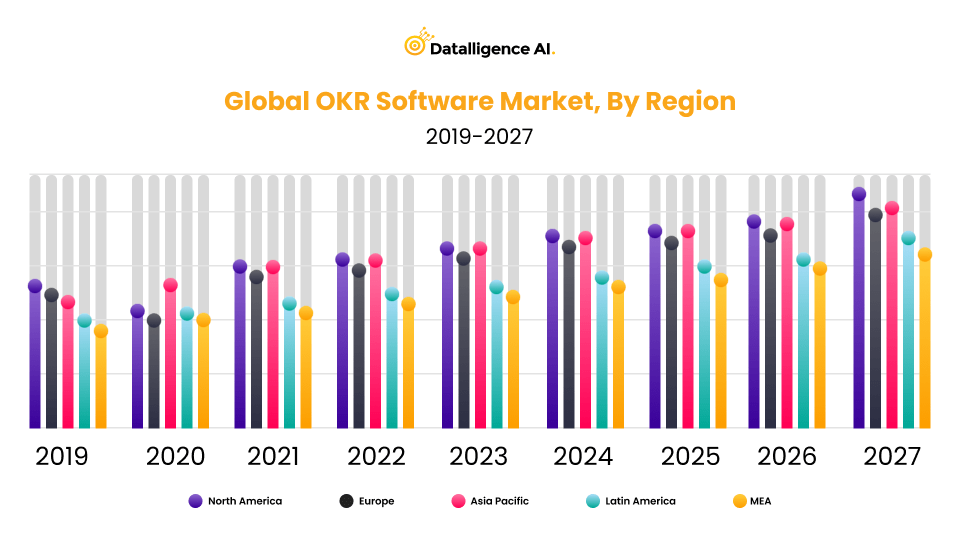 Why companies have started using OKR Framework
Be it the Pandemic or the slowdown, one thing organizations are focused is on employee productivity and accountability.
Many companies have switched to OKR after hearing and seeing the success stories of google, Linkedln, intel, and many more that use OKRs in terms of their seamless execution and outcome.
Objectives and Key Results have since then been used by many leading companies to expand their businesses and achieve targets regularly John Doerr states that 
In our recent study, we found that Chris mason a Ph.D. in Industrial-Organizational Psychology had the largest deployment of OKRs to their entire salaried population of roughly 20,000 associates and had done research on how well OKR impacts. He seemingly found that

Few Statistics on why OKR is a powerful framework
The process and the strategy might be different for all companies, but the end goal will be similar and that is your Returns on your Investments. 
OKRs help in increasing the ROI of a product, project, and people. It can improve the ROI by 10 to 15% when people have alignment and priorities clearly defined.

Employee engagement is high while implementing OKRs and that directly contributes to the increase in productivity minimum by 21%

OKRs create a culture of feedback and conversations around performance, hence increasing employee engagement by 32%

Increase the Sales targets by using OKRs. Significant results are delivered as the team is more focused on the Outcome. Increase a minimum of 10% sales by implementing OKRs

OKR helps in aligning the employee's goals with organizational goals and objectives. Highly aligned organizations grow their revenue 58% faster and are 72% more profitable than unaligned organizations.

Teams constantly using OKR have seen an increase in their overall performance by 15.5%

OKR creates accountability for the employees. Over 80% of the employees don't understand what the organization is trying to accomplish.

OKR enables clarity and vision. Organizations with a high level of clarity around their goals are most likely to be 4X in the top quartile of their industry.

OKRs create a highly engaged environment and companies see an average of 30% increase in their year-on-year growth
Curious about the best OKR software for 2023, Read more in Best OKR Software 2023
Conclusion:
The Facts of Spoken. With numbers supporting OKRs, we believe it would be 10X fold or 20X fold in the upcoming years and OKR would be an everyday necessity. We at Datalligence have helped 1000+ employees achieve their aspirational goals and helped companies break their profit margins. Start your OKR journey for free with Datalligence AI  or Talk to our experts and coaches to have an insightful journey on OKR.
Our free demo helps you in understanding our product in detail, so you can save time that you spend on onboarding process.