10 Best Finance and Accounting OKRs Examples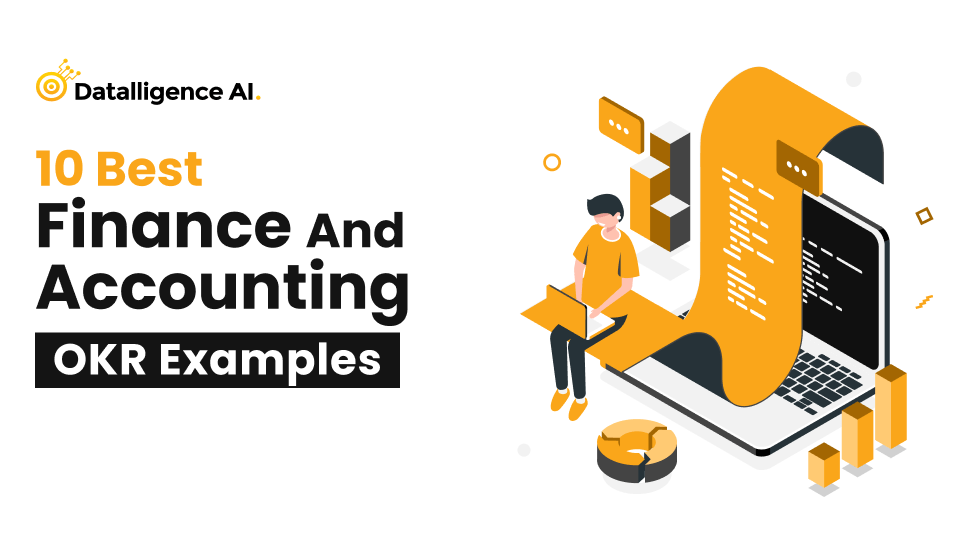 Choosing OKRs for your Finance team
The finance team is the mirror of any business. The finance team takes ownership of the expense, revenue, and cash flow. They report the health of an organization. OKRs or Objectives and Key Results are a collaborative goal-setting framework that helps organizations to measure team and individual performance.
OKRs increases focus and create alignment. It is a proven framework used by companies like Intel, LinkedIn, Airbnb, etc. A simple yet powerful tool for high-performing teams who like to set audacious goals. OKR is designed to help organizations focus on what is most important, align their efforts across teams and departments, and track progress toward achieving their goals. Finance team OKRs help them to keep an error-free record and support the organization at crucial times.
Curious about the best OKR software for 2023, Read more in Best OKR Software 2023
How Does Datalligence OKR Software Help the Finance Team?
Setting an objective for a team like Finance can be highly challenging. Tracking them continuously is essential. The common challenge in setting OKRs for the finance team is that they may lack clarity on aligning with the organizational goal. For goals to succeed it is essential to set the right financial objectives.
OKR software will help you set a goal that is both operational and aspirational and tracks their progress constantly. It is ideal for tracking finance OKRs in the software as they are the key to business. Implementing OKRs in Finance departments are the best-suited method as they are highly number intensive department.
Effective Finance OKRs
Writing the OKRs is an important activity when getting started. We have been working with teams to support them to get started with a few commonly used OKRs. As an industry best practice it is required to keep the OKRs less and simple, Less is More.
Before starting it is highly essential to have the company objectives published so the departments and individuals can create and align with the company objectives. Without company objectives, the entire process will become siloed.
With the given examples, one can start the OKR journey seamlessly.
Finance and Accounting OKR Examples
OKR for Finance brings about strategic alignment, focused execution, employee engagement, and improved communication. Here are common examples of OKRs in Finance.
Objective 1: Reduce tax liability
KR 1: Increase tax-advantaged investment from X% to Y%
KR 2: Decrease current liabilities from X% to Y% by the end of Q3
KR 3: Decrease depreciation cost from X% to Y%
Objective 2: Complete Accurate Financial Reports
KR 1: Review internal audit for process accuracy and optimization
KR 2: Coordinate with department heads for revenue projections.
Objective 3: Create and finalize the accounts payable report by the end of Q4
KR 1: Finish reviewing and approving departmental expenditures bi-weekly
KR 2: Reduce redundant expenditures by 85% by the end of the quarter
KR 3: Review and complete compensation agreements by the end of the quarter
Objective 4: Simplify internal procedures and make financial reporting more transparent
KR 1: Reduce the number of primary documentation reported late by X% Speed up payment
KR 2: processing time from X hours to Y hours Compliance first culture to be established
KR 3: Ensure monthly (or) quarterly compliance with VAT (or) GST
Objective 5: Reduce accounts receivable days outstanding to 30
KR 1: Identify vendors to Automate invoicing and follow-up
Objective 6: Increase The Efficiency Of The Bookkeeping Process
KR 1: Identify advanced tools and techniques to implement by X month
KR 2: Implement advanced tools Identifies by Y month
KR 3: Speed up payment processing time from 12 hours to 8 hours
Objective 7: Our budgets are cost-effective across all departments
KR 1: Increase Net profit to X%
KR 2: X% reduction in operating costs
Objective 8: Establish a culture to adhere to compliance
KR 1: Ensure monthly (or) quarterly compliance with VAT (or) GST
Objective 9: Improve the company's cash flow
KR 1: Decrease the accounts receivables from XM to YM
KR 2:  Bring down the average payment days from x days to y days
Objective 10: Aim to close the series A fund
KR 1:  connect with X number of VCs in a similar space.
KR 2: Meet X number of investors to pitch
KR 3: Raise XM at XM valuation
Implement OKR Software solution for your Finance
 While implementing OKRs in the Finance team it is essential to understand the process and key metrics as Finance is a vital department that supports achieving the organization's performance. Setting clear department goals and individual goals is very important as there are various metrics available. Recognizing the key metrics that matter to business will help in crafting OKRs
Talk to our experts more about OKR Software.
Talk to our experts to more about Finance OKRs. Our domain experts can work with organizations to create solutions that are specific to organizations. OKRs are industry agnostic and it is very interesting when it is applied to process and metric-driven teams. The outcome is quantified and hence the results are more tangible. Write to Datalligence for implementing OKRs today or try out Datalligence AI for free.
FAQ About Finance OKR
OKRs or Objectives and Key Results are a goal-setting framework that helps finance teams to measure and track their performance. OKRs create alignment and increase focus around measurable goals.
Days payable outstanding (DPO).

Cost to process each invoice.

Payment errors. 

Invoices processed per employee
Create company objective

Arrive on department objective in alignment with company OKRs

Integrate feedback and recognition

Create transparency
Our free demo helps you in understanding our product in detail, so you can save time that you spend on onboarding process.