Goal setting Framework: Everything You Need to Know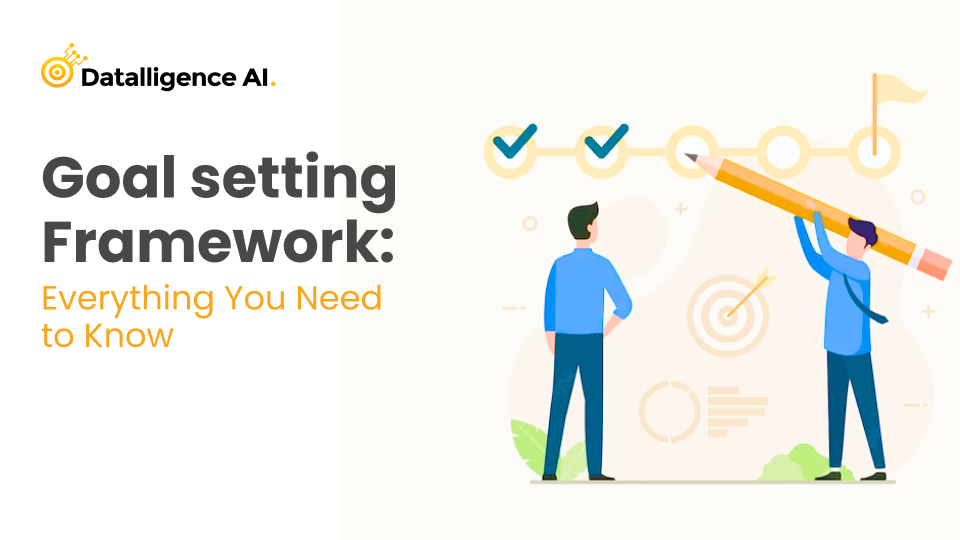 The idea of creating goals and achieving them has become crucial more than ever. Since the world has shifted remote, it has become closer to each other. Employees are working from anywhere and the need to set out goals is urgent. A goal-setting framework will help to align your business's long-term and short-term goals and keep track of your progress
What is Goal Setting Framework?
The goal-setting framework is a process that gives step-by-step instructions and information on how to get started with your goals and what actions to be taken to achieve them.
Goal-setting methods consist of three steps:
1. Setting clear goals of what you want
2. Design a roadmap on how to convert your plan into action
3. Track and monitor your progress
 
First, set your end destination and clarify what you want. Most people just go through their regular motions and pick up a motive without figuring it out. After setting clear goals and expectations, you need to set measurable goals and a plan of action. There should be metrics like percentages, and numbers to measure your growth. Finally, you need to track how well you are performing and achieving your goals.  
Why Should we use a Goal-Setting Framework?
Goal Setting Framework is a process that standardizes the goals and vision of the entire organization to ensure two important points:
1. Employees clearly understand what is the exact expectation that has been set for them.
2. Each individual and team goal should be aligned back with the company objectives.
Having clear goals helps to measure the efforts of employees. Goals are like a blueprint of progress. For example: If you want to start running 30 miles every day, you probably start with 5 miles on the first day, 10 miles on the 2nd day, and gradually increase every day. Small steps will bring you closer to your ultimate goal.
By setting goals with your employees, you can ensure they are aligned with company objectives and contribute to your business's success. This way you'll feel a sense of achievement in their role and valuable input.
11 Goal-Setting Frameworks for your business
Goal-setting frameworks come in all shapes and sizes. The following eleven goal-setting frameworks are some of the most popular and effective frameworks available. Read to find out what would work best for your business to achieve goals.
1. SMART goals
Setting SMART goals means you can clarify your ideas, focus your efforts, use your time and resources productively, and increase your chances of achieving the objective you have set for yourself.
SMART goals are: 
Specific (Simple, Sensible, Significant)

 

Measurable (Meaningful, Motivating)

 

Attainable (Agreed, Attainable)

 

Relevant (Reasonable, Reliable, Result-oriented)

 

Time-Bound (Time based, Time-sensitive)

 
2.
OKRs
OKR stands for Objectives and Key Results, OKRs are top to bottom approach for any organization—when top management leader has to go deep down to get an idea of what his entire team is working upon, they generally have a look at OKR to have an idea what
mid-level and interns at ground level are doing in the organization and how they are adding their utmost value to it.  The OKR goal-setting method was successfully adopted at Intel before spreading to other tech companies like Google, Netflix, and Twitter.
We at Datalligence love the OKR framework and we have an OKR software that helps you create actionable OKRs for your company.
 
3. BHAG- Big Hairy, Audacious goal
The term Big, Hairy, Audacious Goal was first coined by Jim Collins and Jerry Porras. BHAG is a massive goal, that revolutionizes the business and industry at once. These goals are long-term and drive, the purpose of the company for achieving something huge and unimaginable, It involves an emotional quotient that pulls out people of obstacles and achieves bigger goals. "The power of the BHAG is that it gets you out of thinking too small. A great BHAG changes the time frame and simultaneously creates a sense of urgency. It's a real paradox."  
– Jim Collins, Creator Of BHAG 
4. Backward Goals
This framework is suitable for those who are not sure about their goal setting. Basically, in backward goal planning, the conclusion/ result is planned at first.
Working backward, you break it down into smaller goals "supporting" goals, further divided into targets and tasks.
It is all about identifying small goals, targets, and tasks that need to be achieved to make that top goal happen.
For example: While planning for a vacation you initially plan your budget and later decide what activities and places can be covered with the outcome of the budget. A reverse action has better benefits because you can already peep into the future goals and likewise plan your actions accordingly.
 
5. One Word Goal Setting
One-word goal-setting means you simply choose one word and make that your focus for the year. This framework eliminates the processes and some of the tools that come along with goal setting. One-word goal framework does not overwhelm you with so much to do. It involves creating just one word to guide your life (or your business) during the course of the entire year.
6. Locke and Latham's 5 principles
According to Locke and Latham, there are five goal-setting principles that can improve our chances of success: 
Task complexity.




This framework is generally not overwhelming but sets out clear audacious goals.

 
7.
Tiered Goals Framework
In this goal-setting framework, goals are written based on the timeframe they can be achieved, for instance, Annual, Quarterly goals, then Monthly goals where the items begin to look more like a to-do list. This is followed up by an evaluation period where you Recommit, Reset, and Remove goals, as needed
 
8.
Golden Circle
In this framework of goal-setting growth happens when people unite around a cause they believe in. The golden circle only works if you get the order right: start with why, then how, and finish with what. This framework is one way to help you prioritize the goals and objectives of your business and keep your team aligned toward the same mission.
 
Once Simon Sinek said," People don't buy what you do, they buy, why you do it."
His idea is to do business with people who believe what your company believes – not just people who need what you offer.
9.

BSQ-

Big,

Small, Quick

This framework suggests thinking big, Act Small, and Moving Quick
To illustrate, let's pretend you want to open a new restaurant. 

The Think Big is not only opening a successful restaurant, but also defining your timeframe to do so. Then each of the Act Small components has a targeted timeframe to be completed. This allows you to easily track your progress and readjust as necessary. 

 
10. OGSM- Objectives, Goals, Strategies & Measures
OGSM stands for objectives, goals, strategies, and measures. It's a goal-setting framework for defining what you want to achieve, and how you will get there. The model cut down your aims into broad objectives, fixed and measurable goals, strategies to guide your actions, and measures to give you a direct way of monitoring your progress. In this framework, everything is aligned and transparent at the same time with your goals to make the measurement easy.
 
11. Goal Pyramid
This framework is similar to other goal-setting frameworks but set up the goal in ascending order based on your high priority, the goal pyramid puts your most important, and largest goal at the top of the pyramid, followed by large milestones, and medium milestones, and small milestones. 
Benefits of OKR goal setting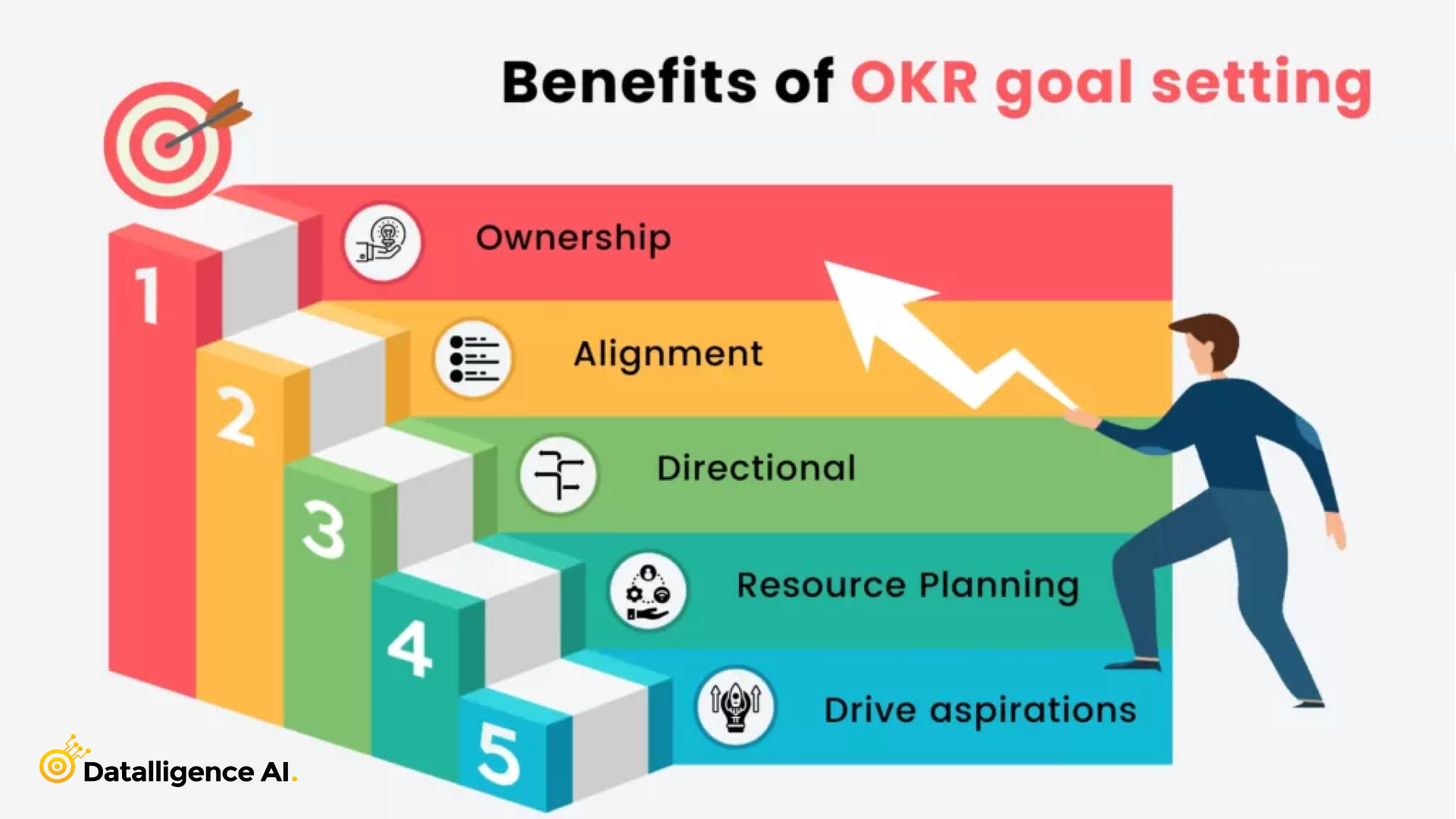 OKR can be different things to different organizations. For startups, it can be a growth framework or growth strategy. For big companies which are well established, it can be a framework for innovation. OKR has a hassle-free approach to goal-setting theory
Heeres know-how:
1. Sense of Ownership
When we know the mission and our contribution to an organization's journey, it facilitates teams and individuals to own what they tend to deliver. We feel that we are a cog in the wheel and in such scenarios the information is flowing freely which contributes to being powerful and engaged 
2. Set the sails to Align
Companies prefer OKRs for the swift alignment of individuals and teams towards the unified organization's goals and objectives. OKRs assure that the teams set their objectives and key results in line with the company goals. Though the OKRs are shared among the teams, at the same time there need not be similar. All teams are aligned and approach the bigger organization's goals by using valuable resources and expertise. 
3. Guided direction to the teams and individuals
Once the goals are aligned, OKRs provide a clear picture of what the company expects from the employees within their team's perspective and the nature of the function. OKRs direct the team members to contribute to the overall success of the company objectives. 
4. Commit OKRs for Resource planning
Commit OKRs allows you to plan with the resources at hand currently. Once OKRs are written we tend to identify the resource to be allocated to ensure the best outcomes. OKRs help the management to identify and fill the gaps in resource allocation and get the desired results. 
5. Aspirational OKRs promote Innovation and Improvement:
OKRs always impact the growth curve of the organization. They foster growth through innovation and improvement. OKRs are not just do lists of the regular day-to-day work, but it focuses on how we do and what we do. Aspirational OKRs allow you to stretch and go beyond your comfort level.
Read on to know more 
How To Set Goal Setting in 2022
Goal setting and tracking are important parameters when we evaluate people and business performance. There have been various methodologies that have been followed for the last few decades that helped to determine employee performance, nevertheless, it is very important to have a goal. In the past few years there has been a great shift in the way workforce behavior changed and how they shifted to remote or hybrid models. It becomes very difficult to align them with a common goal and evaluate them. This article will give you more ideas about digitizing the goal-setting process and how to evaluate employee performance in an automated way.
Studies revealed that 90% Of people perform better with relevant and challenging goals. 
Everyone thrives on setting goals be it personal or professional goals, but very few offers succeed in achieving them. 
It is also highly frustrating if one is not achieving those goals because it's a constant reminder of our lack of focus or engagement it has an impact both personally and also professionally. 
Related: 10 Best Goal Setting Software 
Closing thoughts
Implement a goal system that best outcast, how your team works. Keep the team on track and in high spirits while continuing to provide a challenging, yet achievable objective. As you can see here, there are many ways to make goals work for your company, the important thing is to get started, keep moving, work together, and aim for success. 
Our free demo helps you in understanding our product in detail, so you can save time that you spend on onboarding process.