Google OKR Success Story and Goal-Setting Technique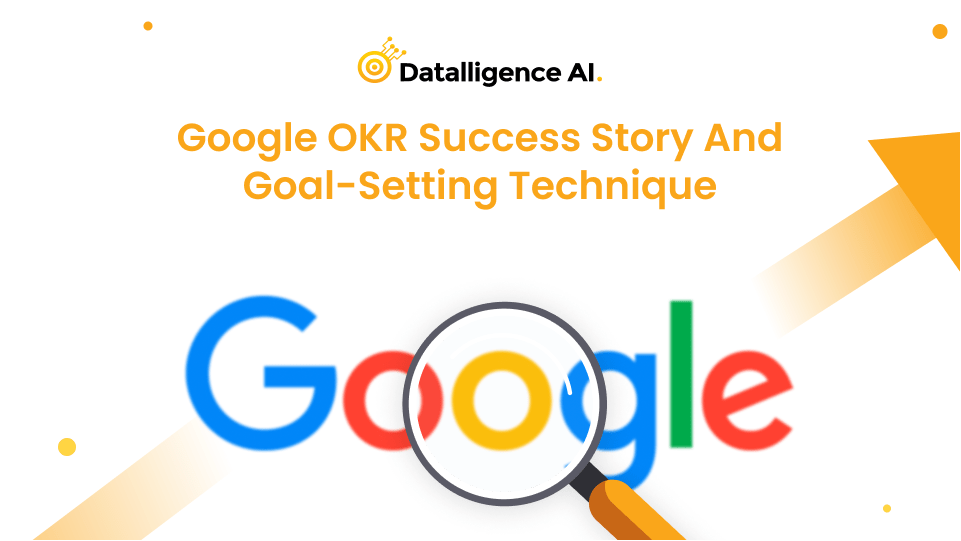 Today's business leaders should possess a significant skill that effectively aligns their team toward the common goal of the organization. This is when there is a need for OKR (Objectives and Key Results) Framework. It is quite important to know about how OKRs emerged and how the evolution of the goal-setting framework impacted the organization's success.
OKRs were first introduced in Intel by Andy Grove, the co-founder of Intel and former CEO. His idea was simple and splendid. The OKR framework was a contributor to Intel's success. He believed that when employees are provided with a chance to participate in the goal-setting process, they stay motivated and in turn contribute to achieving the company's goals.
In a short period, OKR gained popularity among Silicon Valley companies.
In 1999, John Doerr introduced OKRs to Google. Larry Page and Sergey Brin, the founders of Google, inducted the concept of Objectives and Key results to their team as they were less than a year-old company with almost 40 employees.
How are objectives and key results defined at Google?
OKR (Objective and Key results) is a commonly spoken language in Google and has become a part of their work culture. OKRs are used extensively across 70,000 employees in Google even today.
OKR Framework in Google is transparent and employees can each other's OKRs and it helps them to get aligned with the company goals. The following key factors are considered while defining OKRs in Google
 Objectives are set in such a way that they are clear, specific, and ambitious, and eliminate the feeling of risk.
A maximum of 5 objectives per quarter with 5 key results per objective that help to achieve the collective goal within the given period.
Google esteems "Stretch Goals" as they set their scoring standards from 0-1, scoring 1 would mean that the goal set by the employee is not ambitious enough.
Scoring grades 7-8 (70%-80%) by achieving the set target is considered an excellent performance
Feedback from the team members and supervisor is considered while drafting the OKRs.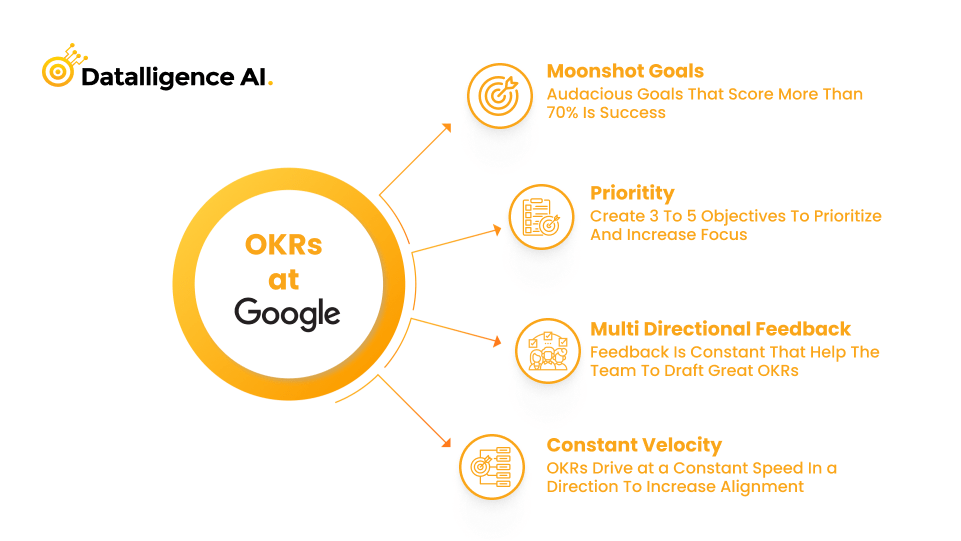 How are OKRs defined at Google?
Methodology plays a major role in Google's business success to date. OKRs are chosen and drafted carefully and consciously by the Google employees and managers in such a way that they spend their time and energy achieving their individual and collective goals.
John Doerr's OKR concept is a goal-setting platform to measure organizational performance. In OKRs definition, Objectives are limited to 3 to 5 per quarter and a maximum of 5 Key Results per objective, that are measurable and quantifiable. E.g. at Google, John Doerr set a goal for himself to make OKRs work. He set out a presentation with a goal of implementation which had measurable key results. These Key Results should serve to achieve his objective. Rick Klau, the partner at Google Ventures, gives insights into the introduction of OKRs at Google in the video below
Writing Effective OKRs
The very first step is to write the OKRs well. OKRs without proper planning are a waste of time and will never take off or be bought in. Highly focus-driven OKRs serve as a management tool and motivate tool to optimize their day-to-day work.
Simple Rules can help you create great OKRs.
Objectives are the "What's."
The "what" expresses the goal or our destination. Mostly starts with the action verb like Enhance, Improve, Envision. This "what" is aggressive but realistic.
This should be a clear value driver for Google.
Key Results are the "How's."
The "How" expresses how to reach our destination which has quantifiable targets and describes the outcome.
For Example, if your Key Result has words like Help, Analyse, and consult then they are not quantifiable they are mostly activities. Instead, you can mention, Publishing 2 whitepapers by 2nd May. This is more quantifiable than the activities.
To simply give an OKR Example
Objective: Achieve record acquisition metrics
Key result 1: Increase the trial sign-ups from 800 to 1600
Key result 2: Maintain CAC below 40$
Key result 3: Increase the MAU from 15k to 25k
Increase Focus through OKRs
Unlike other goalsetting methods, OKRs run on a shorter cadence that makes the framework more agile and iterative. OKRs works well with a team of all size adapting higher. Creating an organizational goal and then aligning department and individual objectives align with the organizational goal brings clarity and empowerment. OKRs also allow you to align cross-functionally or create ladder OKRs. The autonomy of the framework makes it more unique and also increases focus and engagement.
Transparent
Transparency is the foundation that brings in psychological safety to motivate the team to set aspirational objectives. Aligning the individual contribution to the organizational goal creates value and making it publicly viewed and discussed invokes positive discussion and brings in synergy. Google's core values, transparency is also part of the foundation on which OKRs are built.
OKRs are defined from the top level and the Cascades down the departments and the individual level. In Google, the top-level objectives are set by the CEO and then get aligned top-down and bottom-up. Google ensures that the bottom-up goals are 60% and they create vertical alignment and eliminate ambiguity.
Different groups and teams contribute to a single project in Google. Cross-team OKRs consists of OKRs that measure the coordination of these teams and their deliverable to accomplish common goals. These commitments appear clearly in all the group's OKR involved in accomplishing the goals.
Despite Google's practice, there is no evident procedure while implementing OKRs. Though they use various tools along with Google spreadsheets, there is no mention of the OKR tools they use.
Frequently Asked Questions
Our free demo helps you in understanding our product in detail, so you can save time that you spend on onboarding process.