5 Steps to Measure Employee Engagement with Examples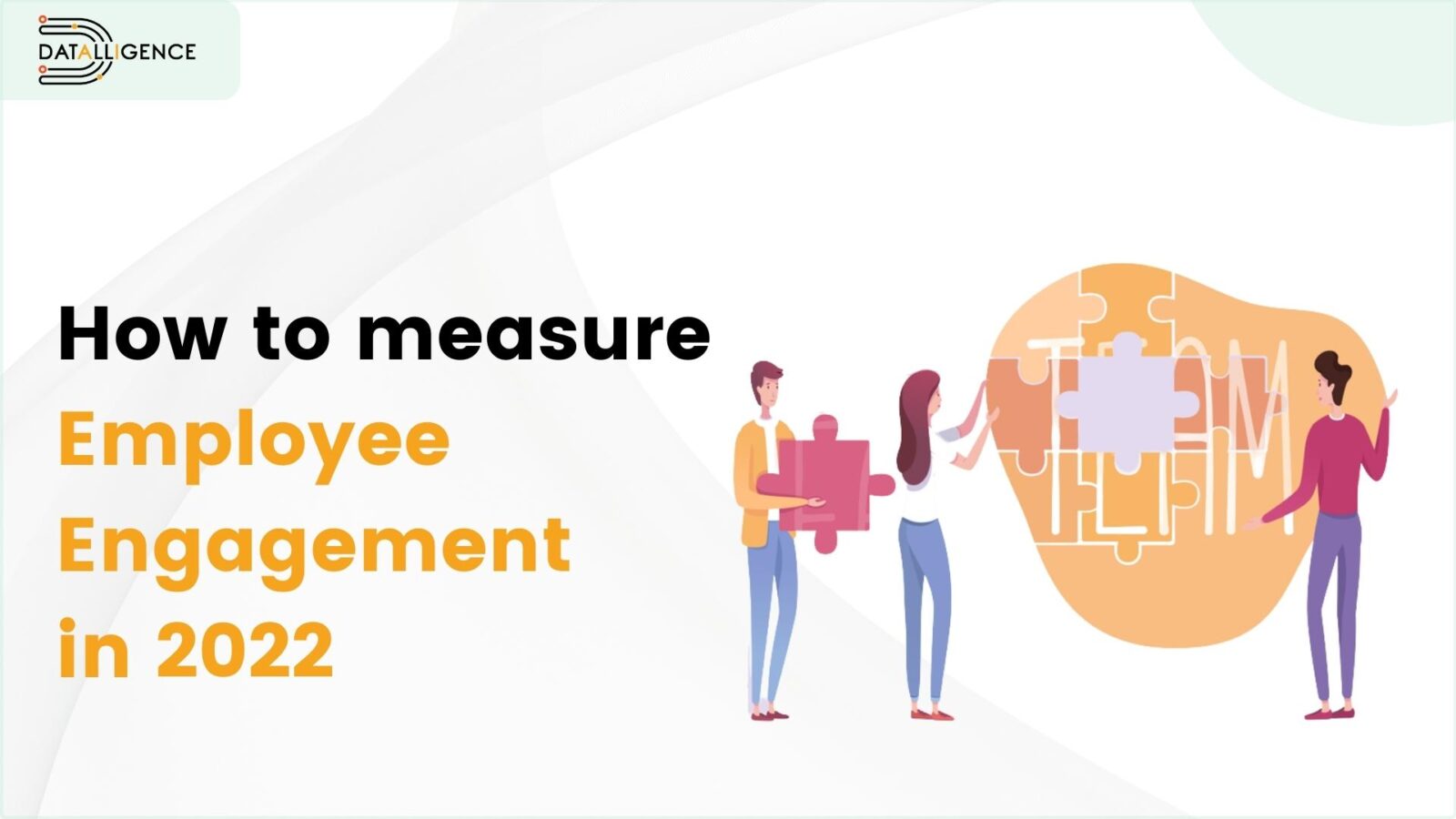 With the paradigm shift in the workforce behavior and with the new generation getting into the workforce, it is essential to understand what we call engagement. "The Great resignation" has made us think about what went wrong and what news can be brought in to increase employee engagement.
The very challenge is that engagement differs from person to person. Few might look for compensation and for few they look for challenging roles. So, there is no one program that is going to bridge the engagement gap.
The real meaning of Employee Engagement is that an employee looks forward to starting working every day and they personally invest themselves in the growth of the company.
They stay aligned with the organization's values and foster the culture voluntarily.
Engagement also promotes retention. Hence the outcome of the engagement is directly linked with the company's progress. Gallup's research highlights that engaged employees make 21% higher profit and are 17% more productive compared to those who aren't engaged.
The Happiness quotient is not the only factor there is more to that. It also brings in commitment and motivation. It is not that the employee who is engaged stays engaged always, they are dynamic, hence the organizations have to constantly invest in people.
Employee engagement is the primary indicator of any organization's success. The belongingness and Productivity of the employees hit high when they are engaged. They stay self-motivated and connected, even when they work from a remote setup. Today, employees tend to commit to their job and manage themselves to work on flexible timings and locations. Employee engagement is a challenging task when it comes to communication, feedback, and recognition.
In this article, let's deep dive to know about the need for employee engagement, different tools used to measure it, what is to be done and what is not to be done while measuring them.
What is Employee Engagement
Employee engagement is a workroom approach that creates the right conditions for all the employees to give their best every day and stay committed to the goals and values of the organization, with a sense of belongingness. This in turn leads to the organization's success.
Employee engagement is not mere job satisfaction or achieving the targets. It's about staying connected with the company's values, being self-motivated, and is committed to the work. But, no wonder the level of engagement fluctuates periodically and is influenced by many factors.
Employee engagement is built upon trust, morality, employee feedback, and commitment. It is an approach that fosters the organization's success and productivity. It's about understanding one's role in the organization and how it fits to achieve the organization's goal and objectives. Engaged employees feel proud and stay loyal to their organization.
Employee engagement is about utilizing the knowledge and innovative ideas of the employees to improve the services and products of the organization.
Benefits of Measuring Employee Engagement
Engagement refers to the employee's emotional commitment towards the organization and its overall goal. It allows the employees to stay connected and move an organization towards success. Employee engagement is measurable. It permits the organization to identify profiles of employees who are engaged, their performance traits, and identity possibilities to improve their level of engagement.
Measuring employee engagement rewards both the employee and the management. It provides insights into what employee thinks about the organization and the areas of improvement. Following are some of the advantages of measuring employee engagement.
Engaged employees are:
• 17% more productive and have consistent high-level performance
• likely to stay longer and have less turnover percentage
• responsible and work in flexible timings without supervision
• more likely to refer a known potential resource for employment to the company
• loyal to the company and have a sense of belongingness
• provides honest feedback for the improvement of the company
An organization having engaged employees have:
• higher profit margins and satisfied stakeholders
• Improved sales volume
• Highest employee retention
• Best quality products and customer service
• Engaged and connected team members
• Less absenteeism
Periodic measurement of employee engagement helps to identify hindrances and solve them before it creates problems. It also gives a clear picture of what is going on in the organization and the level of progress achieved towards the overall goal.
How to develop a measurement strategy
Knowing the importance of measuring employee engagement, it is time to outline strategies that helps in effective and periodic measurement of employee engagement.
To make the process simple, we have software tools and the latest techniques, by which we get a clear picture of employee engagement even from remote working conditions.
1. Hold to the core values:
It is essential to explain the core values of the company to the employee from day one. Understanding the code of values develops a sense of belongingness and emotional attachment to the company. Periodically insisting on the core values to the teams, brings positive work culture and high retention rates.
2. Devise clear career path and growth opportunities:
People stay committed to the organization if they feel they have a clear career path and development ahead. If the company provides enough opportunities for improving their growth and conducts learning programs to improve their skills, employees stay committed.
As a result, attrition rates go below the bar.
3. Set realistic goals and clarify responsibilities:
Setting realistic goals and standards for the teams is an essential step in employee engagement. To keep the strategy off the ground, key people like HR representatives, managers, and team leaders should form an employee engagement committee to initiate the process.
4. Encourage transparent and honest feedback:
An employee invests his full energy and hard work, only if he knows what is happening behind the scenes. Team members should be well informed about the progress and decisions taken in the team, to make them feel free to provide honest feedback and ideas for improvement.
5. Focus on the outcomes:
Outcomes give a crystal-clear picture of employee engagement in the current situation. Survey results on employee outcomes measures their commitment, retention, and motivation levels. It helps the organization to know their areas of improvement and work on it.
5 Examples of Employee Engagement
Objective 1: Create an enhanced employee experience
KR1 – Increase work-life balance survey score to X
KR2 – Increase employee satisfaction score to X
KR3 – Increase weekly pulse survey score to X
Objective 2: Initiate employee connect with the team
KR1 – Connect 1:1 with the team every fortnight
KR2 – Initiate weekly Check-in discussion
Objective: Establish and rollout an employee wellness program
KR1 – Launch online 1:1 sessions for mental and physical wellbeing
KR2 – Initiate everyday workout sessions.
Objective: Increase the communication channel to reach out to the employees
KR1 – Add 2 channels to the internal communication to reach out
KR2 – Launch the employee communication portal by May
Objective: Aim to provide work-life balance for the entire team
KR1 – Create flexible leave policy and rollout by May
KR2 – Initiate flexible working schedule
How not measure the engagement?
Low employee engagement affects employee performance. On the other hand, it increases the attrition rate and dissatisfied customers. Since it involves the commitments and emotions of the employees, it is inappropriate to measure employee engagement by mechanized tools.
Each method that measures employee engagement has its limitations. Hence, it is quite important to have a plan for measuring employee engagement that acts as a powerful catalyst for an organization's success. Here are a few incorrect strategies used in measuring employee engagement.
1. Limiting the survey respondents:
When organizations conduct surveys among sample respondents alone, there is a higher chance of biased outcomes. Annual Engagement results are best obtained when all the employees participate in the survey. It may sound weary, but to energize the employees, it is essential to consider the entire population in engagement surveys.
2. Pulse surveys don't show the big picture
Pulse surveys contribute less to creating change and at times harm doing good. Conducting on-spot surveys often, without giving enough time for the action in between is considered to be destructive. Rather, it can be paired with other survey methodologies, to measure the critical areas of improvement and follow-up on the same. Also, to gain the trust among employees, conduct Pulse surveys in regular intervals to show that their feedback is taken seriously.
3. Conducting surveys alone cannot improve engagement
Though surveys act as the best employee engagement measuring technique, it is not the only show stopper. It has to be clubbed with other tools to achieve better results. Consistent follow-up and timely actions by the leaders make employees more engaged.
4. Poor survey design leads to biased conclusions
While measuring employee engagement, surveys should not be designed in such a way that, they give omit essential measurement criteria. Merely forcing employees to respond to the questionnaire, whose impact is fewer results in a poor measurement of the engagement.
5. Don't concentrate only on computable outcomes
Employee engagement is more about emotions and depends on how the employee values his job and the company. Surveys that measure engagement should include both qualitative and quantitative metrics that encourage the employees to provide honest feedback.
Top Tool to Measure Employee Engagement
Any business that is an eye for its success has to follow some effective ways to monitor and measure employee engagement levels. Here are some tools that are used extensively for the measurement of employee engagement.
1. Periodic Employee Surveys:
An employee survey is the most convenient tool for measuring employee engagement by collecting feedback from the employees on their feeling and satisfaction levels. The highest participation in surveys can be achieved by anonymous form submission, engaging third-party facilitators, and conducting them on periodic intervals.
Good surveys give honest results on employees' feelings, motivation level, job satisfaction, passion, and work/life balance.
2. Performance management software:
Modern HR tools are a good choice for collecting feedback and measuring engagement that tracks the employee engagement levels throughout the year. The survey data of every employee is stored in one place and it promotes periodic conversations between the employee and manager.
This ensures that all the team members and leaders are satisfied and working towards their individual, team, and overall goal of the company.
3. Appreciation and rewards:
It is quite natural that employees tend to work hard when their efforts are recognized and it makes them proud when it is rewarded. It is an effective way to identify, whether an employee is engaged or not, and on the other hand, an employer will identify the engaged employees in their company.
4. Retention and Exit Interviews:
It is essential for any company to identify the reason, why the key performers, decide to switch over from the company. The valuable feedback from them during exit Interviews, help the organization to identify the areas of improvement and retain the best performing employees. The feedback is usually collected in the form of a questionnaire during the final week of the job or over the telephone after they leave.
5. Recurrent One-On-One Meetings:
The HRs and the reporting managers should conduct periodic One-on-One sessions with the employees to make them comfortable to express their feelings and share their feedback. This can be done either once a week or fortnightly.
Closing thoughts
With the above-said strategies and methods to measure employee engagement, it is pretty clear that engaged employees create a positive work culture and motivate themselves to invest in their job and the company they work for. So, it's the correct time to hook in the best employee engagement tools to evaluate the employee engagement levels carefully and regularly.
Our free demo helps you in understanding our product in detail, so you can save time that you spend on onboarding process.