Top 5 OKR Examples For Marketing Team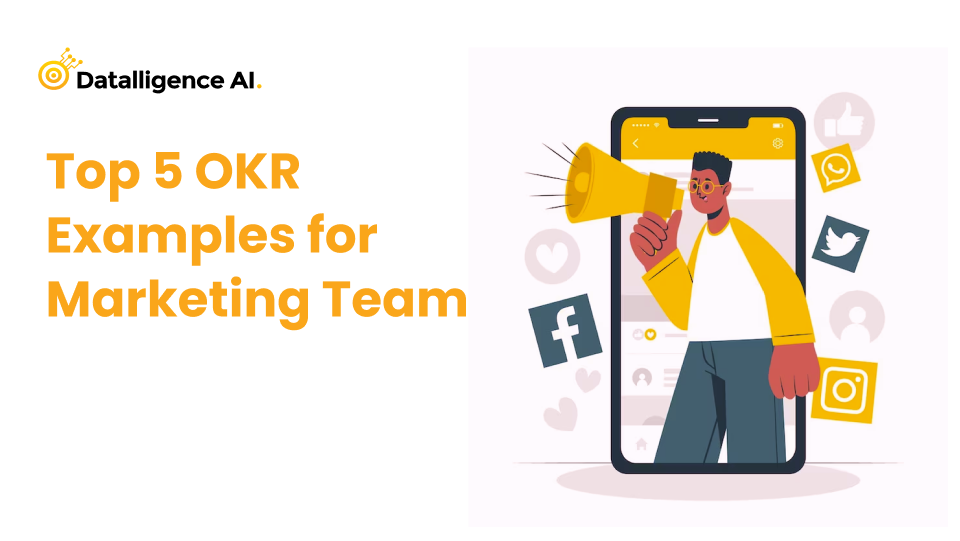 While everyone aspires to run a successful business it is important that we are focused and travel in the right direction. Measuring individual and team performance that is aligned to the organizational strategy is crucial.
Objectives and Key Result(OKR)framework help in addressing this crucial requirement.
Objectives: Defines what you want to achieve
Key results: Measurable outcomes help us to define how to reach the objective.
How Does OKR Software Help Marketing Team?
The OKR software creates alignment and increases engagement. This allows us to showcase what we deliver. The marketing team being highly data-driven in terms of measuring the Return on Investment(ROI), OKRs would be the ideal framework to measure
OKRs or objectives and key results are collaborative goal-setting tools that can be used by individuals, teams, and organizations to set challenging and ambitious goals with measurable results. OKRs can be set for various business functions like marketing, human resource management, finance, procurement, etc. How business growth is tracked, individual or team goals are aligned to organizational goals, and increased employee engagement around measurable goals is defined by OKRs. Setting marketing OKRs helps the marketing team to create high output management, increased communication, and team alignment in all their team goals.
What are Marketing OKRs?
The marketing team is among the first business functions to embrace digital transformation. With this came the challenge of managing customers that demand highly personalized offerings, managing the brand reputation, and also reaching out to target audiences. Chief marketing officers are faced with responsibilities such as:
Creating and strengthening the Brand
Generating leads for sales
Delivering exceptional customer experience leveraging data insights and analytics
Expanding marketing capabilities through digital and traditional channels
How do they track these objectives and measure the results?
Marketing OKRs is the most effective way to set high standards (objectives) in all aspects of marketing and achieve product leadership. Consider marketing objectives as a destination, meaning the goal that you'd like to achieve. The measurable actions that are taken to reach these objectives are the key results.
Definition of marketing OKRs
It varies according to the type of business and its requirements. To set your OKRs for success, ensure that the objectives are motivational, ambitious, and high-level. They should offer a clear direction towards the goal. Define the key results based on specific metrics and numbers that will track and measure how close you are to your objectives. The tactics and activities that the marketing team takes to drive results are called initiatives.
Examples of Marketing OKRs
Writing good and well-structured marketing OKRs can be a challenge, especially when you have so many metrics being used. While defining marketing OKRs, the marketing team must consider the following questions:
How to write good marketing OKRs?
What are the examples of good marketing OKRs?
What should be included in marketing OKRs?
To simplify the process of creating marketing OKRs, we have discussed 5 important examples of OKRs for marketing.
1. Inbound Marketing OKR Examples:
Common examples of inbound marketing objectives and corresponding key results are given below.
Objective 1: Bringing new leads to the website
KR 1: Increase the monthly visitors to the website from 12,000 to 20,000
KR 2: Decrease home page bounce rate from 65% to 40%
KR 3: Increase direct response score from 45 to 70
Objective 2: Achieve record acquisition metrics
KR 1: Increase the trial sign-ups from 800 to 1600
KR 2: Maintain CAC below 40$
KR 3: Increase the MAU from 15k to 25k
2. Product marketing OKR Examples:
The product marketing OKR example is given below.
Objective 3: Clarify the product messaging for the release of the new product
KR 1: Conduct 15 on-site user testing sessions to understand TA
KR 2: Run 20 different ads on Facebook and measure the performance
KR 3:Prepare new product presentation and test it with 5-10 users
3. Strategic Marketing OKR Examples:
OKR examples for strategic marketing are given below.
Objective 4: Make sure that the company's revenue targets are met
KR 1: Attract 500 new sales qualified leads
KR 2: Attract 100 new sales qualified leads from new market/s
KR 3: Increase the new inbound sales from 50$ to 100$ per month
4. Social Media OKR Examples:
The need to strengthen the virtual presence of the company, OKRs for social media marketing needs to be set.
Objective 5: Boost engagement of social media audience
KR 1: Increase the number of daily shares by 50%
KR 2: Increase the number of daily comments by 200%
KR 3: Increase the links CTR from 3 to 6%
5. PR/Brand Marketing OKR Examples:
Objective 6: Improve product and brand communication
KR 1: Release 8 regular bi-weekly press releases
KR 2: Send out 10 email marketing messages every week
KR 3: Hold webinars to introduce new product features for 50+ participants
KR 4: Increase the community group strength by 50%
Implement OKR Software solution for Marketing Team.
While implementing OKRs for the Marketing team it is essential to understand the process and key metrics that support achieving the organization's performance. Setting clear department goals and individual goals is very important as there are various metrics available. Recognizing the key metrics that matter to business will help in crafting OKRs
Talk to our experts more about OKR Software.
Talk to our experts to more about Marketing OKRs. Our domain experts can work along with organizations to create solutions that are specific to organizations. OKRs are industry agnostic and it is very interesting when it is applied to process-driven Marketing teams. The outcome is quantified and hence the results are more tangible. Write to Datalligence for implementing OKRs today.
FAQ About Marketing Team OKR
Why do marketing teams use OKR?
Marketing teams use OKR to set clear goals and metrics for their campaigns and initiatives, track progress toward these goals, and make data-driven decisions to improve their performance.
How do you set effective OKRs for a marketing team?
Effective OKRs for a marketing team should be specific, measurable, ambitious, relevant, and time-bound. They should also be aligned with the overall business strategy and reflect the team's priorities and capabilities.
How often should marketing teams review their OKRs?
Marketing teams should review their OKRs on a regular basis, typically on a quarterly basis, to assess progress, make necessary adjustments, and set new goals for the next quarter.
Our free demo helps you in understanding our product in detail, so you can save time that you spend on onboarding process.