5 Best Professional Smart Goals Examples for Work
Goal setting is a dynamic process of setting a clear idea of your destination before setting out on the journey. It helps you identify what is to be achieved and where we should focus. Professional smart goals are the most frequently used ones. It also provides self-motivation to achieve the targets within the stipulated time with the available resources.
What Are SMART Goals?
Every organization has its own goal-setting process, which plays a crucial role in performance management and achieving the overall objectives of the organization. Initially, we have to define what needs to be achieved and stay committed to it.
Here comes the concept of SMART goals (Specific, Measurable, Attainable, Relevant, and Timely) that guide a person to set tangible goals.
SMART goals assist employees to focus on their efforts and increase the chance of achieving their goals.
SMART goals are: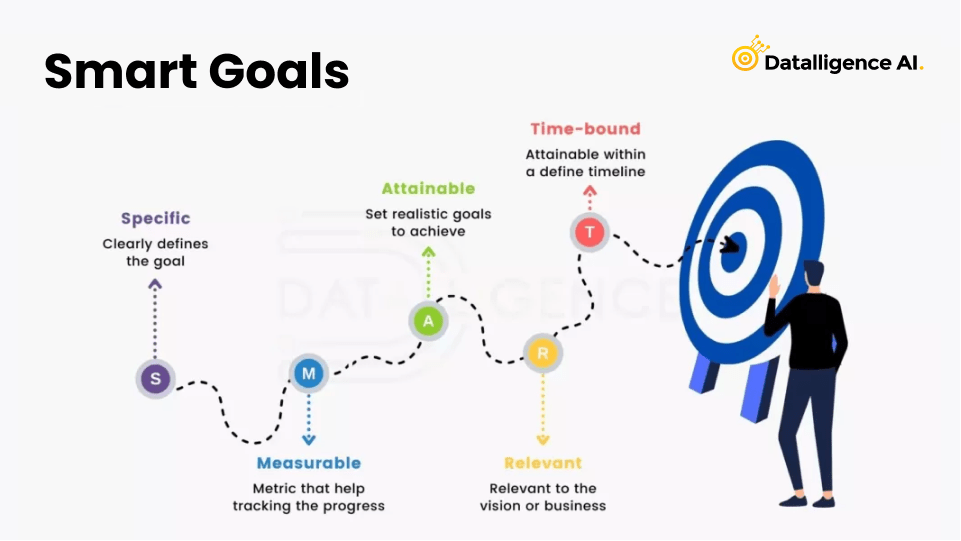 Specific – Clear, well-defined, and precise
Measurable – goals must be measurable with specific criteria to track the progress
Attainable – Set achievable and realistic goals
Relevant – reachable and relevant to the employee's skill and ability
Timely – goals must have a clear timeline with start and end dates.
 Objective and Key Results (OKR) are the best tools for setting goals and act as a complete framework in goal management for the company leaders to rely on. It allows teams and individuals to create and align with the overall company objective.
Why Set Goals for Work?
Professional goals give a sense of guidance, help you to plan the course of action, and achieve them within the time limit. It benefits both the employer and the employee as a whole. Let's discuss the importance of setting goals:
1. Employee Motivation:
Goal setting always keeps the employees motivated when he is clear about what needs to be achieved. In turn, the performance and productivity of the employee increase proportionately, which improves engagement. Employees feel engaged towards their accomplishments and their job satisfaction level is always on the higher side.
2. Prioritize the tasks:
Once precise and clear goals are set on track, it helps the employees to focus on their priorities.
This ensures that they complete the tasks on time and increases their ability to plan their work -what needs to be done and when it has to be completed
3. Right decision at the Right time:
Goals help to amplify the decision-making skill of the employees. All decisions are evaluated against the goals and the outcomes they produce. It also enables the company to take challenging decisions without affecting the business.
4. Measuring the progress:
SMART goals enable the measurement of goal progress quantitatively and qualitatively. while we measure individual and departmental progress it helps us to understand the organization's progress
5. Employee engagement:
Goals set a roadmap to employees' success in the organization and make them responsible for overall success. Properly devised and stated goals direct the employees towards skill improvement and in turn result in a higher ratio of engaged employees.
Things to consider before setting a goal
Setting a goal is considered to be a vital step in building a successful career. Professional goals guide you to what you want to achieve and where you would like to see yourself in your career. There are a few factors that need to be considered before setting a goal.
1. Recollect past success stories:
Have an insight into past achievements, think about how you felt after accomplishing the goal, how important it was at that time, what changes need to be done now, and what impact it has created in your career.
2. Start with some important "W" questions?
Before goal setting, ask the following questions to yourself,
• What is important for you at present
• What you want to achieve
• Where do you want to see yourself after this goal completion
• When you will accomplish this goal
3. Take time for groundwork:
It is considered good even if you take a little extra time to bring clarity on what you want to do.
At the same time, it is not about what you enjoy doing. Research and categorize what is essential and keep away fuzzy things. As goal setting is a repeated process, you can come back to it at any point in time.
4. Create SMART goals:
SMART is an effective way to create a goal and measure the progress ensuring that the goals are Specific, Measurable, Attainable, Relevant, and Time-bound. It provides structure and clarity to your goals that reflects how you will accomplish the goal and how you will measure the success.
 SMART goals examples for 2022
How to set SMART employee goals with OKRs?
OKR (Objectives and Key Results) is proven as a successful methodology when it comes to setting and achieving goals. Initially overall objectives are set by executives and management either annually, quarterly or monthly. Later, Managers set their own goals and align their team, followed by individual goal setting.
Some prerequisites are – Individual and team OKRs must be aligned to Company Objectives and cascaded down to achieve goals effectively.
A few points are listed below for successful goal setting with OKRs:
1. Simpler the better – Focus on what is important and how to achieve it in the given time frame
2. Be Precise and Specific – devise the best action plan to achieve the goals and know what is needed to complete the task
3. Cascade the objectives – know how individual tasks contribute to the overall organization's success. Cascade the objectives from the Organisation level to the department level and then to the individual.
4. Set Measurable goals – Key results require metrics to convert the goals into quantifiable ones. This can be fixed through one-on-one meetings.
5. Stretch goals are no worries – Sometimes it is ok to stretch challenging goals that are highly ambitious. Set Stretch Goals that are aggressive and achievable
6. One-on-One meetings – Team leaders and members align to company objectives through one-on-one meetings, which fosters transparency and confidence in setting goals.
OKR software helps companies track the goals from top management executives to individual team performers. It is considered one of the best tools for measuring the performance of employees. OKR software ensures that employees are aligned, focused, and contribute to the goals. Also, Feedback and reviews happen periodically, which motivates the employee to do regular check-ins.
Curious about the best OKR software for 2023, Read more in Best OKR software for 2023
5 Tips to Help You Achieve Your Goal
Let's take a look at a few tips to achieve professional smart goals:
1. Enlist them down:
The initial step is to list down the job goals. The goals must be real and ambitious enough. Make it visible every day so that it reminds you of what needs to be achieved.
2. Sharing the goal:
Sharing the goal with team members and colleagues motivates you to accomplish it. It can be shared with selected people or teams, that keep you committed to the goals.
3. Evaluate and assess goals periodically:
Goals are not static and tend to change from period to period depending on the circumstances. To achieve the goals, it is essential to review constantly
4. Visualize the goal achievement:
Goal achievement is a motivating factor for every individual. Envision your goal achievement and set breakthrough targets for goals. Achieving these targets helps you to take the next step toward your professional goal.
5. Engage a certified professional or expert:
Certified coaches support their clients by providing training in setting goals. Coaches are highly skilled and they extract information through various means to identify what is important to the employee. From there, they bring clarity in goal setting both for long-term and short-term goals.
Few examples of SMART goals
The below examples clearly mention that the SMART goals are time-bound and are also specific. They are measurable in nature.
Learning and improving have been a part of human behavior that helped people to become exceptional. They thrive to become better every day and benchmark themselves.
Example: Improve my communication skills by January to speak in the Research seminar
Example: Time management and multi-tasking skills to be acquired
Sales goals:
Sales goals are more tangible in nature and they help you achieve the target in a specific timeframe The goal must be clear in what needs to be achieved and how will it be achieved.
For Example: Increase Turnover
"We will increase our month on month turnover by X" amount for the next 12 months. This will be achieved by onboarding two new customers a month.
For Example: Increase Qualified leads
"Generate 60 qualified leads on a monthly basis in the 22-23 financial year"
Conclusion
Goals accelerate strategy. Setting realistic and achievable goals makes the job half done. Then tracking and progressing take us to the next level. SMART goals help you measure individual performance and increase employee productivity. Talk to our experts on goal setting with OKRs
Frequently Asked Questions
SMART goals are a framework that helps organizations to measure their key metrics that show the status quo of any business. With the SMART goals, the goals are set that are realistic and time-bound and can make organizations visualize where they stand currently.
There are various goals available and SMART goals is one mostly used goals tracking system.
1. Walk 30 Minutes a Day, 5 Days a Week
2. Improve Your Listening Skills 
3. Speak up to Increase Visibility in the meeting we are attending
4. Improve Presentation / Public Speaking Skills by attending training
5. Improve Your Emotional Intelligence
6. Start Networking this quarter
Writing SMART goal criteria:
1. SPECIFIC:
We need to be specific on what we plan to achieve and what needs to be done to achieve that specific goal.
2. MEASURABLE :
The written goals have to be measurable so as to understand where we are currently. 
3. ATTAINABLE :
Goals can be aspirational but yet has to be realistic and achievable. Setting an attainable target becomes attainable for people who are working.
4. RELEVANT:
The goals set have to be relevant to the business, we should not be chasing something that is not a business priority. 
5. TIMELY:
The goal has to have a timeline otherwise it cannot be completed as planned.
Personal goals are something we set for ourselves both personally and professionally.
We can set our goal for
Achieving mindfulness
Goals that support my professional plan
Planning to start eating healthy
Reading books
are the few personal goal examples.
Our free demo helps you in understanding our product in detail, so you can save time that you spend on onboarding process.