12 Best Agile Tools for Project Management – Free & Paid Tools (Updated for 2022)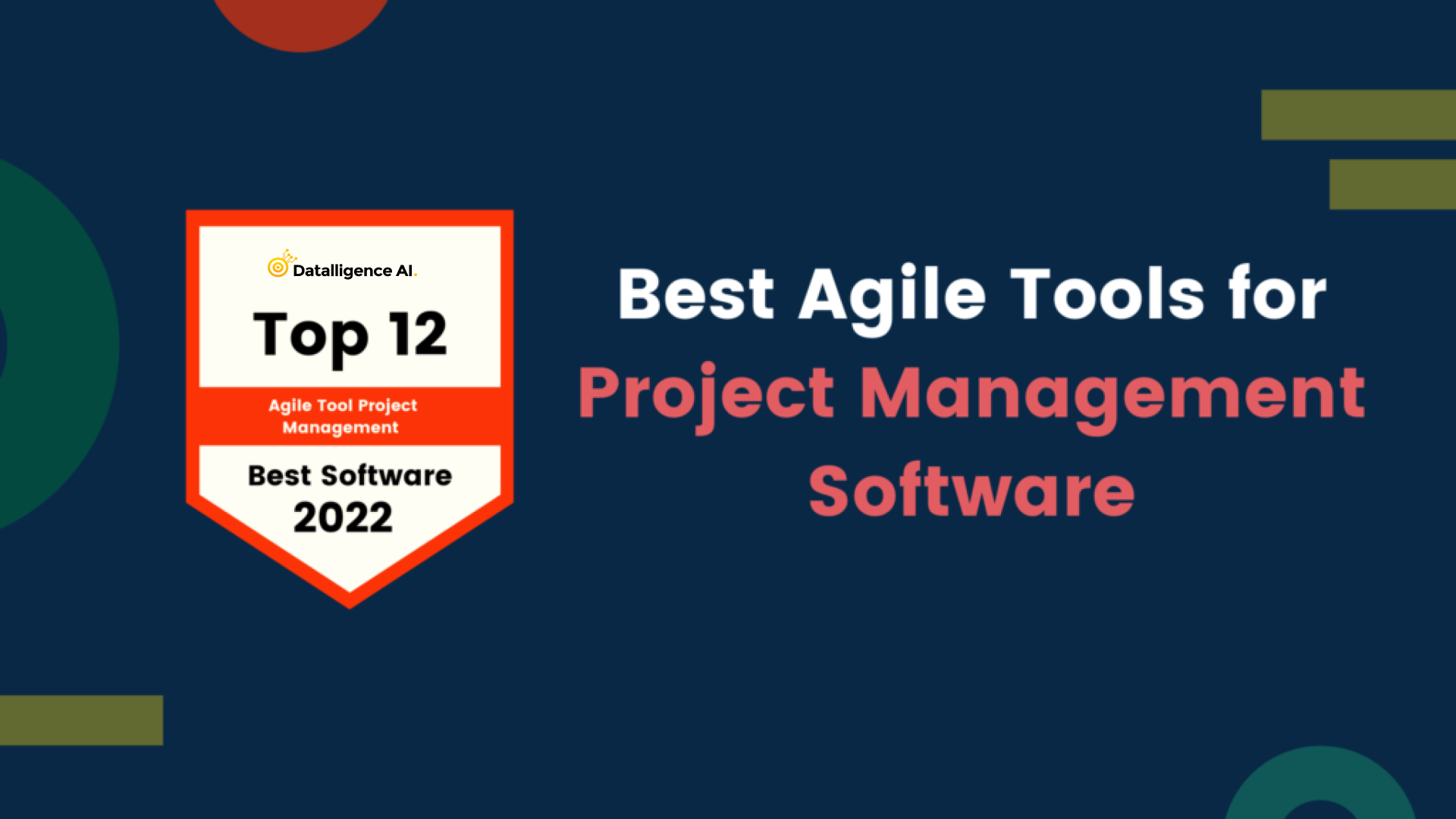 Here you are reading this and co-existing with technology with everything around you. When we talk about the tech world, it is already growing every second.
And you being a part of the software development or SaaS world?
Congrats, you are an effective addition to the world of innovation.
While you are working on a project of software development, and wondering how agile methodology can be helpful to align your team and make the work done faster.
Here are 12 agile project management tools listed down.
But before you start exploring the tools, it is important to understand the depth concept of agile methodology.
What is Agile Methodology?
Agile is a methodology that helps the tech-founders, software developers, project managers to work faster by breaking the project into different stages. Those stages later are attributed to multiple tasks with continuous monitoring of even a small completion of a task and that incremental phase of work is known as sprints. Basically agile project management methodology is most commonly used in software development projects but can be applied to other businesses.
Why Agile Methodology?
Let's understand with an example, suppose you are on a mission to lose weight and you set your goal to walk daily for 20 mins, but after walking 20 mins daily for 1 month you observe no change in your weight. That means you are not doing enough exercise or not following a balanced diet, maybe instead of walking you should be running 20 minutes to lose excess weight. With that in less time, you'll burn more calories and achieve your goal faster.
Similarly, the agile methodology helps the teams and businesses to achieve more in very less time, keeping assured of collaboration, feedback, trust, and control while working on projects using agile methods.
Agile methodology is not only making the work faster and smarter but also breaking the functional silos into the organization and putting the people in self-managed, task leading, and multidisciplinary mode, along with accelerating profitable growth— agile is also helping to create the new generation of skilled employees.
What are agile tools for project management?
Agile is one of the project management tools designed to support agile methodology: Scrum, Kanban, Scrumban, or other agile hybrid methods. It helps the development teams to accelerate the growth of projects by 100x. Agile methodologies require practice at the top— strategy development, resource allocation, breaking through innovations, improving team collaboration. To deliver an agile environment in the company it is important to roll out agile tools for project management.
Key features of agile tools for project management and advantage
In project management, agile is the right approach to deliver the features of the product in each sprint. Here are features of agile tools listed for project management.
– In an agile environment, agile tools for project management act as a supporting role in coordinating the teams, effective communication when the team is large and distributed.
– Agile tools help in scaling the project, align the business objective, and keeping everyone in the team on the same page with the ongoing task.
– Agile methodology is used because modern-day projects are highly fragile and ask for multiple refining, and when a team is continuously updating the project it becomes difficult to communicate about the priority tasks.
– Agile tools on most days of project development act as an information radiator, keeping each member in the loop where anyone can view the progress at any time.
– Maintaining a single database of content and analyzing the performance is the core functioning of any agile tool hence it becomes easy for project managers to measure the success and detect the upcoming risk.
Best Agile Project Management Tools
Now that you know, depth about Agile methodology it's time for you to choose the agile tool as per your business requirement :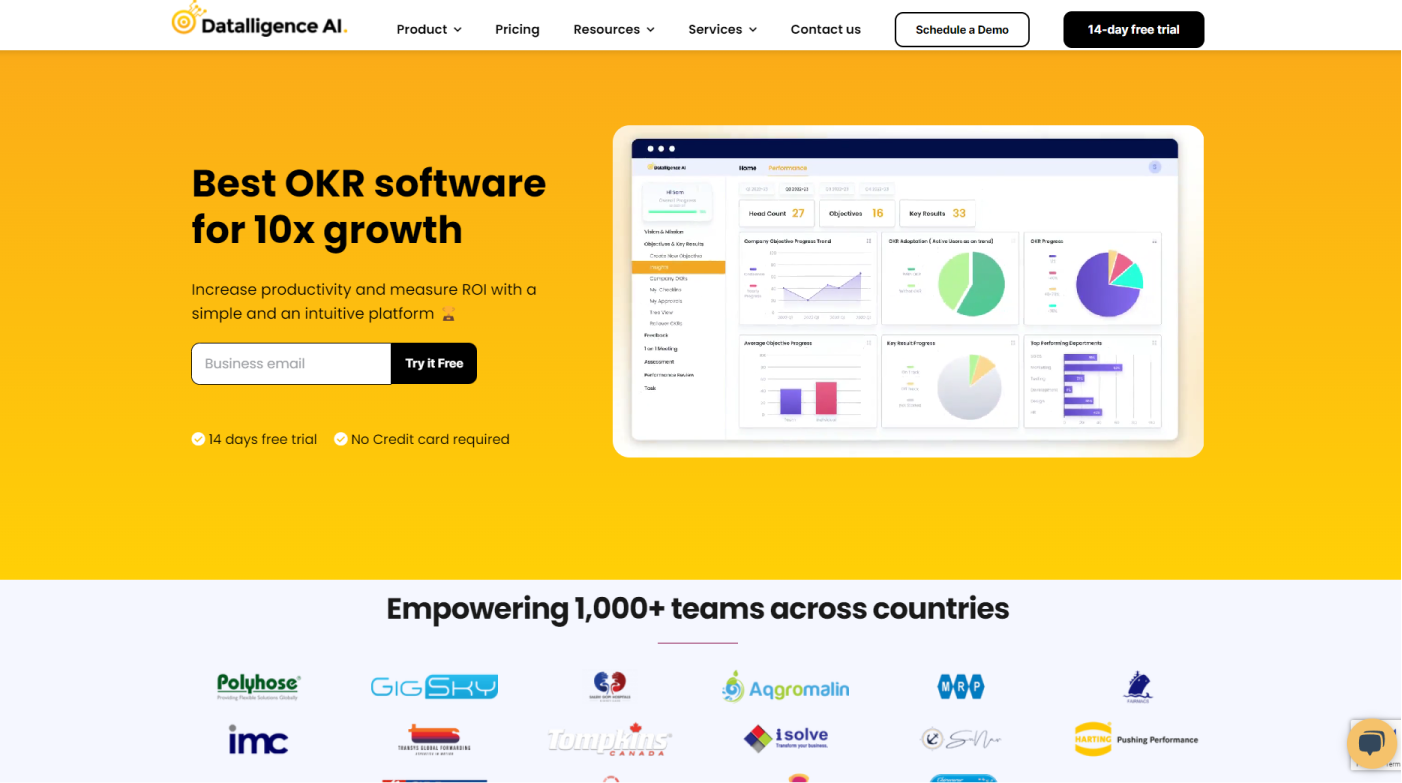 Datalligence OKR platform is a smart OKR based project management software. It allows organizations to see the progress of their OKRs and project in one place. Teams share ideas and collaborate in one place. Datalligence OKR software allows you to see the short-term as well as the long-term goal.
Allows users and teams to track the task as well. We can create milestones based on key results to track the project status
Advantages of Datalligence OKR tools for project management.
Rapid deployment of software:
Agile methodology is used by software development companies to speed up product development while accepting the various changes that occur on time of development. Agile tools help in keeping transparency with the progress and help in implementing dynamic changes from the customers to change the direction of growth of the project.
Detects upcoming issues:
Agile tools help in risk analysis by identifying the risk and determining its severity. With agile methodology, project managers prioritize the identified risk and create an action plan to deal with high priority risks, by continuously monitoring and follow-ups PMs mitigate the risk.
Increased frequency of collaboration:
When the software development team is continuously incorporated into a common goal—communication becomes more important than ever, in order to deliver usable increment value by the end of the sprint. Everybody is aligned and having clear picture results in increased growth and the same mindset.
Improves quality of work:
Agile methodologies use an iterative approach to project management, meaning the cycle is repeated from testing to deployment each time to improve the quality. In each sprint, the process is repeated as per the demand leading to building more powerful and superior products.
The Agile Project Management Tools has Three pricing plans.
Free for Lifetime:
Up to 5 users
Objectives and Key Results (OKR)
KR Checkin and approvals
And More
Initiator:
$2.5/user/mo
Everything in Free
Annual Goals
Create Task
Assign Tasks
Custom Reports
And More
Successor:
$5.8/user/mo
Everything in Initiator
Assessment (Pulse/180/360)
Performance Management
Insights and Dashboards
Survey (Pulse/180/360)
Learning Management System
And More
2. Wrike

Wrike's Agile project management software helps your team communicate, collaborate, and deliver work, all in one place. Wrike keep all your communication at one place. Also, you can integrate Wrike with 400+ software to make it the most collaborative platform.
Features:
-Automatic and customizable reports to track the progress
-Easy sprint planning templates are available to split your projects into small tasks.
-Take feedback easily via sharing images and videos
-Maintain a complete database in one place and keep it centralized with customers or stakeholders
Pricing:
The Agile Project Management Tools has Three pricing plans.
Free
Suitable for 1–5 users
Centralized task management
$ 0 user/month
Professional
Suitable for 5–15 users
Project planning and team collaboration
Business
A customized platform for any team or use case
3. Monday.com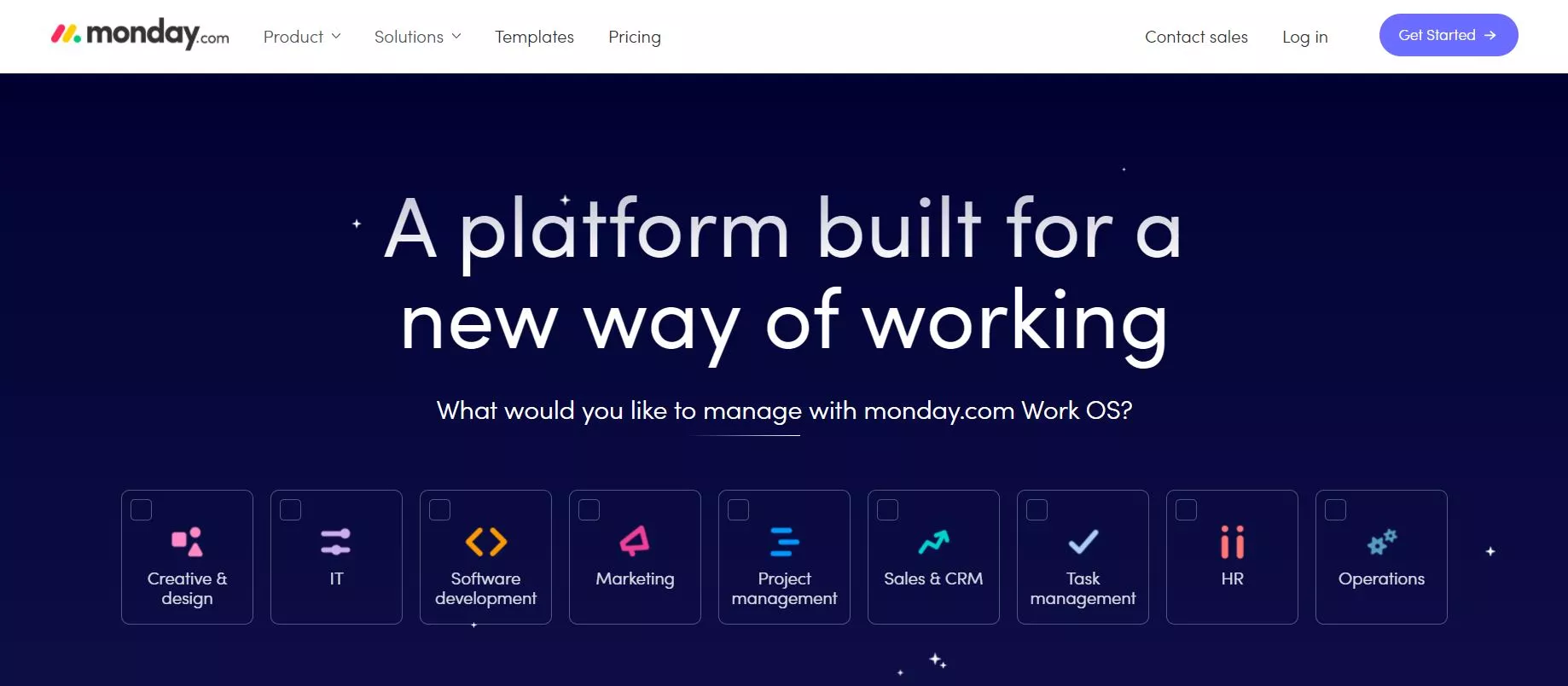 Monday.com is one of the best agile project management tools available in the market. It offers a minimal, simple, and clean interface with color-coded features. This easy-to-use software is suitable for big or small teams. It also offers a user-friendly mobile app and highly customizable workflows. You can select your project niche to manage it on Monday.com. You can choose from Project planning. Issue log, strategic planning, and more.
Features:
-You can integrate monday.com with your existing tool and get work done in less time. (Jira server, Salesforce, and more)
-A fully customizable toolkit for your every project.
-Gantt chart feature where you can track your project scope and important metrics.
-Easily manage your team resources and monitor the workloads of each team member and assign them without burning them out.
-You can choose from a variety of pre-built templates customizable to every project.
Pricing :
The agile project management software has Four pricing plans.
Individual
$0
free
forever (
Up to 2 seats)
For individuals looking to keep track of their work
Basic
$8 seat /month
Total $24 / month billed
 annually
Manage all your teams' work in one place
Total $30 / month billed
 annually
Collaborate and optimize your team processes
Pro
Total $48 / month billed
 annually
Streamline and run your teams' complex workflows
4. Asana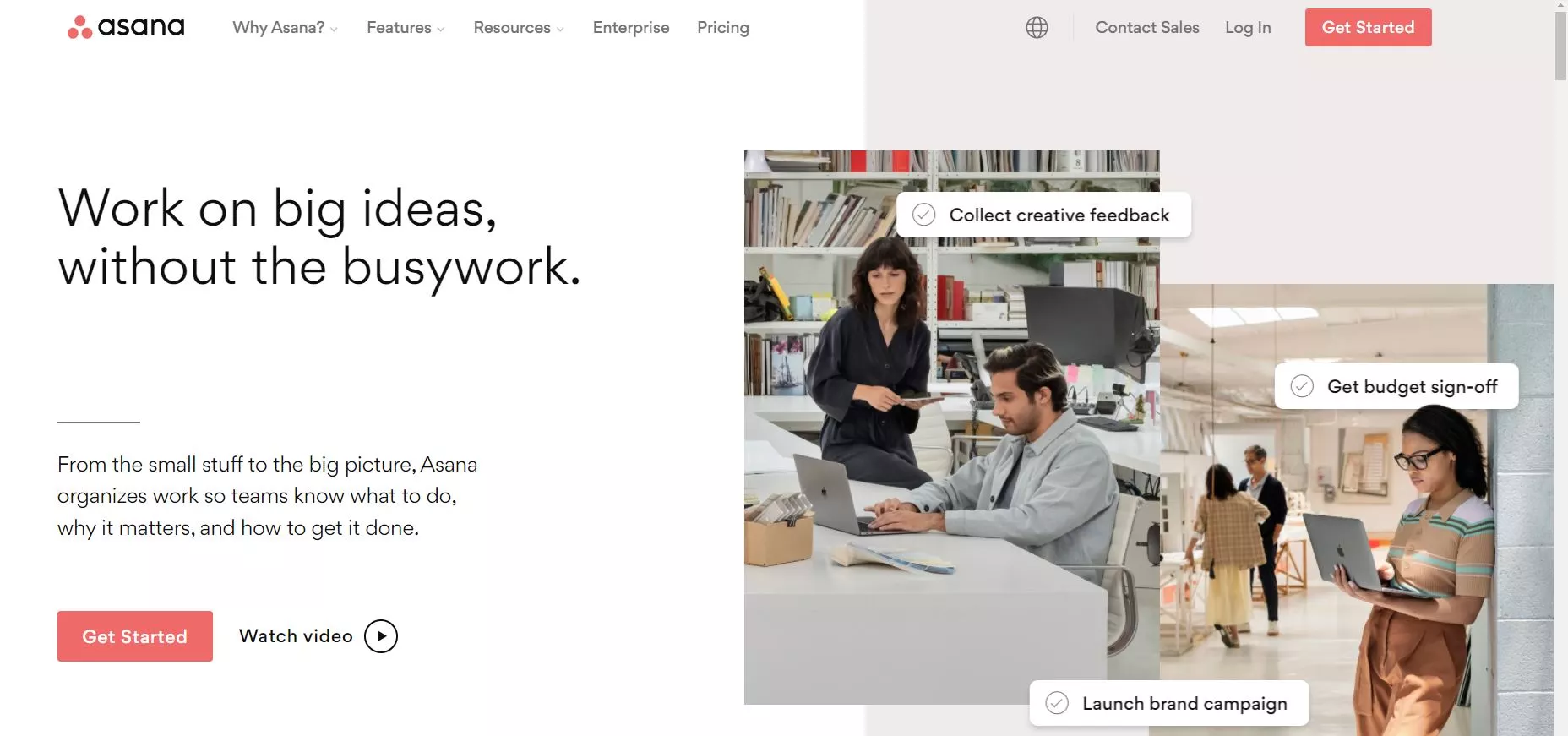 Asana is the ultimate cloud-based project and task management tool for planning, organizing, and tracking the progress of the tasks. You can visualize your progress on digital Kanban boards and see your team move tasks from to-do to done. You can easily see where tasks are piling up and remove the bottlenecks. Optimize your workflow management
And foster team communication.
Features:
-Workflow builder is the most inclined feature of asana where you can automate the process to coordinate your team.
-Keep a track of your work and get real-time insight into your progress in any stream.
-You can sync all your work in real-time to all your devices using desktop and mobile apps.
-Integrate one shared calendar to view your team's work.
Pricing:
The agile management software has Three pricing plans.
Basic
For individuals or teams just getting started with project management.
Manage tasks and personal to-dos:
Unlimited tasks

Unlimited projects

Unlimited messages

Unlimited activity log

Unlimited file storage (100MB per file)

And more
For teams that need to create project plans with confidence.
Track team projects with features and resources like:
Timeline

Workflow Builder

Unlimited Dashboards

Reporting across unlimited projects

Advanced search

And more
For teams and companies that need to manage work across initiatives.
Everything in Premium, plus:
Portfolios

Goals

Workload

Custom rules builder

And more
5. ClickUp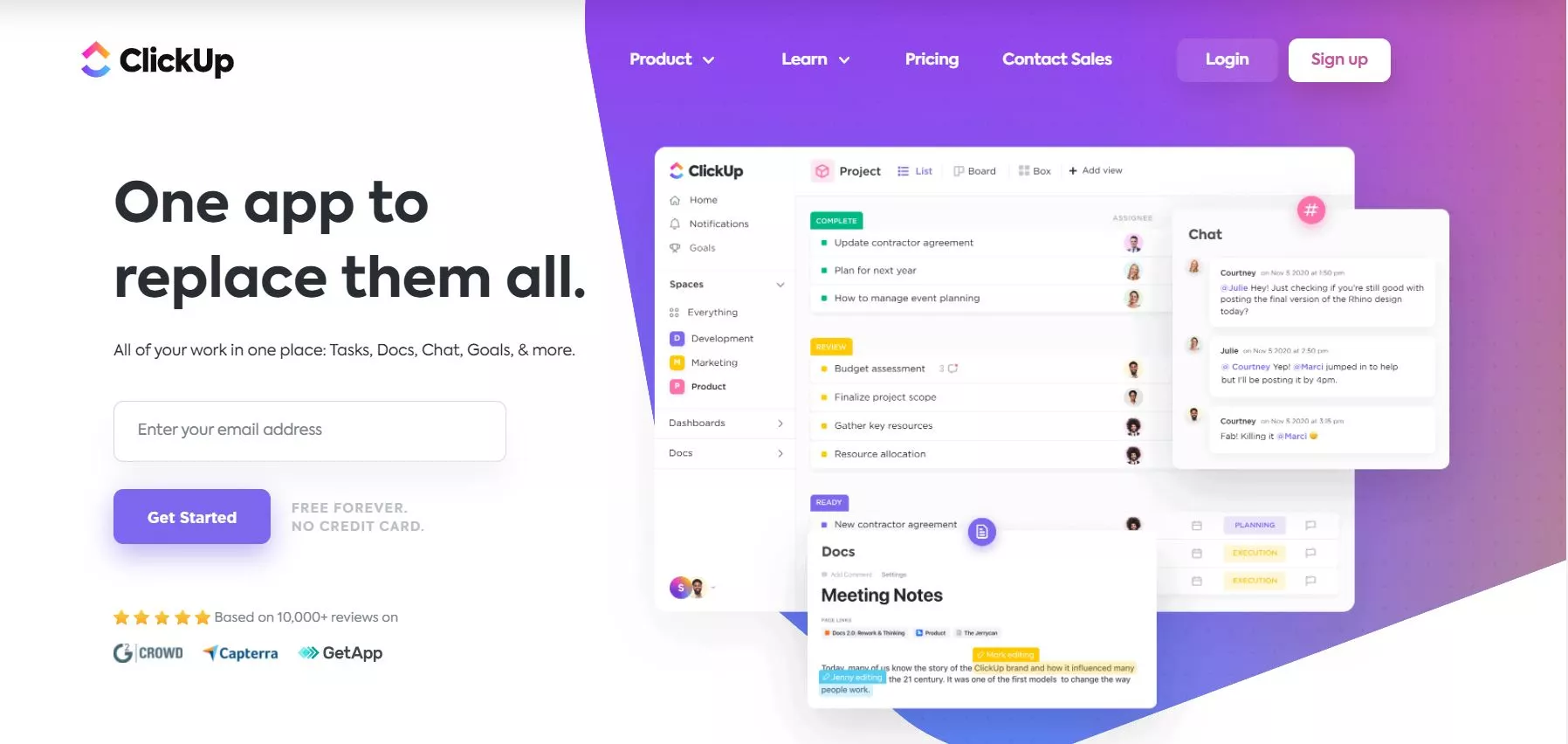 ClickUp is a super customizable agile project management tool that allows you to build your custom dashboard  This agile project management tool offers both time management and task management in one place. It helps you to set priorities for the work.
Features:
-You can add a   filter and search for a particular task.
-Helps you to automatically import documents from other apps.
-You can work decentralized and assign multiple tasks to your teammates.
-ClickUp enables you to sort tasks by project.
-You can sync with Google Calendar.
Pricing:
The agile project management software has Four pricing plans.
FREE FOREVER
Best for personal use
100MB Storage
Unlimited Tasks
Unlimited Members
Two-Factor Authentication
UNLIMITED
Best for small teams
Unlimited Storage
Unlimited Integrations
Unlimited Dashboards
Guests with Permissions
Unlimited Gantt Charts
BUSINESS
Best for mid-sized teams
Google SSO
Unlimited Teams
Custom Exporting
Advanced Public Sharing
BUSINESS PLUS
Best for multiple teams
Team Sharing
Subtasks in Multiple Lists
Custom Role Creation
Custom Permissions
Custom Capacity in Workload
 6. Basecamp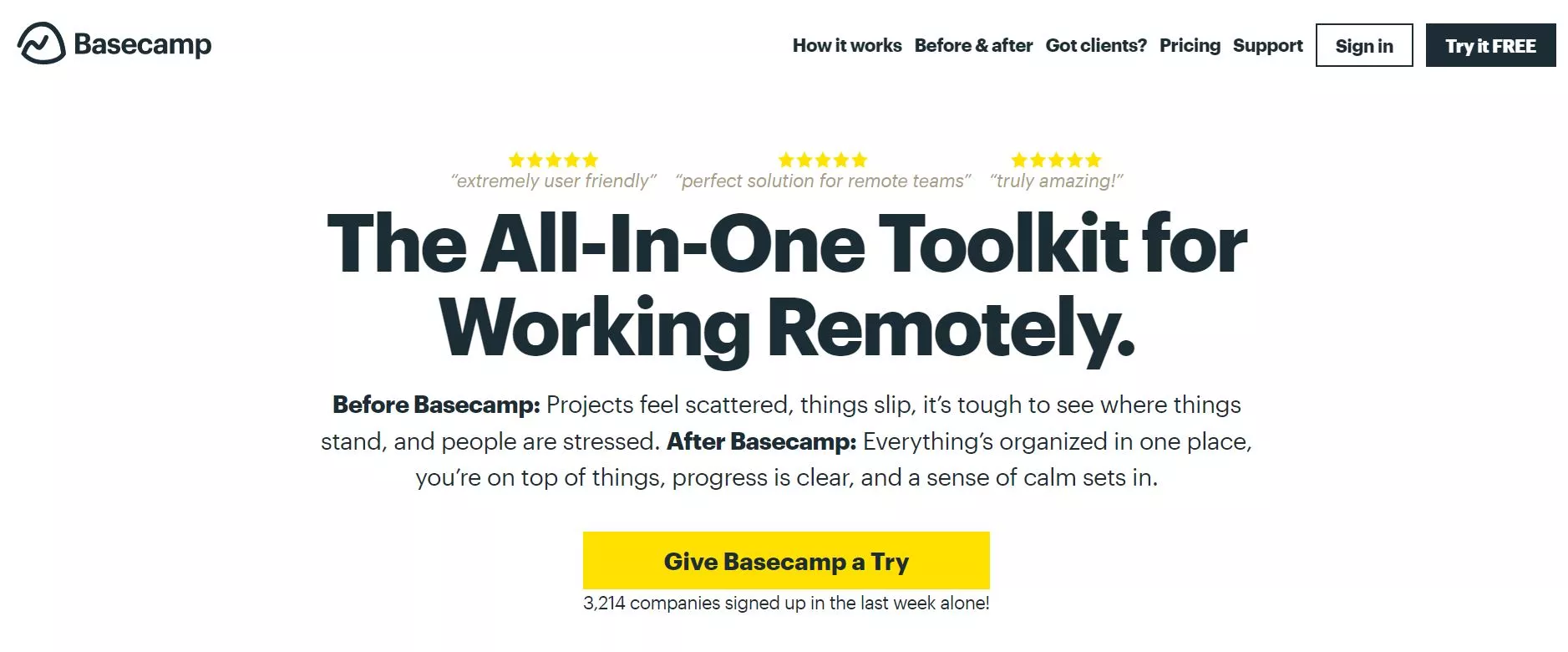 Basecamp is the most famous Agile project manager in the Scrum community. The tool is designed for both project management software as well as team collaboration software.
Features:
-Centralised place to promote quality teamwork.
-Seamless file sharing, real-time team communication.
Price:
The Agile Project Management Tools has One pricing plan.
Basecamp Business: $99/month flat
7. Teamwork
Teamwork is an easy-to-use, task management system. It is a tool that allows companies to maximize their project management processes. This tool also helps you to avoid unnecessary meetings and get things done quickly.
Pricing:
The Agile Project Management Tools has One pricing plan.
Free Forever
For individuals and small teams getting started with project management.
Deliver
Manage multiple projects and delight your clients. A great place to start.
$
10 / user/month, billed annually.
Grow
Ideal for larger teams with features to help get you efficient and organized.
$
18 / user/month, billed annually. Minimum 5 users
8. QMetry
QMetry is an open-source agile testing tool. It allows developers to build, manage, and deploy their software in less time.
9. Pivotal tracker
A pivotal Tracker is a tool that helps developers for planning projects for software development. It's mainly based on agile development methods. However, it works effectively with all kinds of projects.
Features:
-Support for ActiveResource
-This best agile tool has the ability to get a list of all the projects
-Project transparency at a glance
-Move and edit multiple stories at once
Pricing:
The Agile Project Management Tools has Four pricing plans.
FREE
1-5 collaborators – $0
STARTUP
6-10 collaborators
STANDARD
11+ collaborators
$6.50 per collaborator, per month*
10. Zoho Sprint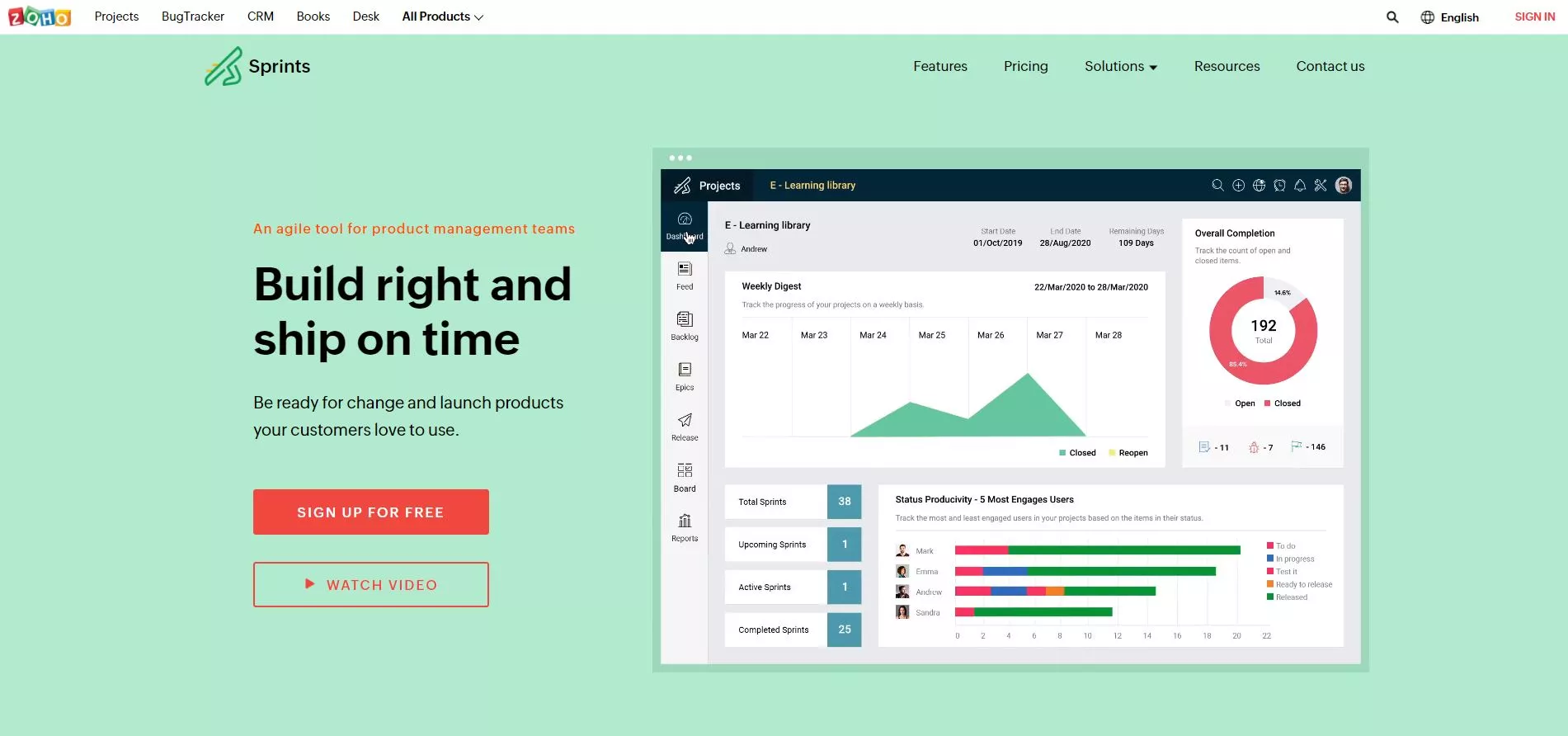 Zoho Sprint is a tool that helps you to manage your workflow and product with zero hassle. It enables you to track your progress in real-time. This software can be used to find bottlenecks and discover ways to generate business value.
Features:
-It is integrated with CI/CD tools.
-This tool helps you to get product feedback with ease.
-Both mobile and web version is available
-Enables the team to open a discussion over comments on code changes.
Pricing:
The Agile Project Management Software has Four pricing plans.
Price quoted at Rs. 350 per user/month/billed annually.
11. Proof Hub
Proofhub is a highly defined feature software for project management. Teams can easily share ideas, brainstorm, maintain data, and set priority tasks with this project management plus collaboration tool. Proofhub has Kanban boards and Gantt charts for defining the workflow stages of the project. Overall a very meaningful tool for managing your projects and communication for better outputs.
Pricing:
The Agile Project Management Software has Four pricing plans.
STANDARD
5 users- $45/month billed annually
PREMIUM
50
users-
$
135
/
month
billed annually
PREMIUM
100
users-
$
248
/
month
billed annually
12. Active Collaboration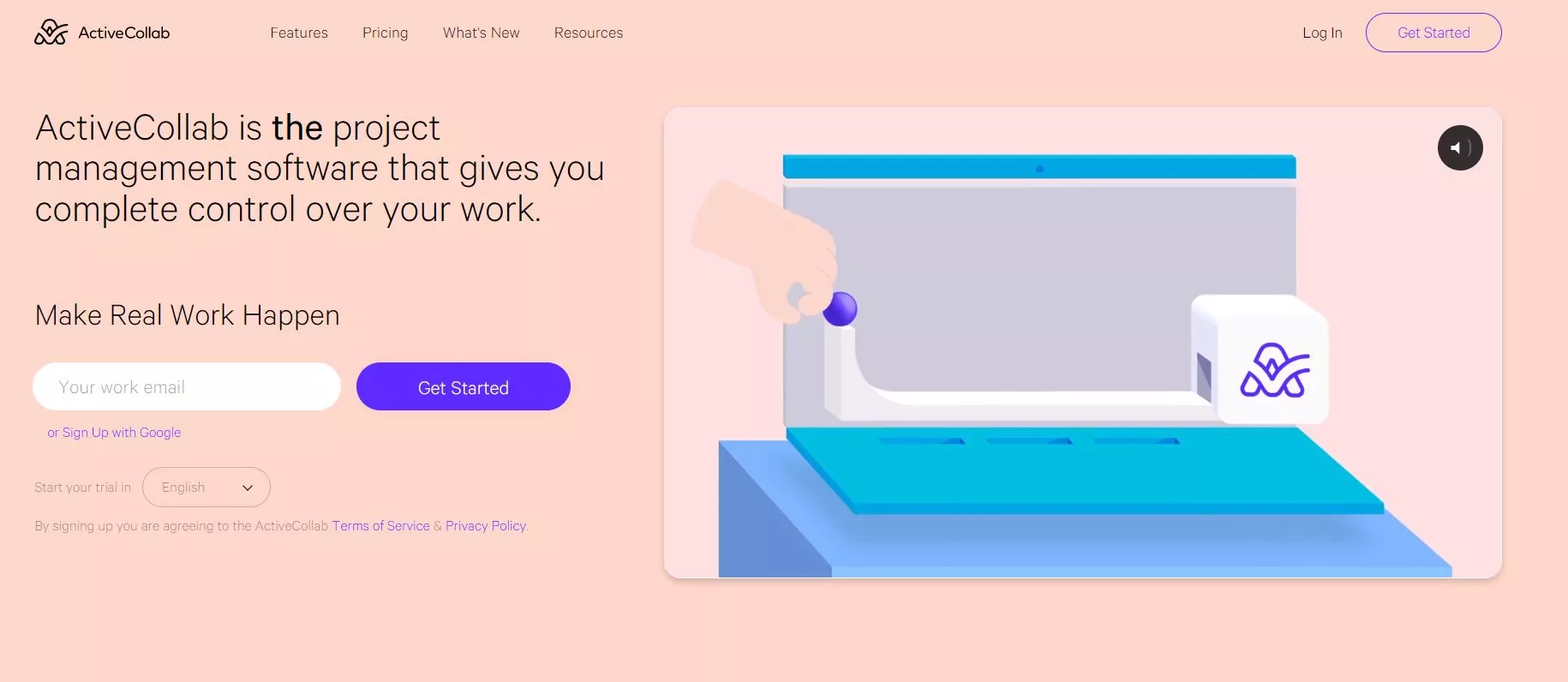 Active Collab is a single tool to keep a track of your team and build processes that work for your team and clients. It is the most suitable tool for businesses to align their large businesses framework and move forward in the right direction for doing real work.
Pricing:
The Agile Planning Tools has Four pricing plans.
Free
For personal use or for professionals getting started with smaller projects. Limited to the three seats included in the plan.
$0 – billed annually
Plus
For smaller teams that need a platform for collaboration and managing projects. Limited to the three seats included in the plan.
$7.5– billed annually
Pro
For larger teams and companies that need to overview the entire business and workflow in one place. Billed per member.