15Five is a well-known name in the field of performance management software. As businesses strive to enhance their performance management processes, the demand for effective software solutions has grown. 15Five has been a key player in the performance management industry, but as businesses evolve, exploring alternative solutions can offer new opportunities to enhance performance and achieve better results.
While 15Five is a popular choice, there are several 15Five alternatives & competitors in the market that offer unique features and benefits. In this article, we will explore the top 15Five competitors that can help you track goals, give feedback, and measure employee performance.
Let's dive into the best 15Five alternatives that can elevate your performance management strategies.
Datalligence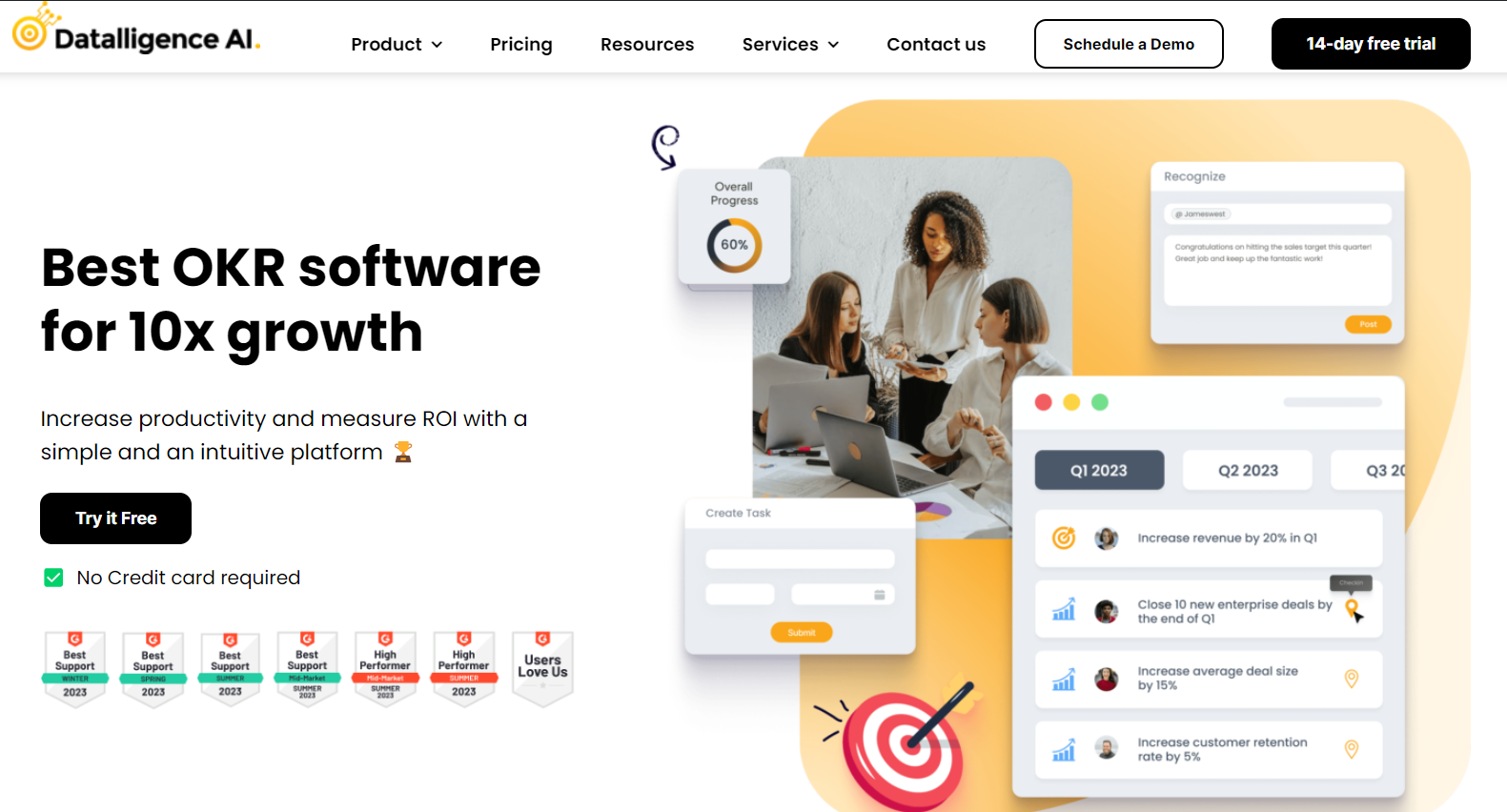 Datalligence is a software company that has developed a popular productivity and project management platform called Datalligence. The platform is designed to help teams and organizations manage tasks, projects, and collaboration more effectively. It provides a comprehensive suite of features and tools for task management, project planning, communication, goal tracking, time tracking, and more. Datalligence is used by a wide range of businesses and individuals to streamline their work processes, improve productivity, and facilitate teamwork. The company behind Datalligence is dedicated to providing innovative solutions for work management and productivity enhancement.
Key Features of Datalligence
1. Task and Project Management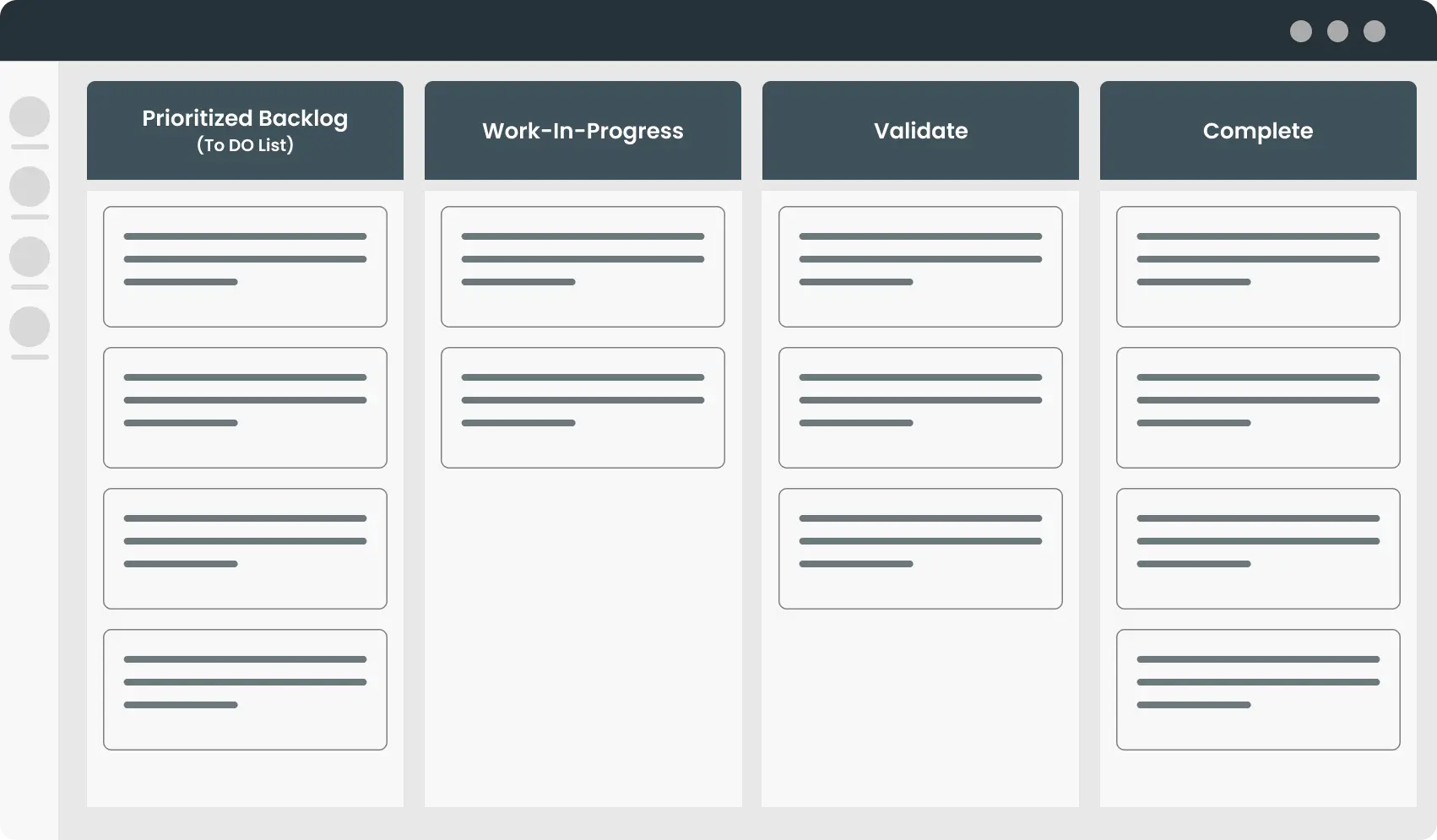 Datalligence's task and project management capabilities are incredibly versatile. The platform allows users to create tasks, organize them into lists, and group lists into folders. This hierarchy makes it easy to manage different types of work, from individual to team-wide projects.
Datalligence offers various task view options, including List View, Board View, Calendar View, and more. This flexibility caters to different work styles and preferences.
2. Collaboration
Datalligence facilitates collaboration through a variety of features. Users can leave comments on tasks, mention team members, and even have real-time discussions via built-in chat. This real-time interaction is essential for teams working remotely or those looking to reduce the back-and-forth in email communication.
The platform also offers document sharing and file attachment capabilities, making it easy to store and access project-related materials.
3. Goal Setting
Datalligence goal setting feature goes beyond task management. It enables teams to align their work with overarching strategic objectives. This is particularly important for organizations practicing OKRs (Objectives and Key Results) and looking to ensure that every task contributes to the bigger picture.
Users can set specific goals, define key results, and track progress over time. This promotes transparency and accountability in goal achievement.
4. Time Tracking
Datalligence includes a built-in time tracking feature that is beneficial for professionals who need to keep a record of their billable hours or for teams looking to assess time spent on different tasks.
The time tracking feature helps with measuring productivity, estimating project timelines, and improving time management.
5. Customization
Datalligence 's customization options are extensive. Users can create custom fields, task statuses, and workflows to fit their unique processes and requirements. This adaptability is particularly useful for businesses with specific workflows or industries with niche needs.
The ability to tailor the workspace to match your team's preferences can result in increased efficiency and streamlined work processes.
6. Automation
Automation is a key feature that enables users to reduce manual tasks and enhance efficiency. ClickUp allows for the creation of automated workflows and rules.
For example, you can automate task assignments, notifications, and status changes, saving time and reducing the risk of human error.
7. Reporting and Analytics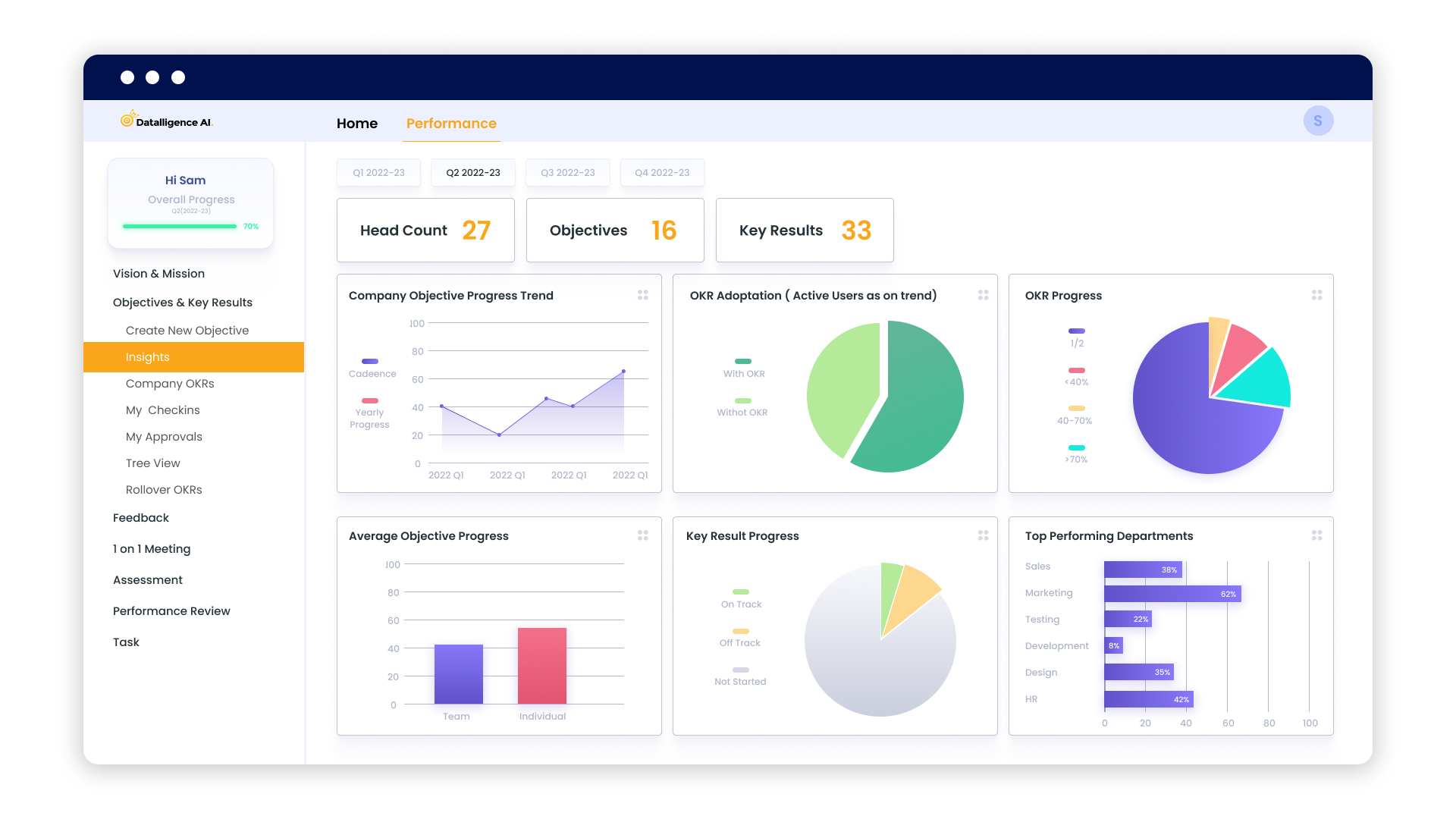 Datalligence provides detailed reporting and analytics features that allow users to generate reports, visualize data, and gain insights into project and team performance.
This data-driven approach supports data-informed decision-making, helping teams continually improve their processes and results.
9. User Feedback Integration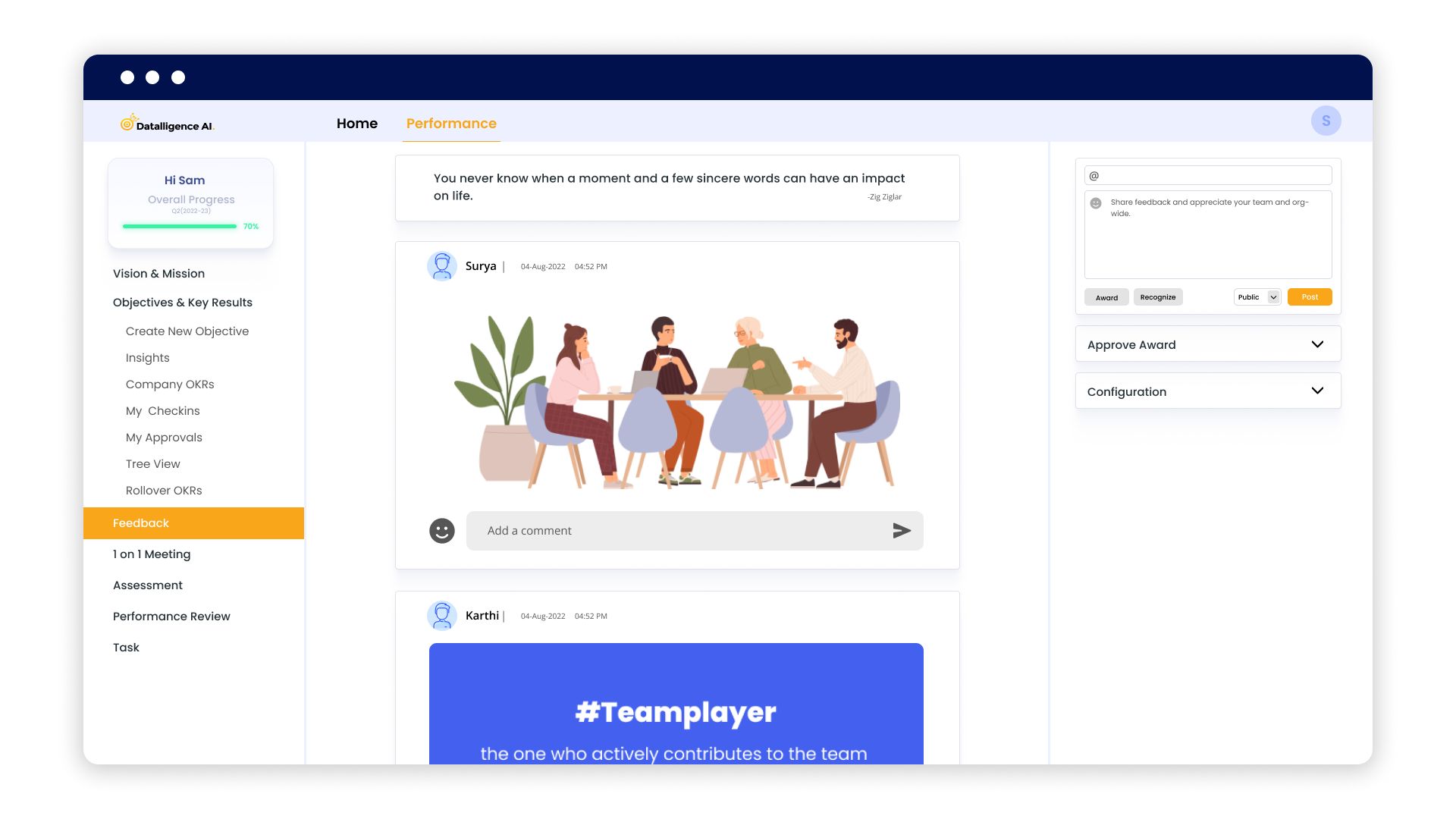 Datalligence allows for the integration of user feedback and feature requests into the platform. This collaborative approach helps organizations stay responsive to user needs and continuously improve the platform.
10. Integrations
Datalligence seamlessly integrates with a wide range of third-party tools and platforms, such as Google Workspace, Slack, and more. This integration capability enhances its utility as a central hub for all your work-related activities.
The ability to connect with your existing tools streamlines your workflow and ensures data continuity across your tech stack.
Pricing
The Basic Goals and OKRs plan starts from $3 per user per month, then the Performance  Plan starts from $4  per user per month and per Entreprise, Contact Sales Team.

SurveySparrow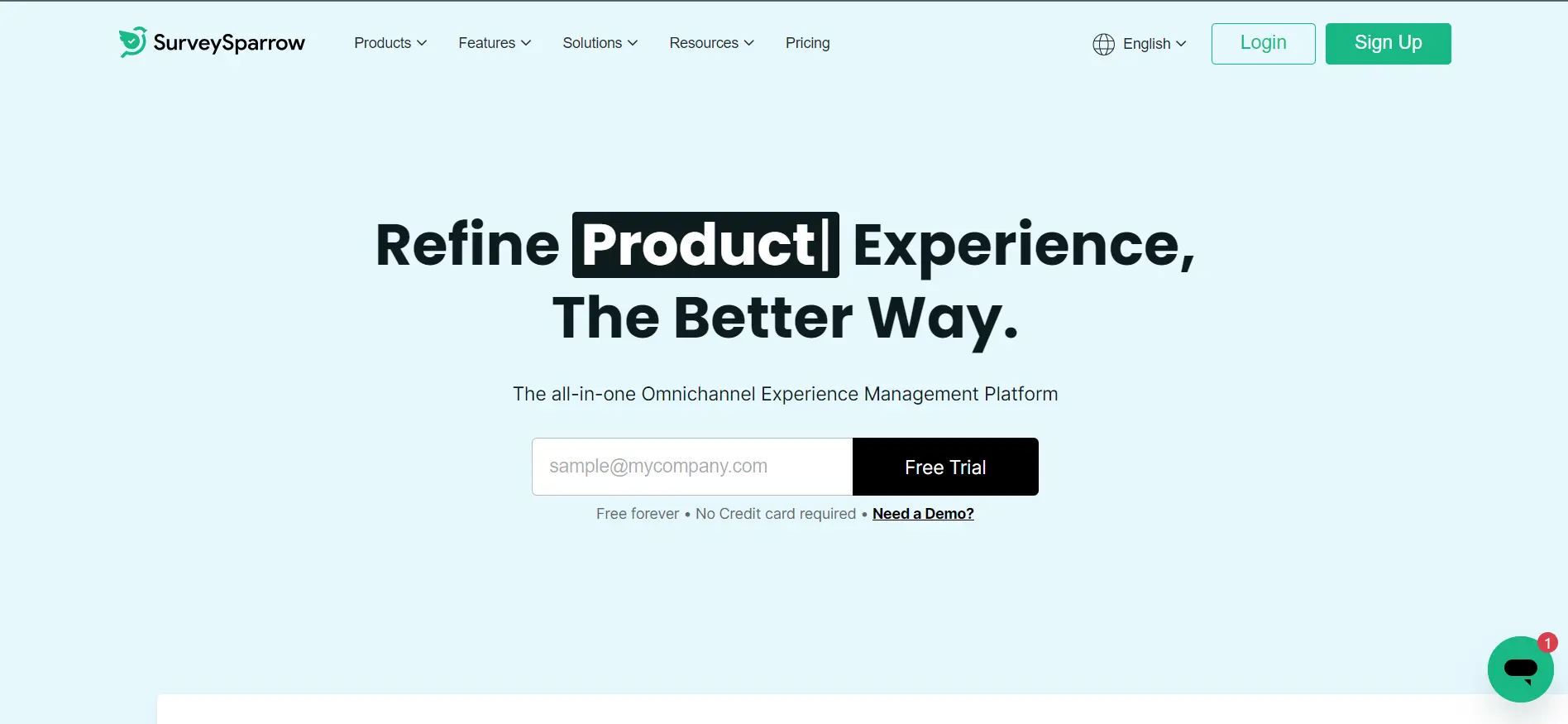 SurveySparrow is a powerful platform that offers a range of tools to create killer experiences by gathering feedback from employees and customers. With features like 360-degree performance reviews, pulse surveys, NPS surveys, CES, CSAT, and offline surveys, SurveySparrow is a great alternative to 15Five. Its user-friendly interface, extensive survey templates, and automation capabilities make it suitable for businesses of all sizes.
360-degree assessments: Schedule and conduct performance reviews, and create personalized development plans based on the data.
Employee surveys: Measure employee experience with 140+ survey templates via various channels like email, chat, SMS, and more.
Automated surveys: Automate survey distribution, reminders, and reporting.
Negative feedback management: Convert employee responses into tickets and close the feedback loop.
Executive dashboards: Track and visualize employee KPIs with presentation-ready dashboards.
Pricing
Contact the sales team for more information
Lattice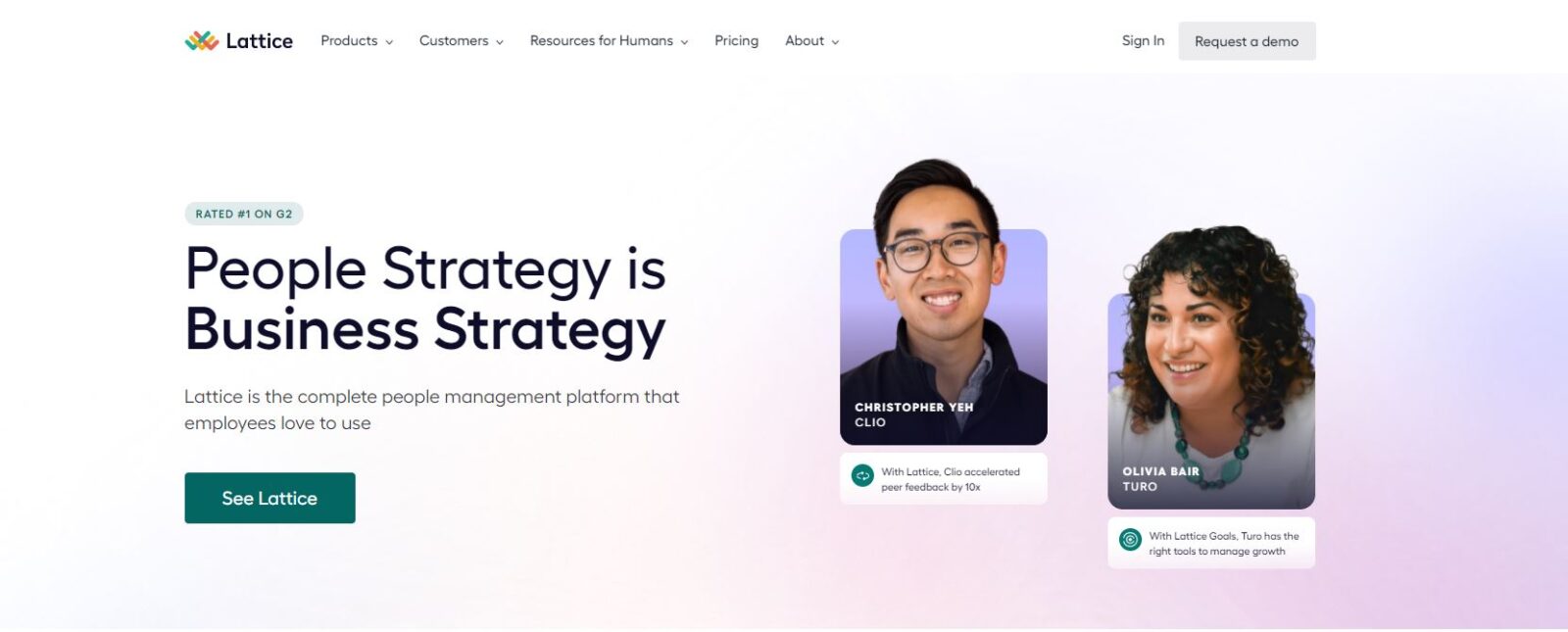 Lattice is a performance management platform that helps you set goals, give feedback, and measure employee performance. With its 1:1 agenda feature and goal-tracking capabilities, Lattice is a top contender among 15Five alternatives. This platform allows you to set and track company goals, enable users to see how their individual goals contribute to overall progress, and schedule multiple review cycles.
Goal tracking: Set and track company goals every quarter using various methods.
Goal trees: Visualize the relationship between individual goals and company goals.
Review cycles: Set multiple review types and schedule them at pre-defined times.
Compensation review: Manage the compensation review process within the platform.
Real-time reports and KPI dashboards: Track and visualize employee KPIs with executive and manager dashboards.
Pricing
The basic plan Grow and Engagement Plan starts from $4 Per user per Month and for more information Contact the Sales team.
Leapsome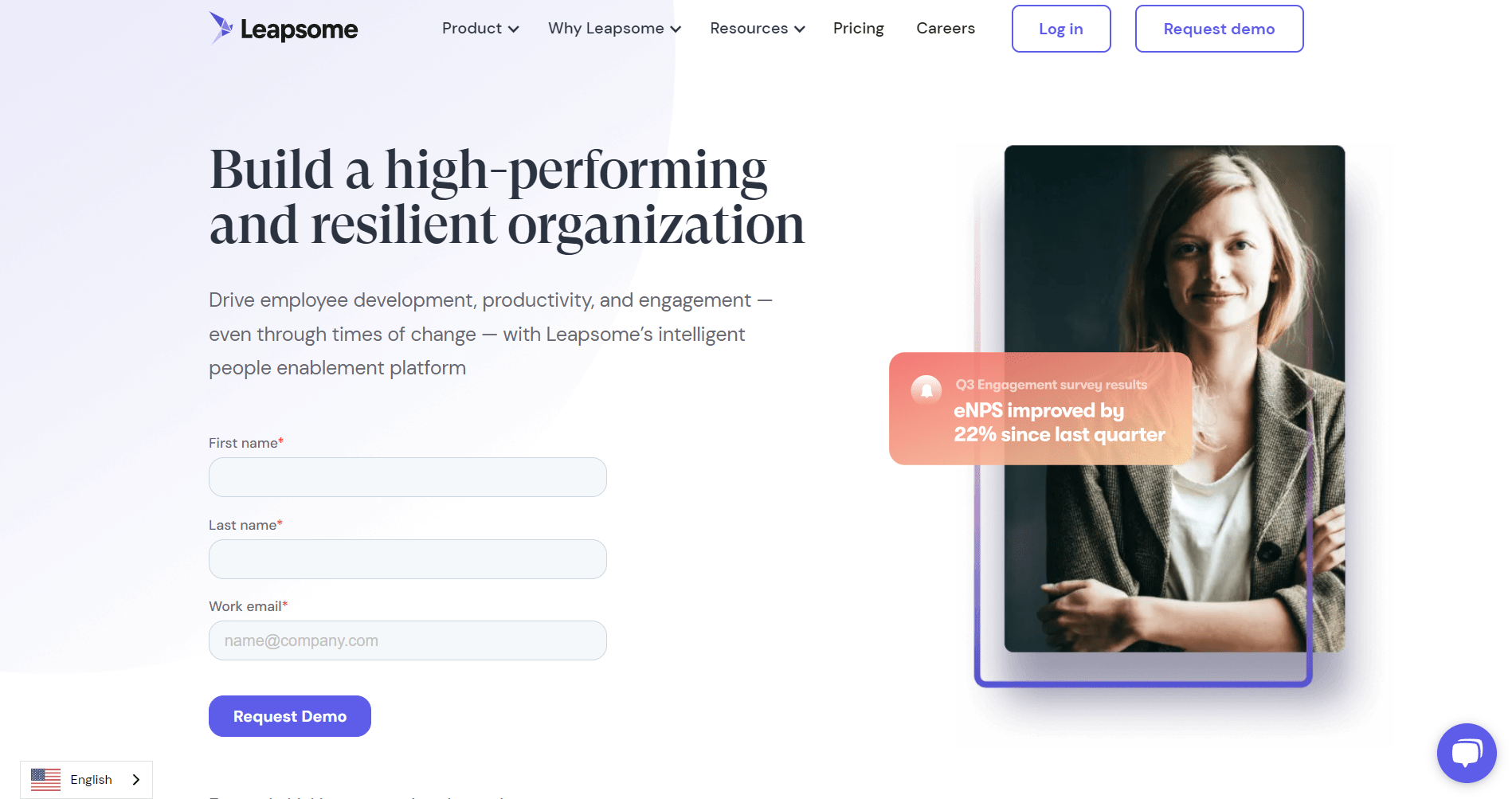 Leapsome is a people management platform that offers a range of features to track goals, give feedback, recognition, and rewards, and measure employee performance. Voted as one of the leading 15Five alternatives for performance management by G2, Leapsome provides a comprehensive solution to improve employee engagement and performance.
Goal tracking: Enable individuals to set goals aligned with team and company objectives.
Review templates: Use survey templates for performance, management, or 360° reviews.
Instant feedback: Give and request feedback instantly within the platform or via email and Slack.
Personalized employee learning: Provide learning recommendations and customizable curriculums based on job profiles and career paths.
Streamline rewards: Automate salary hikes and promotion workflows based on performance and engagement data.
Pricing
Contact the Sales Team for more Information

PeopleBox

Peoplebox is a performance management software that places a strong emphasis on goal setting, feedback, and employee engagement. It is designed to provide organizations with a comprehensive solution to enhance employee performance and foster a positive work environment.
Real-time goal tracking: Set goals, measure progress, add comments, and provide real-time guidance.
Digital dashboard: Gain insights into employee engagement and manager effectiveness, and identify areas for improvement.
Goal & organization charts: Visualize goal relationships throughout teams and the organization.
Performance coaching: Provide templates and best practices for effective conversations between managers and employees.
Employee recognition and engagement: Enable employees to give and receive credit for their achievements and run engagement surveys.
Pricing
Contact the Sales team for more information
Reflektive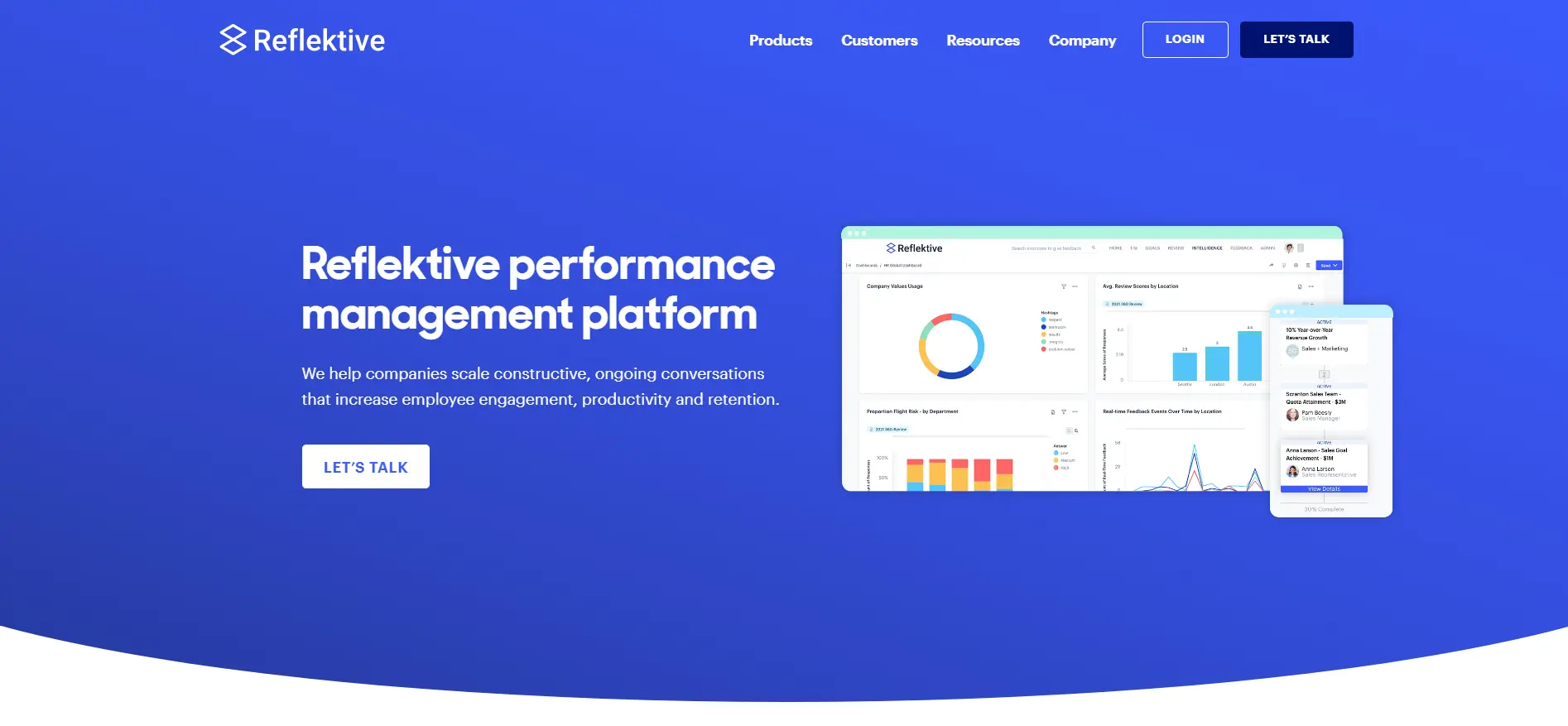 Reflektive is a real-time feedback and performance management suite designed for continuous improvement. With its integration with email, Slack, and Outlook, Reflektive brings performance management activities right into an employee's workflow. It offers features like performance reviews, 1:1 meetings, employee recognition, and performance calibration. performance management activities
Integrates with email, Slack, and Outlook: Bring performance management activities into employees' everyday work tools.
Performance reviews: Conduct self, manager, and 360º reviews and filter reviews by location, department, etc.
1:1 meetings: Facilitate structured 1:1s with collaborative agendas, topic suggestions, and performance history.
Employee recognition: Enable employees to celebrate each other's wins via email, Slack, or Reflektive.
Performance calibration: Manage talent with detailed employee data and insights from continuous performance processes.
Pricing
Contact the sales team for more details.
CultureAmp
CultureAmp is a comprehensive performance management solution that focuses on employee engagement, development, and performance tracking. With its extensive research and literature around employee experience, CultureAmp provides insights from organizational psychology experts, making it a valuable tool for conducting surveys and presenting findings to stakeholders.
Employee turnover forecasts: Utilize predictive analytics to identify employees at high risk of leaving and understand the reasons.
Goal tracking: Set and align individual and team goals, and measure real-time results.
Employee surveys: Measure employee experience with a wide range of survey templates and get actionable suggestions.
360 reviews: Conduct 360 surveys to gather feedback and track employee growth.
L&D dashboard: Manage and adapt employee learning and development goals with a consolidated dashboard.
Pricing
Contact the sales team for more details.

AssessTEAM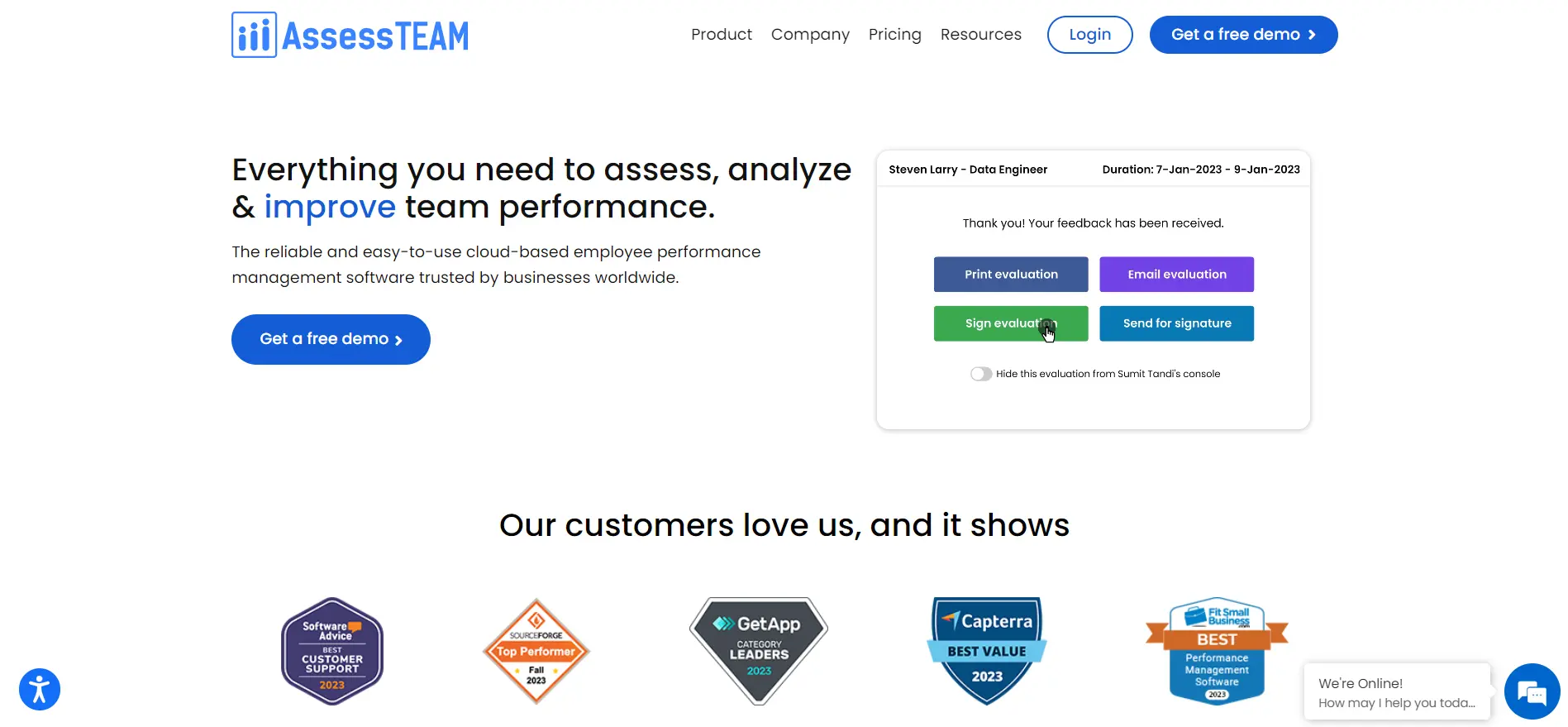 AssessTEAM combines employee evaluation tools with project management software, making it a suitable alternative to 15Five for businesses looking for a holistic performance management solution. With its diverse review types, extensive library of job profile KPIs