There has been quite an amount of evidence are available upon research that supports the goal-setting process. Statistics and studies give insights that how this specific technique has helped organizations and individuals to achieve success. Monitoring and measuring business and individual performance regularly help identify gaps and find solutions to bridge the gaps. Objectives and Key Results (OKRs) are a novel way to set business objectives and review business progress. Creating business goals that inspire people and produce desired results takes a good amount of skill. We'll be sharing proven OKRs tips and techniques for setting business goals.
What is goal setting and why do we need them?
Goal setting helps you to find your "why" and helps in achieving that.
Do you know, If you commit that you are going to accomplish a certain goal the there is a 65% of chance that you will achieve it? Goals are not your day-to-day activities. Your day to day activities contribute to your goal hence its important to create habits around it
Goal setting is a powerful process. It starts with identifying and breaking down your objectives and creating a plan to achieve them.
Business goals are powerful – they channelize the efforts towards achieving desirable outcomes. Desirable business outcomes include profitability, high returns on investment, and improving business efficiency. Business goals must be measurable, specific, achievable, and time-bound. Organizational goals serve the following functions:
Provide guidance and direction – channelized effort is necessary for business success. Setting business goals provides guidance and direction to the business. From the CEO to newly joined employees, everyone needs clear objectives to plan and channelize their efforts.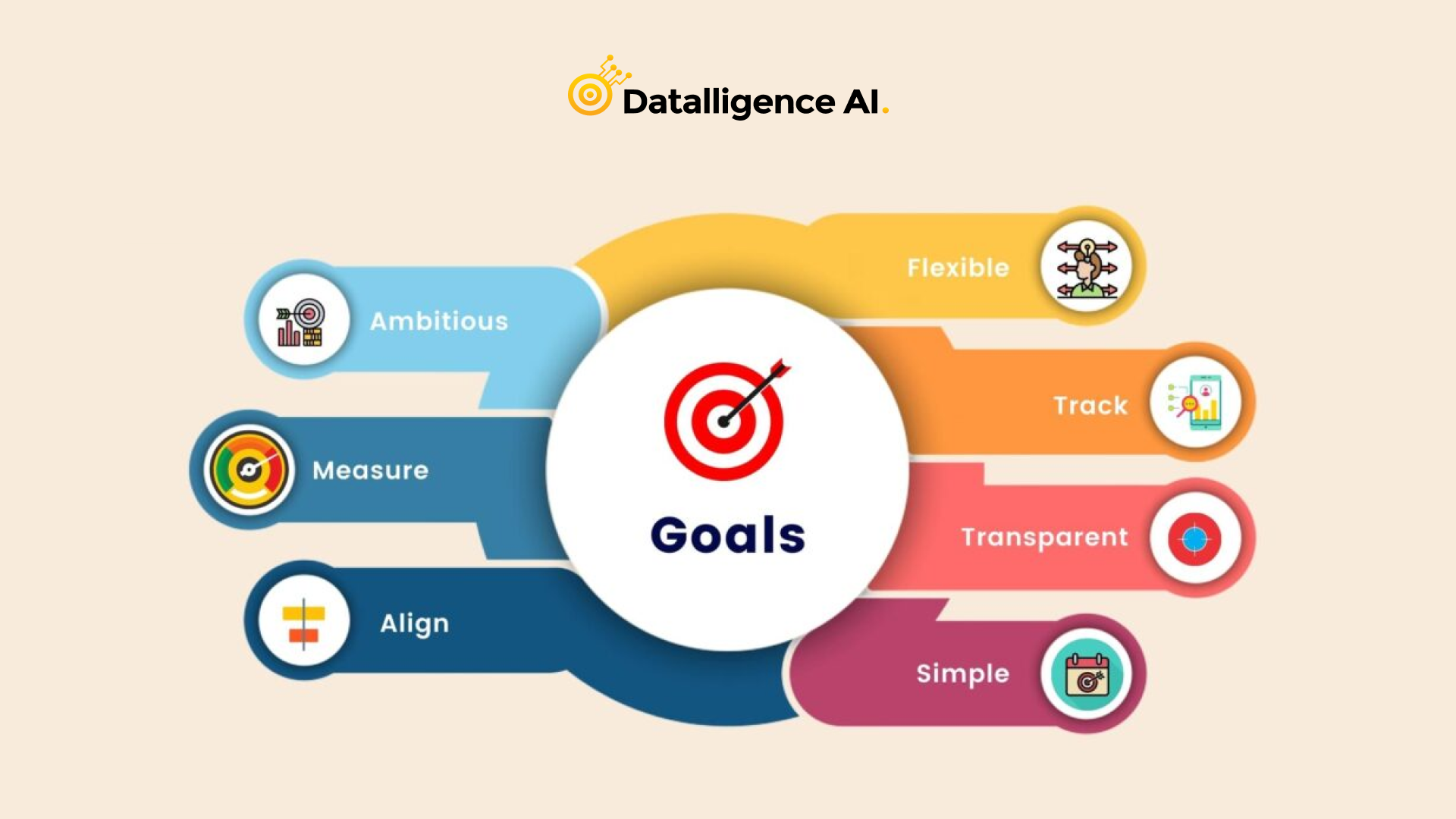 Facilitate planning: 
having clear organizational goals helps in planning business strategies. Business goals promote planning to determine how goals are achieved. Long-term and short-term goals can be set based on business requirements.
Motivate and inspire employees: when the CEO sets motivational and ambitious goals it inspires the employees to work towards better business outcomes. Goals can be motivational and improve the team's performance.
Evaluate and control performance: setting goals helps measure the progress towards achieving goals. Evaluation and control allow organizations to assess business performance against goals and make the necessary adjustments.
Business success stems from ensuring that employees and managers are clear about what they need to achieve in the present and the future.
Specific Actions Help You Progress
If you are able to plan and set targets and timelines for the plan, our chances of completing the goal get increase by 40%. Action on the plan will further guide us through the possible difficulties that we may encounter or make us realize that we have set the bar way too less than our capabilities. So ACT!
10 Tips and Techniques for OKR goal-setting framework.
When OKRs are used properly, they empower organizations to unlock the four superpowers mentioned below.
Focus and Commit to priorities
Accountability by tracking
Align and collaborate
Stretch to achieve ambitious goals
OKRs are techniques that make companies think rigorously and be accountable for their actions. Here are some OKR tips and techniques:
#1. OKRs must be ambitious and motivating: having big and inspiring business goals can motivate employees. Most OKRs cascade down to teams and individuals, it is important to have inspirational objectives. Each employee must feel proud to accomplish their goals.