Objectives and Key Results (OKRs) is a goal-setting framework that is extensively used by organizations of different types and sizes. This framework provides basic tenets to organizations for creating their own goal structure. Once OKRs are set, they need to be reviewed at regular intervals to monitor the progress. OKR cadence decides on the frequency of review of OKRs. Determining the OKR cadence that works for your business requires a deeper analysis of business type and requirements.  
Introduction to OKRs
Objectives and key results are a revised version of the archaic management by objectives methodology. Traditional goal-setting methodologies have been tweaked to bring in transparency, alignment, and objectivity to become OKRs. Leading tech giants like Google and Intel have implemented OKRs in their goal-setting strategy for more flexible and ambitious goal-setting. 
Objectives define what the organization wants to achieve, while key results define the success/failure of objectives to which they are assigned to. An example for the objective is "Build a top-notch OKR app for teams in Jira". An example for key results would be "1-Highest number of active customers in the ecosystem", 2-1 million objectives graded and closed per quarter.  
The OKR framework recommends setting 3-4 objectives at the individual, team, and company levels. The SMART principle is followed for setting objectives. Business goals need to be specific, measurable, actionable, relevant, and time-bound. Further, each objective is assigned 3-4 key results that define the success/failure of the objective. Alignment of objectives at the individual, team, and organizational is the main intent of creating OKRs.  
OKR Cadence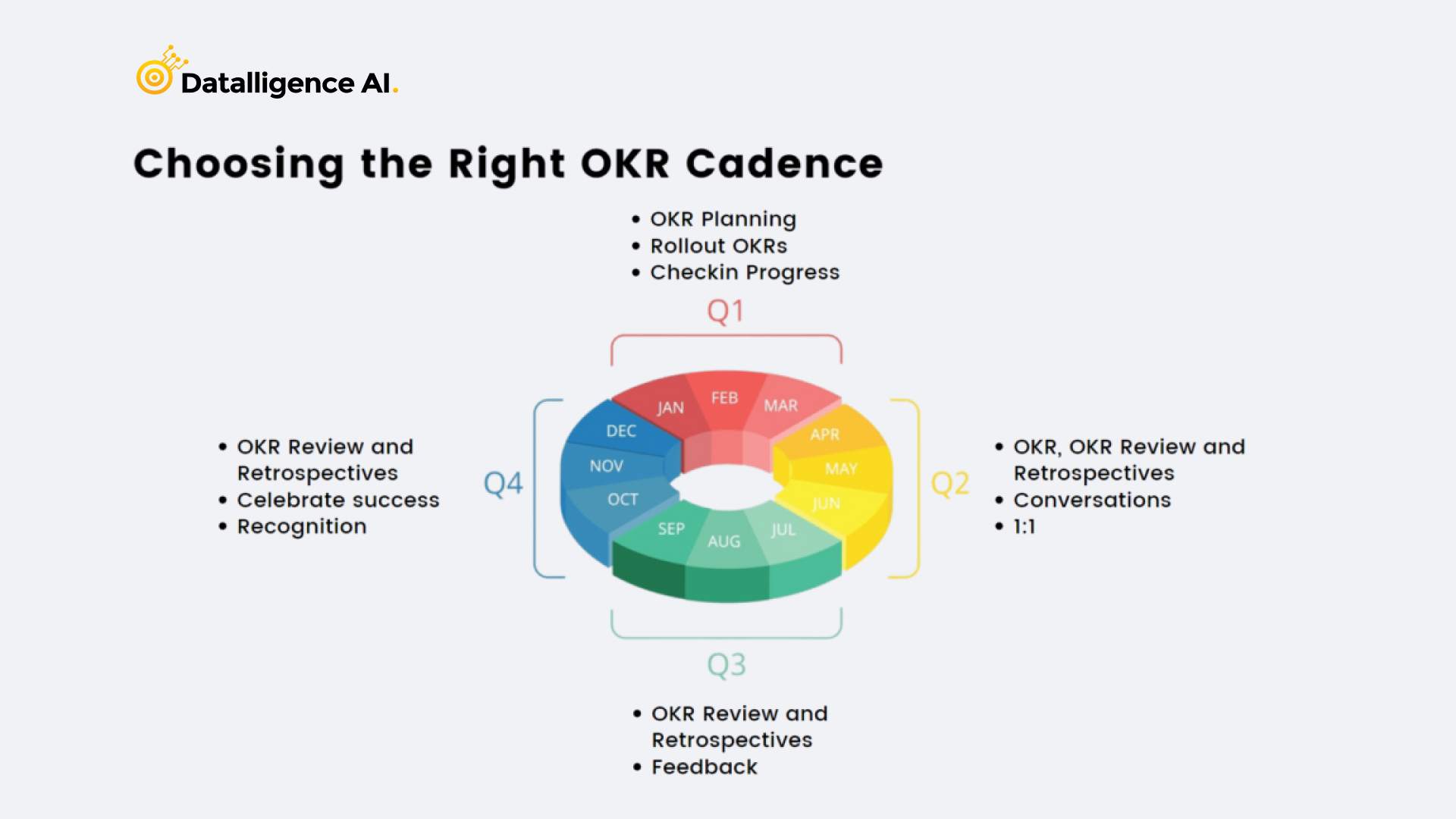 OKR cadence is the frequency at which previous OKRs need to be graded and new ones are created. Quarterly cadence is what is followed by most businesses. Cadence must not be too short to be inconsequential, nor should it be too long to make OKRs irrelevant.  
Mature OKR implementations understand that different goals are associated with different rhythms. The rate at which tactical goals change is much more than strategic goals. Therefore, strategic goals have a different rhythm and need to have appropriate OKR cadence. Organizations must customize cadences as per their needs.  
To have a shorter cadence, organizations must ensure that the OKR developing process must be streamlined. For a team or department the OKR cycle depends on: 
Contribution to organizational goals

 

Alignment with other teams 

 
OKR cadence depends on the following variables: 
Stage of business

 

Stage of employee (Role)

 

Industry dynam