10 Best OKR Examples for Project Management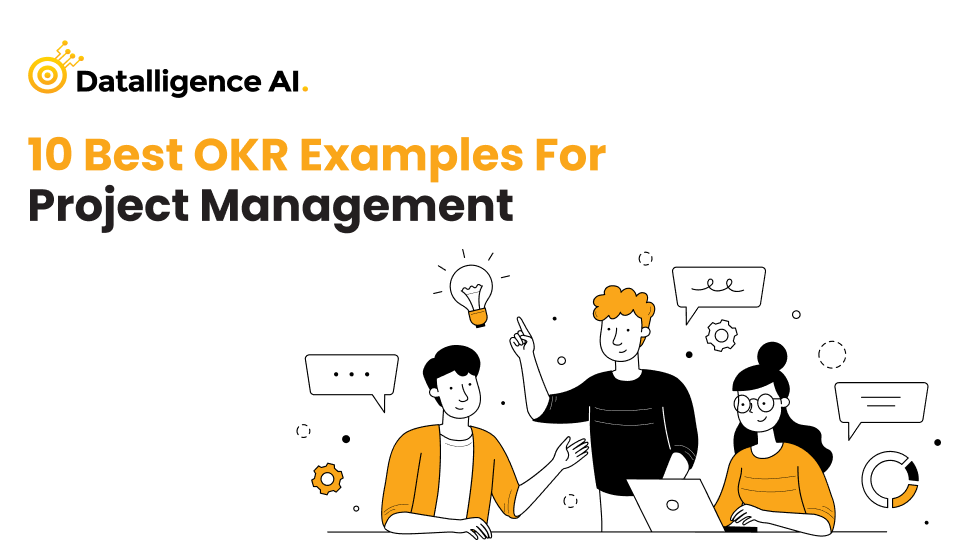 Before we dive into the OKR examples for Project Managers, we kick off this article with some stats. Do you know a study suggested 35% improvement in the quality of strategy implementation for an average firm is directly linked to 30% of the increase in the shareholder value?
Organizations spend hours in the drafting and publishing of the strategy. Given the time being spent and its value, it becomes important to execute the strategy seamlessly. There are challenges in executing the strategy. There is the various conclusion to how it can be effectively executed, but never a concrete solution to it.
While the organizations are rapidly evolving in the current scenario with a diverse workforce in place organizations are changing their structure from traditional to more flexible and interconnected teams.
With aforesaid challenges, OKRs can help you navigate those and make you reach the success trajectory. Implementation of OKRs and the approach towards execution will reap success.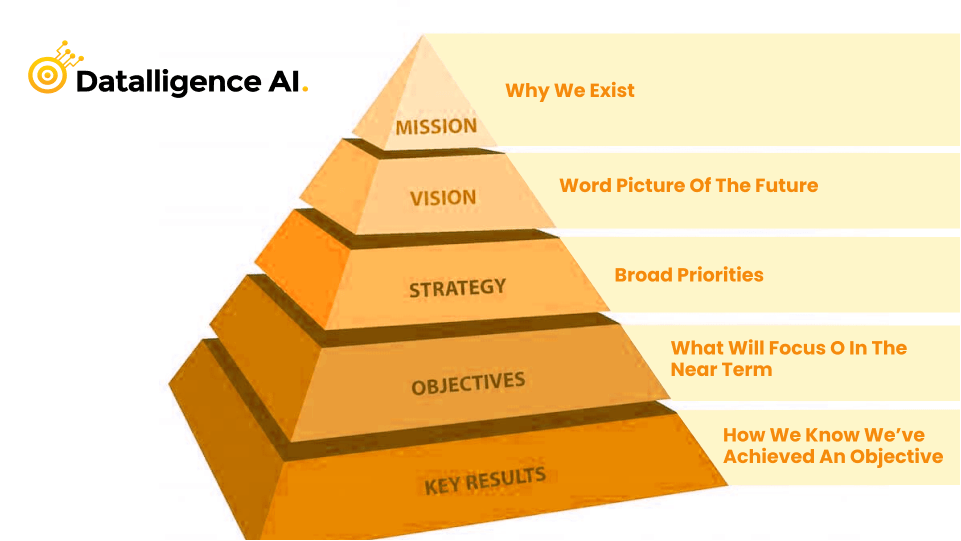 Source: Objectives and Key Results: Driving Focus, Alignment, and Engagement with OKRs- Paul R. Niven
A much-frequented story of Peter Drucker is the story of the three stonecutters, in the book "Practice of Management"
One day a man came across three stonecutters working dedicatedly and he got curious and asked them what they were doing.
Man 1 said – This is what I do for my living, I cut stones.
Man 2 said – This is my job and I am the best at it.
Man 3 said – I am very excited that I am building a cathedral.
The story clearly says how the vision is important to what we do and OKRs help you to achieve it.
How Does OKR Software Help the Project Management?
OKR stands for 'Objectives and Key Results.' OKRs were popularised by John Doerr, is an effective goal-setting framework.
Objectives – What is to be achieved?
• An objective has a clearly defined goal that has an end period to it
• An objective connects the team's mission or goal and individual goals as well.
• Aggressive, yet realistic
Create powerful objectives – (3 – 5 objectives)
Attainable
Inspirational
Provide value
Qualitative
Quarterly
Key Results – How to achieve?
• Key results always are actionable and are also quantifiable which helps to accomplish an objective.
• Each Key result has an owner.
• Key Results are measurable and are linked to an objective.
Create Key Results – (3 – 5 Key results for each objective)
Aspirational
Specific
Quantitative
Owned
Progress based
OKRs, Originally developed by Peter Drucker for Intel, are open source and are industry agnostic. From start-ups to large enterprises, OKR is a proven method. Organizations like Google, Facebook, and Amazon have adapted OKRs and have a proven track record.
The business outcome is measured by adapting OKRs and is not another tool or a process. OKRs have to be adopted by the team and effectively should have executive buy-in and also an OKR champion to run the execution seamlessly.
Why OKR Software?
Helps you articulate and align your goals
Tracks and measures progress
Makes goals easier to achieve
Reassess and stretch
Encourages innovations, keeps employees engaged, and keeps teams aligned.
OKRs for Project Management
OKRs (Objectives and Key Results) helps in goal alignment and increase collaboration and productivity. OKRs create transparency and improve focus.
For project managers, OKRs (Objectives and Key Results) are ripe benefits. Project managers are great at writing project plan which in turn help them to write Project Management OKRs. By using OKRs in projects it increases the transparency and better alignment in the team. We will help you in writing project OKRs step by step and share a few Project Management OKR examples as well.
OKRs are frequently set and evaluated continuously during the project life cycle to ensure that everything gets done on time. They also act as future references to monitor how well you executed your projects.
Project managers often think adding OKRs is another process that they need to follow and doesn't link with their project goals.
A common mistake is that one tends to think of Projects the first thing that comes to your mind is that something is planned for execution by using financial and human resources. It has a well-defined scope with an end date. OKRs also have similar characteristics but it does not end while the project gets over. OKRs embeds in our culture and stays with the organization with all the evolving ongoing changes.
Easing your way into OKRs approach. Ask what your objective is and establish key results to track the projects that will help track progress and gauge the plan. A project where time and money are spent is to be linked with the corporate strategy that gives a clear indication that it has to be measured to achieve the strategy, having said that creating Project OKRs makes it easier to measure.
Objectives are your outcomes and project the task and activities. The project management OKR examples below should help give you a better idea of the differences as well.
Integrating OKRs and Project Management
There is an utmost requirement to create Project management OKRs as a project has many actions that need to be achieved.
By using OKRs it measures the outcome but not the output, which in turn promotes project deliveries. The synergy between OKR and Projects are natural as it goes well along with each other. OKR indicates what is to be achieved and project management ensures how it's done.
OKRs define results with a period attached. Completion of a project doesn't always call for achieving results. Having an understanding of what we are working towards and how we are going to achieve it helps determine our milestones which are typically our project activity or tasks. This is precisely why we need to set OKRs that measure our progress.
Setting OKRs and without an action plan, that will not take us far. We can sure start but will never be able to reach where our goal is. OKR has a future focus whereas projects deal with short-term goals and are linked with series of tasks. Most organizations use projects, activities, and initiatives to reach a particular objective, and that is where OKR adaptation becomes organic.
Steps to Define Project OKRs
Understand the long-term and organizational vision which allows them to understand their roles respectively.
Aligning everyone and making them collaborate to the organization's vision will bring everyone focused on the organizational goal.
Define the objectives you want to achieve and then work on the key results.
Review your current projects and align that to the objectives.
Create key results in line with your project projects, activities, and initiatives.
Align all communication with OKRs – CFR (Conversation, Feedback, and Recognition) helps teams to stay connected and interact constantly. The feedback and recognition help multi-fold to keep the team motivated, which is very essential to make the project successful and deliver on time.
Few Dos and Don'ts
Turning OKRs into project tasks

– OKRs are long term and Projects are short terms

Adapting OKRs in project teams

– Both frameworks seamlessly together to deliver the organization's objective

Combine OKR with Project management

– Integrate OKR with project management to focus on the bigger picture while completing short-term projects and tasks.

Do not confuse tasks with key results

– While OKRs use Key Results to analyze if you have achieved a specific Objective, a project uses temporary tasks to bring individual projects or initiatives to completion.
It's quite common to mistake task completion for key results and write something which resembles a project plan instead of an OKR. Now you are ready to start writing your Project OKRs.
A Few Examples of Project Management OKRs
Get started with the list of OKR examples that would be helpful for project managers,
OKR Example 1:
Objective: Successfully launch Version 4 for the CRM module by Q2
One of the organization's objectives can be to launch a new version of its CRM module. Having decided that we need to launch within a specific time, one has to attach key results that will help to achieve the objective. The 3 Key Results define success with a metric that will determine the progress of that objective.
Key Results:
Get 2000 new signup
Aim and Achieve 25 % sign-ups for trial
Achieve a trial conversion ratio of over 40%
OKR Example 2:
Objective: Design Product Vision
While having a road map planned for the product first these organizations look for is the vision. Interestingly measuring the vision can be an innovative exercise as given below. The key results measures if the product vision has reached its destination or nor
Key Results:
Get internal feedback on a scale of 1 to 5 from the team
Get usability scores on mock-ups from prospective and current customers
Get feedback from at least 50% of prospective customers on the mock-ups
OKR Example 3:
Objective: Research, analyze, and understand what our users and non-users think
The mentioned objective will become mostly vague and subjective if we do not add the right key results to it. How to measure thinking, very neatly it can be brought out with the number of interviews with a diverse audience, hence the objective will achieve very effectively.
Key Results:
60 Interviews with current key accounts
80 interviews with churned accounts
25 interviews with key leaders in the organization
OKR Example 4:
Objective: Product performance to be increased by 50%
Measuring performance can be both metric and not metric Key results that combined help the team achieve its result.
Key Results:
Optimize the product by reducing 90% of bugs
Improve performance by identifying performance tools by Q2
Increase processing time by 50%
OKR Example 5:
Objective: Implement a new product planning process
Another interesting example is where the planning has to be achieved and the Key results are not metric-driven. These typical milestone Key results help to deliver the objective.
Key Results:
Document and define clear role division between teams
Integrate user testing into all activities in the product planning and design phase
Integrate user testing into the pre-launch testing phase
OKR Example 6:
Objective: Improve the project management budget
Operating under the project is a high priority of the team and ensuring the project is under the approved budget
Key Results:
minimize the project budget variance from 5 to 3%
minimize the project budget revision from 2 to 1
OKR Example 7:
Objective: Improve the project effectiveness
Delivering the project in the mentioned timeline will increase the project's effectiveness
Key Results:
Ensure training hours of 5 Man-days
Reduce the change request from 5 to 2
OKR Example 8:
Objective: Drive Accountability, Collaboration, and Agility
Keeping the team agile and also facilitating collaboration increases accountability and focus
Key Results:
Improve resource utilization from 70% to 90%
Reduce the number of backlogs from 80 to 40
OKR Example 9:
Objective 9: Aspire to have a smooth project management process
The project management process is directly aligned with the organization's performance and is important to run it seamlessly
Key Results:
Decrease the milestones missed by 20%
Ensure the project cancellations are reduced by 80%
OKR Example 10:
Objective 10: Drive OKR retro and Scrum meetings together
Key Results:
Conduct OKRs and Scrum Meetings Weekly
Ensure OKR Weekly check-in meeting for all the team members
Implement OKR Software solution for your Project Management.
While implementing OKRs in the Project management team it is essential to understand the process and key metrics as the Projects team is milestone-driven, which supports achieving the organization's performance. Setting clear department goals and individual goals is very important as there are various metrics available. Recognizing the key metrics that matter to business will help in crafting OKRs
Talk to our experts more about OKR Software.
OKR orchestras excellent project management and embrace its quality to deliver greater results. With OKRs working on a meta-level and Project management working on short-term goals, they blend well.
The constant change in the business landscape and business coping with pandemics demands agility and flexibility. A clear goal is set and directions are set which helps every team member to work in synergy towards the desired results.
Talk to our experts to more about HR OKRs. Our domain experts can work along with the organizations to create solutions that are specific to organizations. OKRs are industry agnostic and it is very interesting when it is applied to process and metric-driven teams. The outcome is quantified and hence the results are more tangible. Write to Datalligence for implementing OKRs today.
FAQ About Project Management OKR
Our free demo helps you in understanding our product in detail, so you can save time that you spend on onboarding process.