6 Best OKR Examples for Operations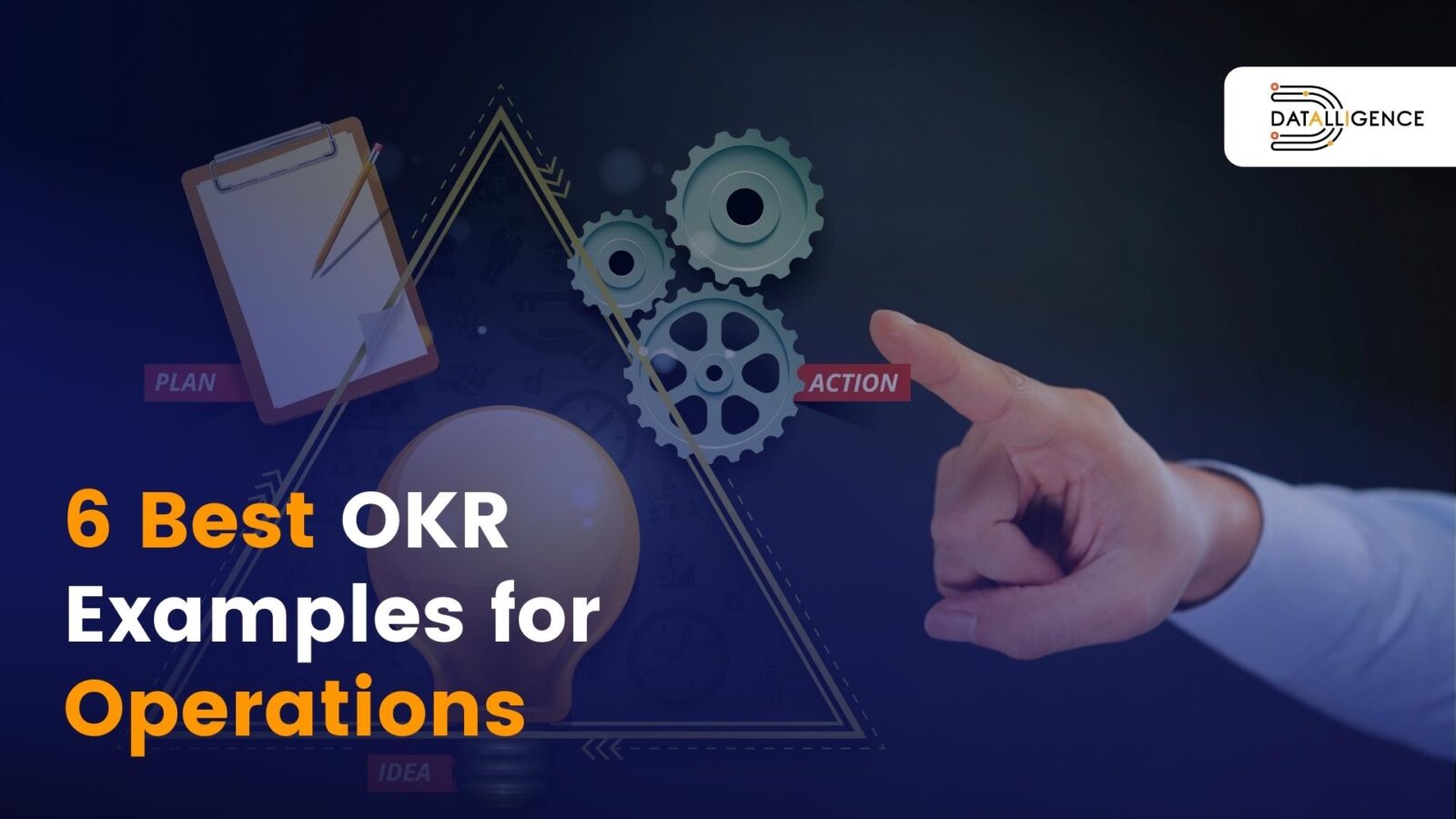 ⚡ Objectives and key results (OKRs) are great for setting ambitious and aspirational goals. These goals will also improve and support day-to-day activities too. OKRs can help to see the big picture as well as an efficient tool for those who are involved in the operational roles.
Objective defines "what" we need to achieve and the Key Results define "how" we are going to achieve an objective
OKRs in operations, drive the team in a more efficient and focused manner. This eventually enables reaching the company-wide goals. The seamlessly effective running of the operations is vital as that improves productivity.
How Does Datalligence OKR Software Help Operations Team 👩‍🔧🔧⚙️?
While answering this we can understand the benefits of OKRs and how they will make the processes of the Operations team simple. While OKRs support the top-level objects they also work well with bottom-up OKRs.
OKRs software will support the Operations team's focus and ensure they have aligned with the organization's critical goal. They can bring in more insights as equal to the other team members. These OKRs are simple yet powerful. They can prioritize and have between 3 to 5 OKRs and a maximum of 5 Key results per objective to increase focus.
These operational teams make the business function effectively.
What are Operations OKRs?
Being an essential cog in the wheel, Operations OKRs support the business realm. There are quite a few metrics available in the operations team that are very crucial to a business. To ensure that the operations team running smoothly is equal to a business running seamlessly. Therefore it is important to align operations OKRs to align with the goals
OKRs create high performing teams and they can support the operations team with the following guideline:
Creating OKRs that create a sense of purpose for its teams
Create OKRs that help you come out of the Status quo.
Track and measure the progress of the objectives and maintain alignment
When OKRs are drafted rightly they support increasing productivity and commitment towards goals.
OKRs are agile and work well in the dynamic work environment
How do they track these objectives and measure the results?
Operations OKRs are the most effective way to achieve the organizational objective. Consider operational objectives as a destination, meaning the goal that you'd like to achieve. The measurable actions that are taken to reach these objectives are the key results.
Definition of Operations OKRs
It varies according to the type of business and its requirements. To set your OKRs for success, ensure that the objectives are motivational, ambitious, and high-level. They should offer a clear direction towards the goal. OKRs of the operation teams should be goal-driven with measurable key results. Initiatives can also be added to the objectives if that brings in value.
10 Best Examples of Operations OKRs 🚀
Writing good and well-structured Operations OKRs can be a challenge, especially when you have so many metrics being used. While defining Operations OKRs, the team must consider the following questions:
1. How to write good Operations OKRs?
2. What are the examples of good operations OKRs?
3. What should be included in Operations OKRs?
Examples of OKRs for Operations.
Objective 1: Create an office that is maintained to high standards.
KR 1: Ensure the office supplies are available at all times
KR 2: Decrease the office supplies spend to X%
Objective 2: Build a great company culture
KR 1: Increase the employee retention to x%
KR 2: Implement a Quarterly employee satisfaction survey
Objective 3: Increase office productivity
KR 1: Increase the number of training hours to x hours
KR 2: Launch an effective carpooling system to decrease cost by X%
Objective 4: Launch an effective DMS (document management system)
KR 1: Identify vendors to digitize the DMS
KR 2: Rollout DMS by Q1
Objective 5: Ensure to create an efficient Contract Management Process
KR 1: Decrease the contract negotiation from X days to Y days
KR 2: Minimize the potential risks by contract review before May
Objective 6: Create the office as a great working place
KR 1: Take the feedback from the team and implement min x feedback
KR 2: Solve a minimum of X problems identified.
Implement OKR Software solution for operations Team👩‍🔧🔧⚙️ .
While implementing OKRs for the Operations team it is essential to understand the process and key metrics that support achieving the organization's performance. Setting clear department goals and individual goals is very important as there are various metrics available. Recognizing the key metrics that matter to business will help in crafting OKRs
Talk to our experts more about OKR Software.
Talk to our experts to more about Operations OKRs. Our domain experts can work along with the organizations to create solutions that are specific to organizations. OKRs are industry agnostic and it is very interesting when it is applied to process-driven Operations teams. The outcome is quantified and hence the results are more tangible. Write to Datalligence for implementing OKRs today.
Our free demo helps you in understanding our product in detail, so you can save time that you spend on onboarding process.