5 Best Design Team OKR Examples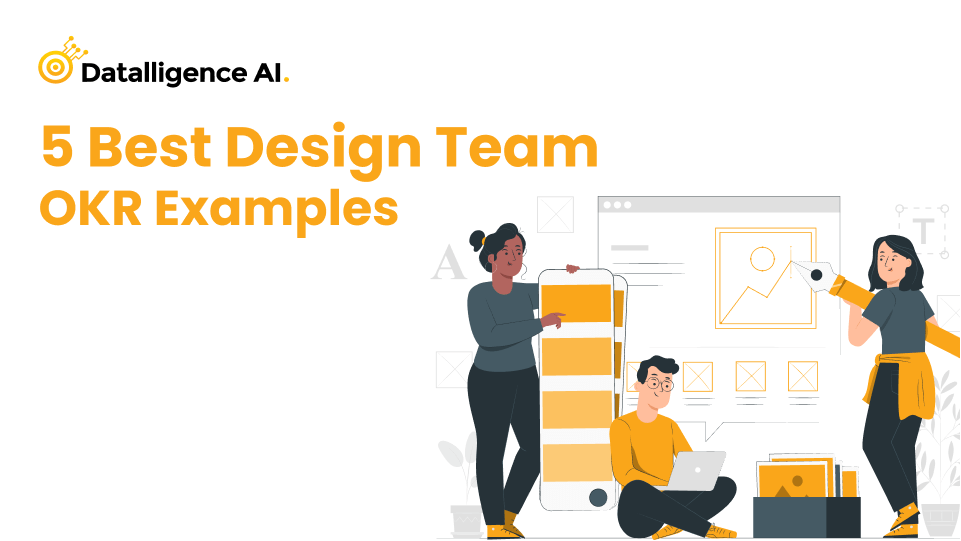 How Does OKR Software Help the Design Team?
🌟 The design is subjective by nature and it might be highly difficult to measure the outcome of such departments. Well, we have good news. OKRs can help remove the subjectivity and bring in focus and alignment to such teams.
OKR stands for "objectives and key results," and is a goal-setting framework created by intel and later popularised by Google. Design OKRs are very unique and they tend to be a stretch. These teams' OKRs should be able to help the team to measure their work at the same time aligned to the organizational goals.
Objectives help us to achieve "what" we aim to achieve. An objective is aggressive and yet achievable. Objectives should have a timebound which drives the priority
The KR is the key result, clearly explaining "How" to reach the objective. key results are measurable and tracked to understand the progress. It's recommended to have between three and five key results per objective.
OKR for Design Team 🧑🏻‍💻
OKRs software help organizations track the company goals and visualize the alignment across teams. While the annual goal is written, leaders write their top quarterly company objectives that will be the priority for the teams to work towards that. With the quarterly objectives, defined design teams can write their OKRs that are in line with the expectations or the plan for the quarter.
OKR software drives autonomy and teams can write their objectives to align with the team objectives. This increases accountability and collaboration. The design team should also align cross-functionally to achieve the important goals set.
Since OKRs liberate us and let us set audacious goals. The design team should work together with the other teams to achieve the audacious goal 🎯
5 Top Examples for Design Team OKR:
Branding is one of the important parameters of the design team. Understanding the customer is the understanding sum of people who are different. Banding helps us to understand the organization's customer service, our intention, and our reputation in the market.
Design is an important aspect, be it a product or a website. Creating a great UX brings in better value and revenue to any product.
Simply put User Experience Design, is the process of enhancing customer satisfaction by making the product easy to use. User Interface Design, on the other hand, is the look and feel, presentation, and interactivity of a product.
Both elements are crucial to a product and work closely together. A great product experience starts with UX followed by UI.
Though the design elements are subjective in nature, while we review mostly they are quantifiable. Delivering a great designer is beyond creative talent there are a lot of dimensions involved in it.
A brand like "Paper Boat" is a few examples that created great visibility towards how branding plays an important role in the market share. They are growing rapidly, and are attracting a whole bunch of enthusiastic investors along the way.
Objective 1: Increase the brand image to become a household brand
KR1: Increase the website visit from X% to y%
KR2: Publish 3 customer testimonials per week
Objective 2: Design concepts that increase sales and marketing
KR1: Deliver the graphic asset for approval by Week 3
KR2: Add X Assets to be available for the sales team by Week
Objective 3: New and interactive website launch that communications our core purpose
KR1: Collect feedback from the users by May
KR2: Test the version with 25 people
KR3: Website visitors to be increased by X%
KR4: Increase the signup ratio from X to y %
Objective 4: Drive innovation and creativity to position us as a design-focused company
KR1: Biweekly designer meetings to brainstorm ideas
KR2: Identify the design software vendors by May
KR3: Implement and start training Design software by July
Objective 5: Create a team that's highly focused on design
KR1: Identify talent from niche design schools and onboard by Q1
KR2: Decrease the hiring time and onboard in 30 days
Implement OKR Software solution for your Design Team
OKR software for the design team will be highly aligned to their focus. Mostly design teams collaborate with the other team to support them in getting their desired outcome. The network OKRs with the other teams help in identifying the cross-functional collaboration and accountability on each team or individual.
To wrap it up
Talk to our experts to more about OKRs. Our OKR coaches will work along with the organization to create specific OKRs that align with and deliver organizational objectives. OKRs are industry agnostic and it is focused and create transparency. This enables interdepartmental OKRs and allows you to network with other teams. Write to Datalligence for implementing OKRs today.
Our free demo helps you in understanding our product in detail, so you can save time that you spend on onboarding process.