10 Best OKR Examples for Health Care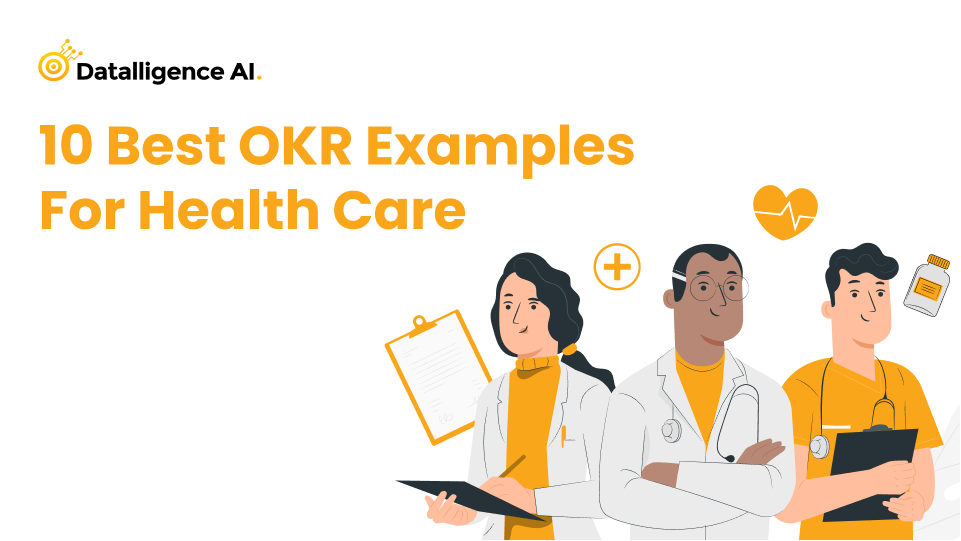 ✅ The ongoing pandemic has raised challenges in the health care sector in recent years. Most of the healthcare system's resources and attention are dominated by the pandemic and it involves a huge amount of human experience in treatments, vaccination, and virtual support to the patients swiftly. At the same time, this sector primarily copes with the latest technologies, advanced medical device manufacturing, medical insurance policies, outsourcing, health tourism, and remote healthcare technologies.
Owning to the pandemic there has been a paradigm shift in the way the industry operates. It is one of the fastest-growing industries and digital adaptation is rapid. Advance equipment to innovations, they are racing every day.
How Does OKR Software Help the Health Care industry?
Similar to other industries Health care sector is also in need of setting goals and objectives as the performance and achievements of various departments need to be measured. Healthcare Industry is growing at a tremendous pace as both the public and the private sector supports the development. Right from primary clinics to multi-specialty hospitals, it is inevitable to have an OKRs and a goal-setting framework to offer quality and swift medical service.
OKR software for the Health Care industry
Every healthcare service provider works with the primary goal to offer excellent medical care at a low cost. Using OKR software healthcare managers set ambitious goals and objectives to achieve the expected result in healthcare service. OKRs also enable them to concentrate on devising new strategies to improve the patient's health condition, lifestyle management programs, and bringing down the chronic disease count.
10 Top OKR Examples for Healthcare 🏥
The healthcare organization's objectives are effectively managed with the help of OKRs that correlate the medical activities by aligning the goals and objectives at various levels. With the help of the OKR framework, the performance of the individual and the team can be accessed effectively. 
OKRs keep the healthcare workers motivated by giving a clear perspective of their accomplishments and keeping them well informed about their progress towards the organization's mission and vision. OKRs work well with state-of-the-art technologies in the future and help to discover next-gen ideas.
 With the ever-changing landscape of the healthcare industry, the entire frontline team must be trained as per the current requirement to meet the demands.
Objective 1: Foster a learning culture in the frontline to support professional development
KR1: Increase in skill certifications from X to Y.
KR2: Increase training satisfaction score from X% to Y%
Objective 2: Increase hospital operational efficiency
KR1: Increase Medical Equipment utilization to X%
KR2: Minimizing cost of goods procured by X%
KR3: Ensure XX% for Operating Cash Flow
Objective 3: Increase patient Satisfaction
KR1: Reduce the Patient waiting time from X Mins to Y Mins
KR2: Reduce discharge time to X Hours to Y Hours
Objective 4: Aspire to deliver services beyond medicine for patient care
KR1: Weekly Follow up on health post-discharge
KR2: Consult Chronic patients through a mobile application for continuous care
Objective 5: Create and maintain a healthy claim cycle
KR1: Reduce the Insurance Claim Processing Time from X hours to Y hours
KR2: Reduce claim denial rate to X%
Objective 6: Create high-quality diabetic care
KR1: Increase the diabetic awareness camps from X to Y per month
KR2: Launch Diabetic diagnosis services online by X month
Objective 7: Streamline reporting across all the hospitals
KR1: Automated data collection by X days
KR2: Pre-built reports with the reporting interface by X month
KR3: Create centralized data access by X month
Objective 8: Improve the efficiency of the internal process
KR1: Reduce the error rate from X to Y per month
KR2: Decrease the cancellation rate to X %
KR3: Decrease the readmission rate to X %
Objective 9: Improve the efficiency of the Specific(Covid) program
KR1: Decrease the utilization rate of the equipment to X %
KR2: increase the recovery rate to X %
Objective 10: Create a winning healthcare team
KR1: Hire 10 specialty doctors by X Month
KR2: Onboard the CTO by X month
Implement OKR Software solution for Health Care Industry.
While implementing OKRs for Health Care Industry it's important to understand the industry and key dependencies across the departments Setting clear department goals and individual goals is very important as there are various metrics available to measure. Recognizing the key Results that matter to business will help in crafting OKRs
To wrap it up
Talk to our experts to more about OKRs. Our OKR coaches will work along with the organization to create specific OKRs that align with and deliver organizational objectives. OKRs are industry agnostic and it is focused and create transparency. This enables interdepartmental OKRs and allows you to network with other teams. Write to Datalligence for implementing OKRs today.
Our free demo helps you in understanding our product in detail, so you can save time that you spend on onboarding process.