10 Best OKR examples for Customer Success Team
"Your job, If you're a customer success manager, isn't to make friends with your client. Your primary job is to challenge them and get them to think in order to make them more successful"
~Don Peppers
How Does Datalligence OKR Software Help Customer Support teams?
Customer success can be expressed as business success, as customers are your business. That being said, customer success is not identical to customer service. Customer service is a reactive approach that focuses on solving customer problems when they arise. At the same time, customer success is a proactive approach for preventing customer problems and thereby enabling business growth. So, it is not a stretch to say customer success is attained through productively challenging your customers (like from the Peppers' philosophy).
OKR software for the Customer Support teams
Contemporarily, customer success can be managed using OKR software. Keeping in mind that customer success needs to be functioning from the very beginning of your "Activation stage" (if your company follows the AARRR funnel, that is), you have a lot of areas to cover for its achievement. But with the OKR Goal setting platform, this can be obtained fairly easily.
Customer Service is reactive while Customer Success is proactive.
Challenging customers productively will make your business more successful.
Customer success can be improved tremendously through OKR implementation.
Changing OKR goals every quarter, so it can map out your company's success.
Adherence to effective OKR goal-setting guidelines is the key to success in OKR methodology.
Writing OKRs for your Customer Success Team
For understanding such a creative management methodology as OKR, we should also need to be a little creative. Without being dull and nonlinear, let us explain and explore the right approach for customer success for OKR by bringing in a fictitious company and its Objective and Key Results examples
Before getting on with the objective and key results examples for customer success, you have to be aware of certain guidelines that had to be followed for OKR success. These guidelines are as follows:
Objectives and key results should be clearly defined.
However, avoid including metrics while setting up your objectives, as this can lead to confusion.
Do not use an acronym in your objectives. This too can lead to confusion
Define your objective in such clarity that anyone inside/outside of your company can understand them
Each of these objectives should have measurable key results (3 to 5)
All the set objectives should be around 70% achievable, as a higher percentage of goal achievement degree indicates that your objectives are negatively aligned with your ability to achieve more.
While being a little challenging, every goal you set for yourself and your team should be achievable.
OKR Examples for Customer Success Team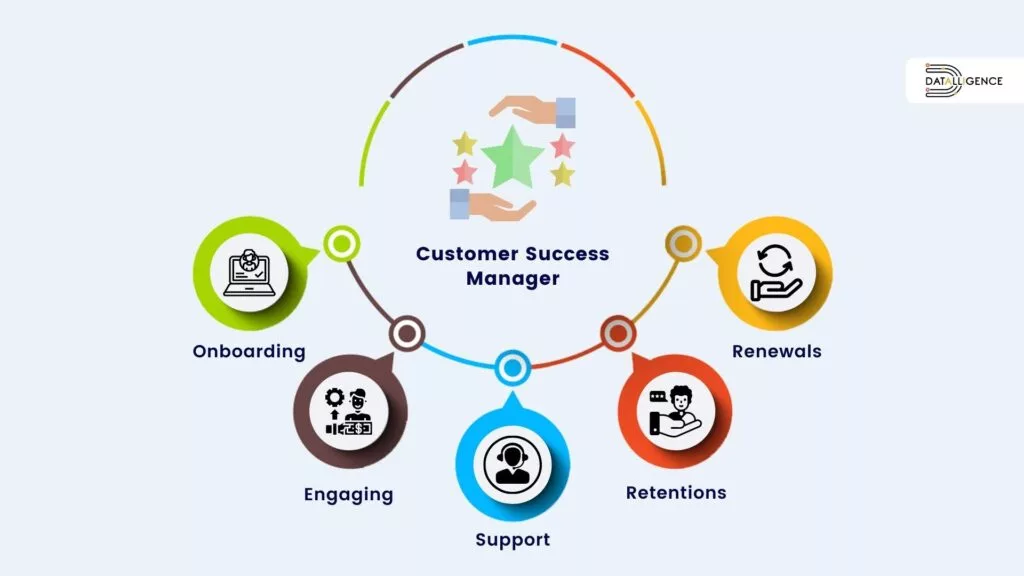 Here are the Objectives and Key results examples of Georgia town as it changes from quarter to quarter. This will help the populace within the company and outside understand the company's journey and map the company's reality.
Quarter 1
1. Building a high performing team
The customer success team's key strength is people and having the right skills with the right attitude will make all the difference. While developing OKRs for such teams it is essential to measure with the right metrics
Objective: Build a world-class customer success team
KR1: Recruit three experienced, high performing leaders for functional roles
KR2: Reduce ramp-up time for CSMs by 30%
2. Increase customer delight
While writing customer success OKRs, measuring the customer's feedback is important to achieve the customer retention metrics set.
Objective: Deliver a world-class customer experience
KR1: Increase the number of personalized offers to customers from 1 to 3 a quarter
KR2: Conduct bi-weekly customer training sessions to create a product experience
3. Achieve higher efficiency
Higher efficiency will be achieved while the team is focused on the customer relationship. OKRs will help measure efficiency.
Objective: Measure the efficiency of the customer success team
KR1: Establish a system to track customer metric
KR2: Conduct bi-weekly customer review meetings
4. Celebrate and collaborate
While the team has its own OKRs defined it is essential to share the stories to the entire team and together every teamwork towards what is required for the customer
Objective: Motivate customer success throughout the company
KR1: Share a minimum of twelve stories that account for wins and losses across the company
KR2: Connect product, sales, and marketing teams with three customers each for an interview
5. Customer onboarding
OKRs need to be more specific about how successful the onboarding process is and what is our response time to our customers, which clearly increases the retention and the customer lifetime value(CLTV)
Objective: Retain and improve the customer success process
KR1: Onboard 15 new customers successfully
KR2: Maintain customer response time to a maximum of 24 hours
6. Expand customer support to APAC
Being available for the customers in their time is essential to ensure customer retention.
Objective: Expand customer support to APAC
KR1:  Hire 15 native speakers by Q1
KR2: onboard translation tool by May to ensure non-voice supports are improved.
7. Thrive to provide a delightful customer experience
Providing world-class customer support also increases the customer base by referrals and reduces churn.
Objective: Thrive to provide a delightful customer experience
KR1:  Net promoter score X and above
KR2: Increase order rating rate to X
8. Flexible product return policy
Return policy means return customers. Keeping it flexible increases the user base
Objective: Flexible product return policy
KR1:  Initiate return within X days
KR2: Refund within X days
9. Increase the product knowledge to serve customers better
To be trained on the product and service is one part, the other is a customer communication
Objective: Increase the product knowledge to serve customers better
KR1:  Complete X hours of product training
KR2:  Communication training for X man-days
10. Increase the technical support for quicker response
Issue resolution is an important parameter to be measured to understand the quality of response.
Objective: Increase the technical support for quicker response
KR1:  Decrease the resolution time for L1 and L2 from X minutes to y minutes
KR2: Decrease the chat response time from X minutes to y minutes
Implement OKR Software for the customer success team.
While implementing OKRs for your customer success team understand the process and key dependencies as the customer success team are the core and contribute to the revenue setting clear department goals and individual goals is very important as there are various metrics available to measure. Recognizing the key Results that matter to business will help in crafting OKRs
To wrap it up
Talk to our experts to more about OKRs. Our OKR coaches will work along with the organization to create specific OKRs that align with and deliver organizational objectives. Customer success adoption done efficiently can improve your business tremendously. Just that you have to know the right way to do it. OKRs are industry agnostic and it is clearly focused and create transparency in teams like Customer Success where they work along with other teams to deliver their objectives. This enables interdepartmental OKRs and allows you to network with other teams. Write to Datalligence for implementing OKRs today.
FAQ About Customer Success OKR
OKRs for customer service help teams to create objective to focus and prioritise. OKRs measures the key metrics that matter to business
The role of a customer support person is to resolve the issues and queries in timely and efficient manner
Communication
Customer focus
Empathy
Our free demo helps you in understanding our product in detail, so you can save time that you spend on onboarding process.