12 Best Employee Engagement Platform – Free & Paid Tools (Updated for 2022)
What is an employee engagement platform?
An employee engagement platform is a software tool companies use to keep their employees engaged and increase their satisfaction levels. This also results in a high percentage of retained workers. The main objective is to make the employees aligned to the work culture and mission of the company.
The human resource department administers the employee engagement software, and it is seen as one of the prominent tools for reducing absenteeism and turnover ratio. These tools are compatible with smartphones so that employees can use them even if they are not at the desk. As an outcome, employees are more effective and productive in their assigned tasks.
Key features of employee engagement platform and advantage
Business experts highly recommend adopting technology tools that enhance employee engagement and comprehensive employee involvement in the organization's success. Organizations have realized that digitalization of the business process and operations helps them to thrive even in remote working conditions.
Benefits of using an employee engagement platform.
1. Effective Communication
In recent times, the majority of remote working employees and office-going workers admit that they are well-informed about the happenings in the organizations through their immediate reporting manager. Employee engagement platforms support them to do regular check-ins, effective goal setting and receive 360-degree feedback. OKR and smart goals involve employees in goal setting, that are aligned with the team and organization's goals.
Few simple features such as Like & Comment encourage the employee to interact more and improve the relationship.
2. High performance and productivity
No doubt that companies with a highly engaged workforce are more profitable and the primary reason behind it, is the cloud-based software tools that solve the requirements of the millennial workforce.
Employee survey tools are often used to measure employee engagement. This helps the managers to identify the disengaged employees and resolve their issues. This results in doubled productivity and effective feedback from the employees.
3. Time-saving
A digital employee engagement platform is a boon to managers and HR professionals, as it saves their time and energy by accessing automated reports from one place. This helps them to concentrate on productive tasks. Goal-setting process and progress tracking become easier with powerful dashboards and reports.
4. Lower absenteeism and attrition ratio
With an effective goal-setting framework and open feedback systems, employees are highly motivated and feel responsible for their tasks. They tend to be more committed and show up for work regularly.
If the employees are engaged and have a sense of belongingness, they never leave the workplace in a short period. Perfect work-life balance, a peaceful workplace, and creative freedom reduce the employee turnover ratio. Implementing employee engagement software help to create the above-said environment. Periodic polls and surveys in the software help to collect employee feedback about their job satisfaction.
5. Customer satisfaction and brand value
Engaged employees render greater service to the customers and retention rates never go down. Employee engagement software reflects the mindset of the employee and an engaged workforce always reflects outstanding service.
Employees chose companies not only for higher salaries, but it depends highly on the work culture, work-life balance, and other benefits. A company's brand value increases in the market with an engaged workforce and motivates people to apply to the company. With an effective employee engagement platform, the company can position its brand that increases the value of its employees.
6. Recognize and reward efforts:
The employee engagement platform helps to measure the performance of the employees against the defined goals. Recognizing the efforts and rewards them brings in positive work culture and boosts the morale of the employee. Their achievements can be shared in the tool, to encourage other employees to keep them self-motivated and encourage them to take risks to achieve their goals.
12 best employee engagement platform
1) Datalligence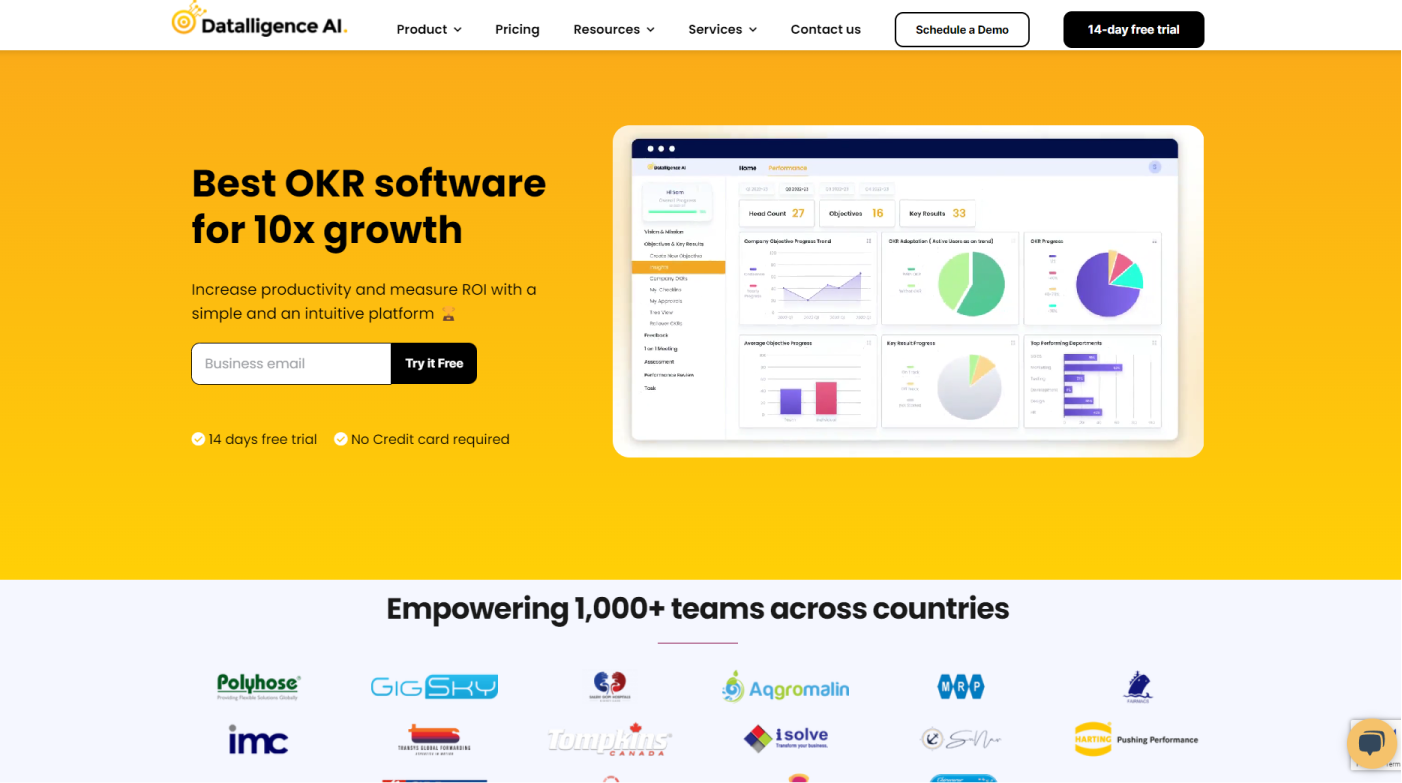 Datalligence is a goal-setting platform that allows employees to collaborate and integrate into one single platform. A powerful tool that focuses mainly on integrating performance and employee engagement. The employee engagement module has features that are vital to any organization. Having built with OKR principles, it constantly promotes the employee engagement called CFR(Conversation, feedback, and recognition) as its sibling. The platform has a powerful duo of OKRs and CFR. Enables OKRs to capture the conversation and learnings around performance. Revolves around the engagement that helps organizations to increase the level of enthusiasm and dedication of every individual. Engaged employees deliver more results than the other team members. Engagement is created when there is goal clarity to every individual, Datalligence platform publishes the goals and makes it transparent for making employees more motivated and seeking support as and when required.
Key Features
Chats integration with Key Results:
Conversations that are around the key deliverables make it more transparent and enable managers and the employees on the level of efforts that have gone through to complete such targets. These ongoing conversations enable users to make informed decisions on setting aspirational yet achievable targets.
"As workplace conversations become integral, managers are evolving from taskmasters to teachers, coaches, and mentors." – John Doerr
• The rich exchange of ideas and thoughts with the and the contributor
• Increases transparency and provides insights
• captures key learnings from the discussion
Feedbacks
Feedback is a tool that helps organizations to evaluate the team and the engagement of any employees. Organizations thrive to create a trusted environment where feedbacks are natural and are receptive. It is also essential to have bi-directional feedback than one-way feedback as it would lead to a negative environment. Datalligence Feedbacks feature in the platform allows multi-directional. Provide feedback that can be both public and private. Allows an organization to design 180° and 360° feedback and take inputs from multi-rater to have unbiased feedback about an individual.
• Peer-peer feedback
• Upward and downward feedback
• 1:1 feedback meetings
Recognition
Recognition is an important tool where employees understand how an organization values them. A culture of recognition promotes motivation and increases productivity. This also gives them security and continues to think out of the box. Recognized employees deliver higher results.
• Recognise (Public/Private)
• Recognize through key results
The employee engagement platform has Three pricing plans.
Free for Lifetime:
Up to 5 users
Objectives and Key Results (OKR)
KR Checkin and approvals
And More
Initiator:
$2.5/user/mo
Everything in Free
Annual Goals
Create Task
Assign Tasks
Custom Reports
And More
Successor:
$5.8/user/mo
Everything in Initiator
Assessment (Pulse/180/360)
Performance Management
Insights and Dashboards
Survey (Pulse/180/360)
Learning Management System
And More
2) Kazoo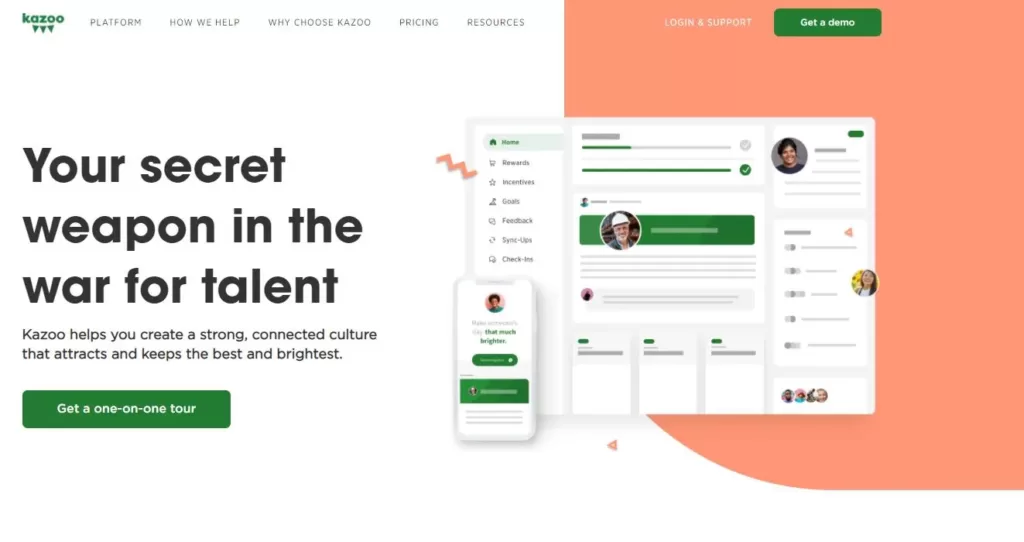 kazoo is An employee engagement platform that provides feedback, rewards, and recognitions. Allows you to gift and redeem coupons. Provides personalized suggestions based on past behavior.
With an emphasis on peer-to-peer feedback and also between employee and manager. Integrates seamlessly with other platforms and much more.
Features:
• Virtual water cooler to discuss
• The real-time conversation around the performance reviews
• Reports and insights
Kazoo Pricing:
The Employee Engagement Software has Three pricing plans.
GROWTH
Ideal for 100 – 250 employees
Everything small and high-growth companies need to create aligned, high-performing teams built on a culture of appreciation and feedback.
Starting at
$12.50* monthly per employee/ billed annually
STANDARD
Ideal for 250 – 1000 employees
The same capabilities as the GROWTH plan with room for more employees.
Starting at
$4.25* monthly per employee/billed annually
ENTERPRISE
Ideal for 1000 or more employees
We'll customize a solution that scales to your company's needs.
3) Nectar
Drives employee engagement and recognition in the platform and connects employees as a family. It provides a digital gift and on-demand swags
• Recognize with Shoutouts – Recognising the team is highly important and they deserve recognition for the great job done. Not recognizing at the right time is not recognizing at all.
• Redeem Points for Rewards – provides an extensive reward catalog like digital cards, amazon products, donations, etc.
• Set Birthday & Work Anniversary – automate birthdays and anniversaries, it integrates with the HRIS system to fetch data.
• Create Alignment with Custom Challenges – provide challenges that help in employee wellness initiatives, book challenges, and so on
Pricing:
The Employee Survey Tools has Three pricing plans.
FREE
$0- Perpetually free – no caps, no limits
Unlimited users
Peer to peer recognition
Custom allowances
Custom core values
Real-time activity feed
And More
Standard
$2.50*-Per-user per month billed annually or $2.75 billed monthly
Centralized company incentives & awards
Birthday & Years of Service automation
Manager to employee recognition
Non-monetary recognition
Upload company-specific rewards
And more
Plus
$3.75*-Per-user per month billed annually or $4.25 billed monthly
Company branding
Amazon reward catalog
HRIS & SSO integrations
Dedicated account manager
And more
4) Bonusly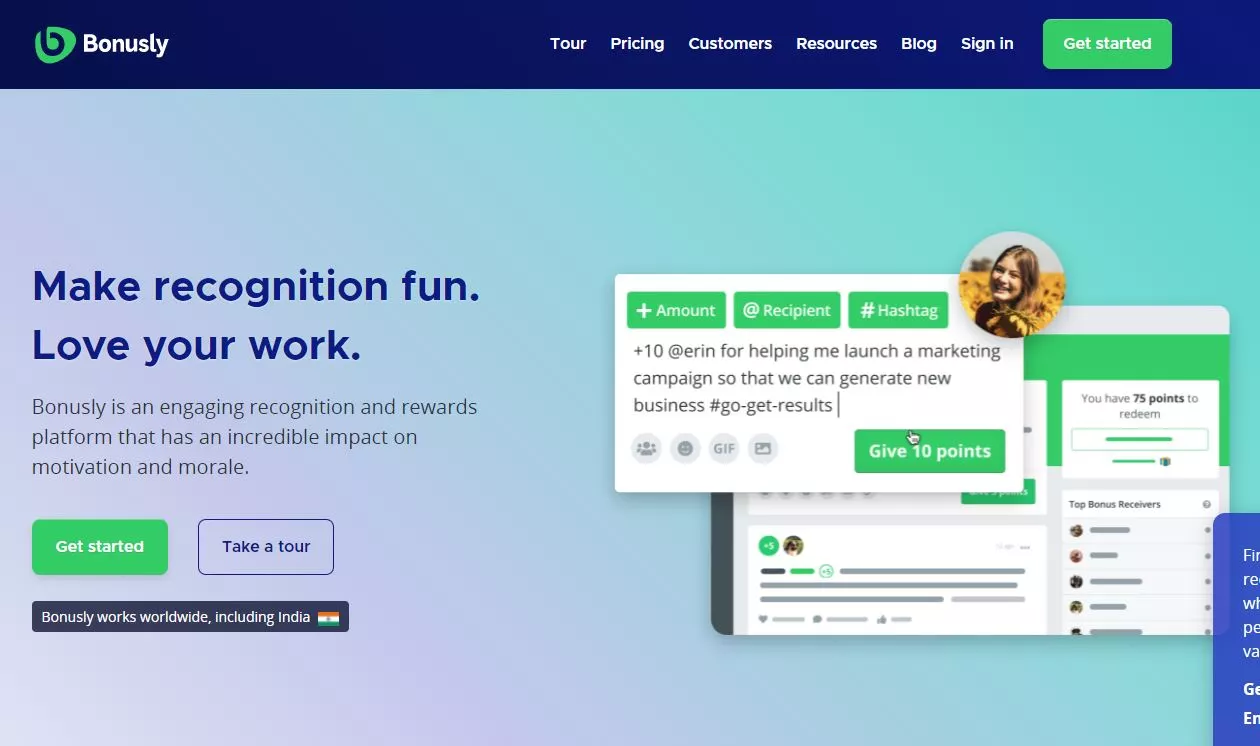 Bonusly Encourages recognition by integrating with the Employee communication tools that allow users to interact constantly. Allows you to build a culture of recognition and empowers employees. Its 360 recognition connects peers, managers, and direct reports. Creates a culture that's performance-driven.
Features
A monthly allowance allows employees to recognize their team members by giving an allowance.
1. Bonus feed
The bonus allows the paid Bonuses to appear in the feed to motivate the team to deliver higher.
1. Engaging interface
Easy interface which makes team feel that the time and people are much valued.
Pricing:
The Employee Engagement Survey software has Three pricing plans.
Core
$2.70 per user/month
Bonusly Core has everything you need to get recognition flowing:
Engaging peer-to-peer recognition
Easy participation via chat tool integrations and mobile apps
And more
Pro
Bonusly Pro has all the Core features and makes HR's life easy:
HRIS integrations to eliminate manual work
And more
Custom
We've helped thousands of companies launch and sustain impactful recognition programs!Request a demo to find out how Bonusly will help your organization. Be sure to ask about:
Launch support and manager training
And More.
5) Igloo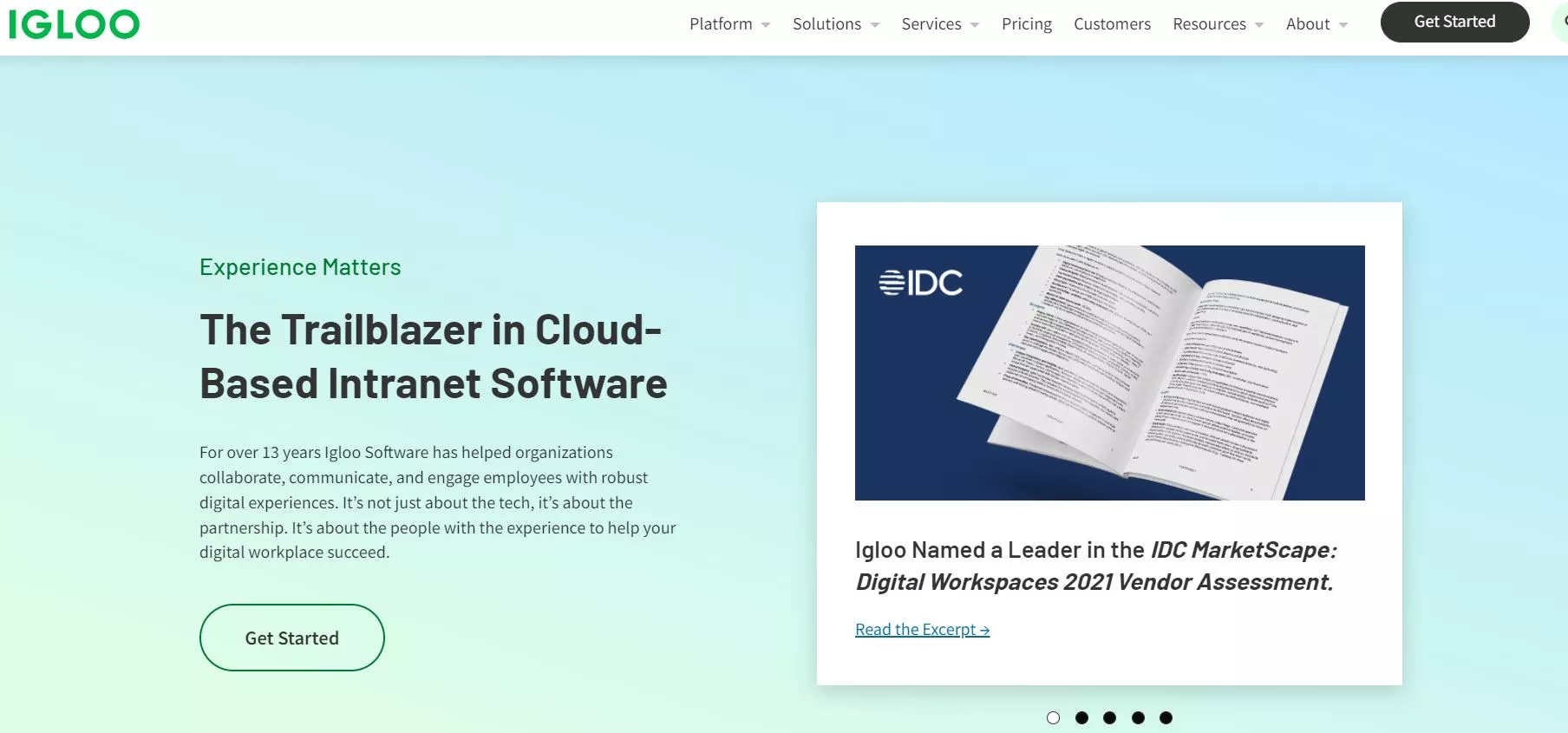 Igloo Software provides digital solutions to employees. It transforms the workplace and creates a collaborative environment. Drives employee-centric approach and increases productivity and engages workforce. By adopting igloo, businesses can be smoothers and HR can focus more on culture and engagement of employees. Feedback center which creates a forum for employees to share ideas and thoughts Social center acts as the virtual water cooler for social interaction.
• Broadcasts
Call attention to important information by broadcasting messages to the entire organization or individual groups.
• Forums
Forum Create an interactive culture where employees can share their ideas, ask questions and initiate discussion.
• Polls
Pulse survey that helps you to understand employee feedback and review the insights
• Multimedia
Allows you to manage the media from your digital workplace with a rich media player that enables inline viewing.
Pricing:
The Employee Engagement Survey software has a pricing plan.
Request a Quote for pricing
6) Empuls
Empuls brings in transparent communication among its employees with the social intranet
Em bot nudges the users to participate in the conversation. Integrates with other apps to make it much more collaborative
Employee Communication – connects and aligns employees to a common vision
Employee Surveys – Initiate surveys that help in measuring engagement and provide actionable insights
Employee Rewards – Provides automated rewards for the exceptional performance
Pricing:
The Employee Engagement software has Three pricing plans.
Starter
₹ 100 per employee, per month
For startups who are just getting started with employee engagement programs.
Rewards and Recognition
eNPS Survey
Social Intranet
Reports and Analytics
Proficient
₹ 200 per employee, per month
For organizations that want to deploy full-fledged engagement programs.
Everything in Starter +
White Labelling
Custom Budget Management
Custom Catalog
Enterprise
Custom Bulk pricing
For enterprises with large teams and custom requirements.
Everything in Proficient +
Exclusive Employee Discounts
Priority Support
Early access to new features
7) Outback Team Building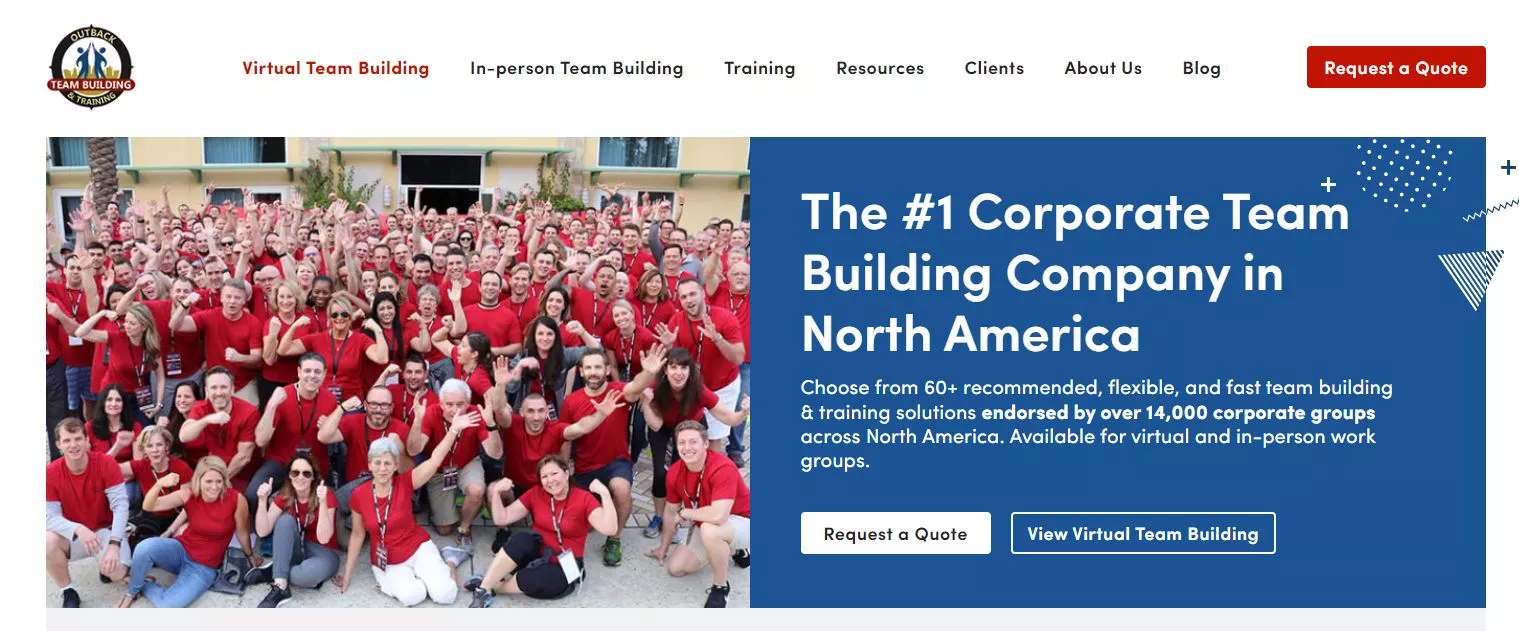 Outback Team Building enables training modules and creates a learning culture. Outback helps you create team-building activities and solutions specific to your business.
Features:
Immersive Experiences — Team-building activities are the key to bringing the employees together and help in breaking the ice and challenges they face together.
Professional Event Coordination — Smooth execution of each activity planned and ensures that we get the benefit of the event
Location Independence — Irrespective of the location or the geography team is in, it helps to connect the employees
Pricing:
The Employee Engagement Platform has a pricing plan.
Request a Quote for pricing
8) QuizBreaker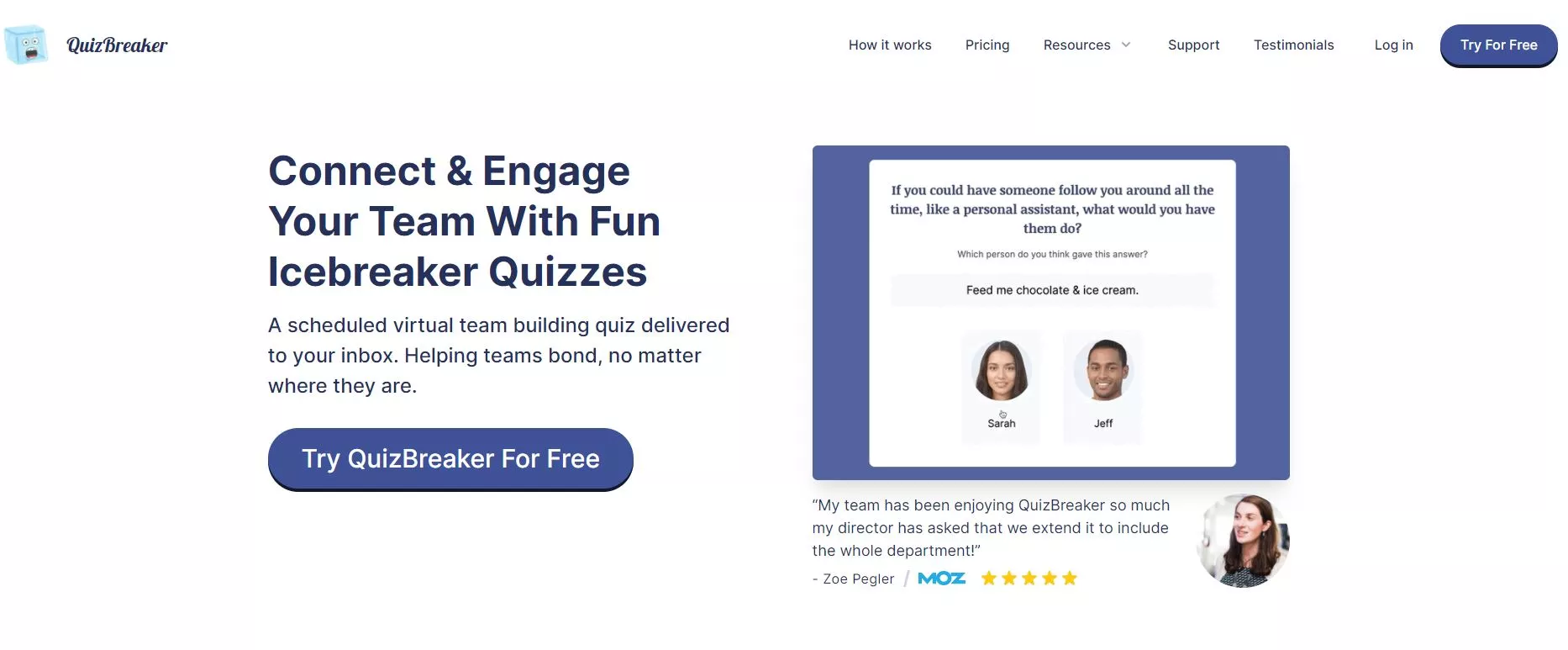 Allows employees to access the virtual quiz and a team. Enables the workplace with gamification by adding video games and lets employees eagerly contribute to the collaborative environment.
Features
Short Quizzes — There are multiple quizzes available that allow the users to customize the quiz as well. Create an interesting and innovative quiz that evokes curiosity in the employees and keeps the learning culture triggered.
Gamification — Enables gamification by notification and nudges users to participate and contribute.
Pricing:
The Employee Engagement Platform has a pricing plan.
Put your team building on autopilot.
$2 per user/month
Automated quizzes on your chosen schedule
Create multiple teams within your accounts
Add custom questions or use our set of 100 curated icebreakers
Weekly leaderboard report
Onboarding support available via email
9) monday.com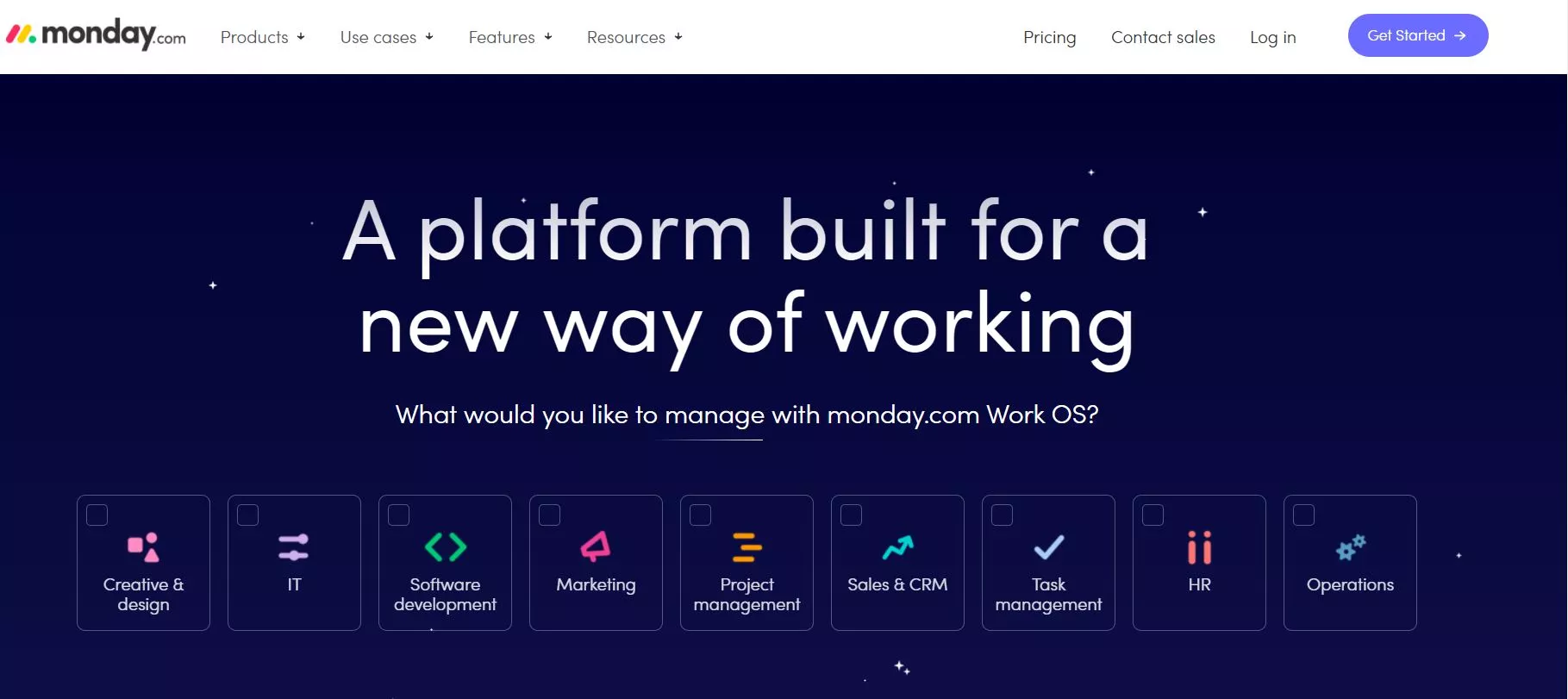 monday.com helps organizations to plan and execute projects. The key differentiator is that it allows users to see the progress and the insights of the key projects that they are working on. This helps users to stay informed on the projects.
Features
Tracking — Allows the project team to see the time spent project-wise to understand the ROI of the projects
Timeline Views and Integrations — This allows integrations with another platform as well to have sync and coordination. Ongoing timeline views to know how and when the project will be completed.
Automated Notifications — Automated notifications that help employees not to miss any critical deadline.
Pricing:
The Employee Engagement Platform has a pricing plan.
Individual
$0 free forever
Up to 2 seats
For individuals looking to keep track of their work
Basic
$8 seat/month
Total $200 / month Billed annually
Manage all your teams' work in one place
Standard
$10 seat / month
Total $250 / month, billed annually
Collaborate and optimize your team processes
Pro
$16 seat / month
Total $400 / month Billed annually
Streamline and run your teams' complex workflows
10) Culture Amp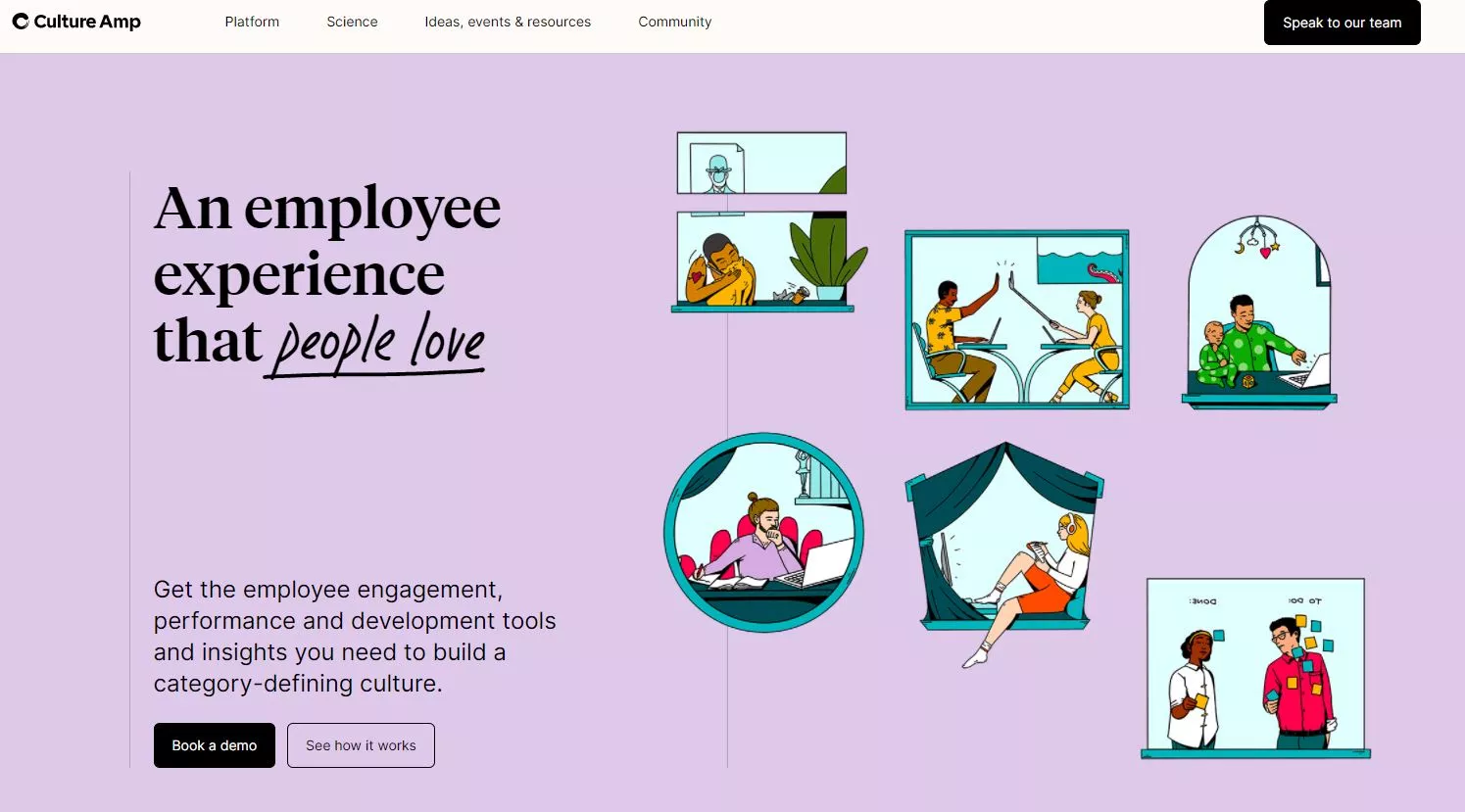 Culture amp plays a crucial role in employee retention. It creates a feedback culture that provides a positive working environment. Employees can share their constructive feedback that helps in creating a collaborative and highly knit team environment.
Features
Feedback Management — Allows both positive and negative feedback to provide transparency and a trusted environment.
Performance Management — Can manage employee performance management
Reports — The reports are customizable and can share real-time data for decision making
Pricing:
The Employee Engagement Survey software has a pricing plan.
Request a Quote for pricing
Our free demo helps you in understanding our product in detail, so you can save time that you spend on onboarding process.