Objectives and key results (OKRs) are great for setting ambitious and aspirational goals. These goals will also improve and support day-to-day activities too. OKRs can help to see the big picture as well as an efficient tool for those who are involved in operational roles.
Objective defines "what" we need to achieve and the Key Results define "how" we are going to achieve an objective
OKRs in operations, drive the team in a more efficient and focused manner. This eventually enables reaching the company-wide goals. The seamlessly effective running of the operations is vital as that improves productivity.
How Does Datalligence OKR Software Help Operations, Team
While answering this we can understand the benefits of OKRs and how they will make the processes of the Operations team simple. While OKRs support top-level objects they also work well with bottom-up OKRs.
OKRs software will support the Operations team's focus and ensure they have aligned with the organization's critical goal. They can bring in more insights as equal to the other team members. These OKRs are simple yet powerful. They can prioritize and have between 3 to 5 OKRs and a maximum of 5 Key results per objective to increase focus.
These operational teams make the business function effectively.
What are Operations OKRs?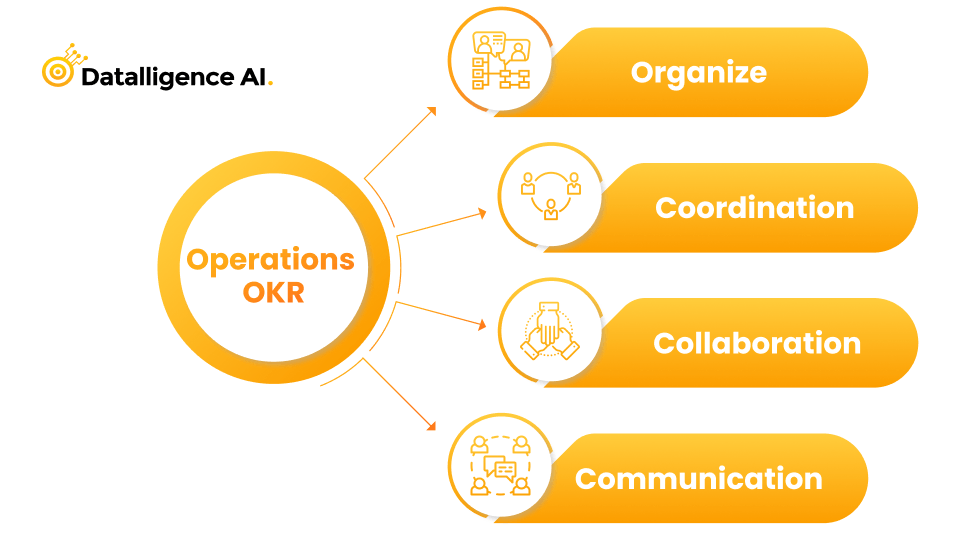 Being an essential cog in the wheel, Operations OKRs support the business realm. There are quite a few metrics available in the operations team that are very crucial to a business. Ensuring that the operations team running smoothly is equal to a business running seamlessly. Therefore it is important to align operations OKRs to align with the goals
OKRs create high-performing teams and they can support the operations team with the following guideline:
Creating OKRs that create a sense of purpose for its teams
Create OKRs that help you come out of the Status quo.
Track and measure the progress of the objectives and maintain alignment
When OKRs are drafted rightly they support increasing productivity and commitment toward goals.
OKRs are agile and work well in the dynamic work environment
How do they track these objectives and measure the results?
Operations OKRs are the most effective way to achieve the organizational objective. Consider operational objectives as a destination, meaning the goal that you'd like to achieve. The measurable actions that are taken to reach these objectives are the key results.
Definition of Operations OKRs
It varies according to the type of business and its requirements. To set your OKRs for success, ensure that the objectives are motivational, ambitious, and high-level. They should offer a clear direction toward the goal. OKRs of the operation teams should be goal-driven with measurable key results. Initiatives can also be added to the objectives if they bring in value.