Are you a manager on the lookout for tools to enhance employee engagement in your team? This guide on Peoplebox Alternatives and Competitors is tailored just for you. With a solid understanding of the power of OKR, you recognize its critical role in steering team success. 
In this comprehensive article, we delve into the top 11 alternatives to Peoplebox, a leading tool in the employee engagement landscape. Positioned as formidable Peoplebox Competitors, these alternatives cater not only to OKR enthusiasts but also offer a diverse array of features.
Crafted to assist you in building high-achieving teams, fostering a positive company culture, and optimizing communication and collaboration, these solutions await your exploration. Whether you're a seasoned startup CXO or an HR professional navigating the nuances of team dynamics, this guide is tailored to your needs. 
Let's dive in and uncover the ideal tool to elevate your team's performance and satisfaction!
Datalligence: Performance Management and Collaboration for Remote Teams<
Datalligence is a performance management and employee engagement platform designed to help organizations improve their performance management processes and enhance employee engagement. The platform offers a range of features, including continuous feedback, goal setting and tracking, performance reviews, and analytics to help companies better understand and manage their employees' performance and development.
Key Features
360-Degree Feedback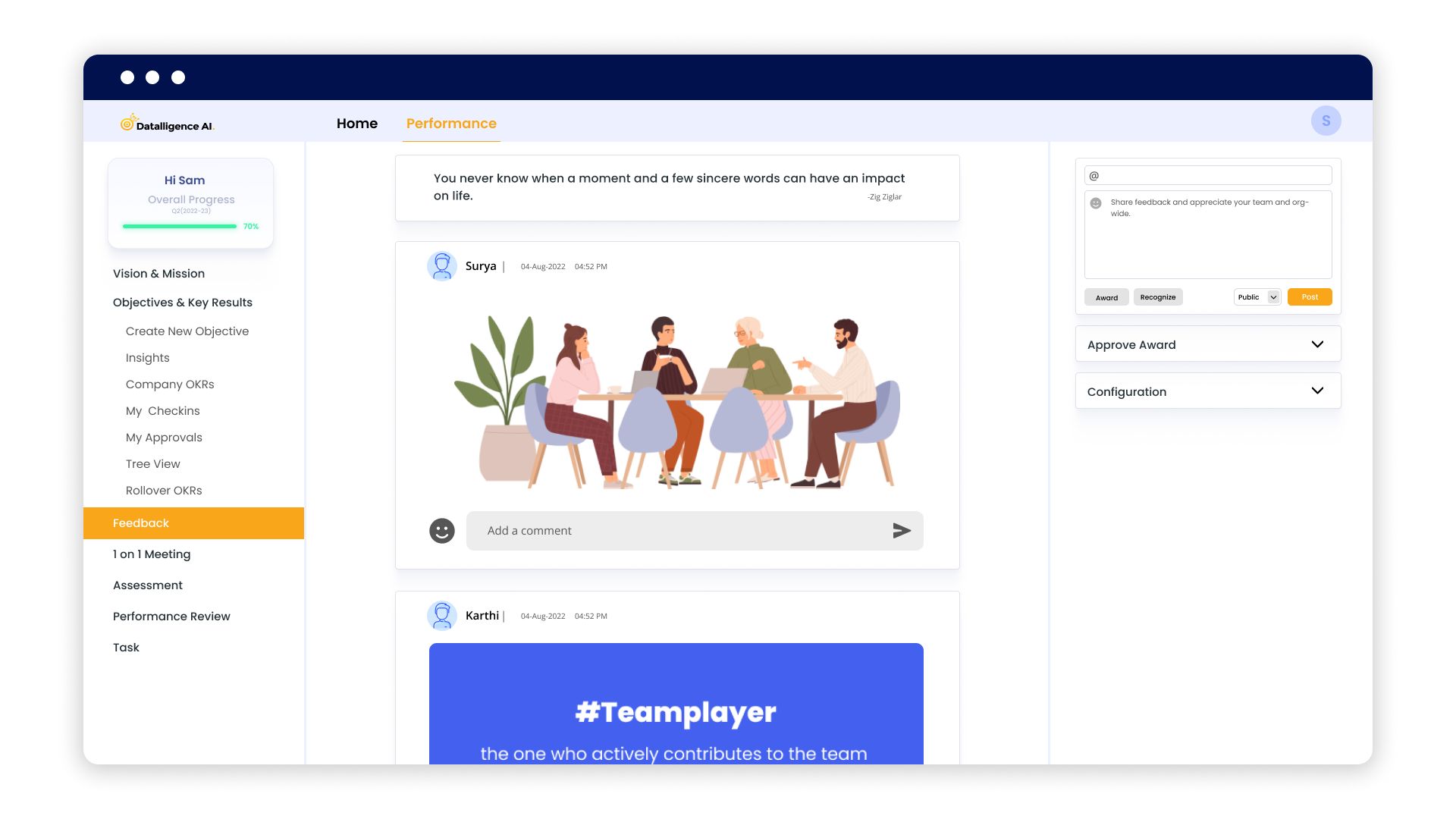 The platform often includes a 360-degree feedback feature, allowing employees to receive feedback from peers, subordinates, and managers. This comprehensive feedback helps individuals identify their strengths and areas for improvement.
Analytics and Insights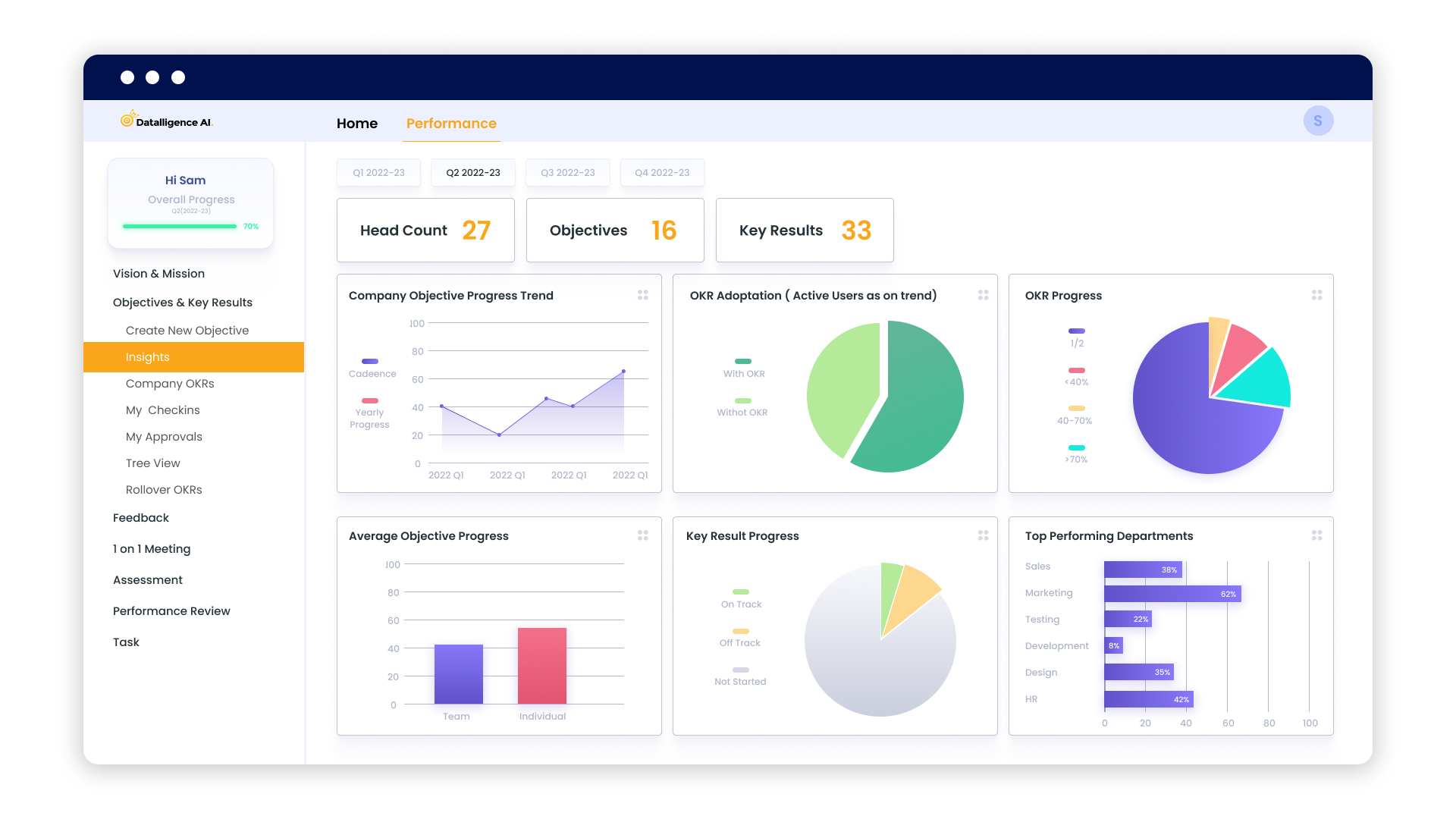 Datalligence typically provides analytics and reporting tools to help organizations gain insights into employee performance, engagement, and satisfaction. These insights can inform HR and management decisions.
Time Tracking
Stay on top of work hours with Datalligence built-in time tracking. This feature enables remote workers to monitor the time spent on tasks, enhancing productivity and preventing overwork.
Collaboration and Communication
Datalligence is not just a task manager; it's a collaboration hub. Team members can communicate in real-time through task comments and chat features, eliminating the need for scattered email threads. With @mentions and notifications, you can keep everyone in the loop and ensure seamless communication within your remote team.
Goal Setting and Alignment
Align your remote team by setting and tracking goals. Define objectives, key results, and milestones, providing a clear direction and focus for your remote workforce.
Kanban and Gantt Views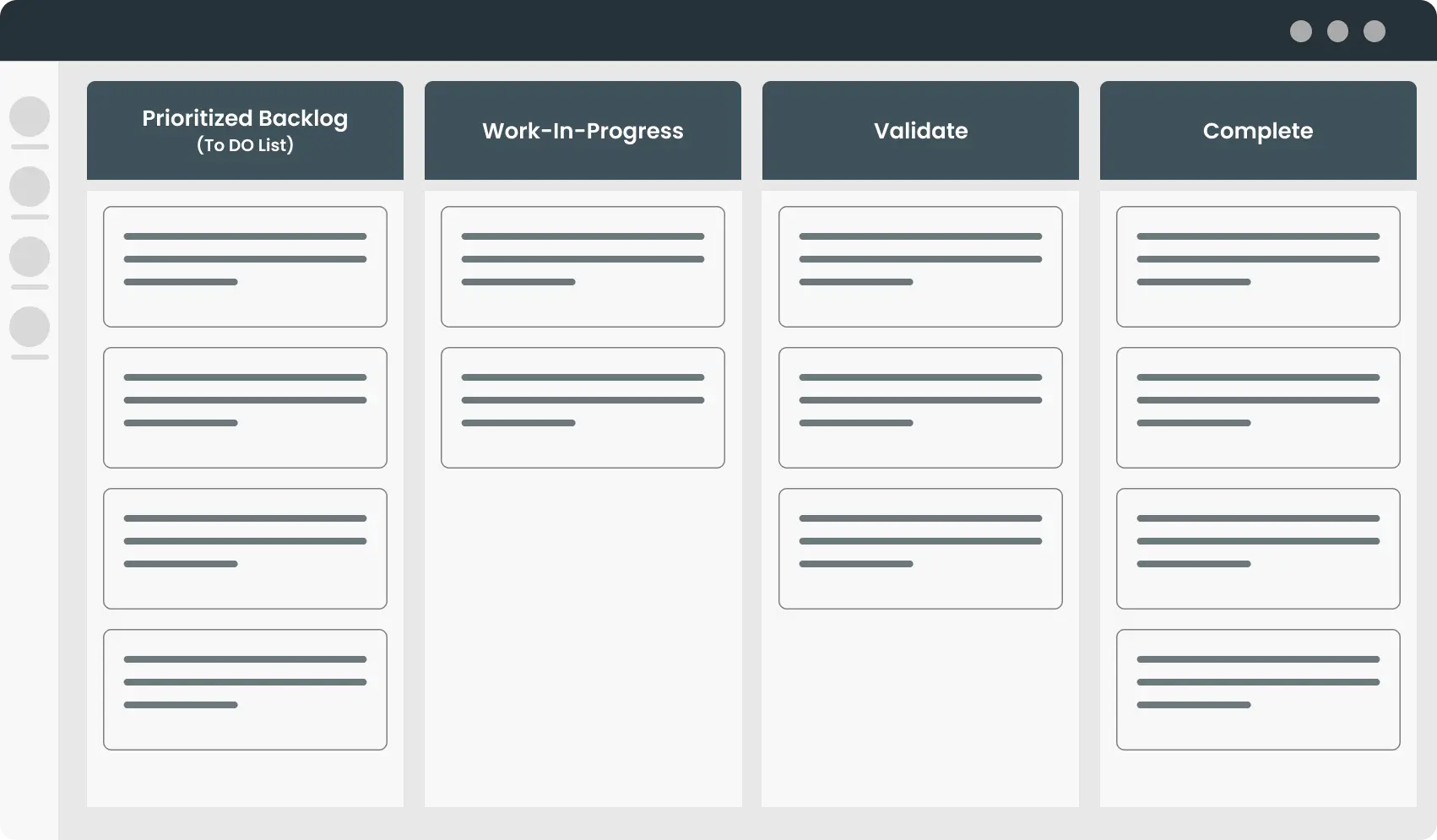 Customize your workflow with visual project management using Kanban boards or Gantt charts. Visualize task progress and dependencies, simplifying complex projects.
Integrations
Datalligence offers seamless integrations with popular tools like Slack, Google Workspace,, and more. Connect your existing apps to streamline your workflow and increase efficiency.
Pricing
Datalligence provides flexible pricing options to suit various needs. They offer a free plan for basic use, making it accessible to businesses of all sizes. For advanced features, task automation, and enhanced team collaboration, they offer a paid subscription starting at just $4 per user per month.
When to use Datalligence
Datalligence is an ideal choice for remote teams and organizations of all sizes. It's particularly valuable for:
Project Managers: For overseeing tasks, timelines, and team collaboration.

Remote Team Leaders: To keep remote teams organized, motivated, and aligned.

Small Businesses: Seeking a cost-effective solution to improve task management and efficiency.

Enterprises: Looking to standardize project management across multiple teams and departments.
Relevance to remote workers
Datalligence is purpose-built to empower remote teams. It acts as a centralized platform for task management, communication, and collaboration. With Datalligence, remote team members can maintain productivity, remain organized, and track their goals, even when separated by distance. It's your all-in-one solution for remote work success

Simple OKR: Streamline Goal Management for Effortless Success
Simple OKR is a streamlined goal management solution designed to make success effortless through clear and concise OKR (Objectives and Key Results) implementation. This user-friendly platform empowers leaders with straightforward insights, facilitating informed decision-making and a culture of continuous achievement.
Pricing: Simple OKR plan starts from  $49.99 per month and for more information contact the sales team for more information.
When to use Simple OKR: Simple OKR is your go-to solution for organizations looking for a straightforward and intuitive approach to goal management. Whether you're a small startup or a growing enterprise, Simple OKR simplifies the process of aligning teams and achieving objectives.
Relevance to remote workers: With its simplicity and clarity, Simple OKR is particularly valuable for remote teams. It ensures that remote workers easily understand and contribute to organizational goals, promoting collaboration and success in a distributed work environment.
Perdoo: Drive Strategic Success with Transparent OKR Solutions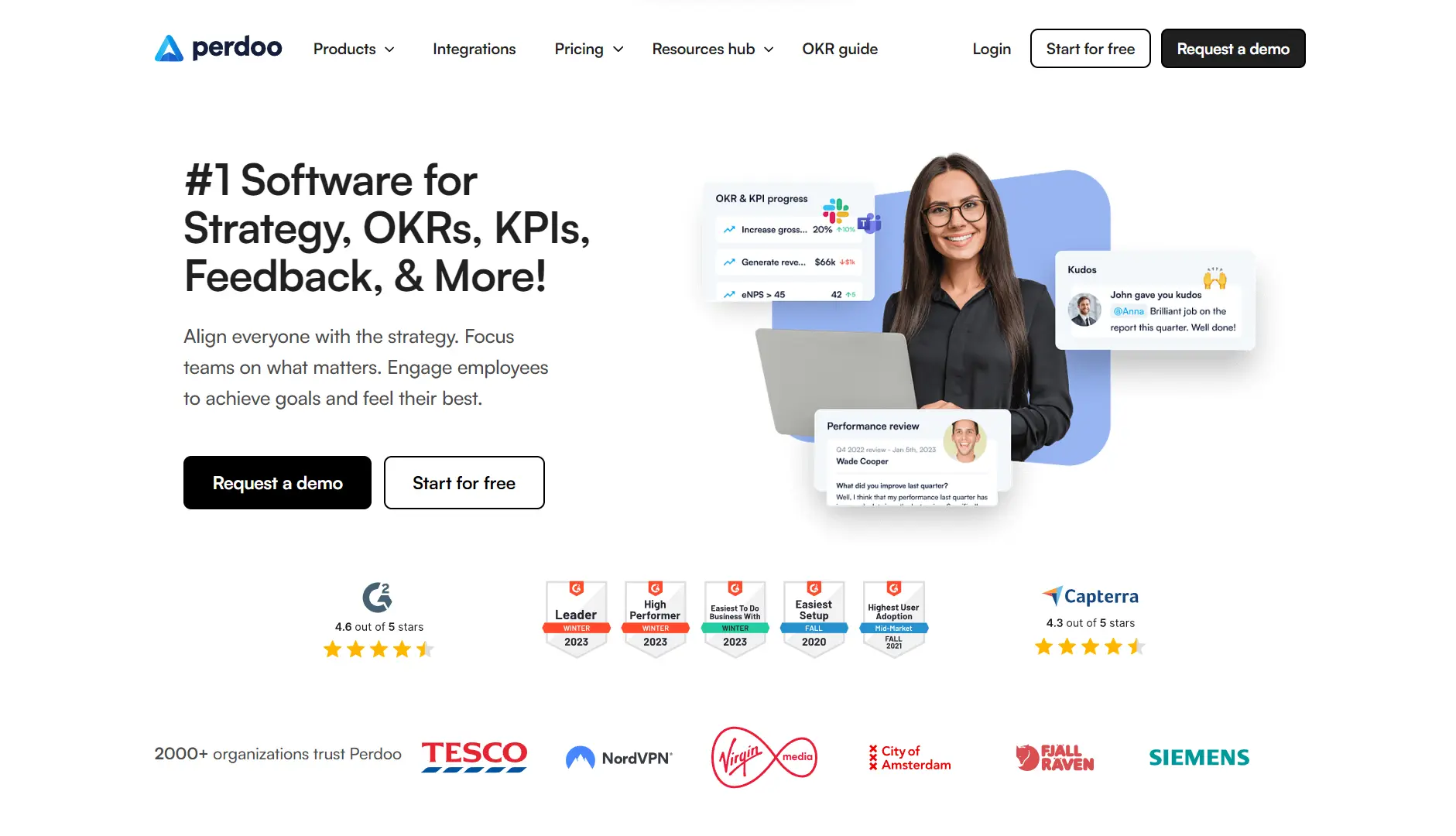 Perdoo is a dynamic OKR solution designed to drive strategic success by fostering transparency in goal-setting and performance tracking. This platform equips leaders with real-time insights, empowering them to make data-driven decisions and cultivate a culture of continuous improvement.
Pricing: Perdoo offers a free trial, pricing plans start from €9 per user/month and for information contact the sales team.
When to use Perdoo: Use Perdoo to make your organization great by improving culture and people.
Relevance to remote workers: Building the best culture and fostering strong relationships is essential for remote teams, and Perdoo can help you achieve that.

Kaapi: Employee Feedback and Engagement for Remote Teams

Kaapi is an excellent alternative to Peoplebox, offering a range of features to help remote managers gain valuable insights into their team's happiness and alignment. With Kaapi, you can send pulse surveys, daily standups, and icebreaker questions to check in with your team. The platform collects the answers and generates a report, providing you with real-time feedback on employee engagement and satisfaction.
Pricing: Kaapi offers a monthly subscription of $2 per month per user
When to use Kaapi: Kaapi is particularly useful for startup CXOs who manage fast-growing distributed teams of 10-40 employees.
Relevance to remote workers: Kaapi is built by a 100% remote team, making it an ideal solution for remote leaders at remote companies.
Nailted: Improving Company Culture and Employee Satisfaction
Nailted is a powerful software solution designed to improve company culture and increase employee satisfaction and engagement. The platform not only automates tiresome processes for managers and HR teams but also provides step-by-step guidance to adopt best practices. With Nailted, you can create a strong culture and ensure effective communication and collaboration in your remote team.
Pricing: Nailted offers a free trial, and for more information contact the sales team.
When to use Nailted: Nailted is ideal for talent-based companies of all sizes that want to leverage their culture as a competitive advantage and keep their employees engaged.
Relevance to remote workers: Nailted recognizes the challenges of building a strong culture and effective communication in remote teams, making it a valuable tool for remote companies.
15Five: Elevate Your Team's Performance with Continuous Feedback

15Five is a dynamic platform designed to enhance team performance through continuous feedback. This tool empowers leaders to stay connected with their teams in real time, fostering a culture of open communication and growth.
Pricing: The 15Five plan starts from $4 per user per month and for more information contact the sales team.
When to use 15Five: Ideal for facilitating ongoing feedback loops and promoting a transparent communication channel within teams, 15Five is your go-to solution for fostering a positive work environment.
Relevance to remote workers: With its emphasis on continuous feedback, 15Five is particularly valuable for remote teams, ensuring constant communication and support for enhanced productivity and employee satisfaction.

Lattice: Real-Time Engagement Insights about Your People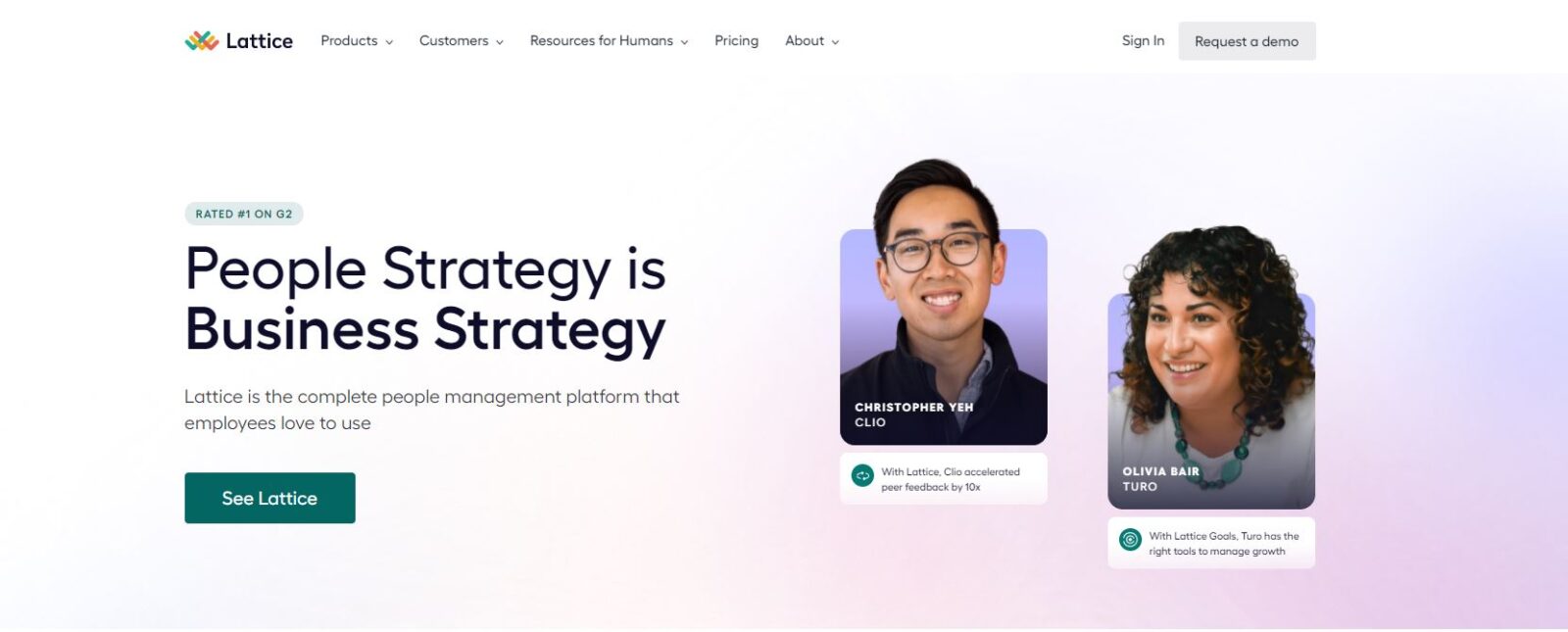 Lattice is a continuous employee engagement solution that provides people leaders with real-time connected insights about their company. By leveraging data, Lattice Pulse enables leaders to make informed business decisions and create a more engaged and productive workforce.
Pricing: Contact the Lattice Sales team for more information
When to use Lattice: Lattice is best suited for remote employee-centric performance reviews and helping you make the best possible business decisions.
Relevance to remote workers: Lattice's focus on remote employee engagement makes it a valuable tool for remote teams, ensuring painless review seasons and driving better business outcomes.
Profit.co: Achieve Your Business Goals with Strategic OKR Solutions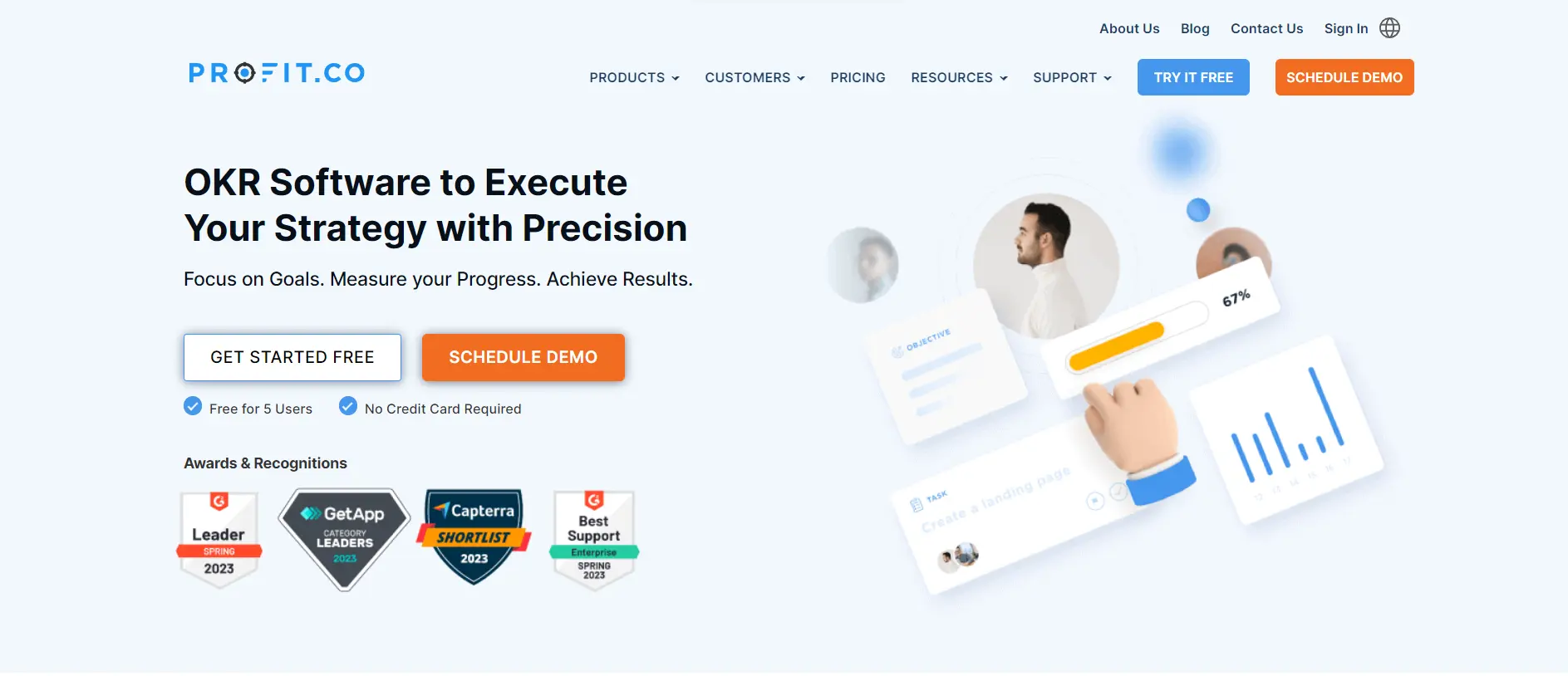 Profit.co is a comprehensive OKR solution designed to help businesses achieve their goals strategically. This platform empowers leaders with actionable insights, enabling informed decision-making and fostering a culture of continuous improvement.
Pricing: Profit.Co offers a free plan and the basic plan starts from $7 per user per month for more information contact the sales team.
When to use Profit.co: Profit. co is ideal for organizations seeking a strategic approach to goal setting and performance management. Whether you're a startup or an established enterprise, Profit. co can align your teams and drive success.
Relevance to remote workers: With its robust OKR framework, Profit. co is particularly beneficial for remote teams. It ensures transparent communication of objectives and progress, promoting collaboration and goal attainment in a remote work environment
TeamBuddy: Boosting Team Culture in Remote Companies
TeamBuddy is a unique combination of a team directory and icebreaker questions designed to encourage your remote team to get to know each other better. By fostering inclusivity and warmth in your company's culture, TeamBuddy helps remote teams build stronger relationships and improve collaboration.
Pricing: TeamBuddy offers a free plan and the basic plan starts from $19 per user per month for more information contact the sales team.
When to use TeamBuddy: Use TeamBuddy to boost your remote team's culture and allow your people to connect on a more personal level.
Relevance to remote workers: TeamBuddy is specifically designed to enhance the culture of remote teams, enabling team members to know each other better and foster stronger relationships.
Cooleaf: Powering Extraordinary Employee Experiences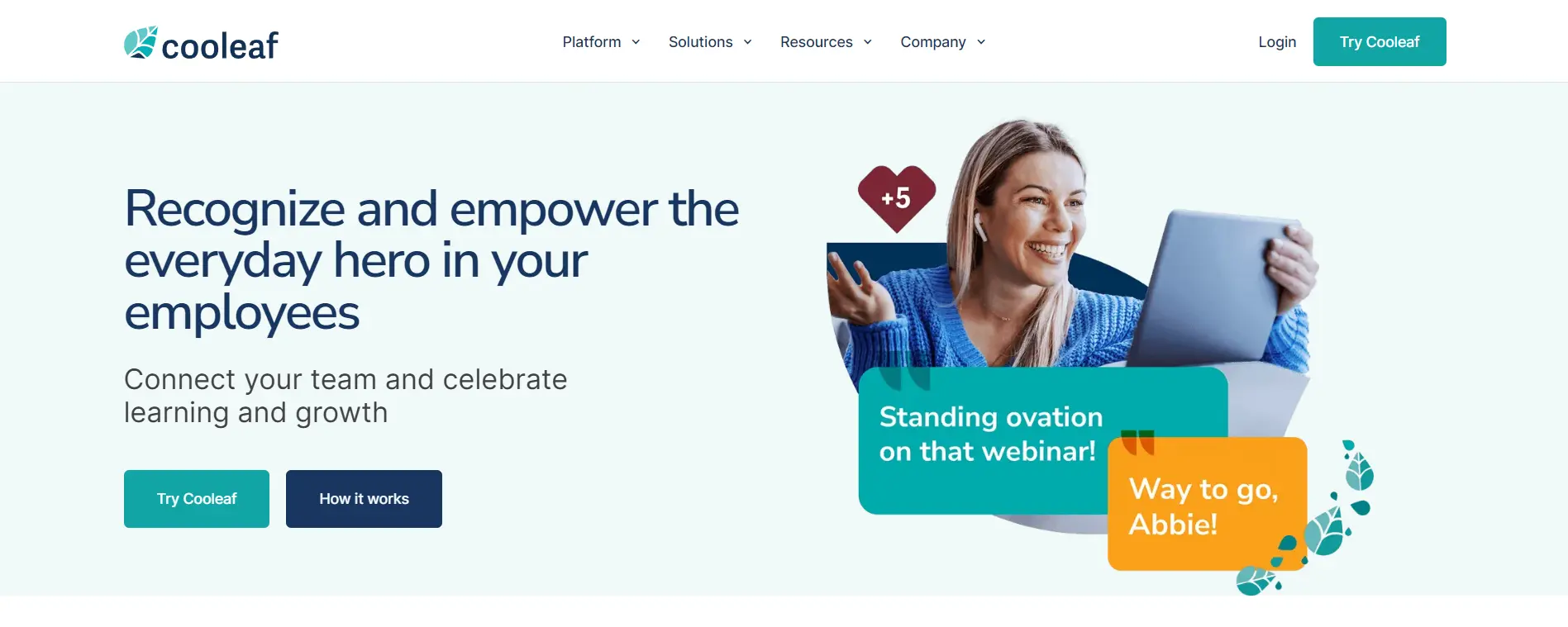 Cooleaf offers a comprehensive platform to engage teams in behaviors that drive better business results. With recognition capabilities, business-aligned challenges, and data insights, Cooleaf empowers organizations to promote recognition, culture, wellness, learning, volunteering, and collaboration.
Pricing: Contact the Cooleaf sales team for more information
When to use Cooleaf: Use Cooleaf to engage your stakeholders, drive better business outcomes, and create extraordinary employee experiences.
Relevance to remote workers: Cooleaf helps keep your local and virtual teams connected and engaged through performance incentives, employee recognition, and virtual team challenges.
Fellow.app: Hold Effective 1-on-1s and Team Meetings
Fellow is a comprehensive platform that helps managers and their teams have more effective 1-on-1s and team meetings. With Fellow, you can collaborate on meeting agendas, set goals, exchange feedback, and delegate action items - all in one place. The platform offers integrations with popular tools like Slack, making it convenient for remote teams to stay organized and engaged.
Pricing: Fellow offers a free trial, and pricing plans are available for different team sizes.
When to use Fellow.app: Fellow is a manager's co-pilot, helping you track meeting notes, action items, feedback, and goals in one centralized location.
Relevance to remote workers: Fellow has received praise from remote companies, such as TimeDoctor and SurveyMonkey, for improving the management of remote meetings and increasing productivity.

Conclusion
In the quest for top alternatives to Peoplebox, we've explored 11 robust solutions designed to boost employee engagement in remote teams. Tailored for startup CXOs and HR professionals, these alternatives go beyond the conventional, offering diverse features to meet unique needs.
As you seek the ideal tool aligned with your goals and embrace OKR principles, consider Datalligence as a standout choice. With a comprehensive approach to employee engagement and a commitment to OKR methodologies, Datalligence rises above the rest. To further guide you on this journey, we encourage you to talk to our professional coaches. Here's to strategic choices and triumphant teams—Datalligence, the pinnacle of success in employee engagement.