Lattice is a renowned platform that combines performance management with employee engagement tools. Lattice serves to align employees with their company's mission, provides avenues for continuous feedback, and ensures employee growth and development. However, while Lattice is undeniably effective for many, some organizations might be on the lookout for something different. Perhaps they have specific needs that Lattice doesn't address or they're curious about other tools in the market. This is where Lattice alternatives and competitors step in. With various features and benefits, these platforms present options that could better resonate with particular business models or corporate cultures. 
In this blog, we will explore the best Lattice alternatives and spotlight the diverse tools available in the market.
Top 11 Lattice Alternatives & Competitors
1. Datalligence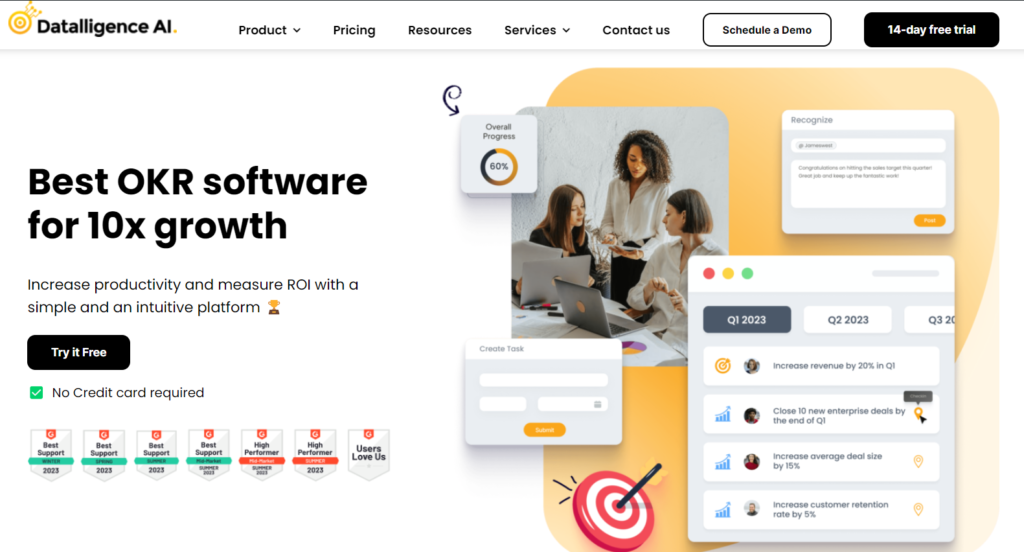 Datalligence is a leading performance management software provider, offering a robust suite of tools tailored to assist organizations in efficiently handling their goals, objectives, and key results (OKRs). 
At its core, Datalligence aims to empower enterprises to set up and track goals using the OKR framework. Datalligence allows businesses to articulate and track strategic objectives, ensuring measurable progress. With the Datalligence OKR Platform, companies can seamlessly set and synchronize OKRs across various departments and teams, fostering organizational clarity and alignment.
Key Features of Datalligence
Goal Setting & Alignment
Datalligence offers robust tools that empower organizations to not only set clear objectives but also to ensure alignment across departments. This unified approach helps drive a cohesive vision throughout the organization.
Real-time Tracking
With Datalligence, stakeholders can monitor the journey of OKRs dynamically. This transparency means that teams can see how they're progressing, making real-time adjustments as needed.
Feedback & 1:1s